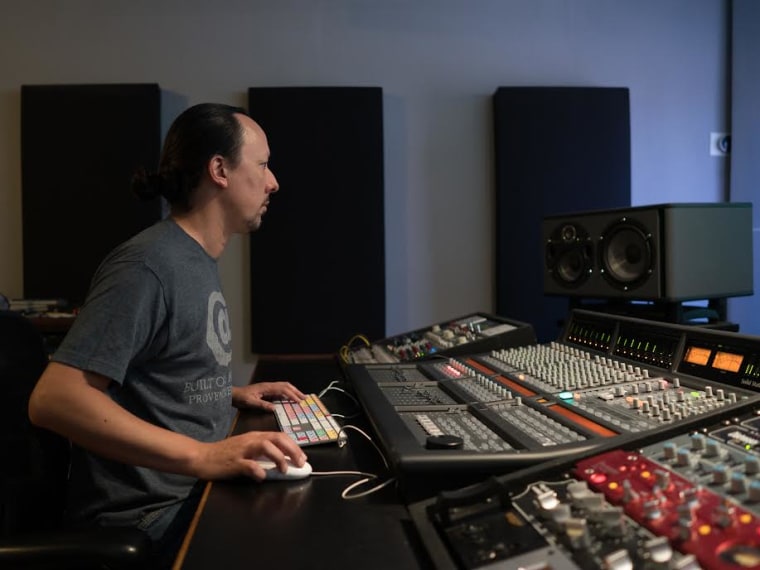 Kevin Marques Moo, stage name Daddy Kev, has self-published a book titled Audio Dynamics: Compression Techniques for Modern Mixing and Mastering. You can order it now on Amazon.
The record producer and engineer is known for his work in the Los Angeles beat scene, founding the pioneering "Low End Theory" club night at L.A.'s Airliner. Since then, he's continued his efforts as the head of Alpha Pup Records, and has also mixed and mastered albums for Flying Lotus, Thundercat, and Leon Bridges.
Now, Moo is sharing his wealth of knowledge with his new book. "I believe the audio engineering trade is in the midst of a renaissance," he says in an exclusive quote to The FADER. "With the rapid acceleration of new music being recorded and produced globally, a parallel, exponentially growing demand for professional audio engineers exists. This side of the industry has a vibrant, amazing future ahead."
With Audio Dynamics: Compression Techniques for Modern Mixing and Mastering, he continues, he "aim[s] to illuminate the oft-misunderstood and misapplied audio effect known as dynamic range compression. One of the main tenets of the book is that compression is not an automatic volume fader, as commonly misconstrued. Compressors change the frequency content of a sound in a fundamental way that is not easily undone. Another premise of the book is that the fundamental type of compressor (e.g., tube, optical, solid-state) should be a primary consideration when selecting a compressor plug-in for a given task. In short, choose a slower tube or optical type compressor for quieter sources like vocals or strings, or a faster compressor, like a FET or solid-state, for louder signals like drums or guitar. One size does not fit all."
In 2016, Kev received his first GRAMMY nomination for Flying Lotus and Kendrick Lamar's "Never Catch Me." He won the award for Best Progressive R&B Album in 2021 for his mixing and mastering work on Thundercat's It Is What It Is.
Listen to Daddy Kev's own productions below.