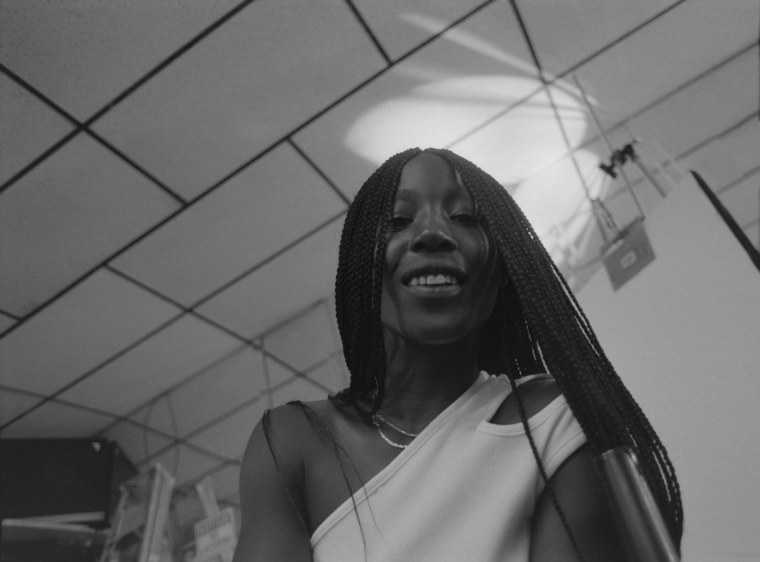 HAWA's debut album Hadja Bangoura, released last week, only clocks in at 18 minutes long but makes a major impact with its brief runtime . The 22-year-old artist was born in the Guinea capital of Conakry and has spent time in Berlin and New York City, where she became the youngest person ever to join the New York Philharmonic as a composer. This blend of experiences and cultures has been poured into an album that melds R&B and drill into a musical alloy that feels both soft and tough at the same time.
"Trade" is perhaps the track that best sums up this balancing act. There's tenderness in the verses as HAWA speaks directly to someone who has caused her pain. "You fuck me all up and you know it's true," she sings. "Look what you've done to me." The song goes on to cover that feeling of pain with an outward display of nonchalance underpinned by drill's trademark rapid-fire drums. Even through the cut up vocal samples her message is clear, HAWA will never let you see the hurt you have caused.
A new video for "Trade," produced in collaboration with Telfar, is premiering below. In it HAWA is surrounded by those closest to her as they lift her up and above the difficult times. Riding shoulder high she is able to glide through life unharmed. As the camera stays locked on her face, however, a creeping loneliness is palpable amid the assorted limbs and bodies she surrounds herself with.
Speaking to The FADER via email, HAWA explained that she wanted the video to "project the cocky and egotistical side of me because when you're a trade you don't really care if you lose the woman you're with because you know tomorrow there will be one waiting for you."
On the subject of the song itself, she adds: "'Trade' feeds in to that ego aspect. With me, ego is not always a good thing. Majority of the time ego is usually spewed from insecurity. Being a trade is someone having that. It's kinda always wearing a mask when it comes to insecurities that mask is looks and sexuality.
Check out the "Trade" video below.