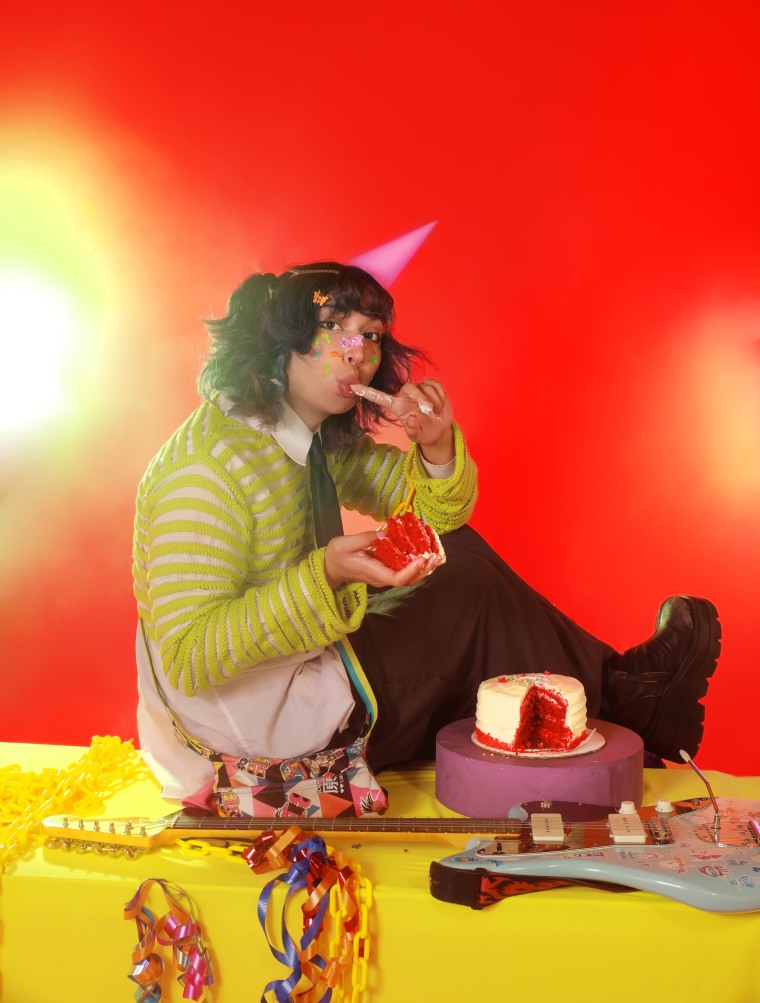 "WTF is even going on?" is an evergreen question. That feeling of uncertainty and confusion runs through the latest EP from carpetgarden, a.k.a. LA-based garage pop sensation David Sweet. Across seven tracks, Sweet writes about subjects ranging from gender dysphoria and mental illness to moving to a new city and creating a new home with a chosen family. The EP was written during a tumultuous but also defining period in Sweet's life, with the often heavy subject matter adding grit to the DIY production and bubblegum hooks.
Sweet, a non-binary artist who uses they/them pronouns, writes about a messy on and off "situationship" they were in on stand-out track "Lonely." Over a laidback groove and slick guitars they share a story of a doomed romance in which both sides were pursuing things for the wrong reasons. A need for validation and pleasure amid a torrid time outside the relationship is summed up as Sweet sings, "Yeah, my boy is my heaven. It can seem like hell. You can come after seven. And you know I won't tell."
The "Lonely" video, premiering below, brings a horror element to the table with Sweet surrounded by lifeless mannequins. Speaking to The FADER, Sweet revealed a love of video games inspired the "Lonely" video.
"When thinking about visual inspiration for the video, I was playing a lot of the indie-horror game Little Nightmares II and I was very inspired by the mannequins that you encounter at a certain point of the game," they say. "They honestly really freaked me out and I thought it would be a cool jarring element to add to the visuals, and represented my feeling of loneliness very well. In collaboration with Danin, it turned into this very "purgatory" like place that just fit the song so well.
Opening up about the themes of the EP, they add: "WTF is even going on? is a question I constantly kept asking myself during the making of this record. I went through so much change, and honestly making it was the only consistent thing that was going on in my life. I lost very good friends, got disowned by one of my parents because of my identity which left me without support, escaped a very abusive environment, and was living on my own for the first time in my life. I felt very scared and vulnerable, having to try to keep my shit together while also piling more and more on my plate that, at the time I felt like I wasn't ready for. On the other hand, it's also about how despite having to swim neck deep in shit, I was able to see the brighter side of what was going on, and how in love I was with my new life. It was the first time that I was able to really dive into making art with no distractions or having to worry about anyone else's bullshit. At a point putting my heart and soul into this project was the only thing I had during a very dark time, and it was the one thing that kept me hopeful, and I hope people can feel that when they listen to this record."
Check out the "Lonely" video below, alongside a stream of WTF is even going on?