Bree Runway is delusional
The rapper, singer, and fashion icon discusses the delirious lead-up to Woah, What a Blur!, on the new episode of The FADER Interview.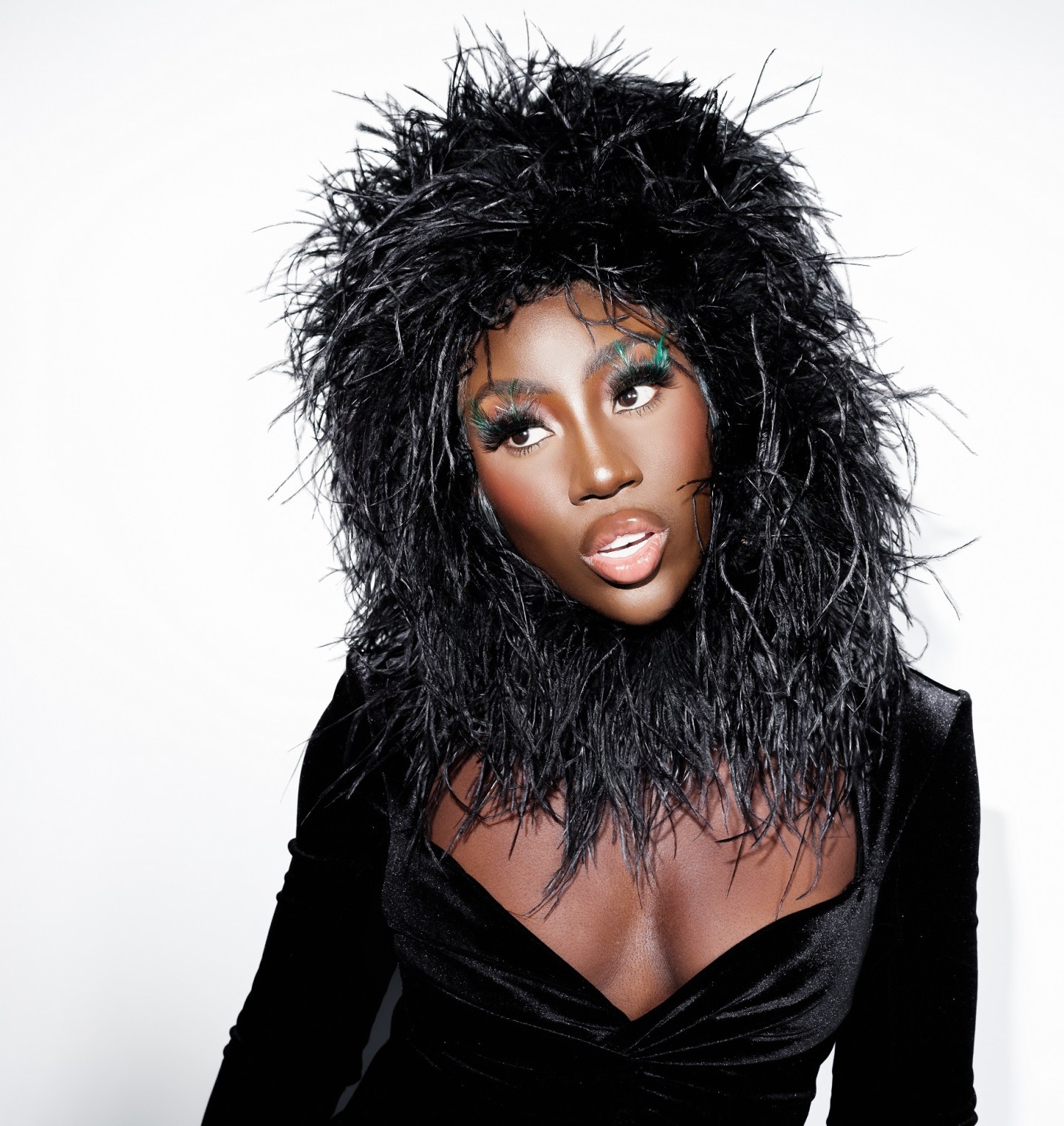 When I spoke to Bree Runway last month, she was full of energy and light. You'd never know her fourth EP, Woah, What a Blur! had just been leaked. A leaked project right before a release could send any young artist into a spiral, but Bree handled it with poise, gratitude, and a bit of rage — three pillars that have helped set the stage for her unstoppable success.
Bree is Brandy in Rodgers & Hammerstein's Cinderella — humble, kind, vocally blessed, and unapologetically brown. The follow-up to her 2019 EP Be Runway, where she opened up about her struggles with colorism, discrimination, and self-doubt, Woah, What a Blur! comes from a place of wholeness. Even in vulnerable moments, like on "PICK YOUR POISON" featuring Stormzy, she's a warrior who's finally found her footing. She asserts herself on tracks like "BREEE!" and "ARCHIVE MAMI," and now that she's entirely in her moment, there's weight behind her words.
The star of the EP, "That Girl," is another example of Bree's ability to speak herself into existence. In just a few short years, she's gone from selling children's shoes to Adele to getting free outfits from the Gaultier archives. She is that girl, and she always has been. She just didn't have your attention yet.
Now that she's grabbed it, what she does with it next will matter most. It became clear in our conversation that she's already miles ahead, thinking of herself as the personification of shape and texture. Woah, What a Blur! is only the first course, and she's got an entree in the oven, ready to serve.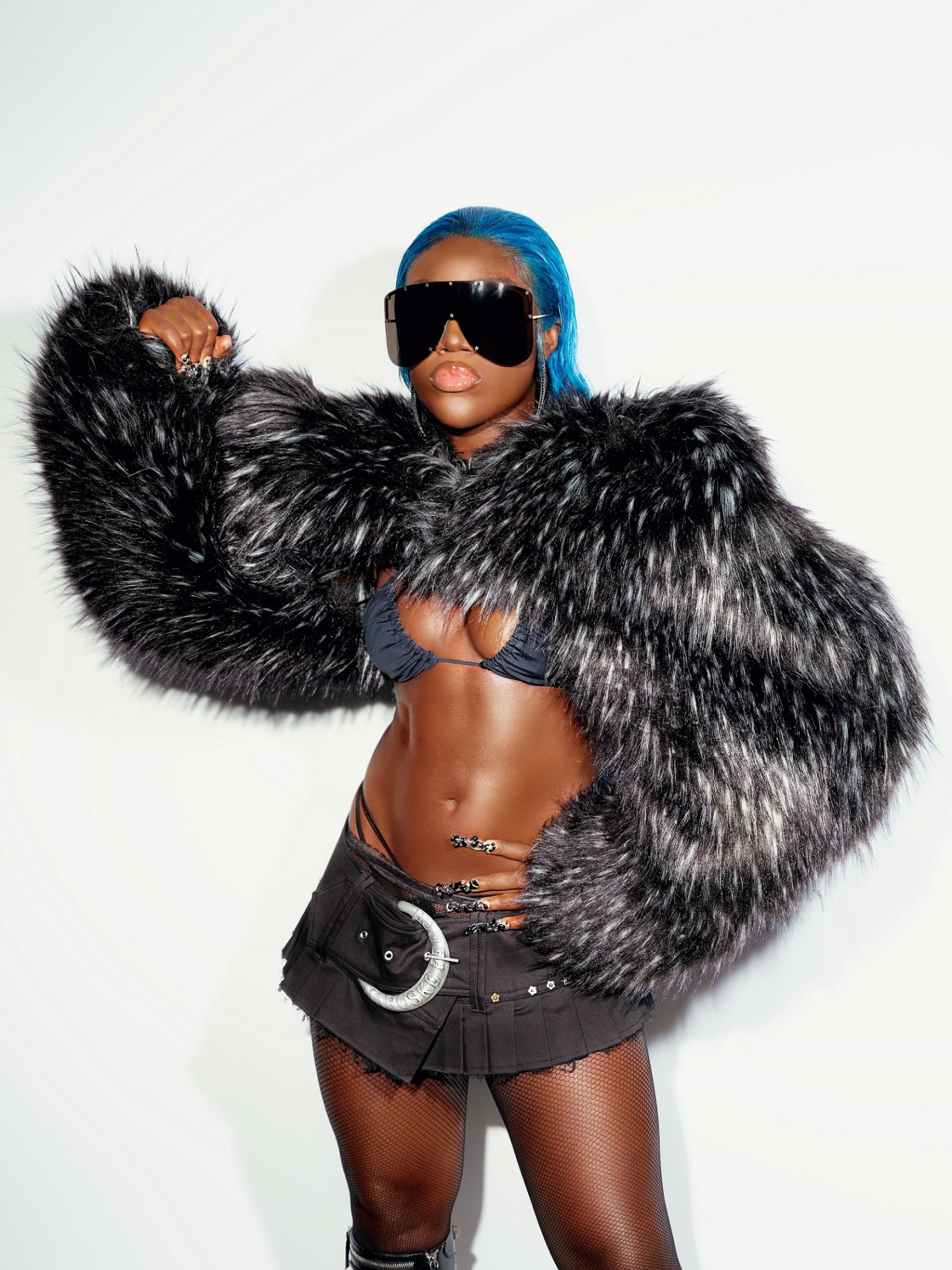 This Q&A is taken from the latest episode of The FADER Interview. To hear this week's show in full, and to access the podcast's archive, click here.
The FADER: I haven't seen you since Fashion Week. Can you run me through your last two months?
Bree Runway: They've been very busy. Because of how busy it got, I finished the EP in a week. My setup at home for recording is still as ghetto as it was in 2015, so I was still under a quilt. There was no Westlake Studios, where Michael Jackson recorded Thriller, where I can be occasionally when I'm in LA.
How are you feeling about it?
I felt disgusted after I finished it. I said to myself, "I can't do it again," but this is what life is all about now: giving and making the right amount of time for everything — the right amount of time for fun, the right amount of time to feel good about how you're making the music. But thank God, it's the first and last time I'll ever finish music like this. It felt like a blur, hence the title.
I was gonna ask, what is that blur? I assume it's the crazy rise to pop stardom, because it's been nuts watching you.
This year has been like "Whoa, what a blur!," in a sense where people who I thought were A are not even B, they're Z. Things that were meant to be hot are cold, like, "Whoa, how did that happen? I thought I was eating sugar. Hold on, this is salt." But in all of the blurry, crazy chaoticness that has taken place this year, all of the changes, all of the roller coasters in business, in relationships, in everything that I've endured, there's major lessons I get to backpack. I don't feel bad about any of the things that have happened or any of the things I've had to go through. I've been through some weird shit, business-wise and people-wise — well, person-wise — but I feel grateful for all of it happening, because there's a lot to take away from it. I'm the biggest grafter; I get on that horsey and I ride it.
Do you want to talk about the album leaking? I'm crying internally for you.
I just wanna get it out there before people get excited: It's definitely not an album. It's a baby EP.
A baby EP?
I don't even wanna give it that clout. A collection of music.
So the baby EP collection of music has leaked. She dropped out of the cradle. How are you feeling?
I don't feel good about it. I feel betrayed, even by the fans that are posting about it. I haven't even announced, I haven't even hinted. You should not know there is music out there. Stop posting about it, and stop tagging me on Instagram about it. At least do it in secret. I think they're so rude.
Talk about it.
That freelance photographer from Holland — yeah, I saw that, mate. You should've blurred out the track list, but you just blurred out the EP name as if that was doing me a favor. It wasn't. Stop spreading fake news.
I'm in a delusional state. I'm numb. I feel like I can't do anything about it, so let me just go to Winter Wonderland, win a prize, and forget about it. That's me. I'm going to a Christmas fun fair tonight, and I'm gonna win a soft toy and eat a hot dog. I can't be bothered.
Well, since the baby's out in the world, let's talk about her. I'm glad it's just the EP, because I'm like, "I know she didn't just us give this little spoon. I need a full… Knock me over the head, Bree!
It's a canapé. It's not the real thing. It's a mini burger ahead of the lobster. I've been working exceptionally hard on some amazing music, so this is just something to keep your taste palettes wet.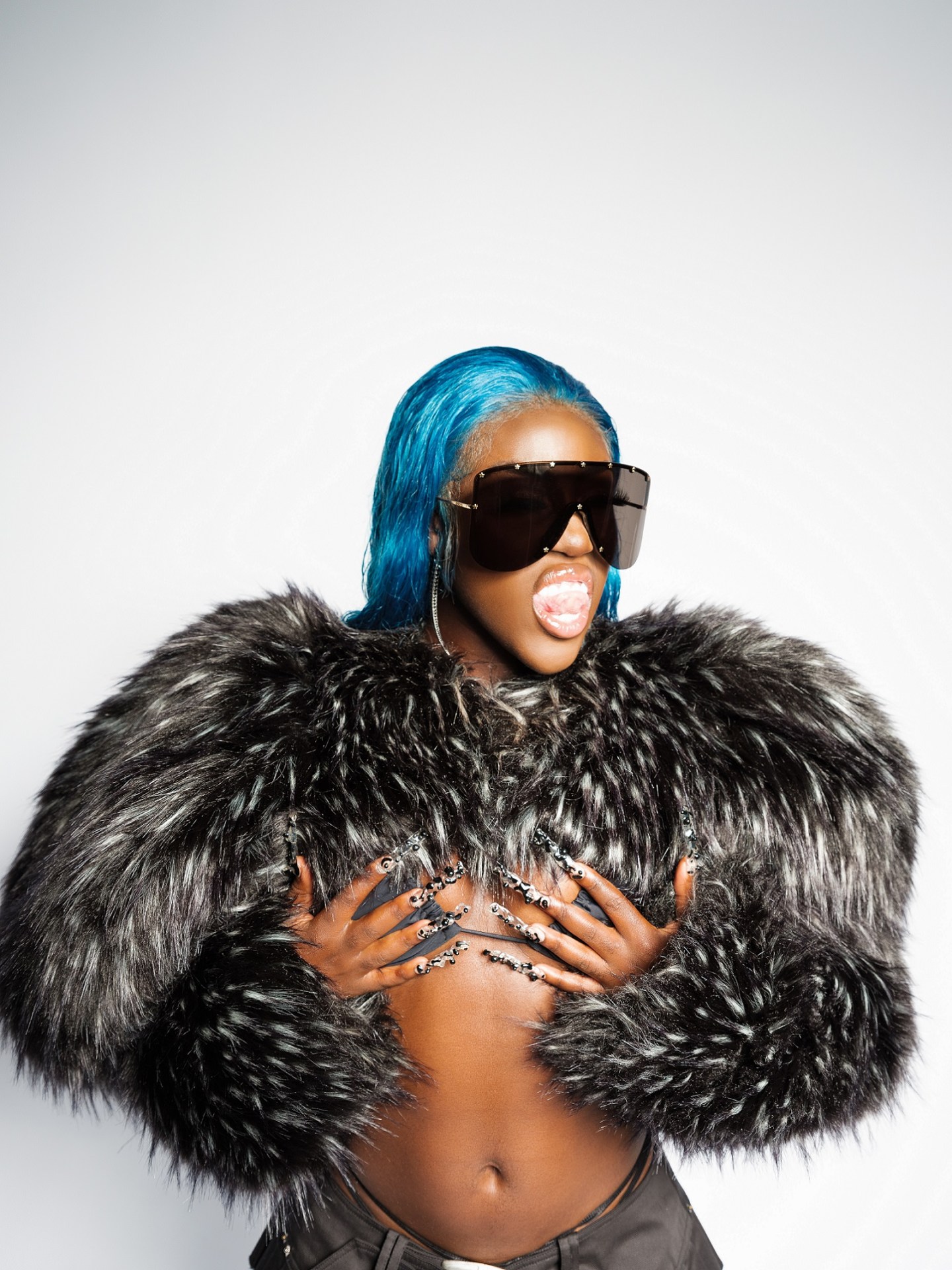 I listened to "ARCHIVE MAMI" and I was like, "How dare you?" It's too short. It felt like a tweet.
It is a tweet. I haven't tweeted it yet, but I can't wait to. You come across certain things in your mentions: "Oh, she's a nobody offline. Blah, blah, blah. You guys only know her on the internet." I'm like, "Very interesting. If I'm a nobody offline, why is Gaultier sending me stuff from the archive?" It's not regular stuff you can go and buy from the shop. You must be a somebody to get that access, so somebody's lying. The song is short because it's just as quick as me going type, tweet, put phone down.
Do you know how talented you have to be to turn a tweet into a song? I feel like we're doing a disservice to Woah, What a Blur!, because I feel like an hors d'oeuvres platter wouldn't have Stormzy on it.
We had to add a bit of caviar, something unexpected, because sometimes end of year projects can be good music but feel quite low key, but with me, I have to add a dash of something in there.
How did we get this caviar? How did "PICK YOUR POISON" happen?
I was at Coachella, and I linked up with Stormzy and his gang. We were just vibing, and he was like, "I have this really beautiful song I think you would be really good on." I have a beautiful voice, but I'm not often drawn to ballads. But when I heard this, I was like, "This is very pretty. This is the right amount of softness, the right amount of vulnerability. It's in a space I don't often enter, so I'm gonna do it." Then we finished it, and we're here now.
It kind of slapped me in the face — "When you pick your poison, I hope that it's me." That's so powerful. I don't need to know the context of what's going on. I've lived it.
It's powerful but desperate, strong but weak at the same time. It's everything it needs to be for someone who needs to hear that when they press play.
The balance on this project really works. We need to have that vulnerability, and we need to go all the way and spike up to this bad bitch anthem with "BREEE!" I love that you're spelling your name out. I instantly thought about the Diddy song — "The D, the I, the D, the D" — or Eve, "Who's That Girl?" You're bringing that back. It's got clear inspirations and you're owning it.
I love that you see it in that space. I've always wanted a song that kind of spells out my whole name, like, "I'm here!" I'm glad I have one of those. It's just another moment to highlight how amazing I am. I don't wanna shy away from the things that God has blessed me with, like, "Babes, you're gorgeous. Own it. Babes, you're charismatic. Put that charisma out there. Babes, you're hilarious. Go out and tell a joke." I just want to be everything God has made me be in its full entirety. I don't want to hold back. I can be quite shy sometimes, like, "Is this too cocky? Is this too arrogant?" But it's not arrogant if you're living it.
"THAT GIRL" has gained so much traction and love. Well deserved, of course, but you've really been that girl since forever. This is not new. What does it feel like having so much talent and still being so underground? I feel like your fan base knows you, but the world is still not privy to Bree.
There's so many more people to get to know me and get into me — like me, not like me. I'm constantly fighting for an audience because all I care about is an increasing fan base. It's a challenge, it's fun. I'm excited to see where it goes in the new year because I feel like it'll multiply. For some reason, I can just feel it: We're gonna be having a very different conversation this time next year.
What is your fan base? Can you describe the typical Bree fan?
They're called The Runways, and they're super fabulous human beings from all sides of the spectrum. It's the perfect mix, a bit of everyone.
Do you still see some of your OG fans in the conversations about you nowadays?
I always see the OG fans. They're carrying this shit on their backs. They're family to me. I recognize them by face, and it's so cute. You can't say anything about me online without them.

I was introduced to you like 2016, 2017, but you've been working since like 2015. In that moment when you said, "I'm taking this seriously," what was sustaining you? I know you were working in retail because you have great fashion sense, duh, but what was sustaining you to say, "Okay, I'm working this nine to five, but I know that I'm gonna get to this point." We're talking Pharrell at McDonalds, Tyler at Starbucks. What was that thing driving you to keep going?
I just knew, from a very young age, that something special had been planted in me, and I was determined to see it through. I was a cleaner. I was a waitress. I was a sales associate. I did everything with gratitude, even times when it felt like, "Oh my God, this is so boring," or, "Why does the manager feel like they could speak to me like this?," I'd always snap back into, "This isn't your forever." When you live every season of your life with gratitude, you're gonna get more.
I just wanted to show appreciation to God, at every point of my life, that at least I could pay my phone bill, and at the end of the month, I could buy myself a little something from Topshop and contribute to mom's bills. I just always knew it wouldn't be forever, that I'd live that fabulous, fabulous, fabulous life that I'd always dreamed of. There's a notebook of mine from years ago where I was actually like, "God, please, all I want to be is me. I want to be Bree Runway full time — to work and just look like me." And now I'm here.
Do you go back to your past writings just to give you balance?
I always go back, because there was a point in my life where I was begging to be exactly here. When the going gets tough, I have to go back and remind myself.
I love what you said something about being grateful for the season you were in. What was the biggest takeaway you had from that season in your life where you weren't fully Bree Runway?
You have to hold onto some kind of faith. Otherwise, it's so easy to drown yourself in the doom and gloom of life's uninspiring chapters. You need to create that inspiration, and I'm so good at living in a delusional state of mind. I was doing sales work for a children's shoe brand, but I wanted to work at Christian Louboutin, so I changed my whole swag — started dressing like I worked at Christian Louboutin, packaging the shoes like I worked at Louboutin — and I started getting VIP clients. One time, Adele came in and bought children's shoes. In my season of acting like I worked at Louboutin, I ended up working at Louboutin.
Adele comes in the store. What happens?
I literally blacked out. I didn't recognize her until she turned her face a certain way, and I was like, [whispering] "Oh my God, it's Adele. I can't breathe." She was like, "Yes, love. I'm Adele. Can I have my shoes, please?"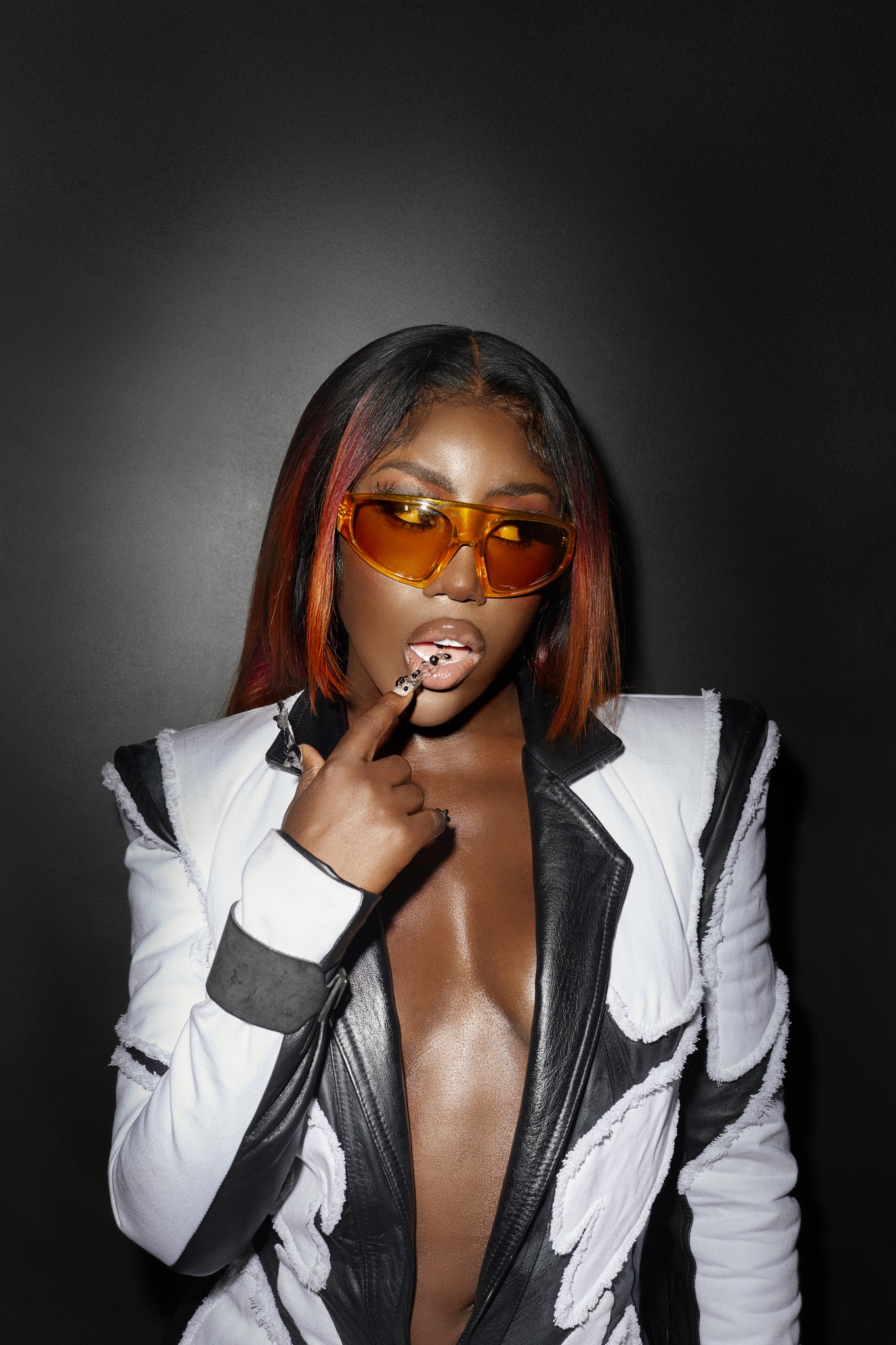 This project is the precursor to the big thing, but it's still your work. It's still coming from your heart, it's still very passionate, and it says something about your trajectory. What does it mean to you?
If I could round up the project in a few words, I would say it is vulnerable, it's regal, it's glamorous, it's honest, and it's a statement. It's so many different emotions, and it's very true to its title, because sonically, it's a blur. You do not expect those kinds of tracks married together on one little project. It's a whisk of energy, a rollercoaster of emotions.

When you first get into the project, the vulnerability is in your face, and then it drops into this other energy, a reclaiming: "Bitch, you can't touch me." Why were these songs the ones you picked for this tape over all the others? I need to know who didn't make the cut.
There's so many great songs that didn't make the cut, but I just feel like some songs feel too big to be a throwaway. You know what I mean? I like to let certain songs marinate. There are so many great songs that didn't make the cut, but it's because they're marinating; they're being seasoned. I want the chicken to be really juicy. These songs felt ready for now, but the girls are being seasoned, and they'll be ready. They're just too big for now.
Without giving anything away — because I know you've got to keep the foil on the chicken; you don't want the juices on the internet — can you tell me about the songs you feel are really that statement of Bree coming down the pipeline?
Me and Khalid's song is huge. If there's a big Black pop moment that will go down in history, it's that song. Definitely. It's everything that people need, and I can't wait to put it out.
Most of your fans already know you're inspired by Missy, Lil' Kim, Britney, Pharrell, the greats, but what inspired you specifically for this appetizer project?
It was just life: the things that have been thrown at me, the things I want to feel like, the things I want to get rid of. All my experiences made this project, really — and my producers having good beats.
I know, moving forward, we're going to have a lot of crazy visuals for Woah, What a Blur!. We already have a lot to digest, because the "THAT GIRL" video is ridiculous. Style wise, fashion wise, and just energy wise, I want to know who's on your Pinterest board. What are you tapping into?
Right now, I'm just focused on mixing textures and finding interesting shapes. I'm getting rid of a lot of clothes right now. I might do a Depop sale, and get rid of stuff that's too close to what I've been for a long time. I want to be new. I want to try new things. I want to be more colorful. I want to be even more interesting — although I'm already interesting, although I'm already colorful. What does an elevated version look like? That's the space I'm moving into.