LANNDS' "Blueprint" is a woozy guide to pursuing your own path
The duo will release debut album Music For The Future in March.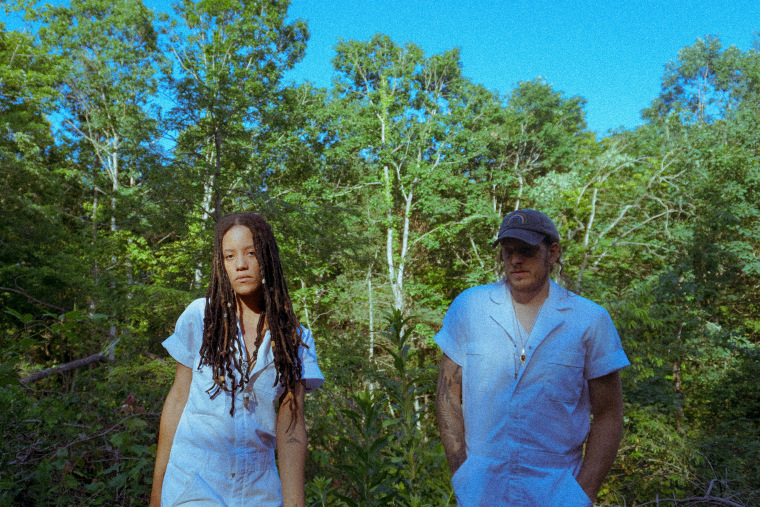 LANNDS, Los Angeles-based duo Rania Woodard and Brian Squillace, cut their delicate psych pop with a steely triumphalism on new song "Blueprint." Built around multi-instrumentalist Squillace's groaning synths and subtle use of electronic motifs, the track is illuminated by Woodar's sighed vocals. She begins constructing a narrative of self-determination and DIY ethics, imbuing a line like "We build this house" with more meaning on each repetition. Then, as soulful guitar licks enter the mix, she cuts through with the location of this home: "where we lay down." It's a lowkey, but no less meaningful, idea of people being free to exist where, and precisely how, they wish. The fact it seems like a utopian ideal perhaps only spotlighting how far the world is from such a state.
Speaking to The FADER via email, Rania Woodard said: "'Blueprint' is a song that I hold very close to me. I started these lyrics right in the cabin in Ellijay, GA while Brian and I were starting the bulk of production as well. I felt the most empowered writing and producing this song because it shows just how far LANNDS has come with songwriting and production over the years. In the cabin I wanted to just write about what came to me and what I truly felt I wanted to say at that time. I wanted to write a song about a multitude of things in one. It's about what it means to be a community and a collective and how it's our responsibility to take care of our world before it's too late. It's also a fuck you to the 1%. I also wanted to write from a point that if someone wanted it to be about whatever, they could take it and make it about what they felt."
"Blueprint" will appear on LANNDS' debut album Music For The Future, due March 3 via Run For Cover Records. The album also features the previous single "K Town," released last year.