MIKE is moving with intention now
The visionary New York emcee discusses the spiritual process behind his new album, Beware of the Monkey, on The FADER Interview.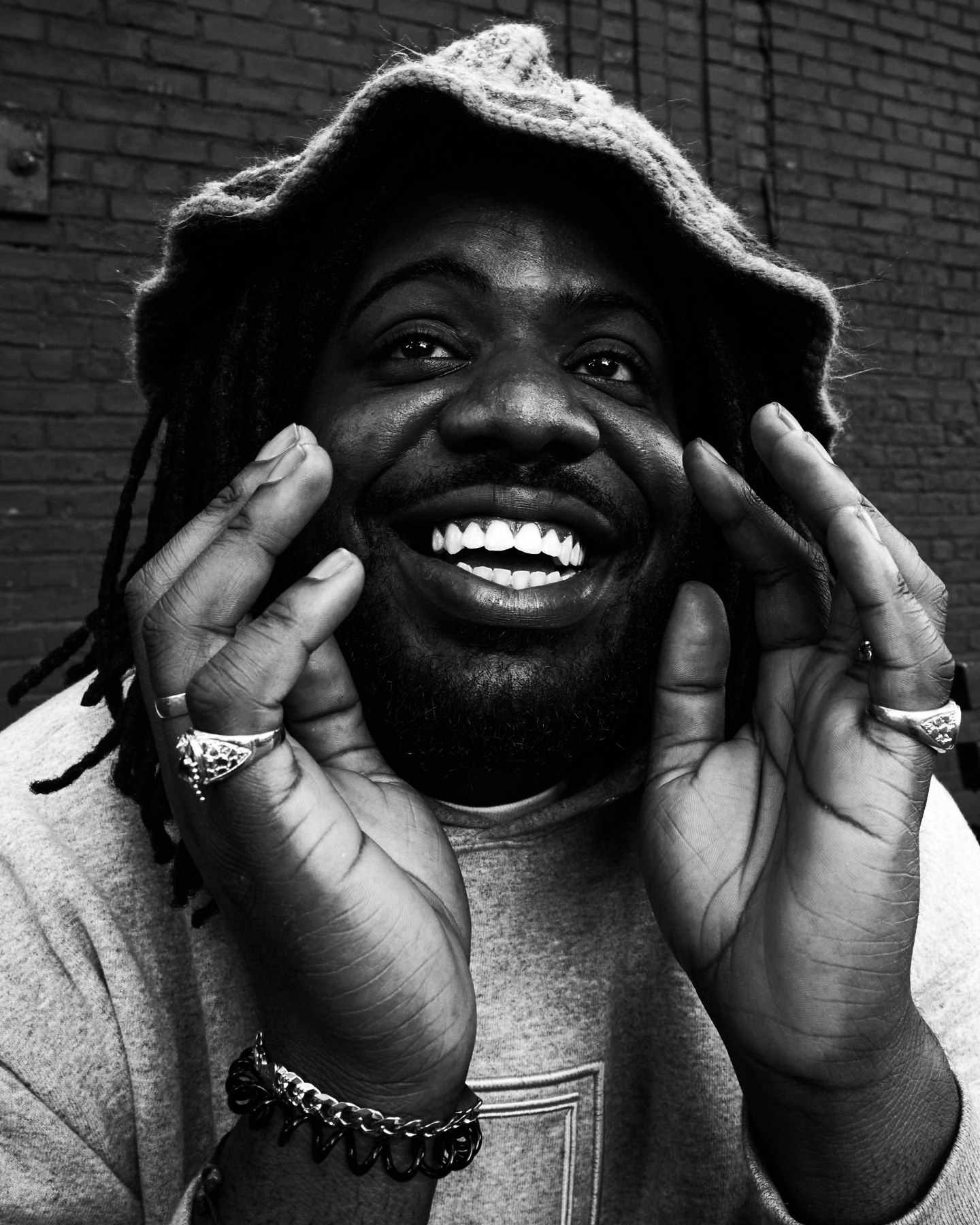 For the first time since 2016, a MIKE album didn't arrive on the first day of summer. After two lengthy tours in support of 2021's Disco!, the New York rapper chose to take a break rather than stick to a rigid release schedule. When Beware of The Monkey, his latest, dropped on December 21, it marked the longest gap between official projects for him. What arrived wasn't something cold and distant — instead, Beware of the Monkey feels more like the period after the dead of winter when each passing day is noticeably warmer.
It's a natural progression from Disco! and a continued study on the ties that bind, love, and grief. MIKE sounds like he's processing it all in real time, each song a snapshot of how he's doing at a given moment, channeling a mood that would be irreplicable if he tried to record it the next day. That sense of urgency courses songs like "Eczema," where he sounds like he's rapping for his life. The sigh that comes at the end of his verse isn't just for show — you can feel how exhausted he is.
To ring in 2023, I spoke to MIKE about touring, his New Year's resolutions, what draws him to samples, and the emphasis on intention in everything he does.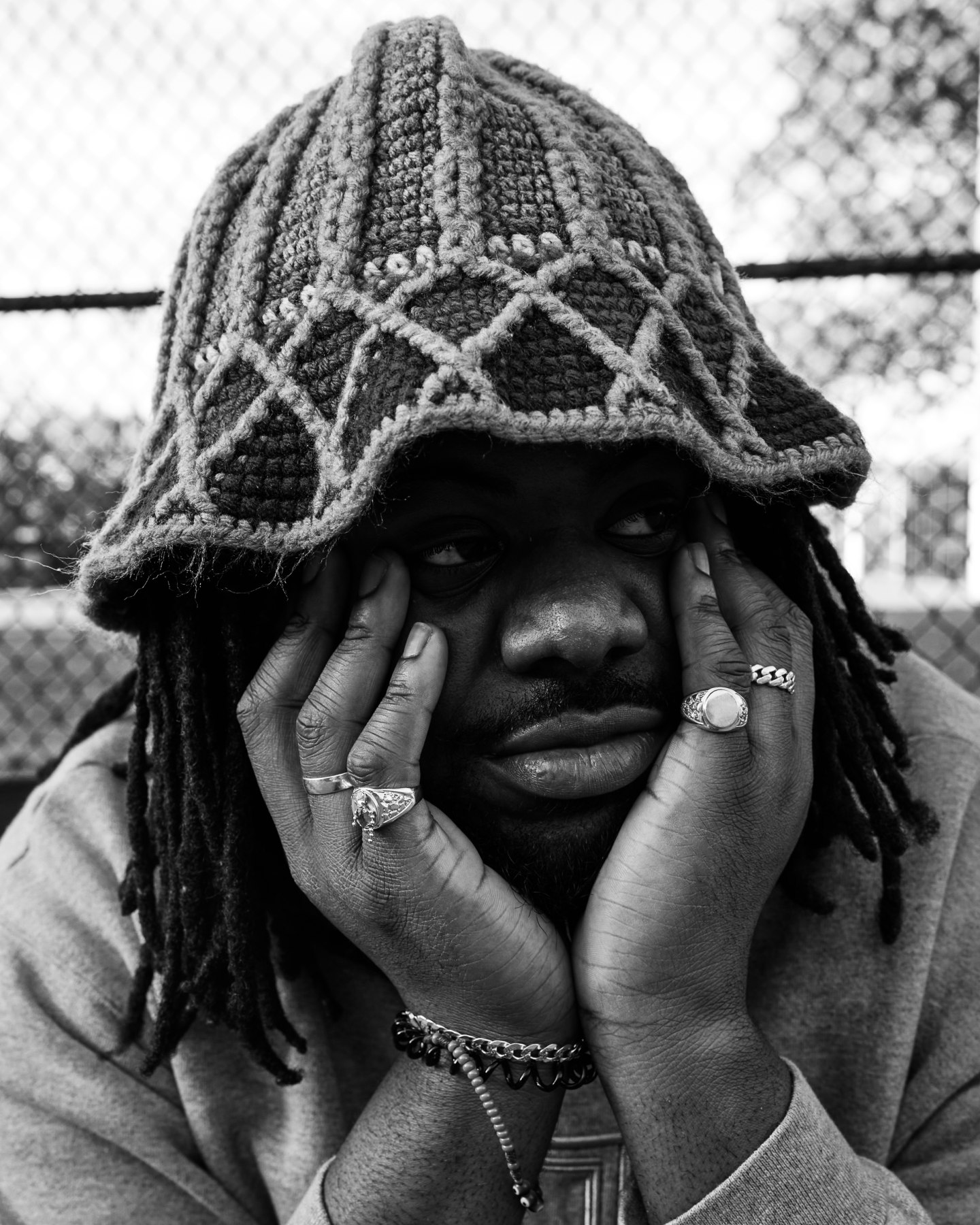 This Q&A is taken from the latest episode of The FADER Interview. To hear this week's show in full, and to access the podcast's archive, click here. (edited)
The FADER: Happy New Year. I don't know how appropriate it is to say Happy New Year on January 10, but I'm gonna say it anyway.
MIKE: Nah, I appreciate that, man. Happy New Year.
Have you set any resolutions or specific goals moving into this year?
Just personal mental goals, like trying to create more space for me to be creative and happy, finding out more about myself. I'm tryna get healthier. I was a little sick last week, so I was like, "Alright, I'm not gonna smoke weed." And I haven't been smoking weed, so I'm like, "Yo, maybe I'll do this until the end of the month, see how I feel." Small stuff like that. I'm about to go on tour too, so I've gotta get my body back together before I go on the road for a long-ass time.
I can't imagine how exhausting touring is on the body.
Once you're in the wormhole, you're having an out-of-body experience the whole time you're on tour, and then as soon as you get off, you finally get back in your body. Imagine being faded for 15 days straight; it's crazy. And then you're doing all this crazy shit like screaming your lungs out, but you wake up the next day and it's like, "Alright, I'm doing it again. I literally don't feel shit." The only part where it started getting bad for me is my throat started hurting. That's why I feel like I've gotta chill out with the smoking.
When you went on tour for Disco! in 2021, I saw you at Cat's Cradle in North Carolina which was one of your first stops. How did touring the music feel?
Crazy. I dropped Weight of the World when everybody was stuck inside. That's when all those programs started doing livestream shows, so we was doing all of those. But once they opened shows again, we had dropped Disco! and niggas was singing the lyrics back to me. I was like, "Yo, what the fuck is going on?" I'm thinking, "I see it happen for other people, but I've still got a couple more years before my shit hit like that."
It really felt like a family affair. Mavi pulled up randomly, even people not on the set — CRUZIN, SALIMATA. I really appreciate that aspect to all the music coming out of that New York extended sphere. Y'all are just building each other up.
I'm so grateful for them. I'm hella greedy now because I want every tour to be that same exact way. That shit was a spiritual experience. It felt like we was a big ass family. I've always wanted my music experience and journey to resemble family. Me and my manager Naavin, who's also my very close homie, we always talk about how we need to treat this shit like a mom-and-pop store — keep it in the family, keep it in our little room and do big things: "Let's see how big we can make shit look."
"When I be on stage, I'm 100 percent. If I'm not fucked up emotionally or nervous, I'm in it. It's an experience that helps me be loose, one of the only times that I can really be my powerful self."

l

l
I've always thought of your music as headphones music, where the experience of listening is a sacred thing. You're personally connecting with it. But now it's at this point where you can listen to it with other people and still have that shared experience.
That was a part of that tour that blew my mind as well, seeing that people could actually get lit to the music. People appreciate seeing people pouring their hearts out. That's what a lot of people sleep on when they see trap music and niggas just rapping over their songs, 'cause it's not about the fucking skills. It's about them pouring their hearts out on stage and turning up to their music. It's like seeing a kid do something they love. There's not really a much purer experience than that.
As much as people try to chop it up and categorize things, all this is about expression of something very pure. That's what gives it its importance and allows people to get lost in this shit. When I be on stage, I'm 100 percent. If I'm not fucked up emotionally or nervous, I'm in it. It's an experience that helps me be loose, one of the only times that I can really be my powerful self.
I'm not tryna be corny. It's a spiritual experience, for real. I use it for that. When I go on tour, I know I'm 'bout to be a tweak-out for these next couple weeks because this is my time to be that person, to practice being myself. In the world, I like to compromise with the people I love, so on tour is somewhere where I feel like I don't have to compromise and I can show people my everything.
Artists get sliced up and divided into scenes, like, "This guy will rock with this guy but probably not with this one." But the boundaries are a lot more fluid than that. On this new tape, you have Babyxsosa on there doing an intro on one of the tracks. It's not unexpected, but it's like, "Wait, that's who I'm hearing right now?"
The reason why I appreciate that shit is, for example, when G Herbo and Earl Sweatshirt did the "Knucklehead" song, that shit blew my mind. Like, this is somebody who I know niggas in my high school fuck with and somebody who I personally fuck with, and now there's finally a connection. Those types of things show you that niggas be growing up in similar environments, if not the same environment. There's not really such a disconnect. More times, the disconnect be coming from ego and pride.
Some people use "conscious music" for basically any music that don't got 808s or loud drums. Sometimes it's the other way, too: Niggas be like, "Yo, this nigga just rapping over a loop." But my favorite type of artist is somebody who can do anything. With Babyxosa, I already knew she had music that wasn't just turn-up shit. It's very sincere music. So at the studio, I was like, "You're an artist. It's not about you being directly pulled toward one thing. You're about all of it."
Historically, you haven't been super open to press. What's changed for you this time?
I don't think much has really changed. Me and Naavin are very particular about what type of press we do. It's not based off whether it'll get us clout or publicity. It's based on if it's gonna be a worth-it conversation.
There's some times where I do this for the bread. As much as we try our best not to have to do those things, the world is still the world; my landlord is still my landlord; I've gotta pay rent. But as much as we can, we will try to push away from the shit that we know don't need to be done. Sometimes it's okay to say no, even if the number is big or it may be a good look.
For example, this publication wanted me to do an interview with an artist, and I picked my homegirl Righteous Path, one of the best designers I know, and they were like, "Nah, we need a more known artist." I was like, "Fuck no. I'm just not gonna do this shit with y'all. Thank you for the good idea, but now we're gonna go do it with somebody else. You don't really care about putting on the people that need it."
Those things mean the most to me, 'cause down the line, you gotta stand for something or you just not gonna mean shit. People say a lot of shit online. There be niggas hating online, doing all this weird shit online, and those be the same niggas you see at the show. Niggas can say whatever they want online, but if you don't have no integrity in real life, if people don't know you for the good things you do, nobody's gonna care. You have to make shit count.
The interview process can feel extractive. How have you learned to handle that?
My homie told me some good advice: "Even if they ask you bad questions, make the answers worth it." That made me realize I could have control over what I want this thing to be. I can be selfish, like, "Millions of people already asked me this question, blah blah blah," [or] I could just blow your mind right now. You can also tell when people care. That was my main struggle with interviews: talking to people that don't care. If you listen to the music, you know this shit means the world to me.
"You don't need nobody to be a lyricist to feel somebody's pain."

l

l
I've always appreciated how you use vocal samples as hooks. It's something I don't see a lot of dudes doing. Even the people who have super heavy sample-based production, they don't really go that route anymore.
I try to think of it as painting, even though I don't paint. One thing I like about a lot of artists is that their most in-depth piece of art could be something that looks so simple, but if you really go into the backstory of what everything in that piece means, you'll see how in depth it is. What draws me to samples is how they relate to the bigger picture.
The reason I picked the "nuthin i can do is wrng" sample is 'cause I heard bro singing and it felt so intentional. Especially in that age of samples, love songs are so dominant, but something about his shit just sounded so genuine. It felt very cute, and I was like, "Yo, nah, this is good." Somebody didn't make this to blow up — somebody made this because it meant a lot.
I won't lie that I hear a sample and immediately know the intention. A lot of times, I just feel gravitated towards it; I start working on it; I'm listening, listening, listening and starting to put the pieces together. That sample starts off like, [singing] "When you're near me, everything is right." I made that the beginning of the album. And then, at the end, it's "Closing Credits" and it's my mom talking in the sample. It made the shit intentional, 'cause I'll be honest: Before I dropped the project, I was hating on it. Then I listened to it again, and I'm like, "Fuck, here was the message I was looking for the whole time." I don't know if it's the music doing it for me or if I'm putting the pieces together. But when I look for samples, those are the type of messages I'm looking for, the bridges I'm tryna connect this with.
It's like the samples are ancestors talking to you or speaking through you. You can't really respond to them, but you can try to interpret what they're saying or fill in the blank somehow.
They're helping me say what I need to say. There's certain samples I've gotten where I'm like, "Bro, God gave this to me." The "Evil Eye" sample… The lady wasn't even saying "evil eye." I looped it and didn't hear what she was saying the whole time, until eventually, I'm like, "Wait, what the fuck?" One of my best homies had just given me this evil eye bracelet. Homegirl is from the Philippines, and every now and then we'll go see her grandmother to see if somebody gave us the evil eye, if somebody's tryna put a curse on us. I asked her to do it for me 'cause I was feeling a little bit off, and she was like, "Yeah, bro, somebody gave you an evil eye." Then I'm listening, like, "The lady is saying evil eye!" I can't make this shit up.
There's something about the way you mix your vocals on the albums. I don't know if it's the way you record it, but there's just so much urgency in your voice. There's the false starts, like on "Nuthin i can do is wrng," where you run through a few lines and then you're like "ah," and then you do a scratch take and just keep running through it. Then there's songs like "Eczema" where after your verse, you take a super deep breath. It's like you're rapping for your life.
Most of the time, yeah. The reason why I fucked up on "nuthin i can do is wrng" is I came home one day super clapped, drunk as shit. I opened up my laptop, listened to the beat, wrote this shit hella fast. And then I was like, "Alright, I'ma record this shit." That fuck-up was in real time, and I started that shit over and did it again. Certain times, I thought maybe I should re-record it or do something different to it, but I was like, "Nah, I think this experience is very important for what it is. We just gonna leave it at that."
I don't intentionally go into recording like, "Yeah, I'm gonna make it like this," but once it's there, I keep it how it is, especially if the emotion is what it's supposed to be. I try my best to just do one take.
A few years ago, one of my friends put me onto the bootlegs for Madvillainy. DOOM's performances on there sound completely different from how they sound on the studio album. Sometimes you want a little more emotion out of the performance. It's like you can either have perfection or emotion. It's hard to balance the two.
Exactly. I'm not anti-skill, but I'm more focused on "where's your heart in this shit?." You can tell by how people talk about the shit they love or the shit that hurt them. You can hear it in the music. You don't need nobody to be a lyricist to feel somebody's pain. That's the type of shit I've always fucked with, when it comes to writers: how you express how you feel in such a calm, simple way. It's so striking. People can feel how you feel when you do that. Perfection is cool, but it's for academics. Music is supposed to be about expression.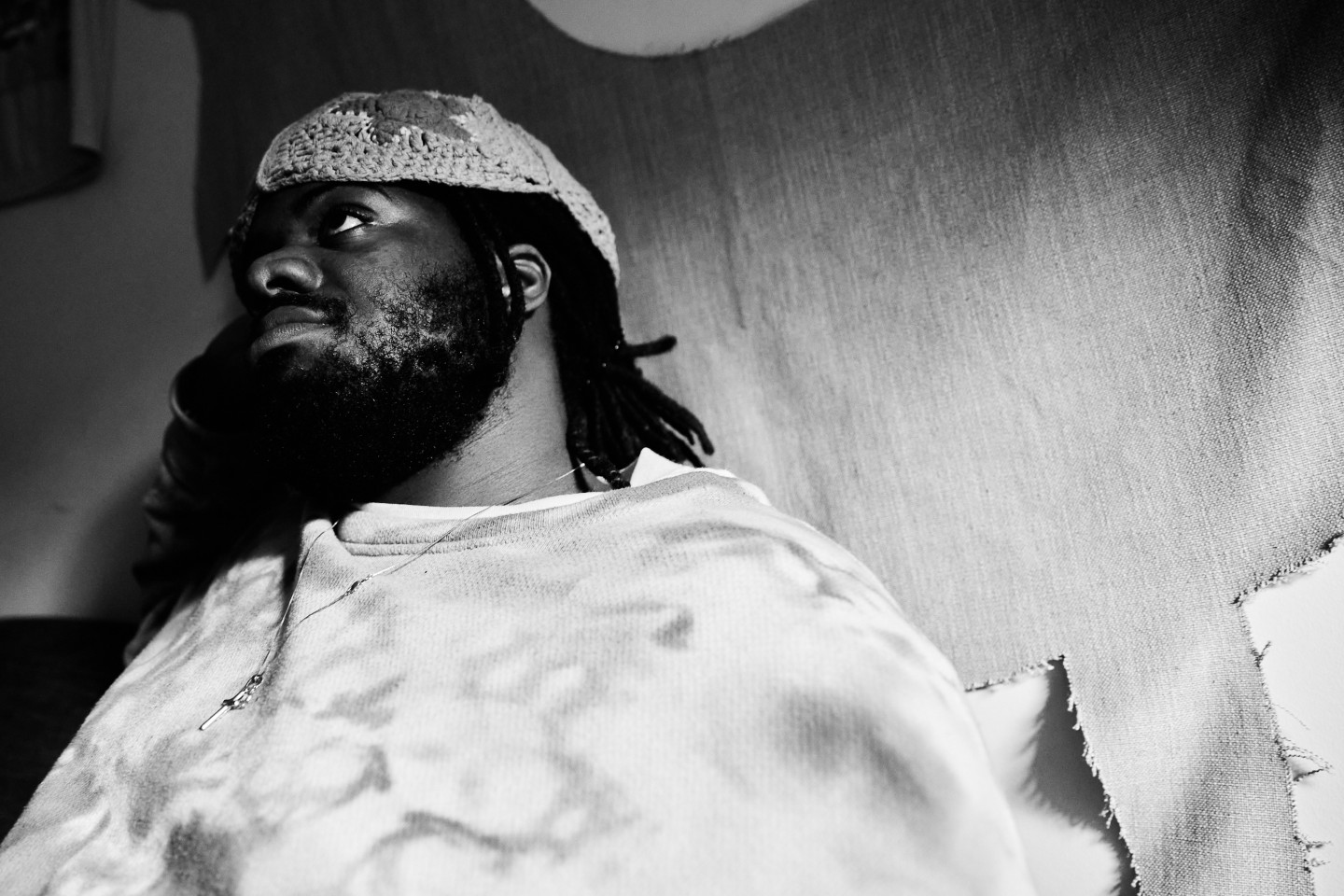 There's a really touching moment on "Swoosh 23," the intro from your sister. It sounds like she's not unaware of your music, but it's her first time hearing it.
I was scared to use it at first because that's my big sister and I love her. She's a crybaby but in a good way, and I think it's important that she knows how to express her feelings in that way. I guess one night she must have just been going through the MIKE wormhole, just listening to my shit. When she sent me [that voicemail], I really appreciated it, because in life it's always been a struggle to get people to understand how I feel and why I feel how I feel. I didn't have to tell her anything. She did the work on her own, and it felt so sincere. It made me feel special as hell, because we're all grieving my mother. I guess it just felt good to have somebody step into my world of grief, like my family was entering my world.
That conversation about grief is constantly evolving in your music. Your feelings are changing with the times. Like, "This month, here's how I'm feeling about it," or, "I'm moving on a little bit, but I still feel it." It's a source of motivation to keep moving every day.
When my mom first passed, it was very confusing. There was points where I was like "fuck everybody." That scene in Paid In Full where Mitch is like, "Yo, any nigga that look at me wrong…" I was on that vibe. But then I got to the point where I was like, "You know what? I need to love. I forgive everybody. We good. We got this, bro. We just need to come together." But then I was like, "Bro, why do I keep tryna make a God move where I know what's the right way to react to what just happened?" I just need to learn as I'm going on, as I'm continuing to live.
One of the things that situation taught me is that in this country, we don't know how to honor people. We don't know how to bring people to that afterlife, to make that transition a peaceful and loving thing. It taught me that instead of trying to make a decision on how I'm supposed to feel or what all of these things are supposed to mean, I'm supposed to just keep figuring it out, keep learning as the day goes by.
That's why I be saying music my life: because there's so much information, so many thoughts that I would never have had if it wasn't for music. I wouldn't know none of this shit. Being able to open my heart and talk about this shit as much as I did helped me think things through. I think that's why my sister sent the voicemail. It probably meant a lot to her too, because it's good to learn how somebody else is grieving. A lot of times, shit be feeling like it's the end: "We blew this up and this is it." But there's never a better sense of the future than seeing somebody else still here, still living through this shit.