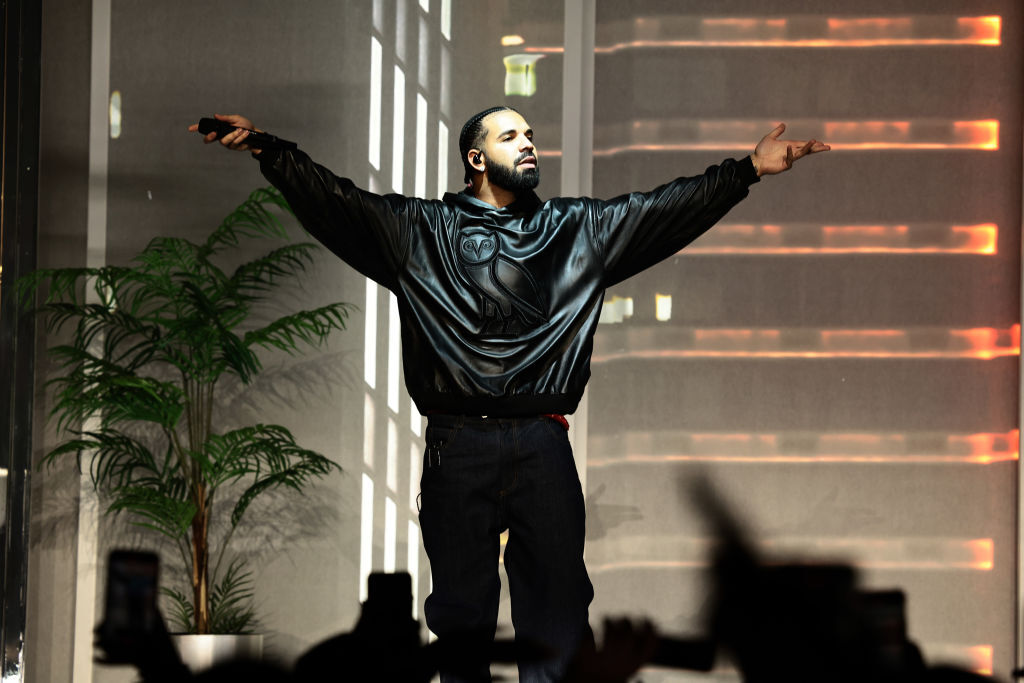 At the start of the second night of Drake's two-night stint at Harlem's historic Apollo Theater for SiriusXM, he sits on a bed in what's supposed to be a replica of his mom's basement, surrounded by a single nightstand, a boombox, and a space heater. Sporting a cozy cardigan reminiscent of something he'd worn a decade ago, he starts his set with "Over My Dead Body" from Take Care, still his most cherished album. The first couple of chords set off a chain of screams before Chantal Kreviazuk's vocals are piped in: "How I'm feeling, it doesn't matter. 'Cause you know I'm okay. Instead, I ask myself, 'Why do you worry?'"
Drake has reopened a time capsule. Everyone here is their old self again, listening to Drake talk them through a very important heartbreak; and their present self, likely in a better place, a little more grown-up, probably less obsessed with that lover. I post a clip of it to my Instagram Story, and an influential DJ who produced a track for Drake on Nothing Was The Same, replies: "Soundtrack to soooo many amazing after parties" followed by five single-tear crying emojis.
I may as well admit here that I was once the ultimate Drake stan. I had every song memorized. I had a photo of him on the background of my phone case. I had been granted "The Drake Award" at my sorority formals for being "the most likely to Drake and drive to my ex's house." (I don't drive.) And, while there was one part of me that wanted to stay home tonight, the little Drake stan inside me wanted to say yes instantly when The FADER tried to send me here tonight.
That part of me had a good time at the Apollo. I'd seen Drake twice before — both at Madison Square Garden on his Views tour in summer 2016 — but hearing him perform "Marvins Room" in 2023 was an entirely different experience. That voicemail recording is spine-chilling and the percussion pulses heavily. Every voice in the venue is reciting the lyrics, every hand up in the air with a phone in hand, re-recording Drake's peak.
He ricochets through his discography, spending a little extra time on his earlier works, continuing to sit on his bed to play songs like "Best I Ever Had" and "Karaoke" from So Far Gone and "Jungle" from If You're Reading This It's Too Late (still my favorite project of his). The lights go out for a few minutes and Drake returns in a new fit. Now, in a leather jacket in front of a label boardroom serving as the scene's backdrop, he stands with blazing confidence as he raps through "Started From The Bottom," "Energy," and "Know Yourself." The room goes from being in their feelings to being in their bag, feeding off of Drake's newfound boldness.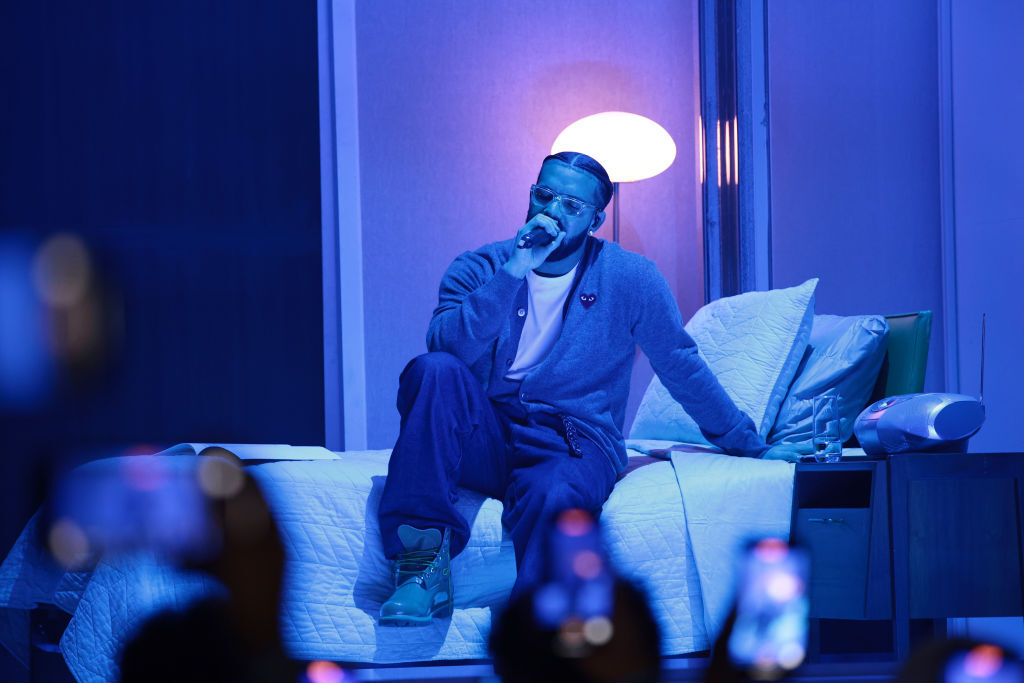 It's not until he gets to Views and the two girls next to me, seemingly in their early 20's, ask me to record them screaming to "Controlla" that I realize, shit, maybe I am too old for this. I move to the back of the venue and grab another drink.
It triggers the part of me that wanted to stay home tonight. On the surface, maybe it's just how weird Drake seems today. He's on the front page of every hip-hop blog because he just dissed the newest and hottest rapper in one of his endless cascade of new projects. His texting habits are questionable, as is his obsession with talking about every woman he's ever been associated with.
But the euphoric nostalgia at the Apollo tonight makes me realize that it's something more nebulous, something that maybe isn't all Drake's fault. The Drake whose face covered my phone case, the Drake who made music for momentous life events instead of Spotify playlists, disappeared a while ago. Today's Drake is more convoluted. He's now just become an avatar — a discourse magnet, whether you're talking about his newest album, his newest relationship, or his newest cultural costume. Whenever Rihanna breathes in a different direction, Drake is brought up. He's trending on Twitter for posting something strange on his Instagram story. The man is inescapable.

There was a time when Drake was the most relatable musician for young adults. The Canadian child star-turned-rapper was somehow the go-to artist when we were going through it, because, as the pilot episode of Insecure puts it: "He really gets us." Drake's nuance while navigating his relationships seemed to mimic our own coming-of-age conflicts. We had a role model who understood our struggles and made it feel okay to be the "furthest thing from perfect like everyone I know." So even if he was one of the biggest pop stars in the world, there was comfort in acknowledging your toxic tendencies — as long as you learned from them. Drake still seems to be coming to terms with that.
In the moment, though, it's easy to give in to the nostalgia. I did text my ex tonight. At the Apollo, it felt good to go back to a less complicated time. Maybe Drake wanted to go back there too.