Jane Remover's outer space
The 19-year-old songwriter and producer is making visionary, genre-defying music from her childhood bedroom.
Jane Remover is thinking about Wyoming: the empty space, the wild beauty, the geographical infinitude. Before heading out on tour with brakence a few weeks ago, the furthest west 19-year-old Jane had ventured from her family's home in northern New Jersey was Pittsburgh. But her life has changed a lot in the past year. Her debut full-length album, Frailty, released under the name dltzk, established her as the face of "digicore," a catch-all genre foisted on Gen-Z artists making everything from bit-crushed guitar to warp-speed industrial pop. Jane's work, though, resists classification. Her sound veers from PC Music pop to My Bloody Valentine-esque walls of noise, slashing between Midwestern guitar riffs, drone tones, and exuberant drops. And if she wants to focus on the evolution of that sound, she needs time and space. "I've been thinking about moving somewhere in the woods," she says, smiling. "Maybe I've been thinking about Wyoming a little too much."

Seated in a metal-backed chair in a cramped, desolate green room at the Music Hall of Williamsburg, Jane is in turns giddy and contemplative. Wearing a navy-blue long-sleeve shirt, light-wash jeans, and high-top Doc Martens, Jane surveys the green room's mini-fridge, which is empty apart from a plastic-sealed bag of apples and a container of weirdly wet carrots and celery. The meager accouterments don't appear to bother her much. Tour has been exhilarating but exhausting, offering a potential glimpse into her future as a full-time musician. "I'm living a double life still," she says, crossing one leg over the other. "Being away from home for a month and being Jane for 30 days is a totally different experience than being at home."

Jane currently lives with her parents in a politically conservative town in New Jersey, a workable arrangement despite some downsides. She has to wait for her family to leave the house before recording vocals, for example. But she's grateful to be saving money and working on music every day. "The good thing about living with family, as dysphoric as it may be sometimes, is that I've been saving a lot for when I'm finally ready to move out," she says. "I don't want to make a mistake. I don't want to end up in a spot where my situation is worse when it comes to making music."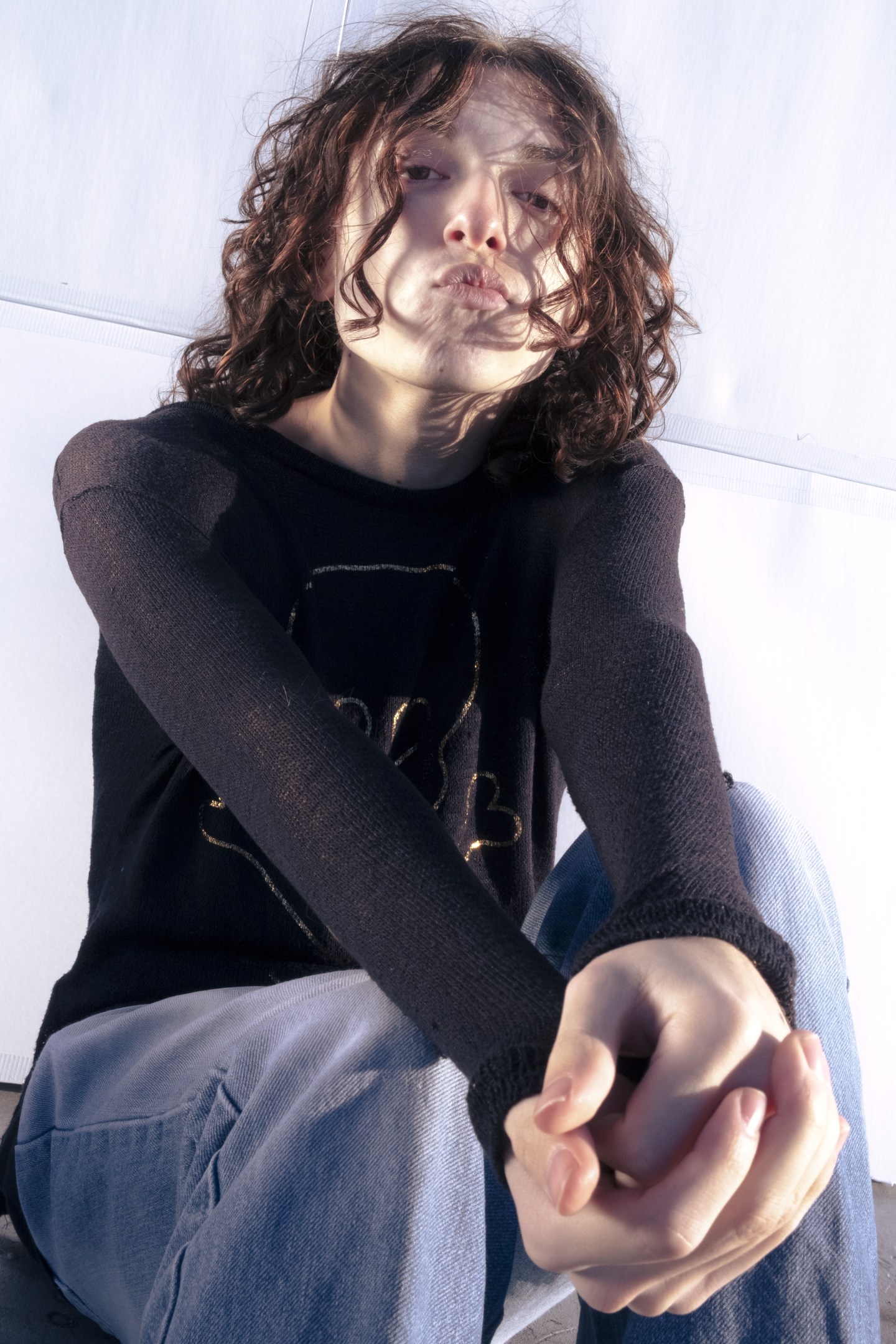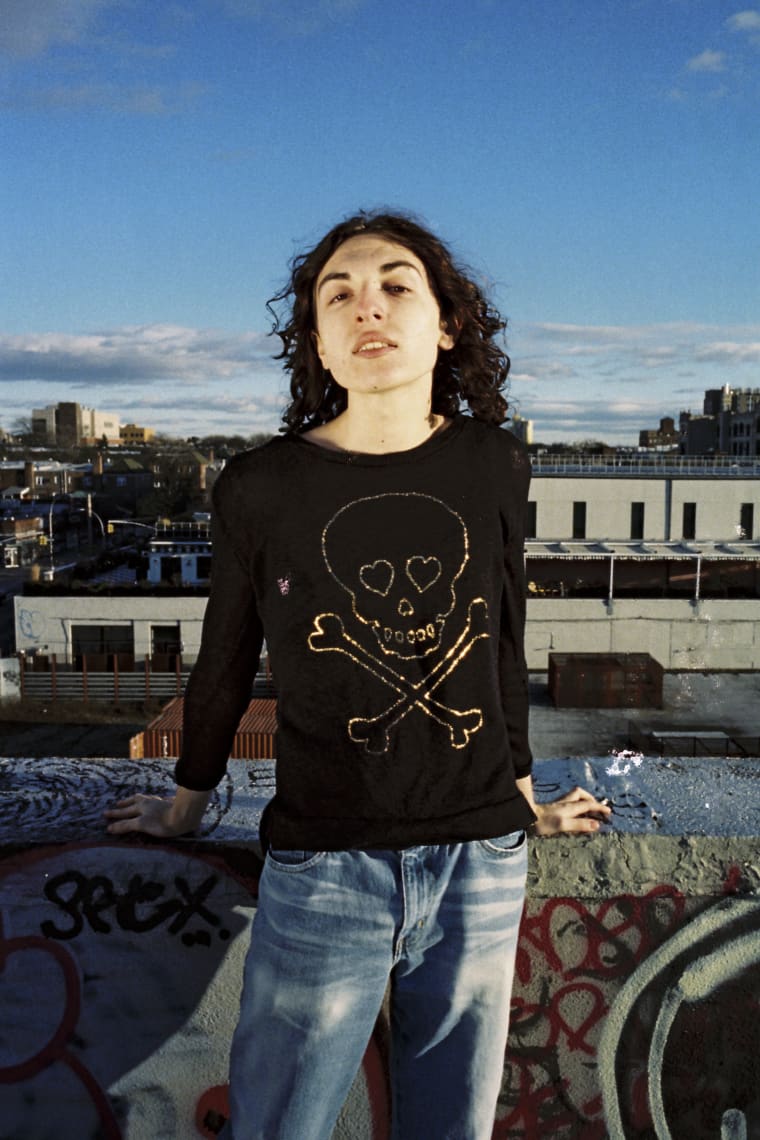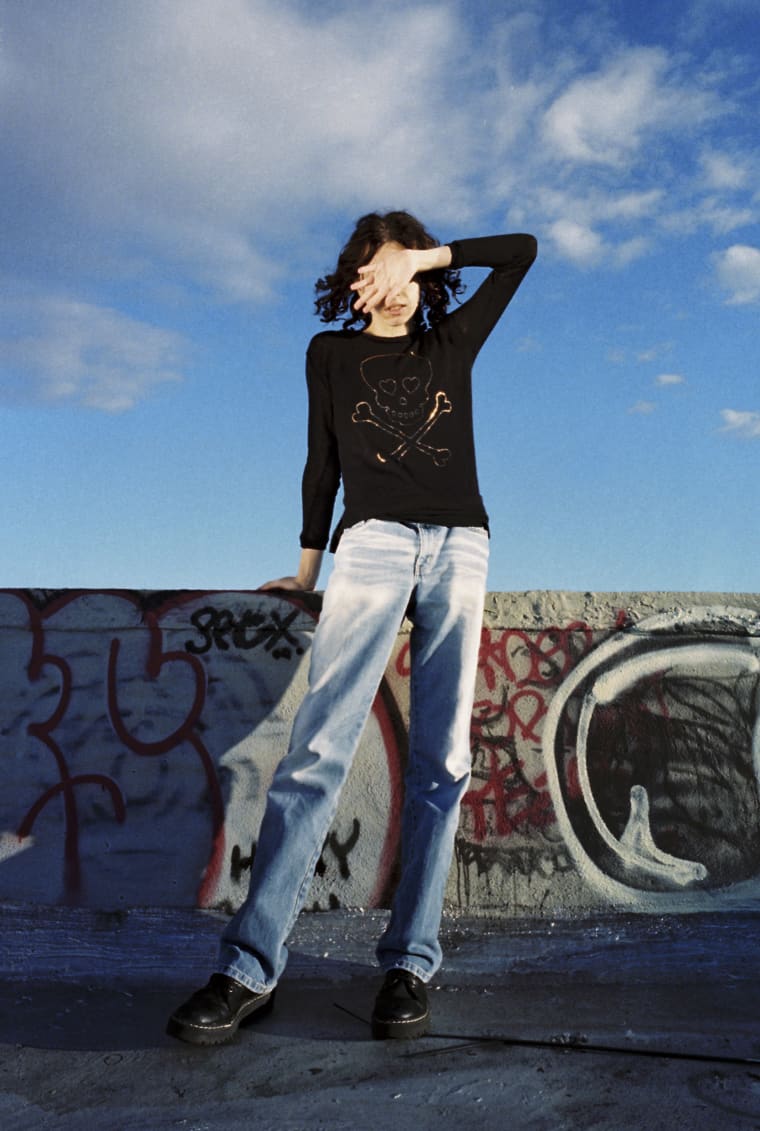 This time last year Jane was studying engineering at The College of New Jersey, sharing a cinder block-walled dorm room with a random roommate. In high school, her parents "instantly shut down" her proposal to take a year off to pursue music, so in the summer before her freshman year, she hurried to finish Frailty — an album she says sounds like "walking in your neighborhood the morning after you graduate high school, when it's sunny and a little bit cold" — knowing that when September came around she'd only get to work on it on weekends, when she visited home. She had a small, vibrant fan base that devoured her EPs, mixes, and singles, which she released under a variety of aliases. Anyone tapped into the digicore scene on SoundCloud or the back of Spotify's "hyperpop" playlist in 2021 probably stumbled upon a dltzk song, but Jane's early music was, on the whole, indistinguishable from the deluge of hyperpop-adjacent music scattered across the web.

Frailty, however, immediately stood out as the most elegant and panoramic album to have emerged from the digicore and hyperpop scenes. It's a compositionally sophisticated and emotionally nuanced coming-of-age opus, a stylistically dynamic collage of textures and moods that beams with wide-eyed wonder and labored virtuosity. It's an indie rock record made by a kid who fondly remembers purchasing Lady Gaga's "Just Dance" on iTunes, an emo album produced by a fan of 100 gecs and Porter Robinson.

"Being put in a box makes it hard to reach someone who's not tapped into this very niche part of the internet." — Jane Remover
It's no surprise, then, that she rejects the digicore and hyperpop tags. "Being put in a box makes it hard to reach someone who's not tapped into this very niche part of the internet," she says. "I have no problem with the hyperpop sound, but the label puts all these artists from an online community into the same box, even though we sound so different from one another."

Although Frailty roots itself in glitch pop and electronic, a guitar grounds nearly every song, which is remarkable considering Jane didn't know how to play the guitar before making the album. During early sessions, she recorded one string at a time on an old acoustic she found in a closet at home. Looking back now, she senses a spiritual synchronicity between her learn-as-you-go recording process and Frailty's central emotional concerns. "Doing it note-by-note added to the theme of picking up memories and putting them back together," she says. "It wasn't intentional, but if we want to get into the whole theorizing-symbolism-thing, it does make sense."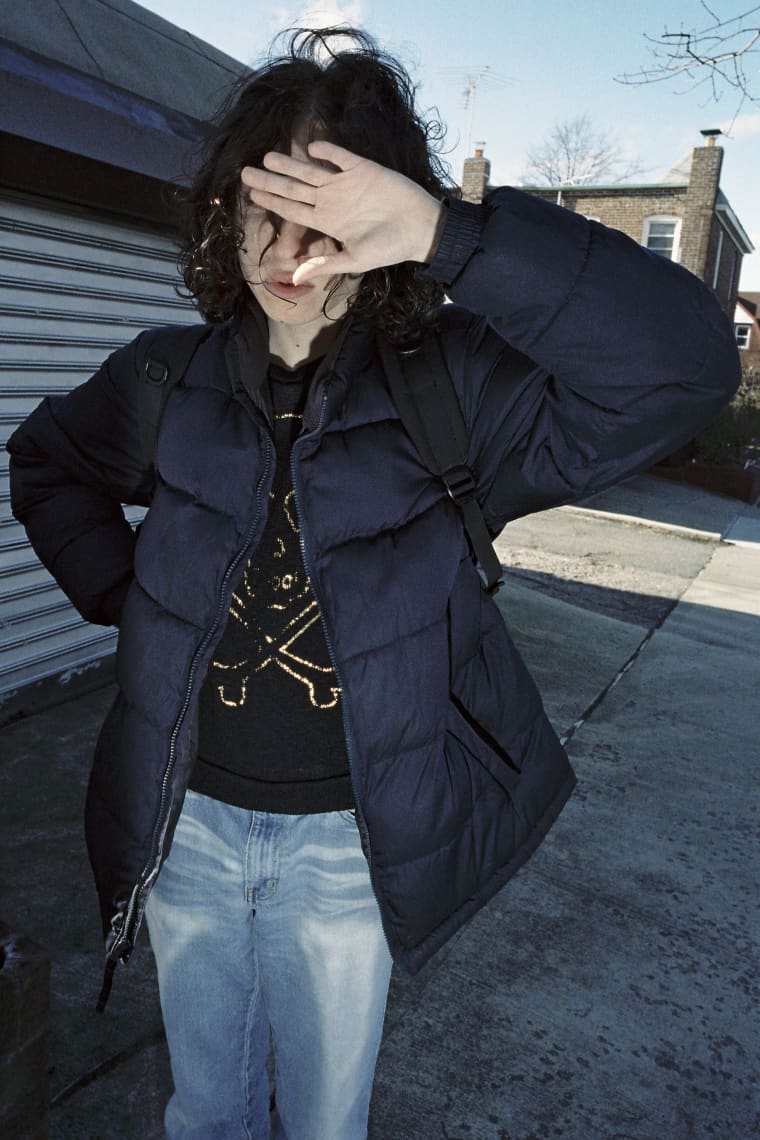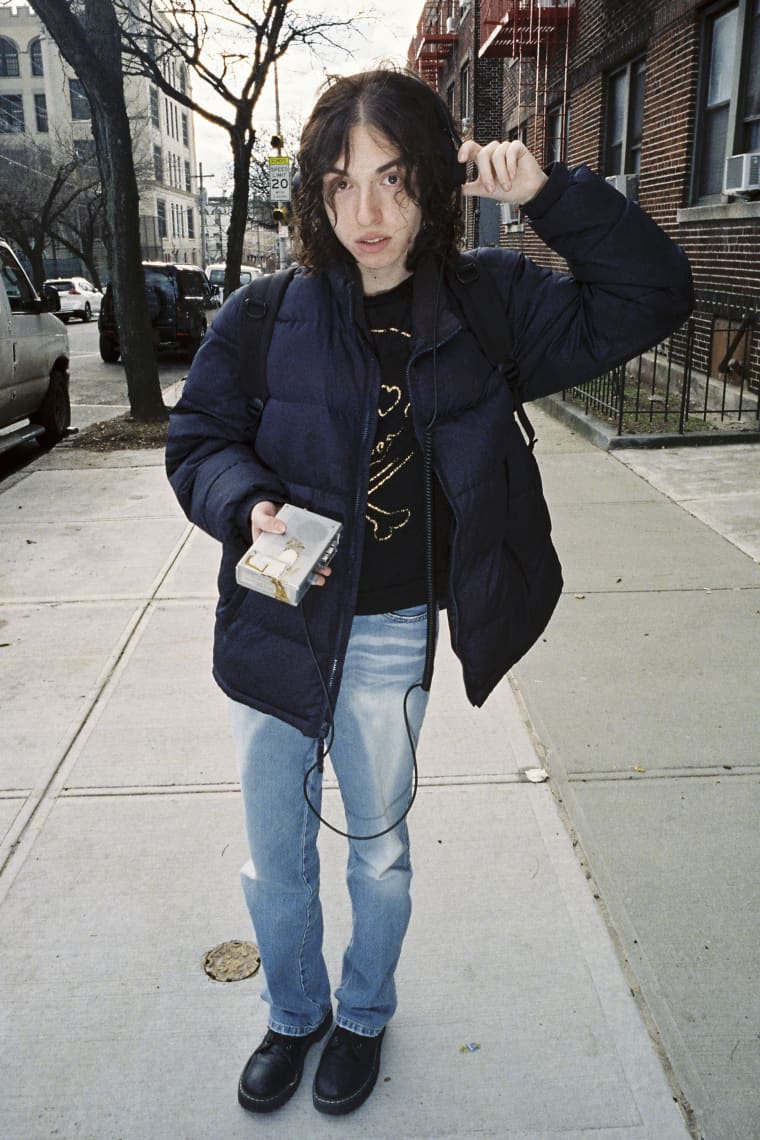 Frailty expanded Jane's audience and won her significant critical acclaim, getting a nod from The FADER before landing on some influential year-end lists. By the end of her first semester as a freshman, she had over 100,000 monthly Spotify listeners. Finally, Jane knew she had enough evidence to persuade her parents to let her leave college. "I told them [college] is always going to be there, but this is not always going to be here," she recalls. "I don't know why it took them so long to understand."

Jane's three official post-Frailty singles — "Royal Blue Walls," "Cage Girl," and "Contingency Song" — prove that she's not done upending expectations. The bit-crushed FX and distorted vocals are replaced by crisp, clean electric guitars and imaginative cadences and harmonies. On the solemn, stirring "Royal Blue Walls," which she released to announce her name change, Jane details her experiences as a trans woman, depicting harrowing scenes of self-harm and fears of familial disapproval. Though it's recognizably a Jane Remover song — with its sharp textural juxtapositions, shapeshifting melodies, and a blistering mid-song breakdown — the song is more organic and shoegaze-y than anything she's released before. Altogether, it sounds like another innovation.
As fans at her sold-out shows crowd surf to "your clothes" and mosh to "search party," Jane is preparing for her next step, finalizing a follow-up project and mapping out her busy year to come. "I'm very serious about the future, about how I want to plan things," she says. "I have a strong vision for what I want." She keeps a meticulously organized Google Doc that lays out her past, present, and future projects in painstaking detail, as if she's considering the trajectory of her discography a decade ahead of time.
It's funny, then, to discover that her studio set-up hasn't changed much since Frailty; her manager, Jesse, "bullied" her into getting a pair of quality headphones, and she recently purchased a new audio interface and electric guitar. She's not concerned with fame or numbers as much as she is making music that matters, that lasts, that's appreciated for its scope and ambition. Maybe that's why Jane has little interest in relocating to New York or Los Angeles, and why she's so drawn to Wyoming. "I need to find an optimal space for me," she says. Lucky for her, she's got time.