Damon Albarn won't drink the Kool-Aid
The Gorillaz co-founder discusses his virtual band's new album, Cracker Island, on the new episode of The FADER Interview podcast.
It's always been difficult to tell where reality ends and the cartoon world begins with Gorillaz. The band's four animated members — blue-haired lead singer 2-D, Satan-worshiping bassist Murdoch, Zen-minded guitarist Noodle, and intermittently possessed drummer Russel Hobbs — give their own interviews, produce weird podcasts, and appear on stage as larger-than-life projections. There's a deep and proudly absurd lore around the band — one that would be impossible to summarize in a reasonably sized book. If the group's real-life founders — Blur frontman Damon Albarn and graphic artist Jamie Hewlett — are ever in the spotlight, they're at least sharing it with their creations.
That's allowed Albarn in particular a much-needed measure of freedom. A quarter-century ago, when he and Hewlett formed the band in their West London apartment, Blur still came with expectations, pressures, unwelcome critical attentions that Albarn couldn't shake. Gorillaz initially created a diversion, allowing him to experiment with hip-hop and dub, funk and Afrobeat, punk and electropop. As the project grew, he started collaborating more, bringing in De La Soul, MF DOOM, Lou Reed, Mark E. Smith. 2020's sprawling Song Machine project had at least one collaborator on every song, and the sounds and ideas were even more varied than the names on the tracklist. Maybe the cartoon world made the real world a bit more vivid.
Gorillaz's eighth studio album, Cracker Island, is a more focused affair. There are huge names here — Thundercat, Stevie Nicks, Bad Bunny — but only a handful. The official lore around it involves the band moving to Los Angeles, where Murdoch tries to set himself up as a cult leader, partly because he's obsessed with the cult next door — which his bandmate 2-D has enthusiastically signed up to join. But beneath the farce, Cracker Island is about the internet age, about confected realities and the egotists who push them, the rubble of misinformation. It's the cartoon world trying to make sense of the real world, and, occasionally, coming up without answers. As Albarn explained when I spoke to him yesterday, it's an idea that's been simmering beneath Gorillaz since the beginning.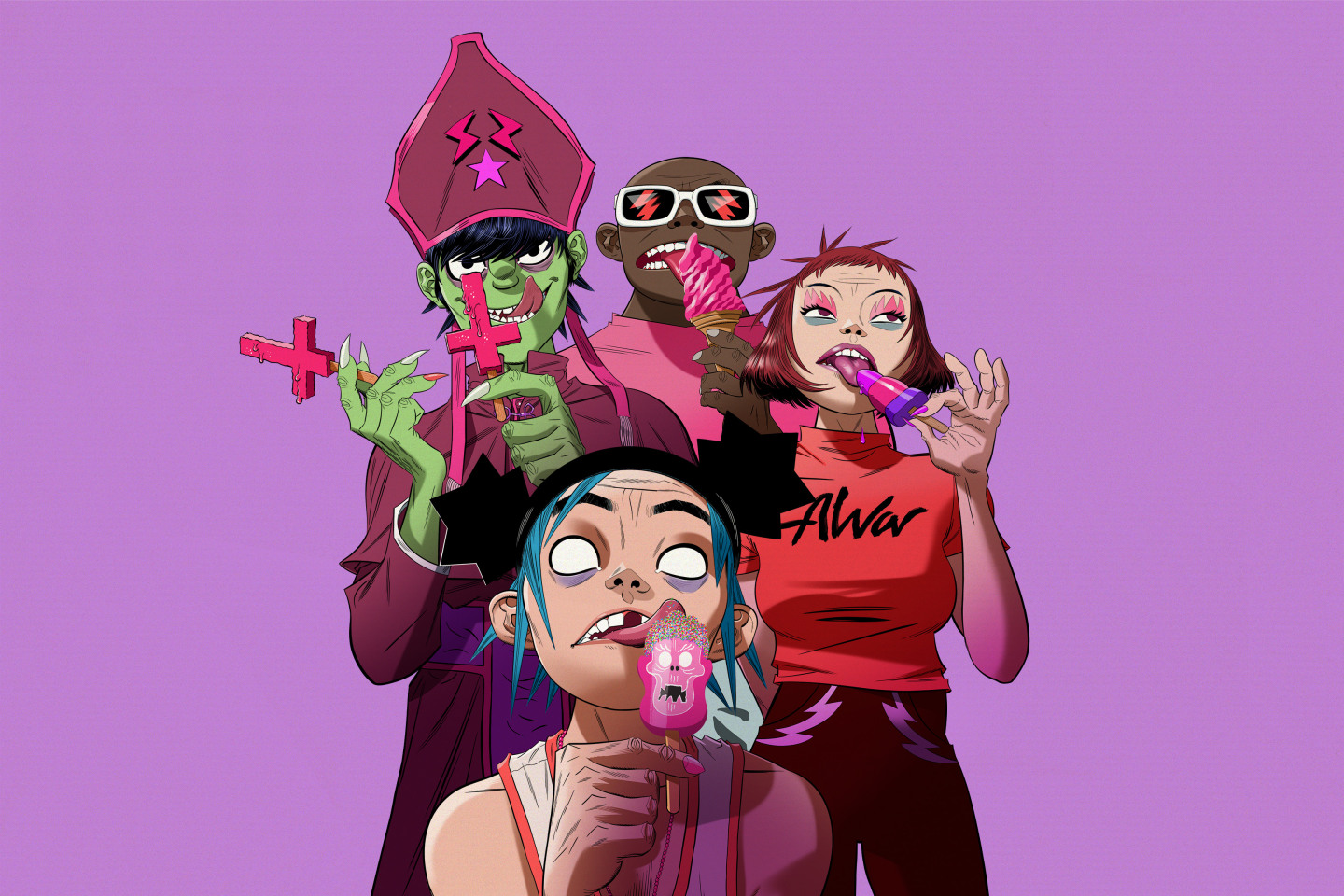 This Q&A is taken from the latest episode of The FADER Interview podcast. To hear this week's show in full, and to access the podcast's archive, click here.
The FADER: I wanted to start with Song Machine — this sprawling project packed with collaborators.
Damon Albarn:: It somehow made sense as an album, but it certainly wasn't made as an album. We just kept going during lockdown, like, "Can we put a song out a month?" That was the vibe: "We'll stop when we can't do it anymore." And then we just put them all together in the end. This record's actually got a narrative, so it's a totally different thing.
But you started it thinking that it might be another Song Machine, right?
Not really. Once I started [Cracker Island], I was like, "I'm doing this in L.A. and it's going to sound like this." This is the beauty of Gorillaz: We can make it up as we go along, and we do. So it was… "How do I feel about L.A.? How do I feel about the world at the moment? And how can I somehow put that through my own emotional cipher?
Gorillaz is all about geography, in a sense, because we have this metaverse for a long time. It's accumulated lots of space, and the psychogeography is quite huge. You can travel around to different eras in different parts of the universe or the world or the island indeed.
Your attitude towards L.A. seems to have developed.
Yeah, it's softened hugely. I used to actively not enjoy myself here, quite deliberately. I always used to arrive by plane and get driven in a car to Sunset Boulevard, or I'd arrive on a bus to Sunset Boulevard and I wouldn't really leave other than where we went to where were playing until I left Los Angeles. And I didn't drive then, so I was trapped, and after a while, same view, isn't it? I just didn't feel like I knew L.A.. Obviously, I don't know it completely now, but it fascinates me, and I do find it a very inspiring place. That's how I chose to approach making the record.
When you go to L.A. and you really get it for the first time, it's easy to become a bit of an evangelist for it. But that's not what Cracker Island does. It delves, with a sense of humor, into a slightly darker side of it.
There are certain properties I've been to while I've been here that are very clearly cultish and have been occupied by communities of people who have become very self-absorbed.
That's what happens to Murdoch in the lore of his record.
He's traversing the Northern Hemisphere as a specter of Rasputin. He's really taken the Kool-Aid to heart. And once you believe in the power of the Kool-Aid, you want to share it with everyone. Beware the Kool-Aid.
There's a commentary here about the internet age and about where we're living right now, but this type of thing goes back a long way before talking about anything QAnon or the alt-right.
They're all connected, aren't they? The idea of a secret society goes right back to the dawn of mankind, the necessity to try and find meaning in the vastness of life.
You refer to Cracker Island as people living in a reality they can affect, so people don't want to explore outside of it.
Everyone gravitates to the island where their ideas are understood. Personally, I'm not on my way to Cracker Island. In fact, you could say my ferry is heading the other way.
Song Machine was exploding with collaborators, whereas Cracker Island really feels like a Gorillaz record, very pared down in comparison.
Maybe that's just the nature of collaboration. I find that sometimes, I don't really have to do too much on somebody else's thing for me to be there. And sometimes it's entirely on you. So it's just being in the room, sharing that joy, embracing the spirit of collaboration as your instrument to travel with.
That helps you to traverse generations, I suppose, as well. Just here, you've got the vast space between Stevie Nicks and Bad Bunny.
But they do share something in common: being very, very, very popular.
How do you think the popularity affects it?
I don't know. I've never experienced their level of popularities, but it's nice to be an observer.
Do you really not think you have?
Not really. It's just not quantifiable like that, is it? I've never been a pop artist — not that Fleetwood Mac were ever pop. And Bad Bunny, he's not pop. Pop has come to him. I don't feel like he's a pop artist. He's more of a phenomenon in pop, because he can write, sing; he's got very good business acumen, very cool, interesting outlook; from a small place, not from the mainstream at all, and an amazing totem for Latin American sensibility and culture around the world, which in my books is a very positive place to be.
When you started Gorillaz, there was the idea of a manufactured band.
At that point, it was very obvious when you weren't involved in the music making. And that didn't matter if the end result had that joy in it. I don't suppose it really matters actually how [music] is made; it's the outcome. But if you were in a band, you always thought, "Well, do they play their own instruments?"
But now, because everything essentially can be made on a computer, people are not so discerning about how it's generated, to the point where we're allowing AI generation in music to seep in in quite an alarming way. But more broadly speaking, we're becoming synthesized. We're metamorphosing.
But inherently, the main concern behind Gorillaz remains that it's really about the human connection of the music making behind it. It's a more authentic thing than any of the fake bands fronted by real humans.
Music was a gift to homo sapiens and a way to carry them to far places in their imagination and communicate with things that were invisible. It's been used for so many different transportations. It's transcendental when applied properly. And it's there — I wouldn't say it's free for everyone because it clearly isn't, but it is in a way. You can hear all music for free if you want to find it. I don't recommend you doing that, obviously, not when it comes to this new album. Fine if you do, but I'm just saying I don't recommend it.
Gorillaz were ahead of the curve with even the notion of having you standing behind a screen early on and your characters being the live performers, and now you have this ersatz reflection of that in holograms live holograms. There was an authentic idea behind it, and this feels like a tawdry recreation of that. All of these ideas you had, does it feel strange to now see them reflected back at you?
Why are people doing it? I think you've got to know why you want to have a hologram, got to own that hologram, not just have one. Just because you've got one doesn't mean shit.
You close the album with quite an optimistic sentiment, this notion that we're all in this together till the end. Do you feel optimistic?
About which part of the mess?