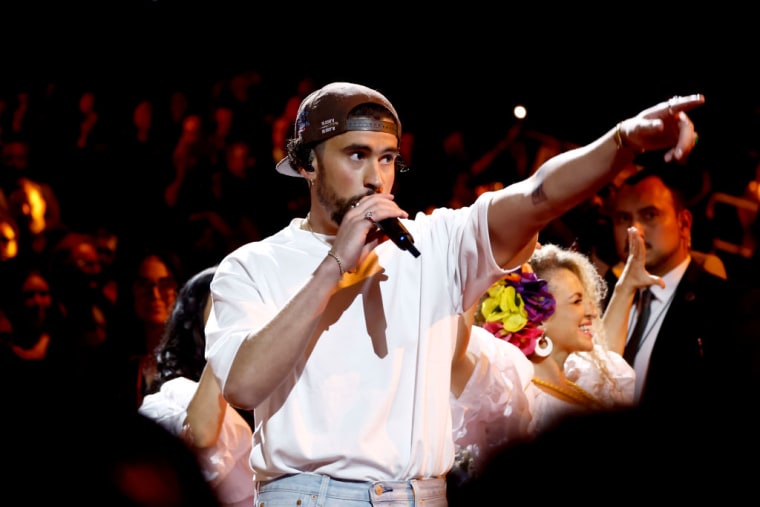 Carliz De La Cruz Hernández, the former partner of Bad Bunny, is suing the Puerto Rican artist over the rights to voice recordings used in his music. Assosciated Press reports that De La Cruz is mounting legal action over her "Bad Bunny, baby" voice memo, which has appeared on numerous songs by the hugely popular star. She is seeking $40 million in damages.
De La Cruz filed the lawsuit earlier this month. It also names Bad Bunny's label Rimas Entertainment and manager Noah Kamil Assad Byrne and was first reported by online Puerto Rico news site Noticel. The filing states that she has been left feeling "worried, anguished, intimidated, overwhelmed and anxious" by the attention brought onto her by appearing on songs, including 2016 single "Pa Ti" and Un Verano Sin Ti's "Dos Mil 16."
According to the lawsuit, efforts to authorize the voicemail heard in both songs were made by Bad Bunny's team prior to the release of last year's Un Verano Sin Ti. However, De La Cruz rejected an offer of $2000 to license the voice memo she recorded while in a relationship with the artist in 2015. She and Bad Bunny, real name Benito Ocasio, dated from 2011 until 2017. During that time she claims she was responsible for handling his invoices, managing contracts, and scheduling events.
In her lawsuit, De La Cruz alleges that the album was released despite her not agreeing to any kind of deal regarding the licensing of the vocal sample. She alleges that she declined multiple contract offers, claiming they were "excessively comprehensive." A translation of the lawsuit claims the behavior is an example of "gross negligence."
Last month, Bad Bunny was accused of copyright infrigement by Nigerian artist Mr Eazi. Eazi claimed that Un Verano Sin Ti cut "Enséñame a Bailar" includes an uncredited interpolation of "Empty My Pocket" by Joeboy and Dëra, two artists signed to his label.
The FADER has reached out to Bad Bunny for comment.