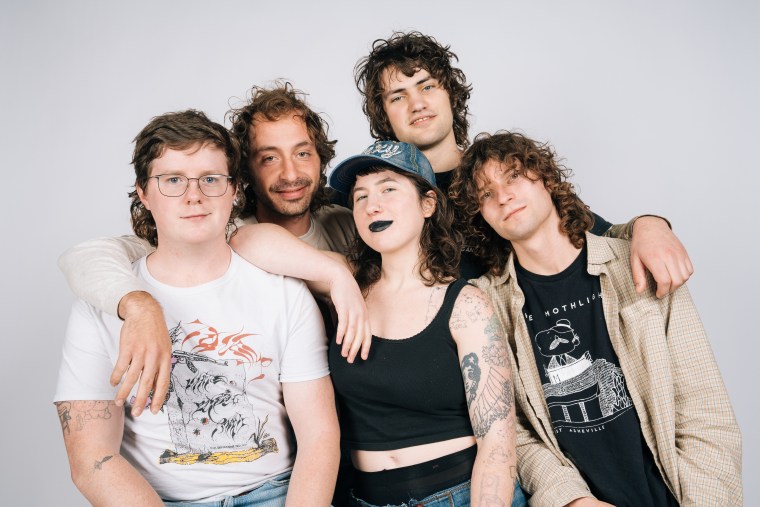 Wednesday have made no secret of the romantic relationship at the front of their band — the power couple of lead singer/rhythm guitarist Karly Hartzman and lead guitarist Jake Lenderman (aka MJ Lenderman). On at least two tracks on the group's new album, Rat Saw God, due out this Friday (April 7) via Dead Ocenas, Hartzman sets their relationship dynamics to song. Most notably, "Chosen to Deserve," a January single that arrived alongside the record's announcement, deals with the terrifying but liberating task of telling a serious partner all the less savory things about oneself that are generally withheld at the start of a relationship.
"We always started by tellin' all our best stories first / So now that it's been awhile, I'll get around / To tellin' you all my worst / Just so you know what you signed up for / What you're dealin' with / Just so you know what you've been chosen to deserve," Hartzman sings in the track's first verse, before launching into tales of underage over-drinking, cul-de-sac sex, and a friend's hospitalization over-the-counter drug abuse.
On this week's episode of The FADER Interview, Hartzman tells David Renshaw about the process of bringing a song you've written about an intra-band relationship to your bandmate/partner, and to the band as a whole. Apparently, it's a lot less messy than it sounds.
Watch the video for to "Chosen To Deserve," read an excerpt from the interview, and listen to the full episode via this link, embedded below, or wherever you get your podcasts.
The FADER: When you're writing a song that's about a relationship or a person, but you're in the band with that person, at what point are you presenting them with the lyrics and the ideas? Is it when you're in the room with the rest of the band? Or is it in a more personal way — "I'm thinking about this, what do you think? Should we take it to the rest of the guys?" Is there a system you've got in place for this kind of thing?
Karly Hartzman: That's such a good question. I've never even analyzed the dynamic of how that could work, because me and Jake, at the end of the day, know we're both just trying to write good songs. And we know [our relationship] is on the table to write a good song. Most of the time, I'll just bring it to band practice. And if you're doing a PA-in-your-living-room situation like we do, a lot of times we can't even hear the lyrics until we hear the recorded version. So I think it can be a surprise.
I mean, there's songs that [Jake] has written about our relationship for MJ Lenderman, too. And I'm always just like, "It's a good song." It's one of the foundational things to write a good song about. So I don't think either of us have many qualms. So far that hasn't been an issue, but I'll have to ask him that. That's a really good question.