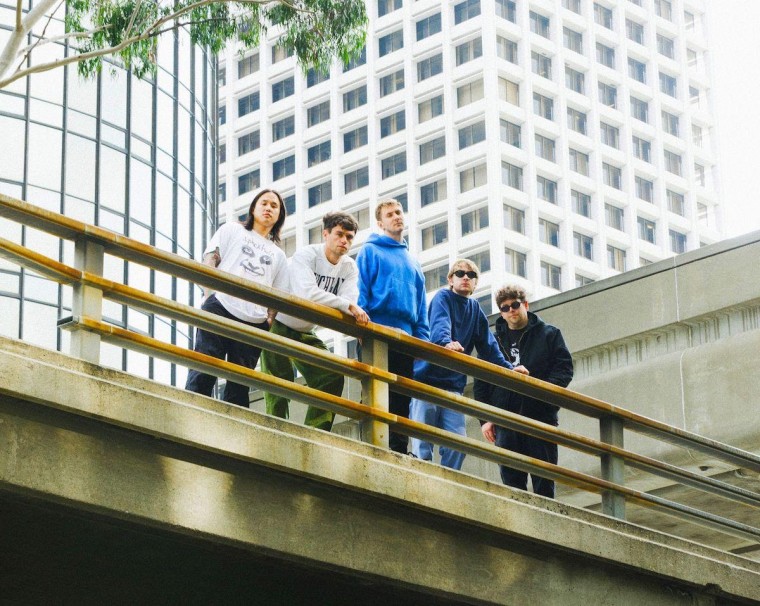 L.A.-based hardcore pop group Militarie Gun, a regular feature of our monthly Best Rock Songs column, have shared details of their debut album along with a new single. Their LP Life Under The Gun is due out June 23 via Loma Vista Recordings, and you can hear their latest track "Very High" right now.
In what may be a nod to the '90s alt-rock leanings of "Very High," the song comes with an amusing video that both parodies and pays tribute to the opening credits of dramas and sitcoms from that era. You know the ones, with lots of frolicking and laughing in picturesque settings. Only now, Militarie Gun bandleader Ian Shelton is in the mix, and he's not in a smiling mood.
"'Very High' centers around the desire to escape the embarrassment of day-to-day life as much as possible," Shelton says in a press statement. "From the lyrics to the video to the cover art of the album, it's about struggling with something no one else sees — 'I've been feeling [pretty] down, so I get very high.'"
Watch the "Very High" video below, followed by the band's upcoming tour dates.
Militarie Gun 2023 tour dates
May 6 - San Pedro, CA - The Sardine^
May 9 - London, UK - The George Tavern SOLD OUT
May 11 - Brighton, UK - The Great Escape Festival
May 12 - Brighton, UK - The Great Escape Festival
May 14 - Paris, FR - Le Klub
May 15 - Brussels, BE - Ancienne Belgique
May 26 - Las Vegas, NV - Punk Rock Bowling
May 27 - Joshua Tree, CA - Giant Rock (Desert show)
June 23 - Manchester, UK - Outbreak Fest
June 24 - Haarlem, NL - Kliko Fest
July 1 - Roskilde, DK - Roskilde Fest
July 2 - Rotterdam, NL - Metropolis Fest
July 3 - Berlin, DE - Hole44*
July 4 - Cologne, DE - Gebäude 9 *
July 5 - Haarlem, NL - Patronaat*
July 7 - Cheltenham, UK - 2000 Trees Festival
July 8 - London, UK - Electric Ballroom*
July 9 - Ieper, BE - Ieper Fest
July 21-22- Chicago, IL - The Rumble
* - with Rival Schools
^ - with Modern Colo