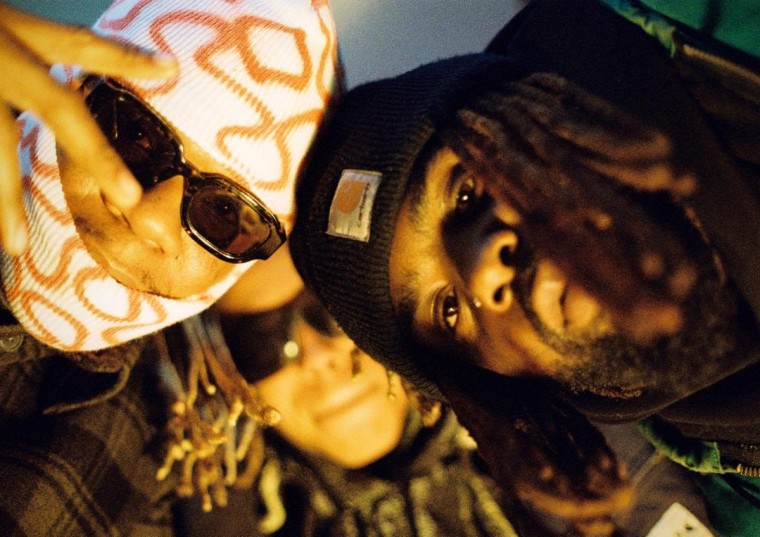 The FADER's "Songs You Need" are the tracks we can't stop playing. Check back every day for new music and follow along on our Spotify playlist.
HiTech's music is an all-energy mix of footwork, techno, juke, and rap influences that is as irresistable as it is hard to keep pace with. "Booty tech" is the catch-all term they use to describe their propulsive sound with the trio making their name in Detroit by throwing parties where everybody can "catch a mouth full of Henny and a double dose of techno." Last year the group, rapper-producer-DJs King Milo, Milf Melly and 47Chops, released their self-titled debut via Omar S's FXHE Records and today they return with news of its follow-up. DÉTWAT is due out on May 26 with new song "Zooted" streaming now.
From the off "Zooted" sparks in a way that feels custom-built for IRL scenarios; house parties, live shows, festivals, these are the natural home for what's going on here. "From the front to the back," an alien-like voice repeats before giving way to pace-increasing drum claps. Even the bed creak effect, synonymous with Jersey club, finds its way into the mix, too. The whole thing rattles with a confident energy, like listening to podcasts at 1.5 speed but cool.
You can see the "Zooted" video, which features footage shot while HiTech were opening for NYC rapper MIKE earlier this year, below.