Overmono want to make you laugh and cry in the club
The Welsh dance music duo go deep on their forthcoming debut album, Good Lies, on The FADER Interview.
Tom and Ed Russell were already successful solo artists when they finally decided to spend a couple of weeks in a cottage making music together in 2015. With Tom's background in techno as Truss and Ed's in dubstep as Tessela, the Welsh brothers joined forces to release their first project as Overmono, the Arla I EP, in 2016 on their bucket list label, XL Recordings.
For seven years, Overmono have dropped EPs and singles, teasing diehards with what their inaugural full-length project would sound like, all the while collaborating with acts such as Joy Orbison and remixing the likes of Four Tet. "So U Kno," their breakbeat-infused 2021 breakout single, quickly became a dancefloor staple. Now performing it at clubs and festival stages around the world — including both weekends at Coachella last month and upcoming appearances at Primavera Sound Barcelona and Madrid — they're ready to take the next step.
"So U Kno" is one of the 13 songs featured on their debut album, Good Lies, due out this Friday. It's a record that integrates vocal-heavy samples and hazy synths, reconfiguring them into evocative yet club-ready tunes vaguely reminiscent of '80s and '90s rave music. The nebulousness of each track is intentional, rousing feelings of romance, happiness, nostalgia, or melancholy, depending on your perspective.
For a taste of the album, I spoke to the ascendant dance music duo about family ties, sampling, and gabber bootlegging rings.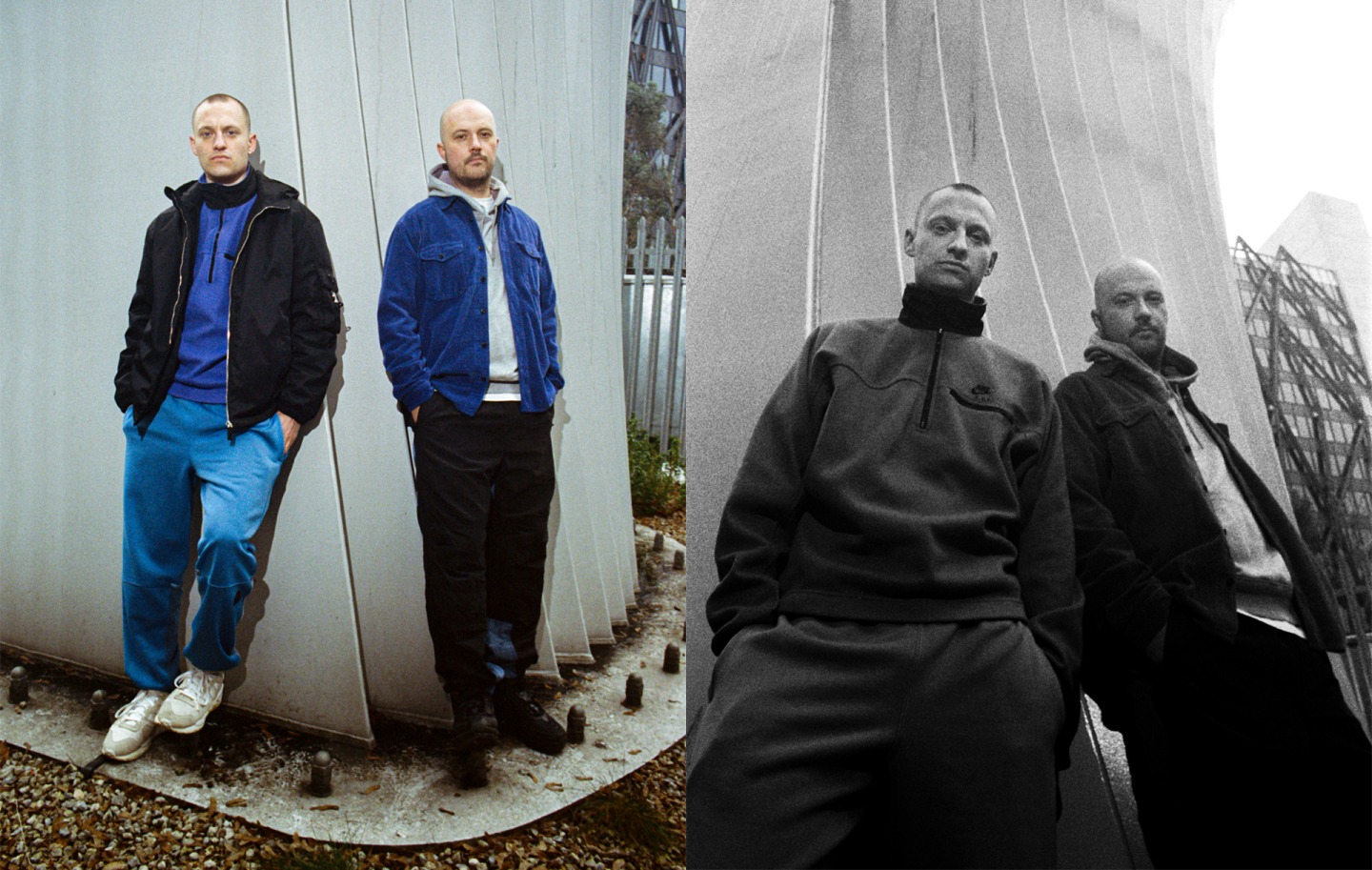 This Q&A is taken from the latest episode of The FADER Interview podcast. To hear this week's show in full, and to access the podcast's archive, click here.
The FADER: How was your tour and how was Coachella?
Tom Russell: It was the most enjoyable tour we've done so far.
Ed Russell: We've done one tour in America before that was really good, but this felt like a different thing. The [turnout] was crazy. And Coachella… We'd heard so many horror stories about U.K. people going over and playing to 200 people, and we were bracing ourselves, thinking, "It could happen, so let's just go and see what it's like." And then we got there and it was packed.
I hear that weekend one is for the influencers and weekend two is for the music lovers. Is that true?
ER: Definitely. Weekend one, someone arrived 10 minutes before our set with the henchest Doberman I've ever seen. It had two collars on it saying "DO NOT PET," and it looked like it'd been to the gym. I've never seen so many people where you're like, "Oh that's so-and-so," and then you're like, "Oh, no. It's not. I don't know who it is." They just look like they should be famous.
TR: I've never seen so many attractive, perfectly presented people in my life.
When you're anxious before a set, what's your ritual to relax and make sure everything feels good before going on?
TR: About five minutes before we're due to go on, Ed and I will get down and do one-minute planks. If people haven't seen it before, they're usually weirded out by it, but it massively helps us.
ER: I often find that before shows, your body goes into shutdown, so doing that snaps you out of it, and then you feel great and you go on.

"It's what we're always gravitating towards: that in-between state of emotions when you're not sure if you're laughing or crying or both at the same time."
I feel like since the pandemic, there's been a need for very danceable rave tracks that are also very emotionally evocative, and I think there's a lot of that on Good Lies. What's your hypothesis on why people are craving sentimental music?
ER: Everyone's missed a sense of human connection, so any music that makes you feel more connected to people is gonna hit harder than it might've done before. We don't often feel like we're making particularly sentimental music, [although] when we listen back to it, it feels like that. But we're always trying to find this emotional place when we're writing music that neither of us can quite pin down. It's between a few different things. And when we're working on tracks, we'll feel the emotion of the music goes too far in one direction and we'll pull it back into this slight middle ground.
The music we're drawn to the most is music that you could listen to, depending on how you're feeling that day, you could hear the same song in a different way. That's something we're not consciously aiming for in the studio, but over the years of making music, we've realized it's what we're always gravitating towards: that in-between state of emotions when you're not sure if you're laughing or crying or both at the same time.
TR: It's only in hindsight that we've cottoned onto the fact that that's what we're drawn towards. Our favorite artists have this ability to make music that's [emotionally] ambiguous, and depending on your state of mind, it can mean different things. I like that ability of music to flip.
ER: There are also times where we do really want to push into that thing. With "Bby," for example, we had the chords written and we were trying them on a bunch of different synths that were all sounding good, but we couldn't get the emotion out of it. And then we played it on this one Japanese synth that sounds drunk and sad at the same time — it's just got that real woozy bendiness to it. As soon as we played that, we were like, "Ah, that's it." We knew with that one that we wanted something you'd hear on a big sound system and it'd be quite a powerful emotion that it's getting across.
Did you see the "So U Kno" sample recently went viral on Twitter?
ER: No, that one's passed me by, probably for the best. [Abi Flynn's] got an incredible voice as well. She sent us a voice note, like, "I'm the singer you sampled for that thing," and I sent back straight away being like, "Oh my God, I can hear it so much in your voice."
Are you planning on collaborating with her again?
ER: We've never recorded a vocal, not intentionally. There's a sonic quality to samples we're both just really into. It's very difficult to get when you record a vocal. With sampling, you're able to reach into other people's… Someone else might've expressed an emotion in a very confident manner that we wouldn't have felt as comfortable doing. But because they've already done that, you can take a bit of it, and it's a really freeing feeling. Maybe we'll sample a big pop ballad [with] lyrics that maybe are really overt. But we recontextualize it in a way that feels true to us.
TR: When you're sampling something, you approach it differently in terms of the way you treat the vocal and chop it, process, as opposed to if you've just written a verse and recorded it. With sampling, it's a bit more carefree.
Are there any artists you think of as holy grail samplers?
ER: Liam Howlett from The Prodigy was one of the first people that I was like, "Holy shit." I didn't realize for years that the distorted synth line on "Voodoo People" was a guitar riff from a Nirvana tune. There's a lot of amazingly creative sampling in a lot of old Prodigy tracks. Kanye, obviously, is an insane sampler.
What is it about a vocal that draws you to it?
TR: It's tone more than anything else. We both know it when we hear it. We're on an almost identical wavelength when it comes to hunting for vocals. Whether it's male, female, whatever genre, we're pretty much always in agreement when it comes in and we hear that tone.
ER: We just spend a lot of late nights trawling the internet for things we wanna sample, which is honestly one of the most enjoyable parts of making music — hanging out, listening to loads of tunes, and finding something that's just suddenly like, "Oh my God. Yeah, that."
How much time do you dedicate to crate digging? You're touring, you make music when you're on the road. How do you balance all of this stuff?
TR: Constantly spinning plates, but we're always making music. On the road, we've learned to just make music on our laptops, but it's great. Now we can be in hotel rooms, in the back of vans on the way to gigs, and we're always making tunes. And if you don't feel like making a tune, just go on Bandcamp and search for things. You can be really geo-specific on Bandcamp about a particular genre in a particular place, so you can search for what's going on in the lo-fi trap scene in Nottingham and Bandcamp will be like, "Here you go." Probably not very much, but there's gonna be a few artists. It's quite interesting going on deep dives like that.
ER: A lot of the album was written after shows in hotel rooms, lying on a bed together with a laptop. We spent a lot of time figuring out how we could bottle up the sounds of our studio and get it all into the laptop so we could just make music wherever we are.
Some artists want listeners to hear the music live. Some are like, "Listen to it while walking and looking at the skyline." Is there any way you envision your fans consuming the album?
TR: In the car.
I don't drive. What do I do?
ER: Get an Uber. No.
TR: Maybe transport in general. But we always test our stuff out in the car — not just from a mix standpoint but from a vibe point of view. If it works in the car sonically and makes us feel how we want it to make us feel, we know the track's done.
ER: If you're driving around late at night and you've got it on, it's a weird clarity you get. If it fits that mood, you know it's right. And if it doesn't, it normally gets scrapped or we change it. But also from a mix point of view, the car is invaluable. We went to an amazing studio with Joy Orbison, the most expensive gear any of us have ever made music on. We wrote "Blind Date" and we were all like, "This sounds great on these 200 grand speakers," then mixed it down on this insane SSL desk. We got in the car and put it on, and within 10 seconds we all just looked around and we're like, "No, it's not right."
"It was the most obnoxious thing I'd ever heard, and I was just like, 'I'm in love. I'm sold.'"
I know your dad was a French horn player, so you come from a musical family. But what exactly drew you to electronic music?
TR: It was something I'd never heard before. It was so alien. I'd started listening to a bit of metal when I was eight/nine, and then a bit of hip-hop — N.W.A., stuff like that. That all was really inspiring, but it wasn't until I heard some U.K. hardcore when I was about 11 that I was like, "Whoa, what is this?" It was the repetitiveness of it. I'd never heard sounds like it. A year or two later, I heard a gabber kick drum going boom, boom, boom, boom, boom over and over again. It was the most obnoxious thing I'd ever heard, and I was just like, "I'm in love. I'm sold."
We grew up in a reasonably rural area of Wales, and there wasn't anything going on other than people passing around tapes. A friend's older brother started getting these tapes and giving them to us, and we were obsessively trying to track down more and more. They're all recordings of a recording of a recording, really bad quality. But it was magic for us because we didn't know where this music had come from or anything about it, other than it sounded completely different to anything we'd ever heard before.
ER: I could hear just music coming out of Tom's room, and the door would always be closed. I could always hear him doing his weights, knocking about in the room, and then this mad music just pounding out through the walls of our dad's house. I was like, "This is crazy, I wanna get into this," so I started pinching records from his room.
TR: Ed's the youngest person I've ever known to get turntables. He bought turntables when he was 10 years old.
ER: Actually, to get the money to buy the turntables, I'd gone into Tom's room and stolen a load of other stuff. I set up a market stall in a car park, and Tom was like, "I'll show some support, he's trying to earn some money." Then he came down and was like, "Oh, you motherfucker. You've just nicked all my stuff from my room," all these CDs and things.
Anyway, I made enough money to buy some turn tables, and then they didn't arrive and I was really gutted. So Tom called up the company I bought them from and he was like, "Look, he's 10. He's been sitting in all day waiting for these turntables to arrive. Can you sort them out? Can you upgrade them?" He managed to upgrade me from a two-channel mixer to a four-channel mixer, not that I had anything to do with the other two channels. But I remember feeling pretty stoked I had a four channel mixer. It looked hench.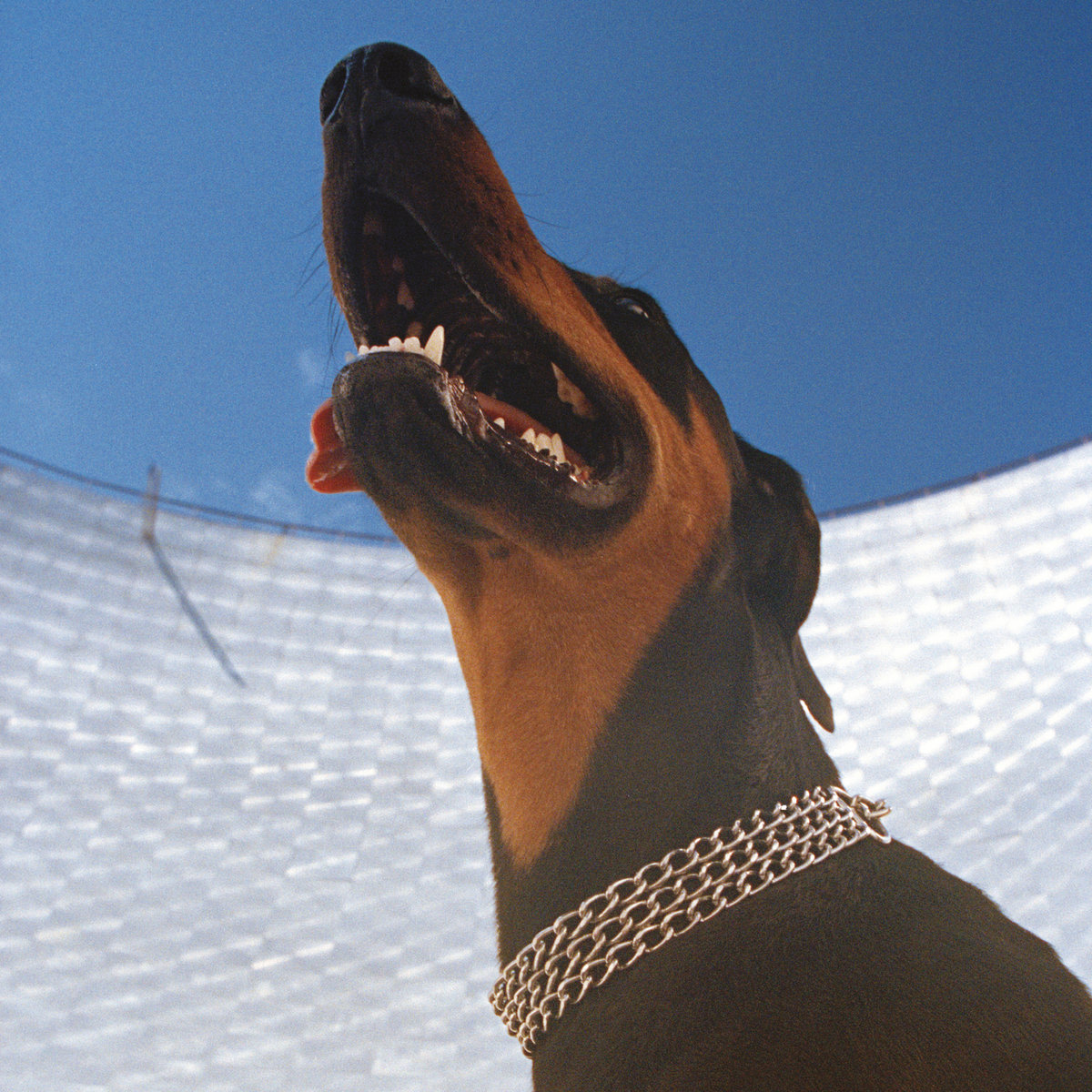 Speaking of visuals, when did the Doberman aspect come into play?
ER: I think it was 2019. We'd been chatting to Rollo Jackson a lot over the years. He's got such an amazing eye. We decided to do the first shoot in the carpark of Bromley Football Club, just down the road from our studio. That set it all in motion.
I was reading that you liked the ambiguity the Dobermans gave to the project and how they're often stereotyped. Do you feel like there are any misconceptions about your project, or about the dance music scene in general as it grows?
ER: Not that I'm aware of, but maybe. The dogs have been misrepresented for a long time. We had a vet come up to us after a show in Manchester, like, "I just want to say thank you so much for just showing Dobermans in their natural form, because no one ever sees them like that." We have people ask us all the time, "What are the dogs that are in your videos?" And [when we say] they're Dobermans, they go, "Really? I thought they had spiky ears and docked tails." We're like, "No, that's just what people do to them to make them look evil."
As the scene grows, what do you hope people in the mainstream know about it?
TR: It's nice to see that different forms of dance music are having a moment or seeping into the mainstream. After EDM, people are finding different things they're into. It's a generally exciting time for dance music, with lots of different directions it could go in. It'll be interesting to see over the next couple of years how that pans out.
ER: It's quite different in the U.K. and the U.S. The U.K. never really had its EDM moment. It was never a massive thing here, as far as I'm aware, not to the level it was in the States. So in the States, with the EDM bubble bursting, you're starting to see now where all of that debris is landing, and it's nice that it's landing in — from what I can see, anyway — areas where there's more things coming through and having a spotlight shone on them that maybe come from a more authentic place than a lot of the EDM stuff did. At the same time, say what you like about the EDM guys, but those guys know how to mix down a chain.
So you disagree with the "All My Homies Hate Skrillex" documentary?
ER: It's a really good little video, that, but Skrillex is an insane producer. It would've been cool if dubstep could've carried on for a bit before it mutated, because there was a lot of interesting ground still left to be explored before it exploded into what it became. But at the same time, I'd never hold that against the producers that were pushing that side of things forward. I think it's cool that someone like Skrillex came through and made tunes that genuinely at the time didn't sound like anything else. And I think if you're doing stuff that doesn't sound like anything else, it doesn't matter what it is; respect to them.