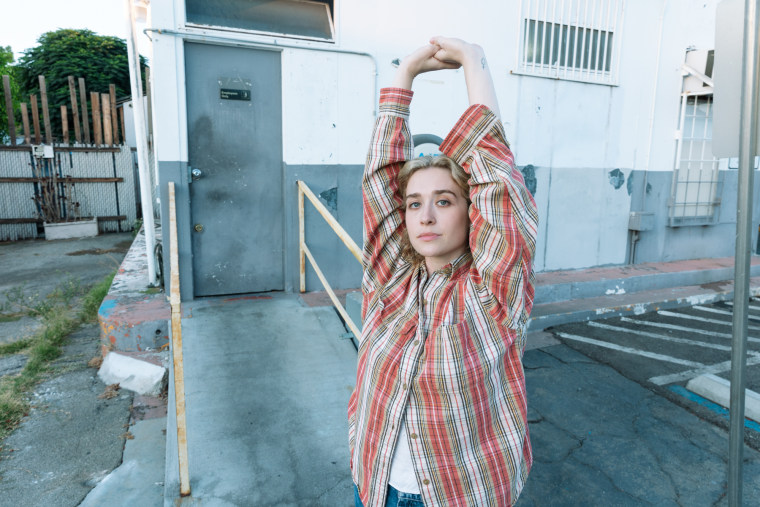 Blondshell's self-titled debut, released earlier this year, is a collection of stories that come direct from the bottom of the bottle. Sabrina Teitelbaum's songs are filled with sleazy guys, cheap drugs, regrettable decisions, and shout-outs to the friends that got her through the other side.
"Salad" encompasses all of the griminess of the record and buries it inside a bloody revenge story befitting a true crime documentary. "How does someone end up with a stone in a chest cavity?" Teitelbaum asks rhetorically as she concocts a payback scheme against a man who has harmed someone close to her. "It wouldn't be so bad," she tells herself before later adding "Gonna make it hurt," suggesting that actually it would be.
The root of this cathartic rock anthem is a friendship damaged by the violent interloper. The "Salad" video, premiering below, taps into this idea and takes inspiration from photographer Justine Kurland's 1990s series "Girl Pictures." It stars Teitelbaum alongside actress Ruby Cruz (Mare of Easttown, Bottoms), and Rana Ghiassi as a group whose seemingly innocent activities, foraging in the woods for flowers and herbs, slowly hint at a menu with a deadly purpose.
"For the video, we were really inspired by images of girlhood and deep friendship," Teitelbaum tells The FADER. "We kept coming back to Girl Pictures. I wanted the video to show the love that's in the song, not just the anger. [Director] Nick Harwood created a really beautiful video and a comfortable place for all of us to play around with images of chosen family and community."
Blondshell has also confirmed today that she will open for Liz Phair on her 30th anniversary of Exile In Guyville tour this fall. Prior to those dates, she will embark on her first headline tour of North America this summer. The full list of dates can be found below.
Blondhsell 2023 tour dates
July 7 - Portland, OR - Polaris Hall *
July 8 - Seattle, WA - Madam Lous *
July 11 - Minneapolis, MN - 7th Street *
July 12 - Chicago, IL - Schubas *
July 14 - Toronto, ON - The Garrison *
July 15 - Montreal, QC - Bar Le Ritz PDB *
July 16 - Boston, MA - Middle East Upstairs *
July 19 - New York, NY - Bowery Ballroom *
July 21 - Philadelphia, PA - PhilaMOCA *
July 22 - Washington, DC - DC9 *
July 24 - Nashville, TN - Third Man *
July 25 - Atlanta, GA - Aisle 5 *
July 27 - Austin, TX - Antone's *
July 28 - Houston, TX - White Oak (Upstairs) *
July 29 - Dallas, TX - Club Dada *
August 1 - Phoenix, AZ - Valley Bar *
August 2 - Los Angeles, CA - The Roxy *
August 4 - San Francisco, CA - Cafe Du Nord *
August 4-5 - San Diego, CA - Bleached Festival
November 2-4 - Reykjavik, Iceland - Iceland Airwaves
November 7 - San Diego, CA - The Magnolia %
November 8 - Tucson, AZ - Rialto Theatre %
November 10 - Los Angeles, CA - The Wiltern %
November 11 - San Francisco, CA - Masonic Auditorium %
November 13 - Portland, OR - Revolution Hall %
November 14 - Seattle, WA - Moore Theater %
November 17 - Minneapolis, MN - Palace Theater %
November 18 - Chicago, IL - Chicago Theater %
November 19 - Detroit, MI - The Masonic Temple %
November 21 - Boston, MA - Roadrunner %
November 22 - Philadelphia, PA - Franklin Music Hall %
November 24 - Brooklyn, NY - Kings Theater %
November 25 - Washington, DC - Anthem %
November 27 - Nashville, TN - The Ryman %
November 28 - Atlanta, GA - Woodruff Arts Center %
November 30 - New Orleans, LA - Orpheum Theater %
December 1 - Austin, TX - Moody Theater %
December 3 - Dallas, TX - Majestic Theater %
* Hello Mary support
% opening for Liz Phair