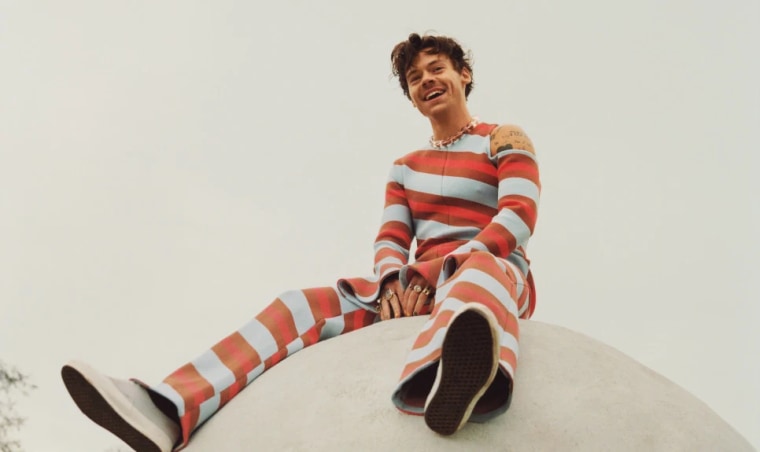 A year after the release of Harry Styles' wildly successful album Harry's House, three musicians have joined forces for a drastically different reinterpretation of the entire project. A Visit To Harry's House arrives today via Spencer Zahn, a composer who collaborated with Dawn Richard on the extremely good Pigments, along with Dave Harrington (one-half of Darkside with Nicolas Jaar) and Jeremy Gustin.
The project came together when Harrington proposed that Zahn and Gustin cover an entire album during a three-day stay in Los Angeles. The trio agreed that "a playful yet respectful, and creatively divergent take on this record was the only way to cover it," and that's certainly reflected in the music, which revels in its embellishments of jazz, ambient, and more experimental pop music while holding the source material in obvious reverence.
Read part of Zahn's statement on A Visit To Harry's House below, followed by a stream of the project via Pitchfork.
I was quickly struck by how interesting the harmony is across Harry's House. Harry and the other writers are making subtle but deep choices to carry the listener through the songs. Sure there are endless pop hooks that I will probably have in my head for the rest of my life, but the harmony is where I got excited. I will spare you all the details and the finer points of using the IV chord as the I or resolving a ii- V progression to the relative minor, but I was converted into a big Harry fan quickly.
The song forms are clever, clear, and concise. The lyrics are personal, yet universal. Less diaristic and more encapsulating the feelings that we all have when we fall in love and when heartbreak hits. I suddenly felt like Harry knew my life and I knew his. My life was his muse and now his was becoming mine.
When we got into Dave's studio in LA, we all agreed that a playful yet respectful, and creatively divergent take on this record was the only way to cover it. Jeremy didn't want to learn any of the songs so that his drumming, tempos, and rhythmic feels didn't lean too closely to the original. Dave, with a 6-month-old baby, didn't have time to learn the music and at least once was seen doing an overdub on the electric sitar while watching the baby monitor. So it fell to me to steer the ship close enough toward the north-star of Harry's House.