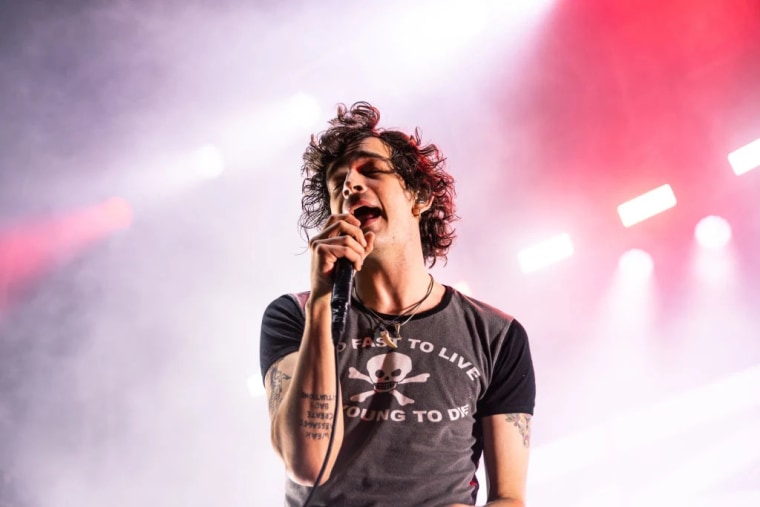 By now you're most likely either completely uninterested or full-blown Charlie meme about Matty Healy's podcast controversy but here it is in short. In April The 1975 frontman appeared on The Adam Friedland podcast with the host making a series of racially charged comments, including some about rapper Ice Spice's looks. Healy didn't say much himself but laughed along with the jokes. This blew up in a small way at the time, with the podcast being removed from streaming platforms and Healy issuing an apology on stage during a live show.
A second wave of backlash hit earlier this month, however, when Healy was linked to Taylor Swift and her fans pointed to the incident as evidence of how inappropriate he is as a boyfriend. There was an open letter saying as much. Swift, for her part, brought Ice Spice into her circle and had her appear on a remix of her song "Karma."
It seemed like that remix, plus Swift bringing Ice Spice out at the New Jersey leg of her Eras tour, might be the end of things. Healy, however, likes to talk and has given a lengthy interview to the New Yorker, published this weekend. In the piece, Healy tells writer Jia Tolentino that he doesn't believe any of the backlash, or much that counts for online discourse, is as real as people make out when they are posting.
Tolentino asked Healy if his appearance on The Adam Friedland Show was him baiting his fanbase. "A little bit," he replied. "But it doesn't actually matter. Nobody is sitting there at night slumped at their computer, and their boyfriend comes over and goes, 'What's wrong, darling?' and they go, 'It's just this thing with Matty Healy.' That doesn't happen."
When it is suggested that perhaps it does happen, Healy doubled down. "If it does," he said, "you're either deluded or you are, sorry, a liar. You're either lying that you are hurt, or you're a bit mental for being hurt. It's just people going, 'Oh, there's a bad thing over there, let me get as close to it as possible so you can see how good I am.' And I kind of want them to do that, because they're demonstrating something so base level."
The comments are likely to breathe an extra few days of backlash, whether Healy considers it real or not. One person whose dislike for The 1975 is very much concrete and factual, however, is Noel Gallagher, who recently labeled the frontman a "fucking slack-jawed fuckwit."