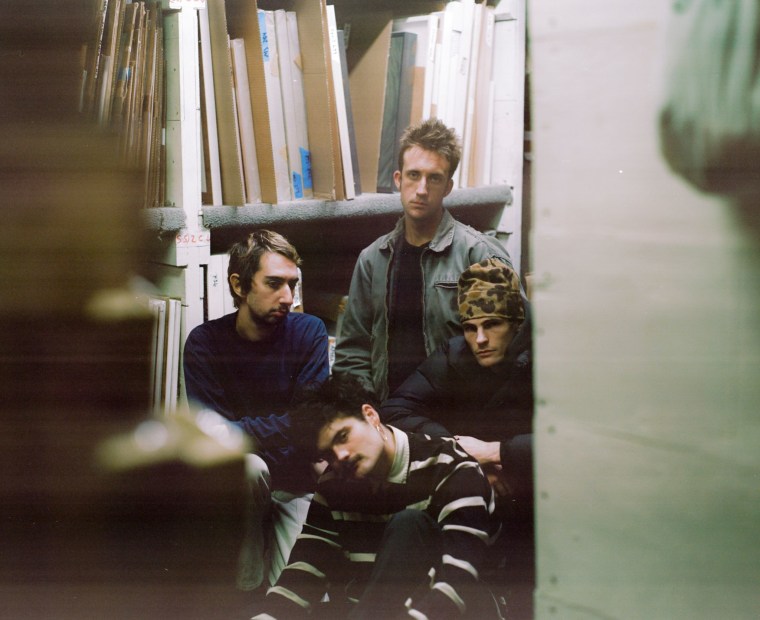 Model/Actriz will be touring the globe later this year. From July until November, the New York noise-rock band will be starting in the U.S. — beginning with San Diego, California — and ending in Europe for a 40-date run to celebrate the release of their debut album, Dogsbody.
To go along with the tour announcement, they've also shared a remix of "Amaranth" by LA-based electronic act mmph.
"Before we had started thinking about an 'Amaranth' remix, we got this lovely surprise in our inbox from our friend Sae (mmph)," Model/Actriz explained in a press statement. "It is the perfect extension of 'Amaranth''s place in the Dogsbody universe. We actually played our first show as Model/Actriz with mmph (and shoutout to our friend Fitnesss who also played) in one of the many Boston basements we frequented in the early days of the band, so this remix really completes a full circle moment for us."
Tickets for the Model/Actriz tour go on sale here on Friday, June 16. See the complete run of the tour below.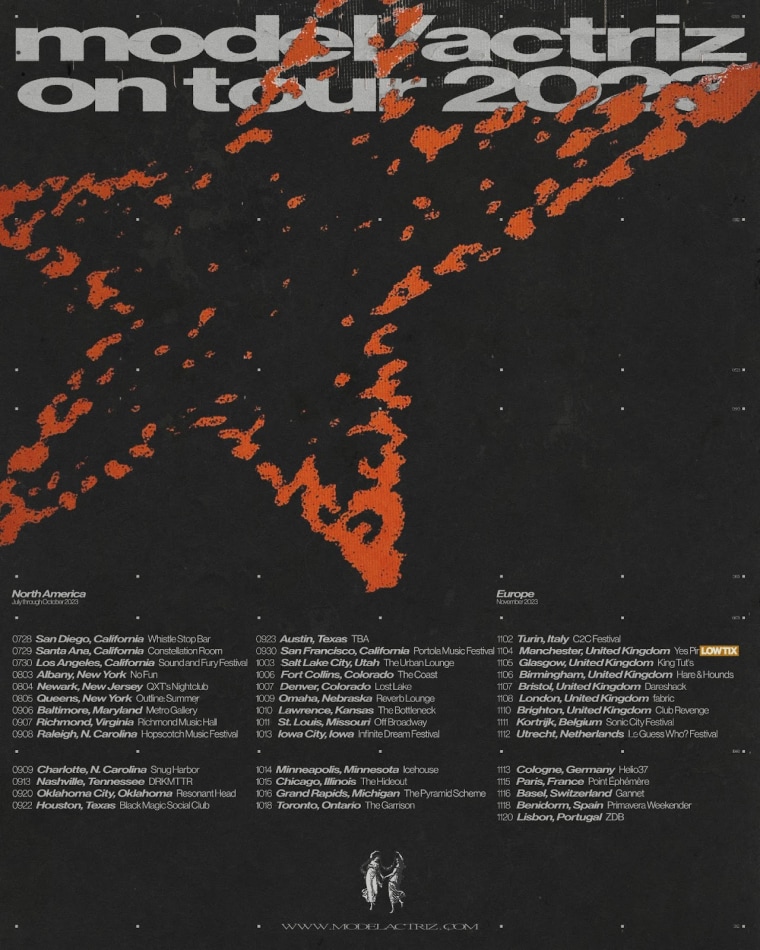 Model/Actriz 2023 tour dates
July 28 - San Diego, CA - Whistle Stop Bar
July 29 - Santa Ana, CA - Constellation Room
July 30 - Los Angeles, CA - Sound & Fury Festival
August 3 - Albany, NY - No Fun
August 4 - Newark, NJ - QXT's Nightclub
August 5 - Queens, NY - Outline: Summer
September 6 - Baltimore, MD - Metro Gallery
September 7 - Richmond, VA - Richmond Music Hall
September 8 - Raleigh, NC - Hopscotch Music Festival
September 09 - Charlotte, NC - Snug Harbor
September 13 - Nashville, TN - DRKMTTR
September 20 - Oklahoma City, OK - Resonant Head
September 22 - Houston, TX - Black Magic Social Club
September 23 - Austin, TX - TBA
September 30 - San Francisco, CA - Portola Music Festival
October 3 - Salt Lake City, UT - The Urban Lounge
October 6 - Ft Collins, CO - The Coast
October 7 - Denver, CO - Lost Lake
October 9 - Omaha, NE - Reverb Lounge
October 10 - Lawrence, KS - The Bottleneck
October 11 - St Louis, MO - Off Broadway
October 13 - Iowa City, IA - Infinite Dream Festival
October 14 - Minneapolis, MN - Icehouse
October 15 - Chicago, IL - The Hideout
October 16 - Grand Rapids, MI - The Pyramid Scheme
October 18 - Toronto, ON - The Garrison
November 2 - Turin, IT - C2C Festival
November 4 - Manchester, UK - Yes Pink
November 5 - Glasgow, UK - King Tut's
November 6 - Birmingham, UK - Hare & Hounds
November 7 - Bristol, UK - Dareshack
November 8 - London, UK - fabric
November 10 - Brighton, UK - Club Revenge
November 11 - Kortrijk, BE - Sonic City Festival
November 12 - Utrecht, NL - Le Guess Who? Festival
November 13 - Cologne, DE - Helio37
November 15 - Paris, FR - Point Éphémère
November 16 - Basel, CH - Gannet
November 18 - Benidorm, ES - Primavera Weekender
November 20 - Lisbon, PT - ZDB