Watch boygenius fans in Toronto surprise the band with a Pride-themed light show
The Toronto boygenius Fan Project distributed thousands of pieces of colored paper for fans to hold in front of their phone flashlight during the band's performance of "Cool About It," creating a huge rainbow.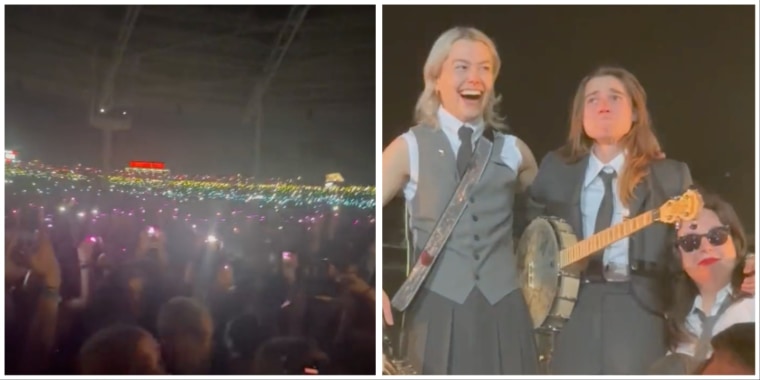 boygenius' tour behind their album The Record took them to Toronto last night (June 21), and the show's crowd did a good job of dismantling the city's (admittedly well-earned) reputation for boring concert audiences. As Phoebe Bridgers, Julien Baker, and Lucy Dacus began to perform their song "Cool About It," thousands of people in the 16,000-person capacity Budweiser Stage held up pieces of colored paper in front of their phone flashlights; the highly-coordinated effort resulted in a massive rainbow spread across the entirety of the amphitheater, just in time for the tail end of Pride Month.
As you can see from the videos below, none of the members of boygenius appear to have had any idea what was going on, and they all seem genuinely touched by the display — all three members of the group are part of the LGBTQ+ community and have spoken up in support of queer rights and in defiance of far-right politicians like Florida Governor Ron DeSantis.
The rainbow appears to have been planned by The Toronto boygenius Fan Project, a TikTok account that shared details of the light show's organization weeks in advance. Judging from the videos, it involved hours upon hours of volunteer outreach, logistical planning, and slicing paper.