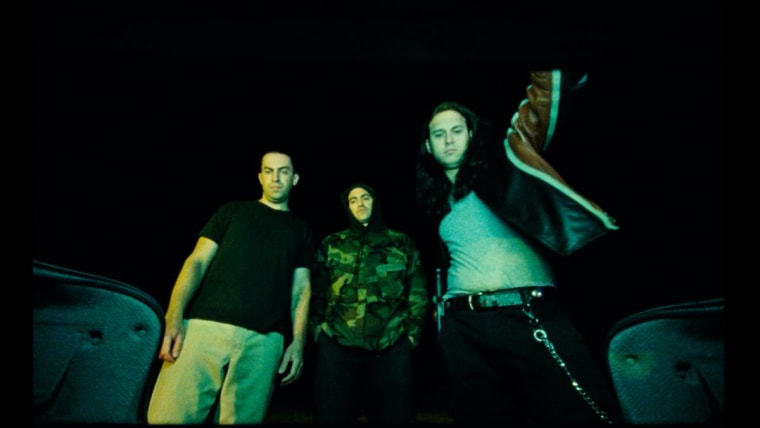 Hardcore-adjacent New York band Show Me The Body have announced details of a collection of remixes featuring Pink Siifu, RKX Nephew, and more. Trouble The Water - Remixes will be released on August 31 via Loma Vista Recordings.
"Food From Plate (Coochie Mix)" by Detroit ghettotech trio HiTech is the first taste of the project and is streaming below alongside the newly released video for the original version of the song. "Food From Plate" first appeared on SMTB's 2022 album Trouble The Water.
Described as an "amalgamation of friends and idols," the Trouble The Water remixes also include contributions by Michael "5000" Watts of Swishahouse, Slauson Malone 1, and Psymun featuring RXKNephew.
Show Me The Body will be on tour with The Garden from mid-October. Before that their label CORPUS will be hosting a free show in New York City's Tompkins Square Park tomorrow (August 18).
Trouble The Water tracklist
1. "WW4" (Psymun Remix) feat. RXKNephew
2. "Radiator" (Pink Siifu Remix)
3. "Food From Plate" (Coochie Mix) by HiTech
4. "Boils Up" (Je3's JCORE Remix) by Slauson Malone 1
5. "WW4" (Swishahouse Remix) by Michael "5000" Watts
Show Me The Body live dates
August 18 - New York City, NY @ Tompkins Square Park
October 14 - Oakland, CA @ Fox Theater^
October 16 - Portland, OR @ Crystal Ballroom^
October 17 - Portland, OR @ Crystal Ballroom^
October 18 - Seattle, WA @ Showbox at the Market^
October 19 - Seattle, WA @ Showbox at the Market^
October 21 - Boise, ID @ Knitting Factory Concert House^
October 22 - Reno, NV @ Cargo Concert Hall^
October 25 - Phoenix, AZ @ The Van Buren^
October 26 - San Diego, CA @ SOMA Side Stage^
^ = with The Garden