Rob49 just wants to go
On the cusp of national stardom, the New Orleans rapper looks back to the beginning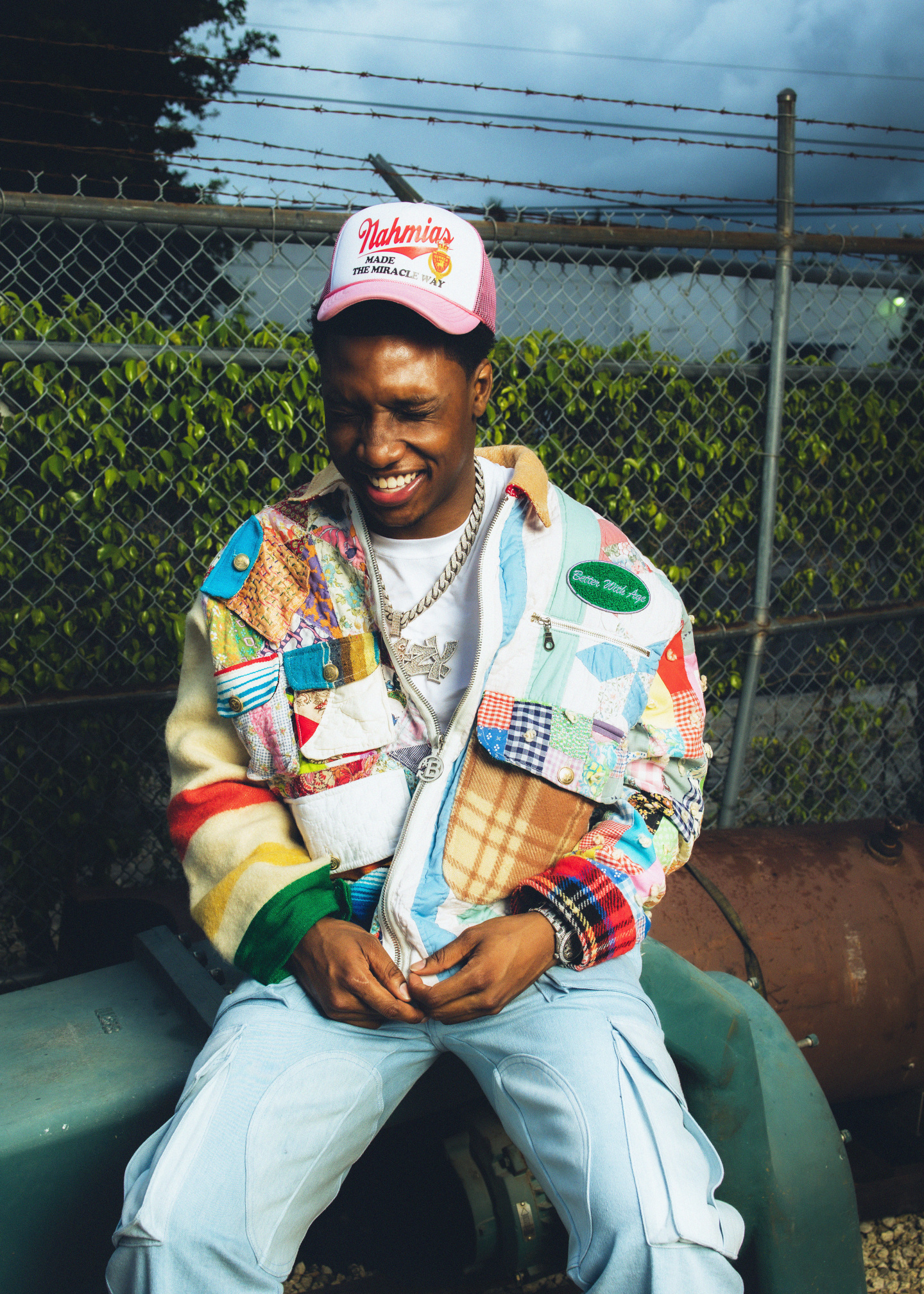 The FADER's longstanding GEN F series profiles the emerging artists you need to know right now.
I'm seated at the corner table of a restaurant located in the basement of a luxurious Manhattan hotel. The lights are dim and the decor is eerie — wooden whiskey barrels line the walls and twisted pastel collages of fallen Aztec heroes gaze down at the charcoal floor. Save for the murmur of pop hits buzzing from the kitchen radio, the dining room is silent and still.
"This looks like the type of place they'd send somebody to get killed," is the first thing Rob49 says when he arrives.
Dressed in a powder blue Amiri hoodie with matching shorts, crisp white Forces, and an enormous diamond-encrusted chain that spells "KRAZY," the budding rap superstar is tailed by a battalion. Two cameramen, some friends he grew up with, a grizzly security guard who stands stoically at the only entrance, and his mother all file into the otherwise empty space. They are from New Orleans and speak with an accent that sounds slightly foreign to most Americans: a nasally blend of Creole French and bayou slang, all delivered in scribbled cursive.
As Rob sits down next to me, he stacks his two iPhone 14s on the table to free his hands, which he uses to speak nearly as much as his mouth, and signals that he's ready to go.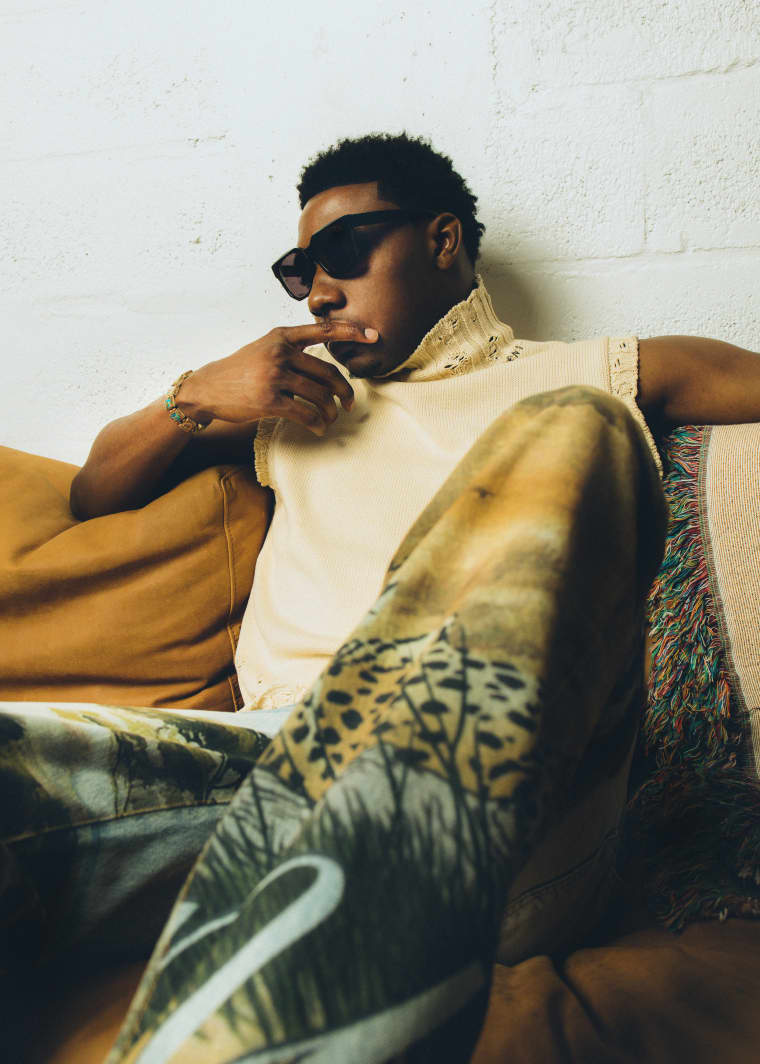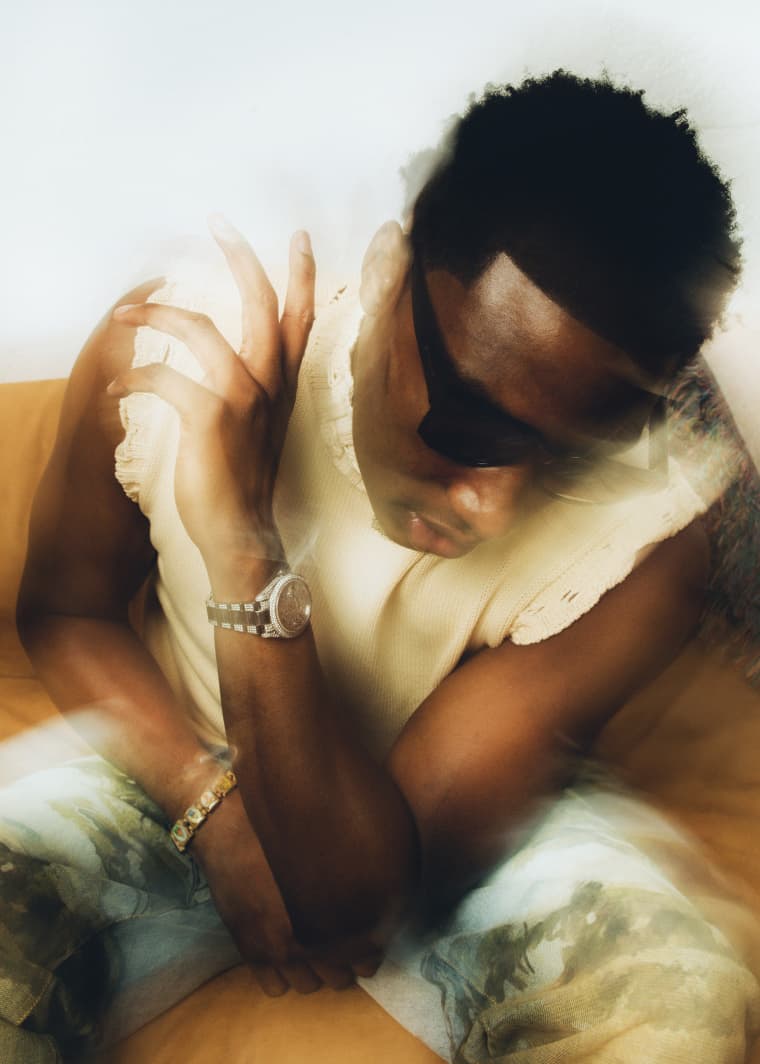 I ask if he ever wakes up in disbelief. "Right now," he says, tapping hard on the table. "I'm having a moment like that right now. I overcame a lot. New Orleans is a city for the killers, and I was at the forefront of it. Like, how the fuck did I make it out of there? You can't go where I'm from, no regular person can walk there."
The "49" in Rob49 reads "four-nine," a nod to the 4th and 9th wards of New Orleans. Specifically, downtown in the Desire and Iberville housing projects, where he grew up. Up north are Soulja Slim's Magnolia projects, and Master P and C-Murder were raised in the Calliope just west. Needless to say, it is a place with little opportunity for legal or economic mobility.
Growing up, Rob just wanted to make some money and stay out of trouble. He reminisces on his early days in the French Quarter, selling bottles of water to sweating tourists and even drumming for money on stoops with horn-playing troubadours. Later, in high school, his innocence waned. He started selling weed his sophomore year. At first, it was casual; a dimesac here, a 3.5 there, but business quickly ramped up. The scale of it is unclear: in songs, he'll discuss flying pounds of weed from California to New Orleans, but in interviews, he has (wisely) not admitted to more than "flipping a pack."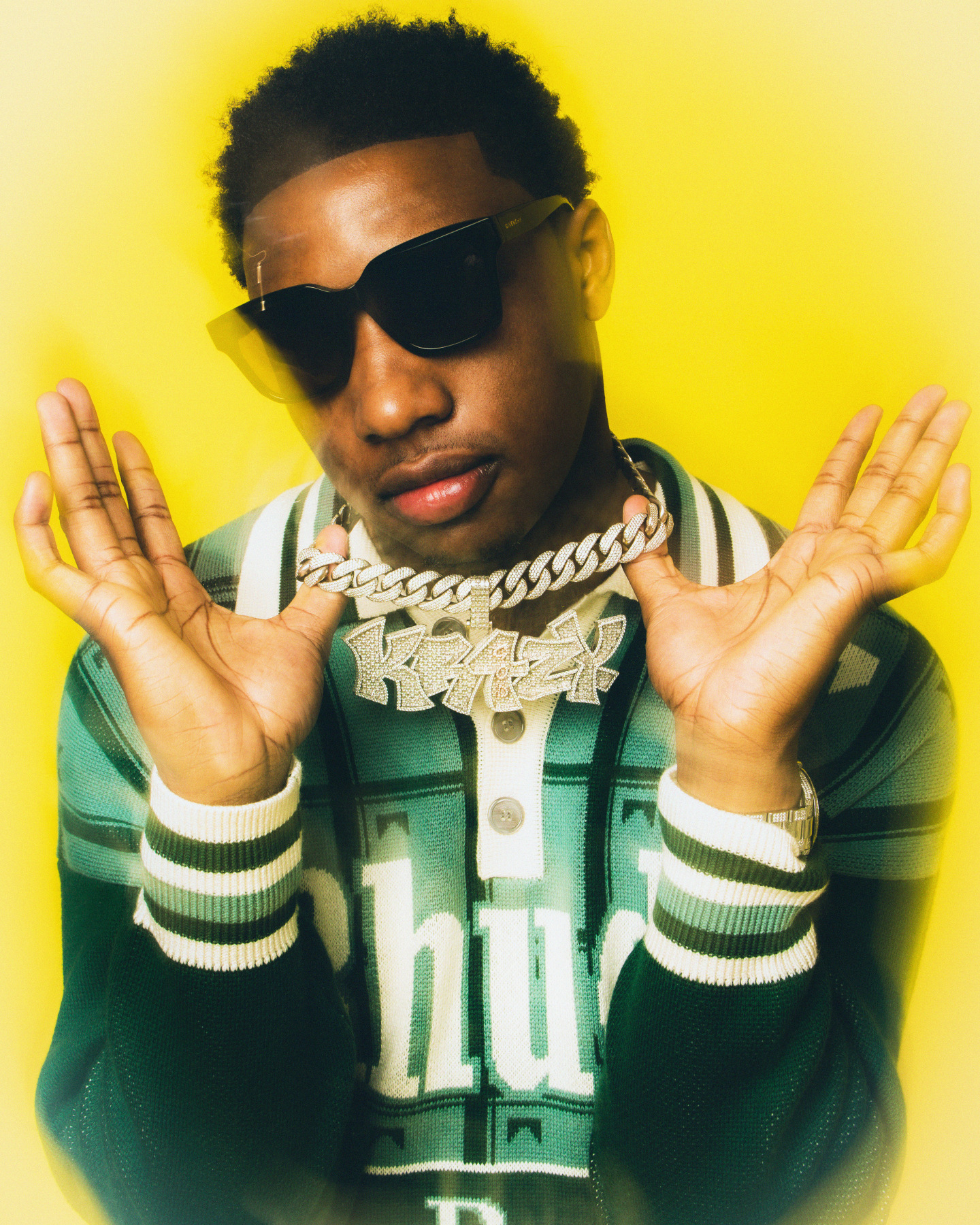 At 17, after his grandmother's funeral, Rob decided to change his life. On a whim, he asked the pastor to baptize him. "I remember him pushing me under the water," he says, "and dawg, I saw my life flash before my eyes. I saw myself go in a casket. Then I came up and it was a new life."
This moment inspired Rob to change his ways: "You can't go with God and against God," he says emphatically. He graduated high school, gave college a shot for one year, then enlisted in the army for a two-year stint, just trying to make something of himself. He didn't touch a mic until April 2020.
Within weeks of releasing his first song, his bellowing voice and unbridled energy caught fire in New Orleans. Birdman almost instantly tried to sign him: "Birdman flew me out to his house in L.A. when I had 3,000 followers and told me I was gonna be the one. That n***a must be a guru or somethin'." Later on, Young Thug tried his luck at a deal, sending Rob a DM on Instagram that simply asked, "How much you want?"
Rob's appeal does not lie in the proficiency of his rapping. Instead, he wields an intangible attribute that is becoming increasingly rare in today's age of performative identities: Rob49 is who he says he is — a project baby from New Orleans. And he shouts it with his entire chest.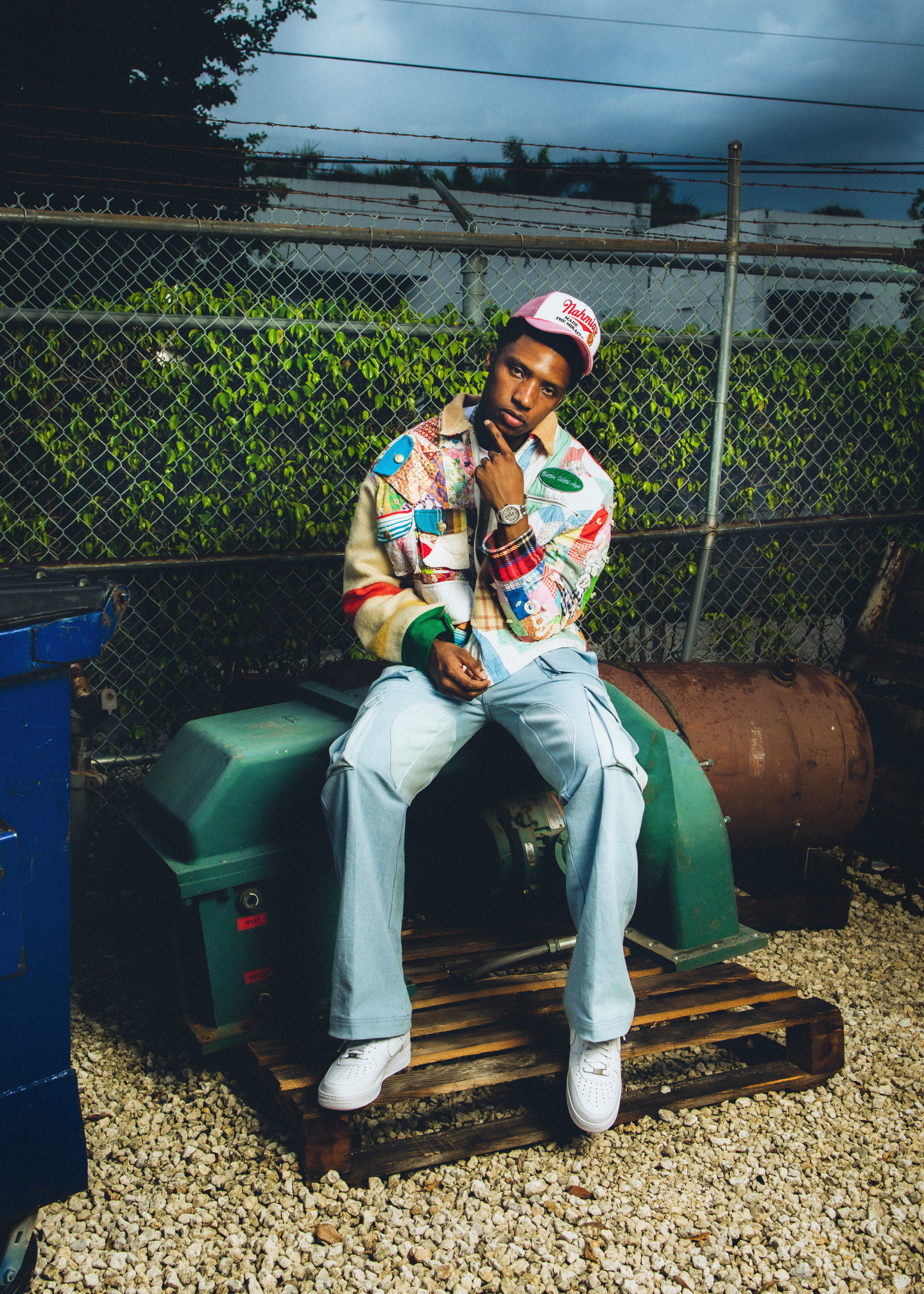 In his early string of city hits, like "DeeDay," "Penthouse," and "Hustler," this was made clear. But his arsonistic candor was cemented nationally with "Vulture Island," a new-New Orleans classic that fuses gritty street rap with raucous bounce interludes. After becoming a regional hit, the track was remixed by Lil Baby, who joined Rob in the Iberville projects for the video. An estimated 11,000 people showed up for the shoot, marking a definitive moment for the post-Katrina generation of New Orleans rap. A coronation followed.
Kevin Gates, Future, Meek Mill, and more showered him with praise. Then, about a month after releasing his latest album 4 God II, Rob was featured on Travis Scott's chart-topping album Utopia. The six bars that Rob49 spat on "TOPIA TWINS" marked a seismic shift in his already snowballing career, earning him his first Billboard plaque and millions of new listeners. His short verse was a bout of heat lightning over an otherwise dull pasture, which is particularly remarkable because Rob didn't rhyme a single word. "I told myself I gotta start rhyming," he says, "but in my head I just be talkin' my shit. I don't be tryna rhyme, I don't be tryna make music, I just be tryna GO!"
And he has GONE. Despite going broke after his first label advance, despite being shot in Miami this January while filming a music video. Despite being from a city that shouldn't exist; a city that consistently influences modern rap yet hasn't produced a national rap star in over a decade. Does he feel like he's made it yet?
"Fuckin' right I feel like I made it. I could not ever drop another song, and I'd feel like I made it. Because, where we come from bro, you don't get this. Better believe I had made it."