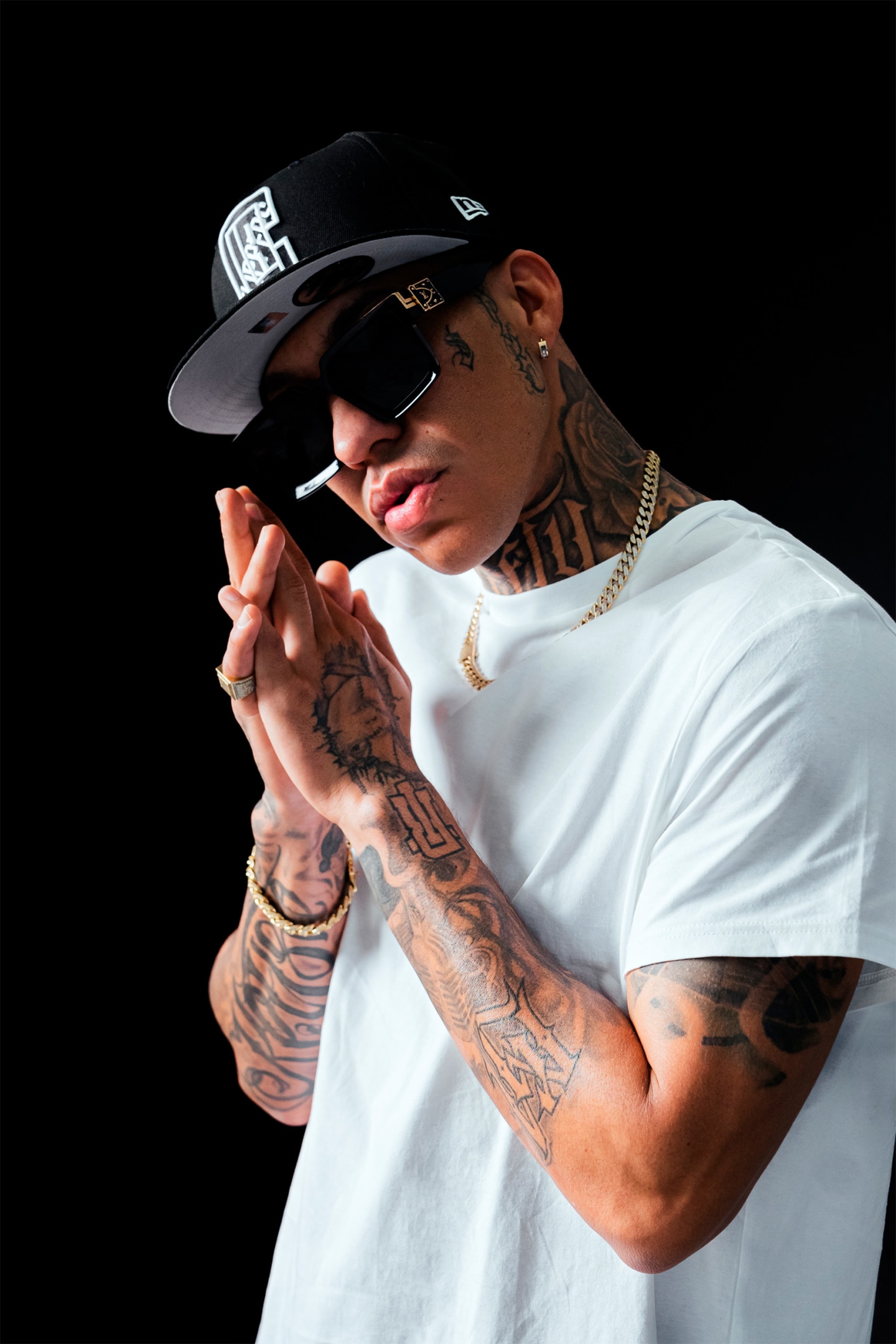 Much has been made over hip-hop's supposed decline in 2023, but if you look past what we conventionally define as "rap," the genre's influence is all over the charts. Nowhere is that more evident than the meteoric rise of regional Mexican folk, a sound that's steeped in over a century of musical traditions while refreshingly open to the new. While American pop can feel so processed and mechanical, regional Mexican music maintains an organic warmth, full of 12-string guitars and brassy horns. But its appeal isn't just pure nostalgia; artists like Peso Pluma and Junior H have transformed regional Mexican by fusing folk styles with a modern hip-hop sheen.
As forms that prize storytelling, there's a natural kinship between rap lyricism and the corrido, the narrative-driven style of ballad that's long defined Mexican songwriting. But this new generation has fully embraced the aesthetic texture of hip-hop, in much the same way their musical forefathers incorporated electronic drum kits and synthesizers into live bands. Sometimes you hear that influence explicitly in the use of trap snares or a syncopated cadence; other times, it's a looser vibe, an artist's personal style or the artwork on an album cover. Natanael Cano, the godfather of the "corrido tumbado" — a distinctly contemporary twist on the corrido that takes inspiration from trap music — dresses more like a hypebeast who listens to Yeat than the buttoned-up gauchos of old.

This month, the scene lost one of its most promising young voices with the passing of rapper Lefty SM, who was pronounced dead on September 3 after a shooting near his home in Zapopon. Lefty didn't yet have the stateside recognition of Peso Pluma or Natanael Cano, but his death is particularly shocking as it comes only a month after his appearance on That Mexican OT's "Barrio," Lefty's first feature for an American artist. Few details have been released regarding any investigation, but the loss of Lefty SM is the kind that feels uncomfortably familiar to fans of American hip-hop and regional Mexican music alike.
Though more of a straight-up MC than many at the forefront of regional Mexican music, Lefty truly embodied its stylistic hybridity, dabbling in multiple genres and constantly pushing his voice in surprising directions. Like "urban music" in the United States, "regional Mexican folk" is an umbrella term that speaks more to how the music is marketed and sold than what it actually sounds like. That kind of catch-all descriptor, much like the concept of Latin music itself, has a tendency to flatten regional specificities into a homogeneous mass, lumping radically different artists together just because they perform in the same language. Within a single category, you have big band norteño waltzes, sensual cumbia, synthesizer-heavy Duranguense music, and countless other flavors. The breadth contained by regional Mexican folk in some ways encourages genre-bending collaboration — a link-up like Grupo Frontera and Bad Bunny's "un x100to" expresses a sense of solidarity across the Spanish-speaking world, as two musical dialects join as one.
Lefty was born in San Luis Rio Colorado in the state of Sonora, right across the border from the sister city of San Luis, Arizona. The northern part of Mexico, where disparate cultures collide, has long dominated its music industry, and Lefty's music reflected the stylistic bilingualism that thrives in the region. His earlier releases stick to a stricter hip-hop sound, favoring slow G-funk beats ideal for lowrider cruising. In the years since his last full-length project, 2020's Necesidad, Lefty broadened his palette, increasingly favoring the live "banda" sound that defines so much of Mexican music. You could always hear a wide range of influences in his beats, from dub reggae to drill, but Lefty's sound deepened as he worked more often with major singer-songwriters like Luis R Conriquez and full bands like Engima Norteño. Lefty could spit unrestrained bars just as easily as he could croon and ache, like a wild coyote howling at the moon.
Though Lefty SM may have only released two full-length projects in his lifetime, he leaves behind an almost prolific body of singles and collaborations, which speak toward the breadth of modern Mexican music. These five tracks offer a sampling of his breadth as an artist.

"Por Mi México" feat. Santa Fe Klan
This collaboration with long-time tag team partner Santa Fe Klan was Lefty's breakout hit, and it's easy to understand why, with its effortlessly catchy showcase of Mexican pride and anthemic hook. Full of turntable scratches and sparking lighters, this is Lefty at his most straight-up hip-hop, sauntering like an old-school drop-top inching along the pavement. Lefty's last solo release during his lifetime was a new remix of "Por Mi México" featuring fellow Mexican rappers Dharius, C-Kan, MC Davo, and Neto Peña.
"Ahora Estoy Mejor" feat. Carin León
On this bitter ballad, Lefty pairs with fellow Sonoran Carin León, a titan of modern regional Mexican music who recently scored a mammoth hit with the Grupo Frontera collaboration "Que Vuelvas." Leon's wistful acoustic guitar and a mournful tuba are paired with driving trap drums, as Lefty channels a sense of Future-like spitefulness toward his ex-lover. Lefty's duets with more traditional vocalists are among his most compelling, simply because of the divergence in their voices. While León is bassy and more melodramatic, Lefty's voice is more elastic, like an untamed trumpet.
"Ingrata Remix" feat. Grupo Cañaveral De Humberto Pabón
The original version of Lefty's "Ingrata" is a tropical groover with a reggaeton-tinged beat, but this remix retrofits it into a cumbia classic, with an assist from the long-running Grupo Cañaveral. Originally founded in 1995, the lively band is truly a family affair, headed by original bandleader Humberto Pabón and his son Emir Pabón, whose voice sounds even sultrier alongside Lefty's unvarnished flow. The MIDI synthesizer and conga drums lend an old-school flavor, transporting Lefty back in time for a sweaty party on the beach.
"No Te Olvido" featuring Edwin Luna y la Trakalosa De Monterroy
In modern American music, a band with more than a dozen members is a curiosity; in Mexico, it's just another Friday night. On "No Te Olvido," Lefty links up with the particularly large norteño band headed by Edwin Luna, which includes 18 individual members. Over a full horn section, Lefty sings of the tears he's shed over a lost lover, the pain in his voice only underlined by the romantic waltz time the band plays in. The end result is pure ranchera fantasy, at once sentimental and heartbreaking.
"Barrio" - That Mexican OT feat. Lefty SM
That Mexican OT proudly represents his Tejano roots, blending trunk-rattling Houston rap with the country-tinged flavor of ranchera music. OT flips just as easily between English and Spanish as he does between singing and rapping, which makes his slow Texas twang an ideal foil to Lefty's higher-pitched voice. "Barrio" brings together not just multiple languages, but musical styles as well, as a wide-bodied guitarrón strums over 808 drums. It's the kind of truly bilingual collaboration that points to the future not just of rap music, but of American culture itself, where borders of all kinds will hopefully be more porous.
Rap Column is a column about rap music by Vivian Medithi and Nadine Smith for The FADER.