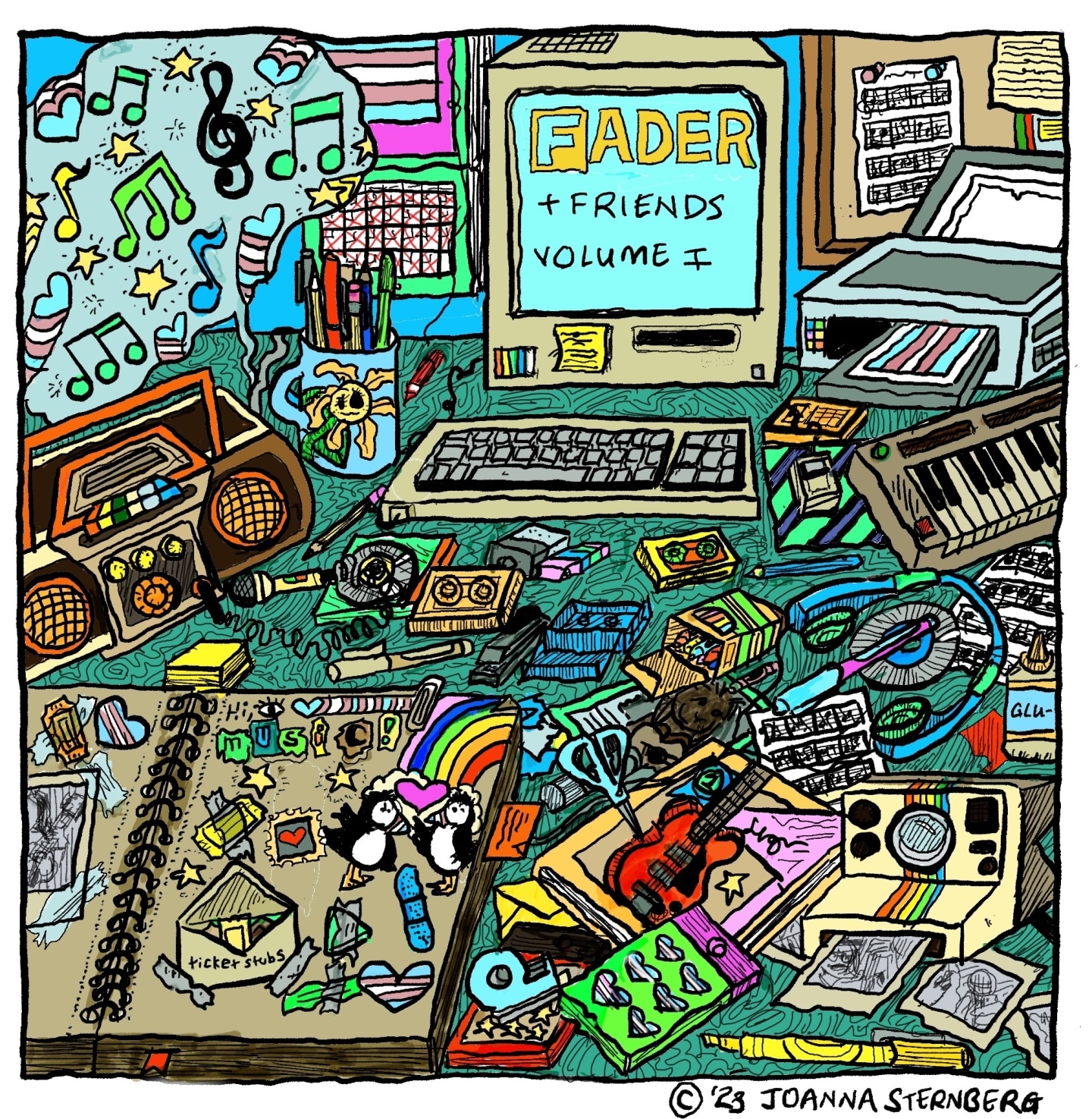 Freedom of self-expression shouldn't be a policy debate. Scientific consensus shouldn't be a political football. Yet in 2023, transgender rights have become the epicenter of a new moral panic across the world. Well-organized and well-funded political advocacy groups have sought to block access to gender-affirming care for both children and adults and demonized transgender people as deviants, positions that have been eagerly adopted by right-wing politicians and billionaires everywhere. Call it projection, politics, or just pure hate, the results are the same: for some of the most marginalized people in society, dignified life is either difficult or near-impossible.
With such hatred poisoning our feeds and politics, it's more important than ever to speak out against it. Today, The FADER is proud to reveal FADER & Friends Volume 1. Our first-ever charity compilation, FADER & Friends is a Bandcamp-exclusive collection bringing together previously unheard cover songs from 44 exceptional artists with mastering services provided generously by Chicago Mastering. 100% of the profits from sales of the album will be split equally between the Transgender Law Center (U.S.A.), Mermaids (U.K.), and Rainbow Railroad (Canada). These charities are helping transgender people worldwide fight for a better future, but they'll need our help to make it a reality.
Across genres, countries, and backgrounds, musicians of all kinds have come together to send a message of resistance and solidarity in one voice. The digital album costs $20, but be fast: on December 1, it's gone for good. Click here to purchase the compilation, and see the full tracklist below.
FADER & Friends Vol. 1 tracklist
1. "A Real Hero" (College cover) — 8485
2. "Falling Apart" (Slow Pulp cover) — Babehoven
3. "Michael & His Slipper Tree" (The Equals cover) — Being Dead
4. "Dreaming of You" (Selena cover) — Bernice
5. "Honest Mistake" (The Bravery cover) — blackwinterwells
6. "Don't You Ever" (Joanna Sternberg cover) — Caroline Rose
7. "It's No Secret" (Kylie Minogue cover) — DJ Sabrina The Teenage DJ
8. "Joy Inside My Tears" (Stevie Wonder cover) — Dougie Poole
9. "That Way" (The Go Betweens cover) — Ducks Ltd.
10. "Everlong" (Foo Fighters cover) — Ellis
11. "12,000 Lines" (Big Thief cover) — Ezra Furman
12. "Violet" (Hole cover) — Filth Is Eternal
13. "Memory Lame" (Jim O'Rourke cover) — Finom
14. "Tai Shan" (Rush cover) — Fire-Toolz
15. "Waterloo Sunset" (The Kinks cover) — Free Range
16. "The Best" (Tina Turner cover) — Georgia Anne Muldrow
17. "Touch" (Shura cover) — Hannah Georgas
18. "You Don't Love Me When I Cry" (Laura Nyro cover) — Hedra Rowan
19. "Newcastle" (English folk song) — Helena Deland
20. "If It Wasn't For The Nights" (ABBA cover) — Jane Inc
21. "Everywhere I Go I Bring The Rain" (Caroline Rose cover) — Joanna Sternberg
22. "American Teenager" (Ethel Cain cover) — Johan Lenox
23. "I'm So Tired" (Fugazi cover) — Lala Lala
24. "We Belong Together" (Mariah Carey cover)— Lucy Liyou
25. "Woman Here" (Ada Lea cover) — Madeline Kenney
26. "Off You" (The Breeders cover) — Miss Grit
27. "That's Not My Name" (The Ting Tingz cover) [Recorded in 2017] — Model/Actriz
28. "Hard To Say I'm Sorry" (Chicago cover) — Nana Lourdes
29. "Wouldn't It Be Nice" (The Beach Boys cover) — NNAMDÏ
30. "Oh Me" (Meat Puppets cover) — PACKS
31. "Jumbo" (Underworld cover) — Pendant
32. "I Want To Hold Your Hand" (The Beatles cover) — Ratboys
33. "Change The Locks" (Lucinda Williams cover) — Rostam
34. "Killed By Death" (Möterhead cover) — RVG
35. "Shout To The Top" (The Style Council cover) — Scott Hardware
36. "A Better Son/Daughter" (Rilo Kiley cover) — Shalom
37. "Hanging By A Moment" (Lifehouse cover) — Slow Pulp
38. "Talk Tonight" (Oasis cover) — Smut
39. "I Drive A Lot" (Starflyer 59 cover) — Strange Weekend
40. "Untitled" (Interpol cover) — Thanks For Coming
41. "Livin' in the Sunlight, Lovin' in the Moonlight" (Tiny Tim cover) — The Scary Jokes
42. "Christian Brothers" (Elliott Smith cover) — Wednesday
43. "Describe" (Perfume Genius cover) — Wild Pink
44. "Song To The Siren" (This Mortal Coil cover) — Ydegirl