Songs You Need in Your Life: November 2023
Our rolling list of this month's essential new tracks.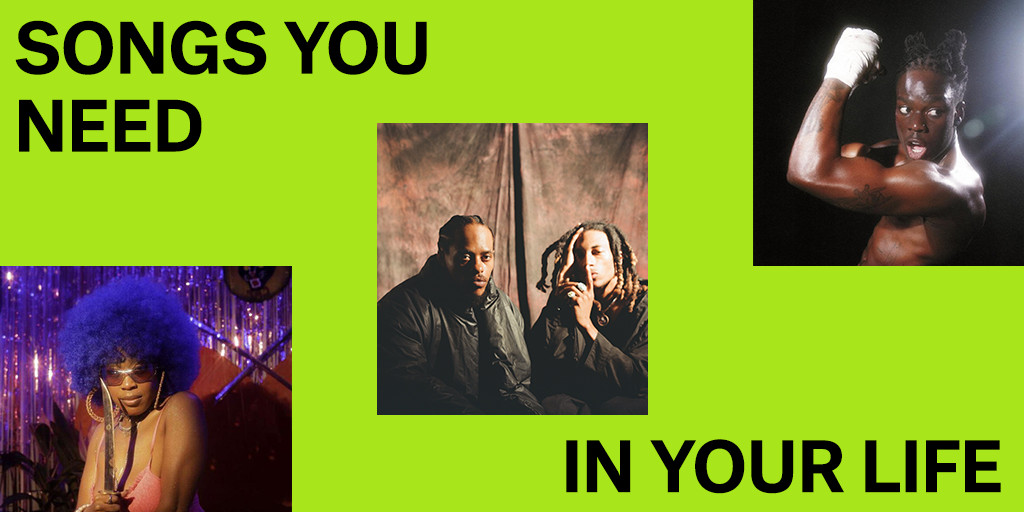 The FADER's Songs You Need In Your Life are our picks for the most exciting and essential new music releases out there. Every day, we update this page with new selections. Listen on our Spotify playlist or hear them all below.
Ryder, Skepta, Dré Six: "All Alone"
48 Hours is the new EP from Ryder, a producer based in the U.K. city of Hull and creator of "Skeptacore." That's the label he used when he started taking old Skepta bars and reworking the production to create something new. Eventually the music made its way back to the grime MC and they began working together for real. "All Alone" is an original track with singer Dré Six lending his smooth vocals to the mix alongside a typically tough verse from Skepta. Across "All Alone" and the EP, however, it's Ryder's production that makes the biggest impact. Warm and vulnerable, it's a whole new way of listening to a voice steeped in familiarity. — David Renshaw
박혜진 Park Hye Jin: "Foreigner"
박혜진 Park Hye Jin does not mince words on her first new song since her 2021 debut LP. Over satisfying, syrup-soaked synths and an elusive drumline, she gives a fragmented but forthright account of her immigrant experience: "I want to speak in Korean, but I don't know how to speak or to be Korean," the Seoul native says, bemoaning her assimilation into anglicized society through years spent in London, Melbourne, and Los Angeles. "I lived everywhere," she says with the same sort of resignation, listing out an impressively global list of locations. "Let me get green card," she demands later on before categorically rejecting a green-card marriage. "I'm so fucking talented for green card," she explains. "I pay all my shit by my music." If anyone at Immigration Services is reading this, please get Ms. Park a green card. — Raphael Helfand
Kee Avil: "I Too, Bury" (claire rousay Remix)
claire rousay takes Kee Avil's austere, terrifying piano/vocal track and warps it into something less definite. Though rousay's staticky synth wash takes some of the edge off of the original, there are still sharp objects hiding in the song's new, gauzy backdrop, just as lethal as the first time if you lean in too close. — Raphael Helfand
Björk feat. Rosalía: "Oral"
Originally written prior to the release of 2001's Vespertine, Bjork kept "Oral" on the shelf for two decades. In 2023, the song resurfaced as a long-awaited duet with Rosalia in true Bjork fashion: as a charity single to support legal action against open-pen fish farming in Iceland. Full of insular, aching horniness rendered with startling impressionism, "Oral" is immediately recognizable as a product of Bjork's turn-of-the-millenium experiments with ethereal pop, swelling orchestration, and steely techno percussion. It's a bit of a throwback, sure. But the presence of Rosalía, a pioneer who owes much to the experimentation Bjork flexed around the time "Oral" was written, helps to give the song the feeling of a queen's jubilee. — Jordan Darville
Molly Lewis: "Lounge Lizard"
The dulcet tones of Molly Lewis' whistling have soundtracked movies and commercials, and earned her an opening slot on Weyes Blood's "In Holy Flux" tour. On "Lounge Lizard," the lead single from her first full-length outing, her malleable instrument enters the mix like a breeze from the past, serene yet doleful, accompanied by slow drums, a distant organ, and stringed ephemera that swim in and out of focus. Later in the track, Lewis duets with a saxophone, circling the deeper horn like a spider spinning an elegant web around its prey. — Raphael Helfand
Frost Children: "Stare At The Sun"
Prepare to be disarmed. For pop-punk fans, the opening riff of "Stare At The Sun" will transport you to the days when Sum 41's "In Too Deep" ruled your iPod. But only for a split-second: that handful of guitar notes is actually a seed for a spacious expanse of math-rock. Then, just when you're comfortable, the entire track disintegrates into a digi-metal meltdown. Somehow, "Stare At The Sun" benefits from its capital-I Internet vibe, sans trolling and with a compulsive sincerity. — Jordan Darville
Danny Brown: "Jenn's Terrific Vacation"
"Jenn's Terrific Vacation" is a relatively straightforward critique of gentrification. But Danny Brown's shrewd delivery and Kassa Overall's production — full of spliced jazz drumming, nervy organ stabs, menacing bass drones, and well-placed needle drops of the iconic keys from Goodie Mobb's "Cell Therapy" (variously pitch- and tempo-shifted to fit "Jenn's" curvature) — create an effectively chilling atmosphere. "Who's that peepin' in my window? / I don't really know what they hear for," Brown begins, sounding a little panicked. "On the corner just put the Starbucks / I was just lookin' for a come-up." — Raphael Helfand
Babyxsosa: "Baby G"
Babyxsosa's dedication to creating art-rap over a rap career has helped make her one of the underground's most fascinating and enigmatic figures. Her new EP has five songs of drumless AutoTuned crooning with the texture of pluggnb and execution of Dean Blunt; the near-total absence of percussion makes the trap drums of the third track "Baby G" sound even more massive by comparison. Sosa's warbles her flexes over a glittering, cinematic sample that sounds extravagent even though its sample rate screams YouTube-to-Mp3. — Jordan Darville
Laetitia Sadier, "Une Autre Attente"
"Une Autre Attente" is proof positive of a musical genius that stretches beyond Laetitia Sadier's iconic singing voice. While far from a Stereolab clone, the track's arrangement is instantly identifiable as springing from the mind that led Emperor Tomato Ketchup and Dots and Loops to completion. Beyond its jazzy chords, tight syncopation, and fast-pivoting groove, the track brims with the same wide-eyed, cosmic energy that carried those seminal records a quarter-century ago. — Raphael Helfand
The Smile: "Wall of Eyes"
When the end of the world comes, I hope it feels the way Bossanova-strummed guitar and towering orchestral arrangements sound. The title track from The Smile's upcoming album out January 26, "Wall of Eyes" builds from slow burn to raging inferno. — Jordan Darville
King Louie Bankston: "(Theme From) Crawzilla"
The opening track of the second Harahan Fats — the second posthumous album by New Orleans punk icon King Louie Bankston — tells the extremely Cajun tale of a wild woman with "a bottle of hot sauce and a fat, hot, stinkin' boudin," set to an acoustic blues shuffle. By the end of the song, it remains unclear whether the titular heroine has any relation to the actual Crawzilla Crawdad (lacunicambarus chimera), a real species of burrowing crawfish found in nearly every state east of the Rocky Mountains, per Wikipedia.com. She's presented in the music video as a magazine clipping collage with a crawfish head, a human body, and abnormally long arms, dressed in a 10-gallon hat, pink pumps, booty shorts, and a crop top, with "HOT SAUCE" tattooed across her belly. — Raphael Helfand
Julia Holter: "Sun Girl"
Julia Holter's latest is a disorienting slurry of synths, flute, and fretless bass that shifts its center every time the listener starts to settle into a groove. "Sun Girl" is rendered even more dreamlike by the way Holter employs her willowy vocals, scattering layers of harmony across the mix so that they seem to be piped in from all angles. The music video — featuring a purple, Gumby-esque protagonist and a vivid sunflower montage — is also quite a trip. — Raphael Helfand
ellis: "forever"
Reliving our memories can feel like watching a movie. Truth interlaces with what we want to have been or how we feel now. The stakes of the nostalgia and its importance to our identity heightens the drama as we treat ourselves like the main character in our own film, cheering or cursing our choices. ellis, the Hamilton-based songwriter who returns with her first new song since 2021, grasps these existential stakes on "forever." Both lyrically and musically, the new song takes an omniscient view of time — it's one of her glossiest, capital-P pop tracks yet, while also smeared with dream-pop and grunge-inspired sounds she first emerged with. — Jordan Darville
Mia Joy: "4th of July"
Our TikTok society has been drenched in dream-pop to the point of saturation, but that doesn't make the genre any less mesmeric when done correctly. "4th of July" places Mia Joy's lovely voice – reminiscent of an early Angel Olsen — above Beach House-indebted guitar arpeggios that combine ingeniously with a steady drum beat to create a subtle syncopation that keeps the song lively throughout its succinct, three-minute run. — Raphael Helfand
Chow Lee: "team effort!"
Terminally horny rapper-singer Chow Lee returns with a woozy ode to group sex, a gently crooned transmission from a world where "it's just me and my bitches vs. all of my demons…" In his first solo release since his July album, Hours After the Club, he seems positive about the future for himself and his polycule — "...And I think that we winnin' / I love that for us." — Raphael Helfand
Moonshine feat. Amaal Nuux, Vanyfox, and Aluna: "Pain & Pleasure"
For nearly eight years, the world has been waiting for Rihanna's new album, wondering what direction the pop star and lifestyle brand magnate would take on her path to world re-domination. Newly signed to Aluna's label Noir Fever, the Montreal-based collective Moonshine offer an alternate universe Rihanna comeback single. "Pain & Pleasure" is overseen by a very Riri-esque vocal performance from Amaal Nuux (Aluna's feature is more multidimensional, jumping between breathlessly horny and rubber band-texted flexing), but its the glossy, lounged-up Batida instrumental courtesy of Vanyfox that most intrigues me. With the sounds of the African diaspora now a reliable presence on Western music charts, it's not a stretch to say that something like "Pain & Pleasure" sounds like the future. — Jordan Darville
dj blackpower: "Three Gyra"
"Three Gyra" starts out with deceptive glitches that made me reflexively check my WiFi connection — a trick that generally annoys me. But in the hands of dj blackpower (MIKE's producer alias), it's employed expertly, foreshadowing the idiosyncratic syncopation that transforms the Dr. Grabba cut from a great rap beat into a kinetic standalone instrumental. — Raphael Helfand
Na-Kel Smith: "FIREMARSHALL STUNTMAN"
Released on Halloween, Na-Kel Smith's new album Standalone Stuntman is a blown-out cross-section of the skater and rapper's mind — on his second album of the year after an uber-prolific 2022 that saw seven projects drop, Smith is adrift. There's a death of people to trust: His father is imprisoned, friends are changing up, and the love is draining from his girl's eyes. Despite this, Smith is as locked-in as ever. Opening track "FIREMARSHALL STUNTMAN" captures the hellish slurry of Smith's paranoia — post-apocalyptic chopped-and-screwed opens the track before a tweaked Na-Kel launches himself onto the track, creating it like an interior monologue — Jordan Darville
Old Fire feat. Bill Callahan: "Mephisto"
"Mephisto" is a slow-churning sea of synths, strings, and Rhodes organ, with Bill Callahan's characteristically soothing vocals floating on its calm surface. "Hey, Mac / Can you bring that boat back?" he repeats as the instrumental ebbs and flows beneath him, his voice as steady as an ocean liner. — Raphael Helfand
FACESOUL, "Faith In Me"
Hope can be hard to come by some days but the London-based Somali artist FACESOUL wants to find something to stay positive about. He tempers his super smooth R&B song with just enough grit to keep "Faith In Me" from being cloying or cheap, while the positivity in his voice might just be enough to keep sunken heads from falling further. — David Renshaw
Suzy Clue: "Remember Me"
"Are my pictures on your phone?" New York's Suzie Clue sings on "Remember Me." It's a simple question but the pain is more real in its follow-up as she asks, "Are our memories clouded by your weakness?" That's a loaded question but Clue is in an unforgiving mood. She underlines the rage with waves of heavy shoegaze guitars that build into a thick wall of fuzz all-encompassing enough to swallow up the hurt. — David Renshaw
Pink Siifu & Turich Benjy feat. Hi-Tech & Milfie: "Wywd..'!?"
Released quietly in the days preceding Pink Siifu and Turich Benjy's collaborative album's unceremonious drop, "Wywd..!?" is a masterful exercise in collaboration, finding ecstatic common ground between six distinct personalities — Siifu's upfront intensity, Benjy's "trap disco" swagger, Milfie's off-kilter flirtation, and the multi-headed engine of chaos that is Detroit ghettotech trio HiTech. — Raphael Helfand
bbymutha: "gun control"
bbymutha's debut single with True Panther is a tightly wound, two-minute track with a nervous J Rick instrumental that creates the illusion of constantly speeding up, and the even more anxiety-provoking frame of a pitched-down voice urging listeners to build an AR-15 from modular parts ordered separately. Despite this fraught backdrop, bbymutha sounds as confident as ever, dropping the phrase "I do whatever I want" so many times in the song's short span it becomes a mantra. — Raphael Helfand