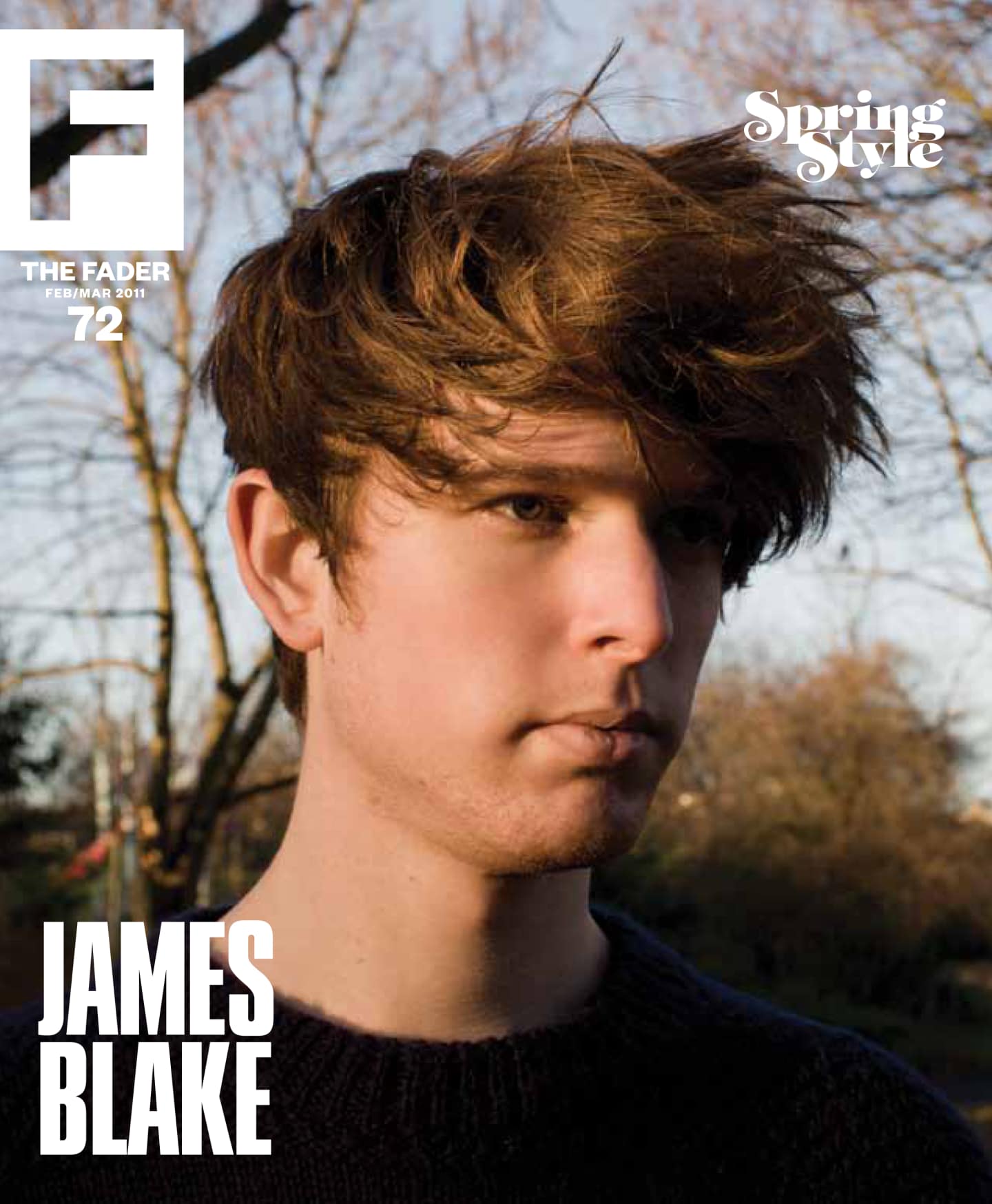 FEATURE: James Blake Finds His Voice as a Reluctant Man
Revisit our 2011 cover story on then 22-year-old producer James Blake.
In 2011, then editor-in-chief Matthew Schnipper interviewed James Blake for his first ever cover story in The FADER's 72nd issue.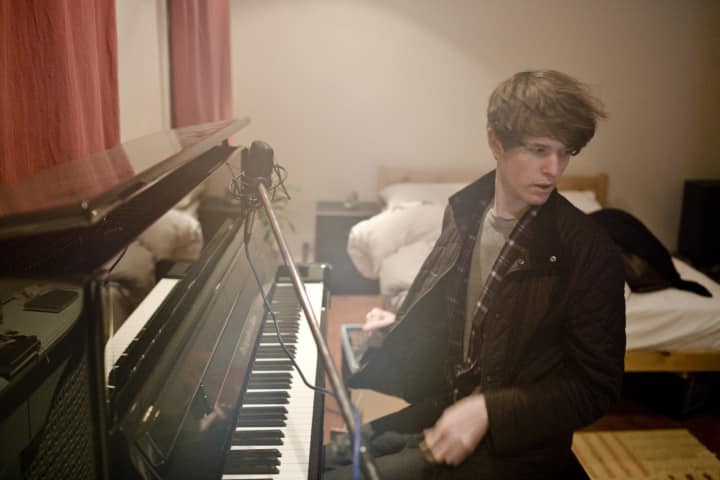 James Blake is winding his way through the crowd at Hammersmith Apollo to get a good view of Drake. He's been invited to one of the pop star's three sold out nights in London by Drake's confidant and webmaster, Oliver El-Khatib, who posted a YouTube of Blake performing at BBC's studio on the October's Very Own blog. On his way to the front, Blake gets stopped by a pretty girl with serious bangs and a necklace that says "precious." But it's too loud for her short voice to reach his tall ear, so he gives up. He'll later say he dropped the ball. A big, drunk guy in a varsity jacket and cool hat stops him again. "I met you outside of Boiler Room. You were on your phone and told me to fuck off!" he says. "I said that?" Blake responds in surprise. No, the guy is joking with him, then manhandles Blake by the shoulder and awkwardly introduces him to two friends. When the show starts, Blake doesn't move or talk through the next two hours of mainstream hip-hop hullabaloo except to say that one song is a "massive tune." This stillness in the midst of innumerable requests for hands in the air, mini-firework displays, shout outs to good breasts, obscene guitar solos and a number of people inexplicably opening their umbrellas is difficult but purposeful. Even as the thousands of people stampede out of the venue, Blake is impressively nonplussed, casually walking shoulders back and up like a dutiful soldier. But after the show, in a pub where he gets side-eyed by drunk men in track pants, Blake fawns wildly, detailing the most exhilarating moments of showmanship. For him, the thrill isn't in the immediate pleasure of the moment or even in its second tier of memory, but in a third, academic level of process and deconstruction. He picks apart the show like an egghead unravels a motherboard. Then a fellow patron stands up on a table and starts yelling, a girl gets a beer dumped over her head and Blake realizes it's time to leave.
"Everyone is kind of just distracting themselves from the fact they are devastatingly alone. I know that sounds like quite a dramatic thing to say, and I don't mean to be melodramatic, but I think that is a truism."—James Blake
The next day, Blake wakes up in his relatively new flat on a side street in Brixton, one of South London's Caribbean enclaves brimming with young creative people. He brews a cup of tea in his big kitchen and pours it into a mug with a fisheye lens photo of a piano and all caps "JAMES BLAKE" printed above it in block font. His mother gave it to him. For such a young guy, he's got a pretty nice place. He lives with his roommate Cathy, a friend from school, in a section of a large house with a big yard and good light.
The two windows in Blake's bedroom both face the kitchen, so he's hung large maroon curtains on ornate scroll rods for privacy. His walls are painted Easter egg blue, and there is nothing on them. On the floor is a Destiny's Child poster that a friend has inscribed, "All the single ladies love James Blake." His open closet is empty except a lumpy laundry bag, wooden hangers with nothing hanging and three paperbacks, including The Grapes of Wrath. Beside the bed there are half-filled water glasses and plants that look surprisingly robust despite the lack of sunlight. Where Blake spends most of his time is in front his computer monitor. When he sits at it, his posture would make a chiropractor cry. It's better at the piano bench. And though his expensive looking piano is still quite shiny, even that has a thin layer of dust.
Blake's bedroom's got records scattered everywhere—some in boxes, some on the floor, a few hidden under plastic bags. On the dresser is one by James Cleveland, a gospel singer Blake claims will change your life. He pulls up a YouTube of Cleveland's "Peace Be Still" on his computer's giant monitor and plays it through really nice desk speakers sitting on foam. It's a live recording, six minutes of Cleveland's glowing tenor that slowly builds into a powerful choir of many voices intertwining in thick braids. No water can swallow the ship where lies the master of ocean and earth and skies/ They shall sweetly obey my will/ Peace be still, peace be still. Four minutes deep, when the choir is half yelling, Blake is basically dying, conducting his own revival in a computer chair. "Where is New Orleans?" he asks. It sounds rhetorical, but his desire to attend a black Baptist church service while in the United States this March is brutally earnest. He may as well have asked, "Where is the moon?" fully imagining himself crossing craters in a spacesuit. Blake's music, with its heavy reliance on chorus and quiver, often seems like a strange cousin of gospel, but then you hear a song like "Measurements," where Blake out-gospels gospel, his own fragile voice teetering on the sweet end of cracking. Slowly the vocals richen and at the chorus' heaviest peak, you can picture this British beanpole leading a choir, belting it from the pulpit, silencing all the non-believers.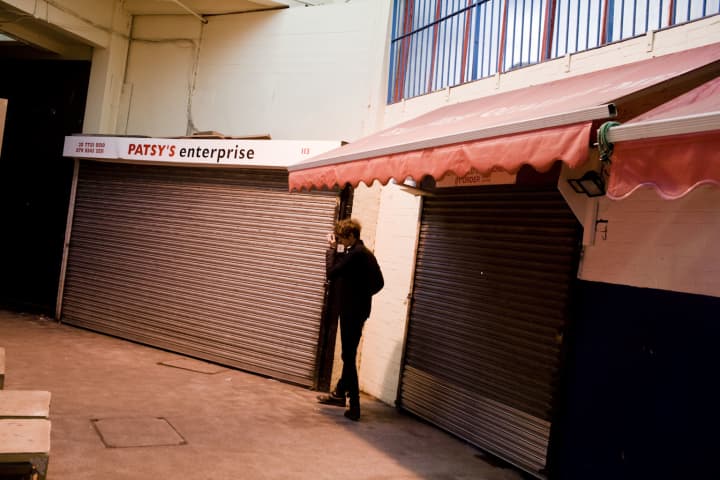 Moving to his piano, Blake elegantly plays some Eric Satie, before meandering around the keys in improvisation. Lately he's been recording himself playing and singing with his iPhone's built-in memo recorder, to sample later. Scrolling through his iTunes, he picks one of these snippets and imports it to production software. He bends his voice up and down (a technique he says he borrowed from Madlib's Quasimoto project) and elongates a clip of himself exhaling. At some point, he labels the track "Quiet Love." For an hour, he sits at the computer fiddling with a gray grid. It looks like he's building a crossword puzzle. He's mostly silent, occasionally saying a chord is "rubbish" or that he likes a particular sound. As compelling as the music he's producing sounds, watching Blake make it is dull. But that's by design. "My theory on why people connect [with my music] is because a lot of people sit in front of their computers listening to music, and when I write I sit in front of the computer," he says. And maybe those people, sitting at home, "with the lights off, in the evening, in their bedroom," are as lonely as Blake when he writes his best songs.
"Having spoken to a lot of people, everyone is kind of just distracting themselves from the fact they are devastatingly alone. I know that sounds like quite a dramatic thing to say, and I don't mean to be melodramatic, but I think that is a truism," says Blake. "I got accused of wearing my heart on my sleeve too much when I was younger. My dad said that, basically you've got to toughen up a little bit. When I decided I'd had enough of being a bit soft, I kind of went completely the other way, the way a lot of people do. Now I've kind of swung back the other way. I just feel like I'm a bit more balanced. Not that I went not nice, but you can't be soppy about things." Blake's father was the lead singer of the prog rock band Colosseum. In addition to teaching his son about masculinity, he also encouraged Blake to play music, and, when Blake turned 19, to take it seriously enough to record. Blake spent the next two years in a general studies university, though focusing on piano. He acknowledges leaving home nudged him towards adulthood, but he didn't like it. Prompted by a muddled dislike for his classmates, roommates, lectures and the generally unfamiliar, Blake spent many weekends making the 40-minute train trip to his parents' home in Enfield, a suburban neighborhood in north London. "When I went home I didn't have to deal with constant interaction if I didn't want to, only from people I was completely comfortable with, like my parents," Blake says. "I felt safe and away from the world, really. Kind of a hibernation." He wrote much of his self-titled debut album in Enfield's safe space, his childhood home's neutrality allowing invaluable indulgence of his bluest moments as a young man.

"In uni there was this girl who I really liked. We kind of hit it off, but she blew me off a little bit. I remember going home and being so upset that that happened. I felt so disillusioned and pissed off that someone could be dishonest with me, and also pissed off that they weren't like me. I thought I found someone who was like me, and they weren't," Blake says. "But I remember thinking maybe it's a good thing that that happened, because now I can write some really good music. Not just silver lining, but I'm glad that happened, even in the moment, because now I can write something really charged." He declines to name what song that exchange inspired, but does say it's been one of his most celebrated. It could be "I Only Know (What I Know I Know)" which has no lyrics, just fuzzy piano underneath Blake humming and moaning. Or maybe it's "I Never Learnt to Share," whose only lyrics are My brother and my sister don't speak to me/ But I don't blame them (Blake is an only child). It's self-flagellation. Or maybe it's a pun. Either way, like most of his high art song titles and lyrics, Blake only tells the ultimate moral of his fable, never the tale. This kills two birds with one stone, letting him cloak his own cliché while you apply your own.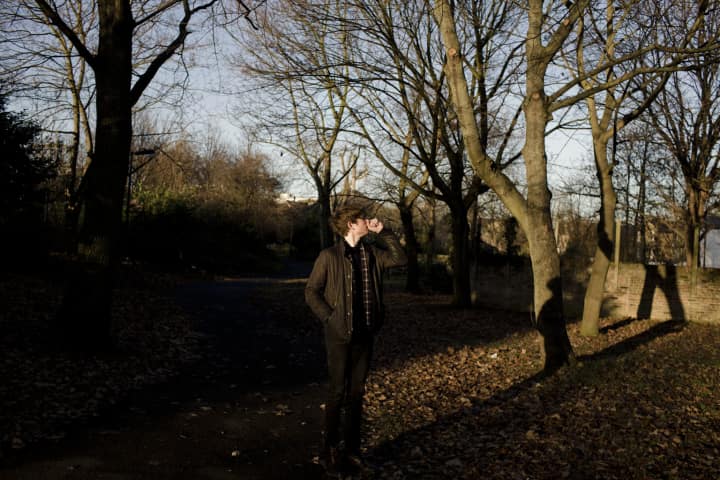 "I'm going to do music for the rest of my life, I'm not here to fuck about."—James Blake
Blake's got a video shoot soon, so the next day he wants to get a haircut to clean up the extra bits in the back. He's starting to get a little money, having signed to an imprint of Universal, and with that is coming expensive taste, so he goes to the semi-secret barber in the basement of Liberty, a massive upscale department store in Oxford Circus. After the shampoo and light trim, we walk through the aisles and Blake touches pricey sweaters, window-shopping from inside the store. He stops at a bold red Ralph Lauren cardigan, flips over the sleeves to admire the leather elbow pads. He says maybe less than a week away (he's done a few semi-surprise warm-up shows the weeks prior), and he has practice at home with his guitar player in a few hours. The show is sold out, but Blake's set aside a block of tickets for members of dubstepforum.com, a feisty internet community he once frequented that has since heavily supported (and debated) his work. "I'd like to send a huge thank you to everyone who's supported me in the last year or so, whether that be through buying records, coming to my gigs and saying hello, or ripping new tracks off mixes and uploading them to YouTube. It means the world to me, and I'm glad Dubstepforum is still as strong as ever," Blake wrote in a post on the site. And though he's clearly achieved a great deal of acclaim in a short time, his nonstop reverence for his supporters can begin to feel pandering. Still, he knows without them he'd have to negotiate the gruff, grown up world of compromise, and he's grateful for the opportunity to write and play on his terms.
"I'm going to do music for the rest of my life, I'm not here to fuck about. I want to play, I want to produce, I want to sing. I don't feel like I take myself too seriously, I don't want to turn myself into a joke. I'm not out to do a hundred remixes and prostitute my sound to a load of different people. That's a way of actively not taking yourself seriously. Blinkeredly following my own path doesn't mean I'm a serious person, I just don't want anyone else involved." So he's resolved to be lonely for the moment, a self-fulfilling prophecy that's allowed him to milk heavy ballads from sadness, voluntary or otherwise. For a 22-year-old, Blake's intensely mature and completely sheltered, his obstinacy fueling both his drive and isolation. It's nothing new, just a different playing field than a few years ago when his biggest problem was where to go out with college friends. "I'd just say, Can we please go to this club with really good music? There's a Cuban bar. And they'd be like, no, no, let's go listen to some drum & bass. And inevitably I'd get started on by some guy who I stepped on his toes. Bullshit aggressive music I didn't want to be a part of, a scene that I didn't want to be a part of. Drum & bass was amazing, I liked going out and listening to jungle. It actually had a bigger effect on me than I remember, I just didn't like the crowds. It was too aggressive and violent, testosterone-filled, over-masculine. It was just too much for me, a scarf-wearing, pong-head fucking pianist teenage boy." What changed? "I cut my hair a bit, that's it really."