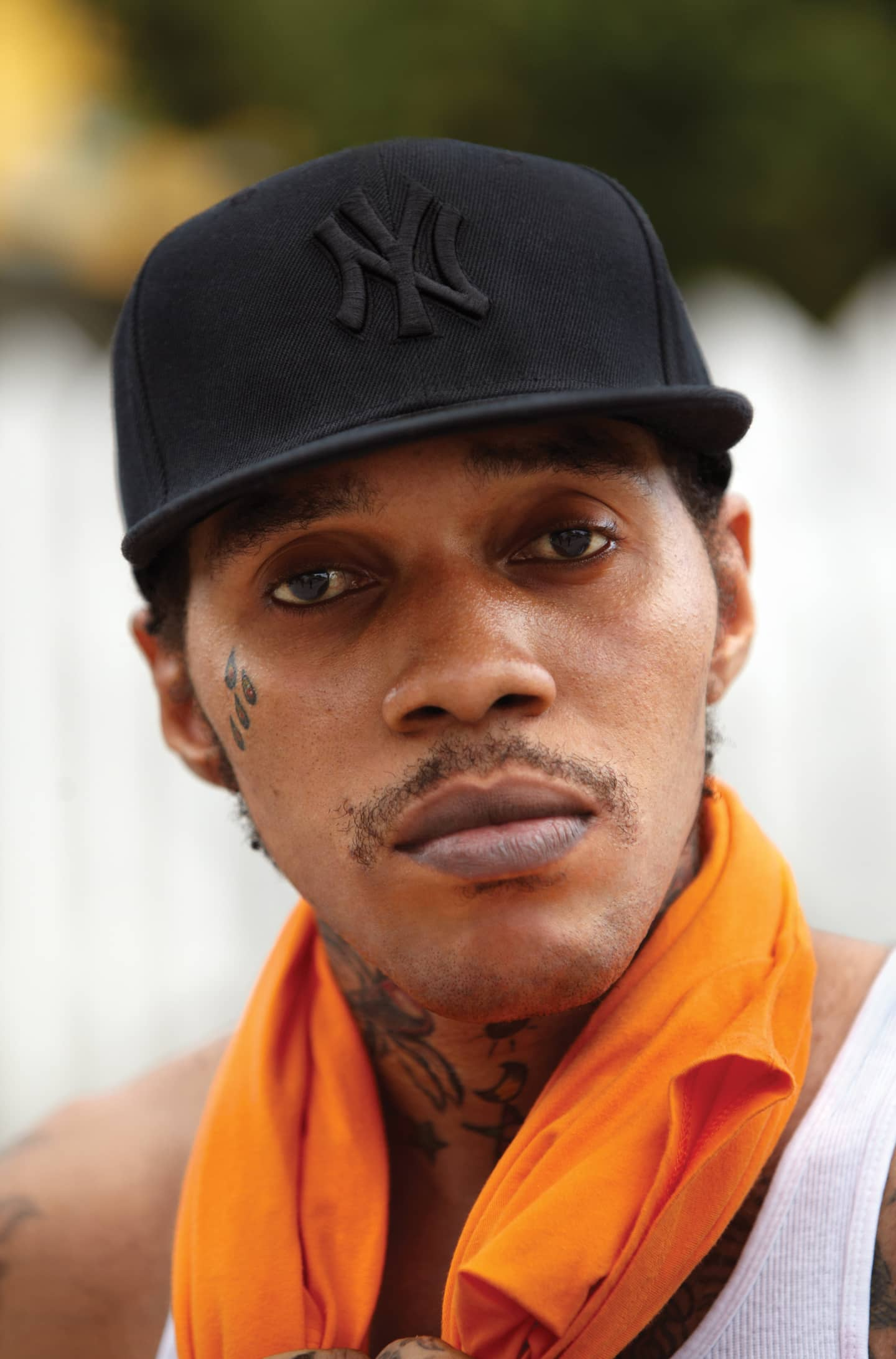 Vybz Kartel: Beyond the Pale
Vybz Kartel
Bleaching, in Jamaica, can mean one of two things. 1. Applying prescription-only steroid cream for extremely off-label use, leaching the pigment out of your skin cells to create a whiter complexion, or 2. Staying awake until daylight. In the 48 hours I spend chasing Vybz Kartel—who for the last few years has reigned as the undisputed emperor of dancehall—around Kingston, it's clear he's doing a lot of both. Indeed, his vampire-like schedule is a deterrent to getting close to Vybz Kartel. About the time I step off a 10AM flight at Norman Manley Airport, he is on the phone to say that yes, he is in fact still up from his Thursday Street Vybz party the night before but is ready to link up anyway. And that's the last I'll hear from him while the sun is still up.
If you're unfamiliar with the name Vybz Kartel, you might still know him as the taunting voice on Major Lazer's "Pon De Floor." Maybe you'd recognize his urgent patois singing the plaintive I can't stop fucking you! on 2008's unlikely crossover hit "Ramping Shop." Or you might know him as the embodiment of Gaza—a nickname for his section of Portmore, a garrison suburb just outside Kingston—in the Gaza/Gully feud that divided not only dancehall but all of Jamaica after Kartel split from Bounty Killer's Alliance crew. At a particularly bad moment, Kartel's Honda Accord was car-bombed outside his home in the posh Kingston neighborhood of St. Andrews, and the feud took on such a life of its own that the most important figures on the island were forced to intervene. Ultimately, a truce required the combined diplomacy of a police chief, the prime minister and alleged drug kingpin Christopher "Dudus" Coke, who brought the two together onstage at his West Kingston Jamboree in 2009, just before Christmas.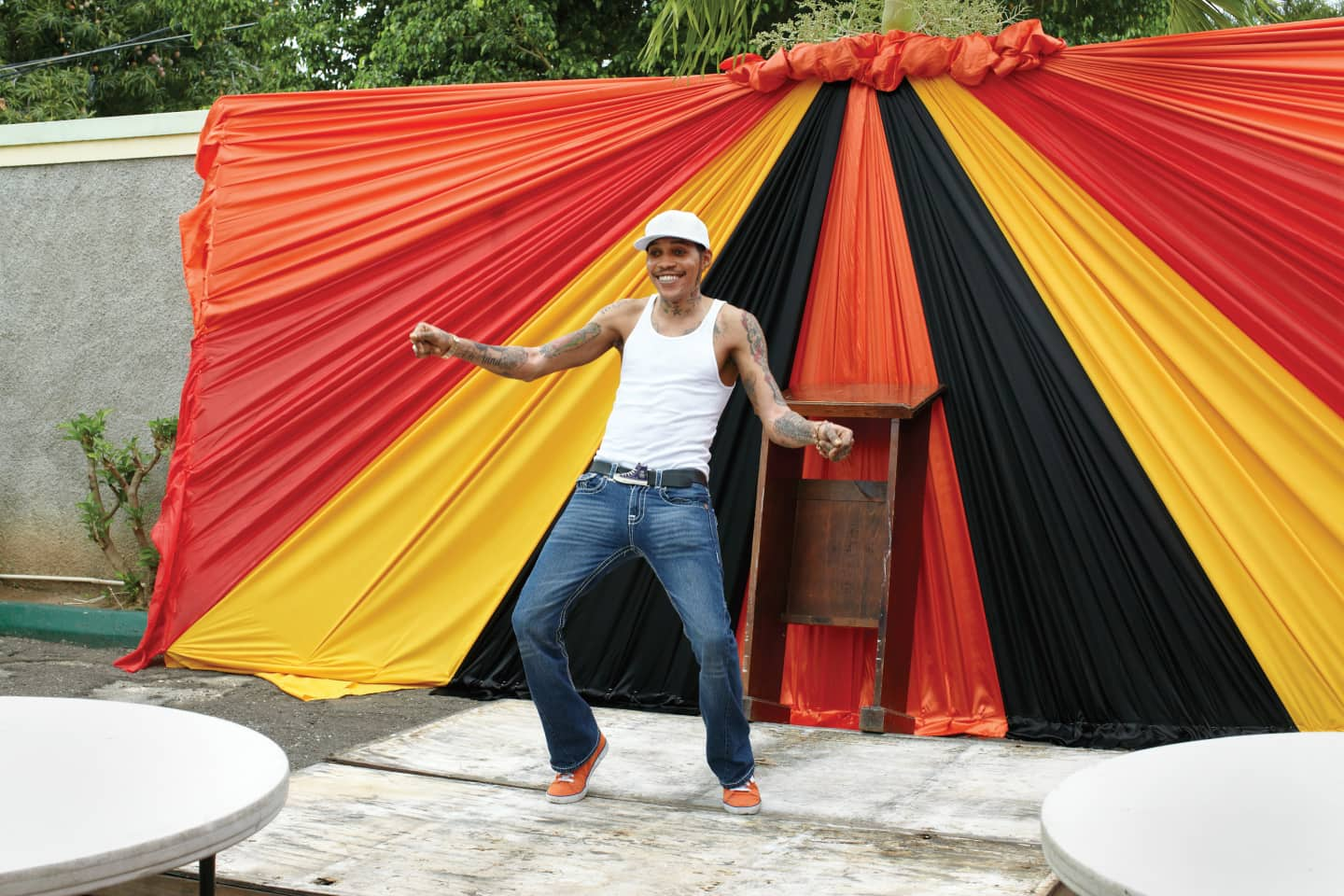 The main beneficiary of that peace treaty seems to have been Vybz Kartel. In the year and a half since the feud was officially squashed, the bombed-out Accord's been replaced by an S-Class Benz—one of few on the island—and Kartel seems to have become more or less the proud new owner of dancehall itself, guaranteed to have not only the top tune on any given week, but the top five tunes. I remember his New York debut at an Elephant Man release party at BK's Night Club in 2002. Dark-skinned and bony, dressed Brooklyn-style in baggy jeans, throwback, doo-rag and fitted, the room exploded when he touched the mic. Because even though his face was unknown in New York, his couplets were already hood-famous.
Finally emerging from his proverbial coffin around eight that evening, Kartel is every inch a rock star, all teeth and tattoos as he works the room while taping a promotional spot for his Portmore protégé Gaza Slim at Hype TV Kingston's studio. Mirrored shades, the partly metallic smile created by his braces and a physique that is fit but skeletal all contribute to a look that is distinctly cyborg. In recent photos, Kartel looks like a film negative of his 2002 self, but up close the bleaching effect doesn't make him look white so much as it gives his complexion and facial hair a reddish Malcolm X/Satan cast, making his tattoos stand out luridly. Gaza Slim meanwhile, with her short blue hair relaxed into an elfin side part, looks tiny and lost beside Kartel. Her unnamed male companion in skinny jeans, filthy Clarks and a satchel-like man-purse that is the current rage in Jamaica, is equally out of it. Kartel dominates the proceedings.
To the consternation of his host, who wants to know what's wrong with Jamaican producers, he also larges up his forthcoming album with Brooklyn-based producer Dre Skull. When Kartel announces the URL for the free download of the album's first, "Go Go Wine," it launches a rush that servers of Dre Skull's self-run label Mixpak are ill-prepared for.
Pale, slim and bald, hiding behind a full beard, Ray-Bans and a button-down, Dre is about as unlikely a Kartel collaborator as you could conjure. Before working with Kartel and a handful of other dancehall artists for his 2009 Skull riddim, he was mostly known for rave-tempo tracks ("more hip-house meets poppy disco," he clarifies) for vagabond Milwaukee rapper Juiceboxxx. He lists Steely Dan and Werner Herzog as primary influences. He and Kartel initially linked through the internet, resulting in "Yuh Love," a viral hit fashioned of sub-bass with an almost emo, synth-pop feel to the riddim that brought out a surprisingly melodic and heartfelt Kartel on the chorus, Me fi give you love til the day I die.
Both the warm reception and the ease of collaboration prompted Dre to fly down to Jamaica shortly thereafter with a hard drive full of beats and pin Kartel down to a proper recording session. "I showed up with maybe four riddims," he recalls. "I got to the studio before him, so we loaded the tracks onto the computer and he just went straight in to listen. After some brief conversation he sat down in the chair he likes to record in, asked for the lights to be turned off and just started recording straightaway, having never heard the tracks before. What struck me from the first time was his uncanny ability to listen and immediately sense how the track 'worked' structurally and emotionally." That artistic respect appears to be mutual. Kartel says later that voicing with Dre, "is like working with one of the best, in terms of creativity and his approach" and then: "I think this album has the potential to be the best album from Vybz Kartel."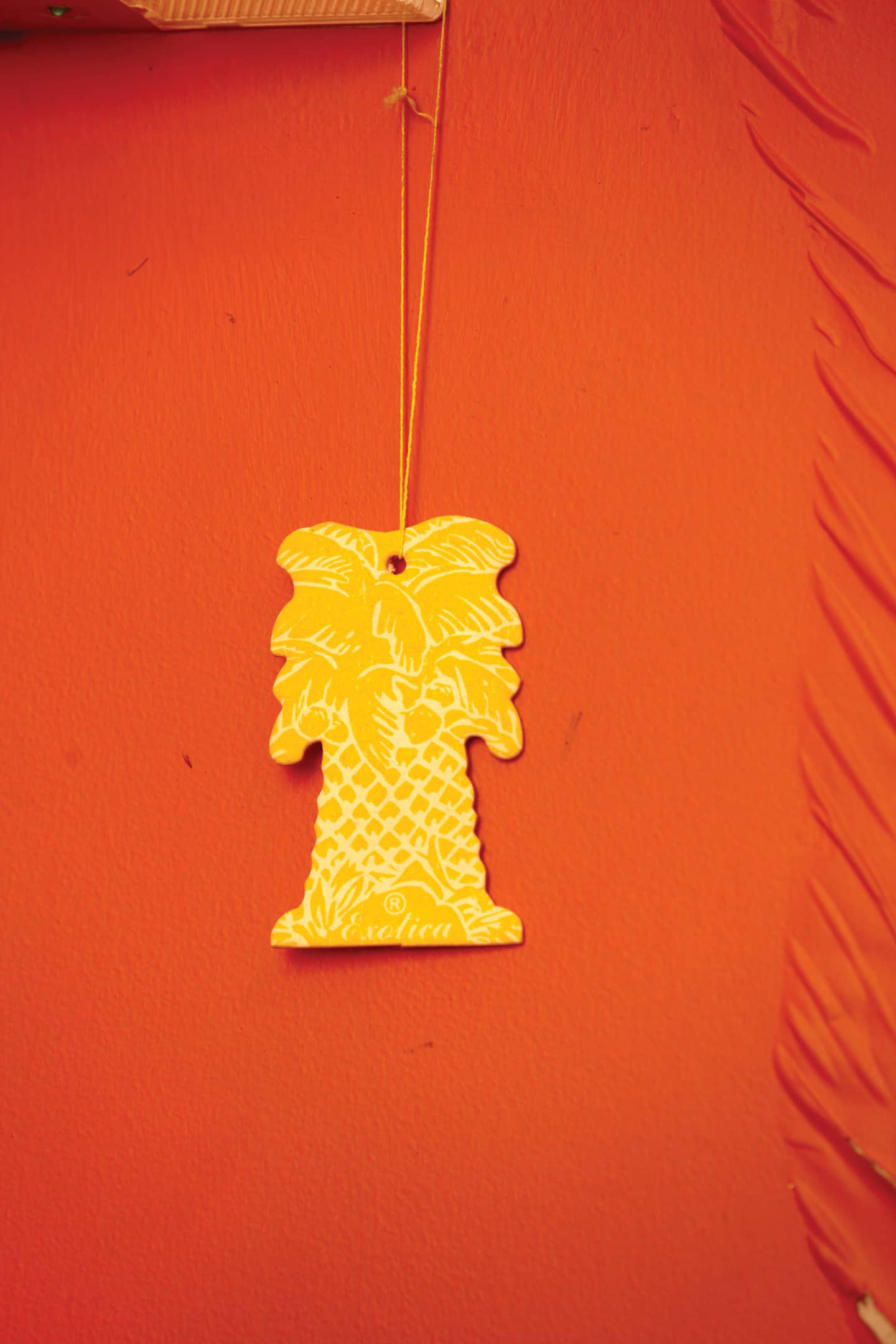 After the TV spot, as Kartel settles more fully into his hard day's night, we end up at Kingston's pre-eminent nightclub, The Building, formerly called Asylum, before Kartel became part-owner last year. Now it's plastered inside and out with ads for Kartel's own brand of Street Vybz rum, and Banksy-style black and white murals of Kartel, his face more ubiquitous here than Chairman Mao in China. The very-VIP mezzanine is a weird mix of more man-bag clad gangsters, one out of place Rasta and lots of pretty girls. Around 5AM, Kartel will step down from on high to join protégés Shawn Storm and Merital for an extended performance of Gaza anthems. But for the first few hours of the night, the speakers are split between two categories: dated slow jams and Vybz Kartel, underscoring that he has become something like a genre unto himself. The first proper dancehall tune to get a big response from the crowd is, shockingly, from his ultimate nemesis Mavado. The obvious implication of this is: Things Have Changed. The war is truly over. But it is also the clearest indicator yet of the state of the Kartel economy; he can afford to hear other artists get a reaction, even archrivals, because he owns the club. No matter who gets played, the house always wins.
The next day, with the tropical sun still beating down on a balmy afternoon, we meet again at Shocking Vibes studio. Kartel is here to voice a track by producer Russian but at the moment he's showing off his latest tattoo—Chucky, completing a slasher-flick triumvirate with the Jason and Freddie elsewhere on his torso—and sampling the new Shabba Ranks. "You hear that Shabba tune? Fuckery," he says. The song, "None A Dem," is an attack at Kartel, something he's used to by now. Also currently on the plate is beef with another rival Assassin, which has prompted Kartel to announce he won't record any more gun tunes ("Because it's the easiest way for another artist to get a hype off you") and a scandal set off by a bootleg splicing two different lyrics into a pro-cunnilingus hook—strictly taboo in Jamaica.
And then there's the bleaching. Skin bleaching is the personal freakshow that threatens to totally overshadow the main event of Kartel's artistic genius—even as it drives the cult of fascination. He has, at times, boasted about bleaching and then just as glibly denied it—attributing his steadily lighter complexion to liberal application of cake soap (an over-the-counter medicated soap patently incapable of altering skin color) and air-conditioning. In reality he displays all the traits—darkening of the skin at the joints and around the eyes, increasing the vampire effect—of abusing hydroquinone, the same medication Michael Jackson used to treat Vitiligo, which is banned in some countries as a carcinogen. The steroid component of most bootleg skin creams is actually meant to offset the corrosive effect of hydroquinone, which physically thins the skin, potentially stretching it to the breaking point.
Worse, in the eyes of Jamaicans, bleaching is read as a rebuke to the whole Afro-centric project of reggae music. The topic has prompted any number of "Nah Bleach" anthems and in March, a back and forth with professor and Jamaica Gleaner columnist Carolyn Cooper over the evils of bleaching lead Kartel to deliver a surprisingly erudite (and unsurprisingly jam-packed) guest lecture at the University of the West Indies, his basic argument being, "A lot of things that were considered taboo back then are not so now."
"I gave her a lot of examples," he says reasonably. "I even brought up ear piercing for males. You know in the 17th century a male with an earring was a pirate. In the '50s and '60s a male with an earring was a homosexual. Now in the 2000s, a male with an earring is just a male with an earring." Kartel's point is made as much by Gaza Slim's pixie hair as it is by his argument—straightening kinky hair opens a Pandora's box of racial baggage going all the way back to slavery, but dying it blue is hardly an attempt to pass for white. "It has nothing to do with hating one's blackness," he concludes. "It's just trendy." 
Back in the vocal booth, Kartel gets ahead of himself, leaving a reference track of wordless singsong to establish the flow of the verse before filling it in line-by-line, starting with the very last rhyme and moving backwards. The virtuosity Dre recalls is super-abundant here. Already dancehall's top lyricist, Kartel is reinventing the genre's rhythm by chasing his own stream of consciousness, literally following no one but himself. It's almost as if the final word arrives from the future on its own, and then he must time-travel back in short jumps to discover its meaning. Only when the whole song is reverse-engineered in this weird Memento fashion is it clear that the track, "Nuh More Dan Me," is his devastating response to Shabba.
After recording, Kartel starts to speak of the nuts and bolts of bars and keys, before quickly turning to business. He is teaching himself to play chords, partly to push himself artistically but mostly so he can lay down his own riddims. He is building a studio in nearby Havendale so that ultimately when he records he will not only own the riddim underneath his voice but the floorboards beneath his feet. In addition to Street Vybz rum (which he manufactures and distributes himself), there's the nightclub, his label Adidjaheim records and a newly launched Vybz Ware line of tees, hats and accessories. "Yeah man, I want to be everything. I want to be the omnipotent. In terms of owning everything I do, because Vybz Kartel is a person who loves control."
The urge to own and control seems like more than just sound financial planning, it's a primary impulse that runs through every aspect of Vybz Kartel. Of the artists in Gaza Empire, he says, "I sign all my artists. I sign all them recording, them publishing, them booking, them everything. If them eat, I gots to know about it. If they take a shower I gots to know about it." He even intends to own his own controversies—almost literally, since plans to capitalize on his famous complexion by selling his own cakesoap seem to be in the works. "I love controversy. If Vybz Kartel bleach him skin," he explains, "people say, 'Vybz Kartel bleaching!' and I be like, The gal dem love off me bleach out skin, and the song becomes a hit. On toppa that, I start to manufacture face-soap, yuh nah mean?" With control as the key word, the bleach and the tattoos begin to take on a different significance. If his rhetoric is post-racial, Kartel's person, from the teardrops under his right eye to the Gaza on his knuckles, is a canvas of self-invention bordering on the post-human.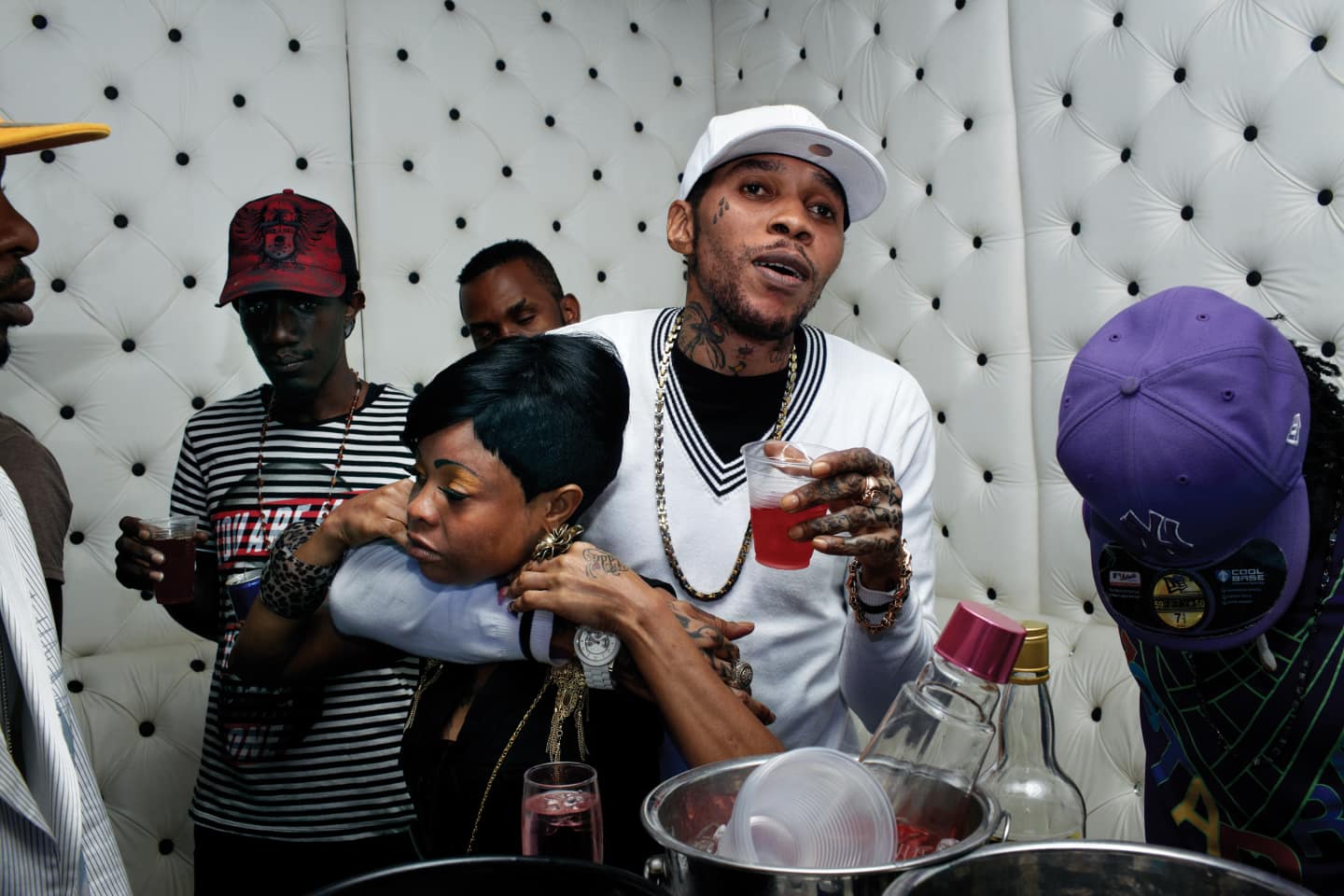 Even the studio, Shocking Vibes, is an object lesson in control. It was once Beenie Man's home base, but he has not set foot inside since splitting with his one-time manager Patrick Roberts, the studio's owner. "At the end of the day when Beenie Man and Patrick Roberts are at odds, Beenie Man has to leave," Kartel explains. And leave everything, he even have to leave the awards that he won. If you go outside you see them on the wall." To Kartel, that power of ownership is the ultimate armor against all splits, feuds and attacks. It is a means for stability where your mentors and teachers are always ready to trace you out, never mind the constant counteraction of the hungry young guns—an occupational hazard of a profession in which your coworkers have names like Assassin and Bounty Killer.
Which makes it sort of hard to see where Kingston Story fits with all this. At one point, Kartel confides that, "Most times I voice for a Jamaican producer, I'm the producer. When they're mixing it I tell them, Listen. Do this, drop out that, take out that part of the riddim there, balance the voice like this, so. But that's what I love about Dre Skull—him take charge as a producer!" Likewise, since he currently does not have a US visa, promotion of the album means giving up even more control. On the face of it, it seems to be as contrary to the overall Vybz Kartel program as its airy melodies are to the poisoned barbs of his Jamaican hits. But the best answer may be in Kartel's explanation of himself as the exception to every rule in Jamaica, his ability to break every taboo and come back bigger than ever. "Because I always bring it back to music. I'm a musician, so at the end of the day it boils right down to just music. That's what saves me."