From the magazine: ISSUE 80, June/July 2012
Tauheed Epps casts quite a shadow. Standing at six-foot-five, he walks in a lumbering gait. His dreadlocks hang to his shoulder blades, his cargo jean shorts are frayed at the bottom, with clusters of unnecessary accessories—multiple wallet chains, a large, 
purple landline handset that plugs into his cell phone—dangling from his pockets. His purple sneakers match the phone. Large black Stevie Wonder-style frames, hinged with golden medallions, serve to protect his light sensitive eyes. "Some oily eye condition bullshit," he explains. They make it considerably difficult to interpret his permanently soft-spoken deadpan. He's a rapper, but not the type of rapper that fans are quick to run up on. Instead they tend to operate in stolen glances and whispers: Is that 2 Chainz?!
On this particularly warm afternoon in early April, Epps, much better known as the rapper 2 Chainz, is headed back to his "castle," as he proudly calls his home about 30 minutes south of Atlanta, for the first time in a while. The house is not quite medieval in its scope but it is enormous, exactly the sort of boilerplate McMansion that one would expect to find in the middle of post-rural Georgia. The bricks are pristine, the ceilings intimidatingly high. Immense columns adorn the front door and an ornate white piano sits behind it. It's the type of home that could've been plucked directly out of a reality TV show about overly-entitled housewives. Still, it sits on 22 beautifully woodsy acres. (When I ask 2 Chainz if he enjoys nature, he responds dryly: "I like killing shit.") He bought the house in November, right after he signed his solo deal with Def Jam, and has been on the road in intermittent weeklong shifts ever since, leaving little time to enjoy the property—he seems like a visitor in his own home. Upon his arrival, he almost pulls into a neighboring driveway.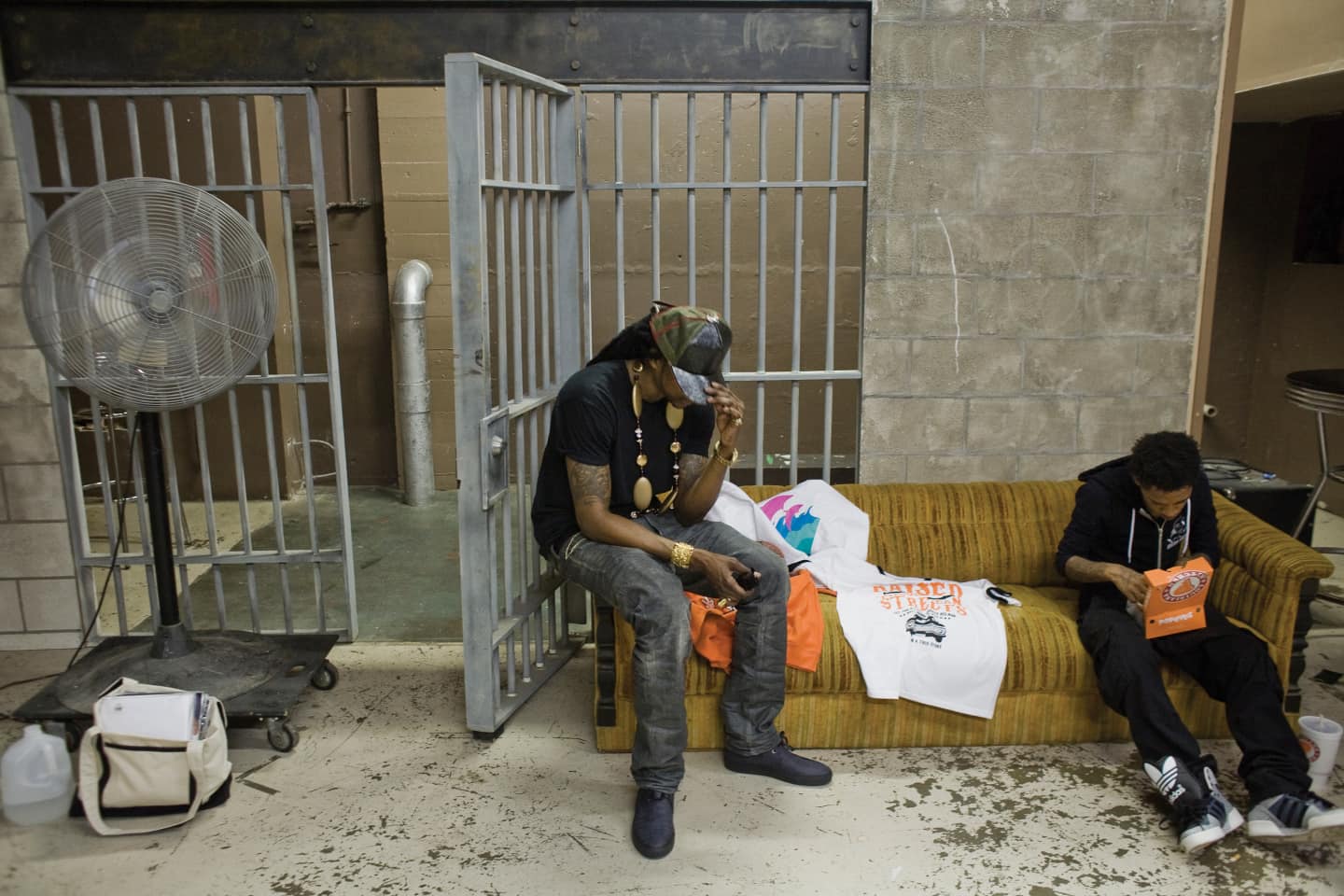 The day before we meet, he was in New York, taping a 106 & Park appearance where he performed his guest verse on Nicki Minaj's hit "Beez in the Trap." Tomorrow he's off to Texas for a series of club dates. In the 48 hours between he's scheduled a remarkable amount of work-related activities—this interview, a photo shoot, an all day video shoot, a local radio appearance and a trip to the studio to record a handful of his in-demand cameos—and is doing his best to balance them with light daddy duties like picking up his three-year-old daughter, Heaven, from preschool and taking her and her pregnant mother, Keisha, out for dinner in the city. "It's cool to be busy," he says. "I been not so busy before."
That's an understatement. 2 Chainz' rap resume is 13 years deep with some large gaps of unemployment and at least one name change. He came to rapping late in life, after a year of playing basketball at Alabama State. (2 Chainz neglected to mention this stint in our interviews, even as he spoke at length about his high school basketball career. His lone season on the team as an Alabama State freshman, 1996-97, would make him around four years older than his claimed age of 31.) Once he began rapping, he was known by the bawdy, childhood nickname Tity Boi. "The name Tity Boi actually came from my big mama, from me being spoiled and an only child—breastfed," he told Vibe magazine last year. "My mama called me Tity Boi, my dad called me Tity Man." Close associates still call him Tit.
Tit and his rhyme partner Dolla Boy, jointly known as Playaz Circle, independently released the album, United We Stand, United We Fall in 1999. The collection of cerebral rap caught some buzz locally and attracted the attention of fellow underground rapper and then-radio host Ludacris, who would sign the duo to his Disturbing Tha Peace imprint. Shortly after, Dolla Boy went away to serve some time and in his absence Tit kicked around DTP, popping up quietly on album cuts by the likes of Luda and Chingy. His contributions are solid, but certainly not the type of thing that screams breakout star. When Dolla returned, they recorded a pair of understated and underrated full-lengths. The first, 2007's Supply & Demand, spawned a hit in the Lil Wayne collab "Duffle Bag Boy," but the duo were ultimately overshadowed by Wayne's hook. The second, Flight 360: The Takeoff, went almost completely unnoticed when it was released two years later. "We had some shit on there!" 2 Chainz says. "If I had known that the label and nobody was gonna give a fuck about the nigga's vision…" He trails off before adding the moral, "After that didn't do nothing, I was like, Let me figure this shit the fuck out. Let me go to work." He's released seven solo mixtapes in the five years since "Duffle Bag Boy," each one gaining slightly more traction than the previous. Last year's Codeine Cowboy and T.R.U. REALigion became street favorites while his capitalist anthem "Spend It" achieved Southern rap radio ubiquity.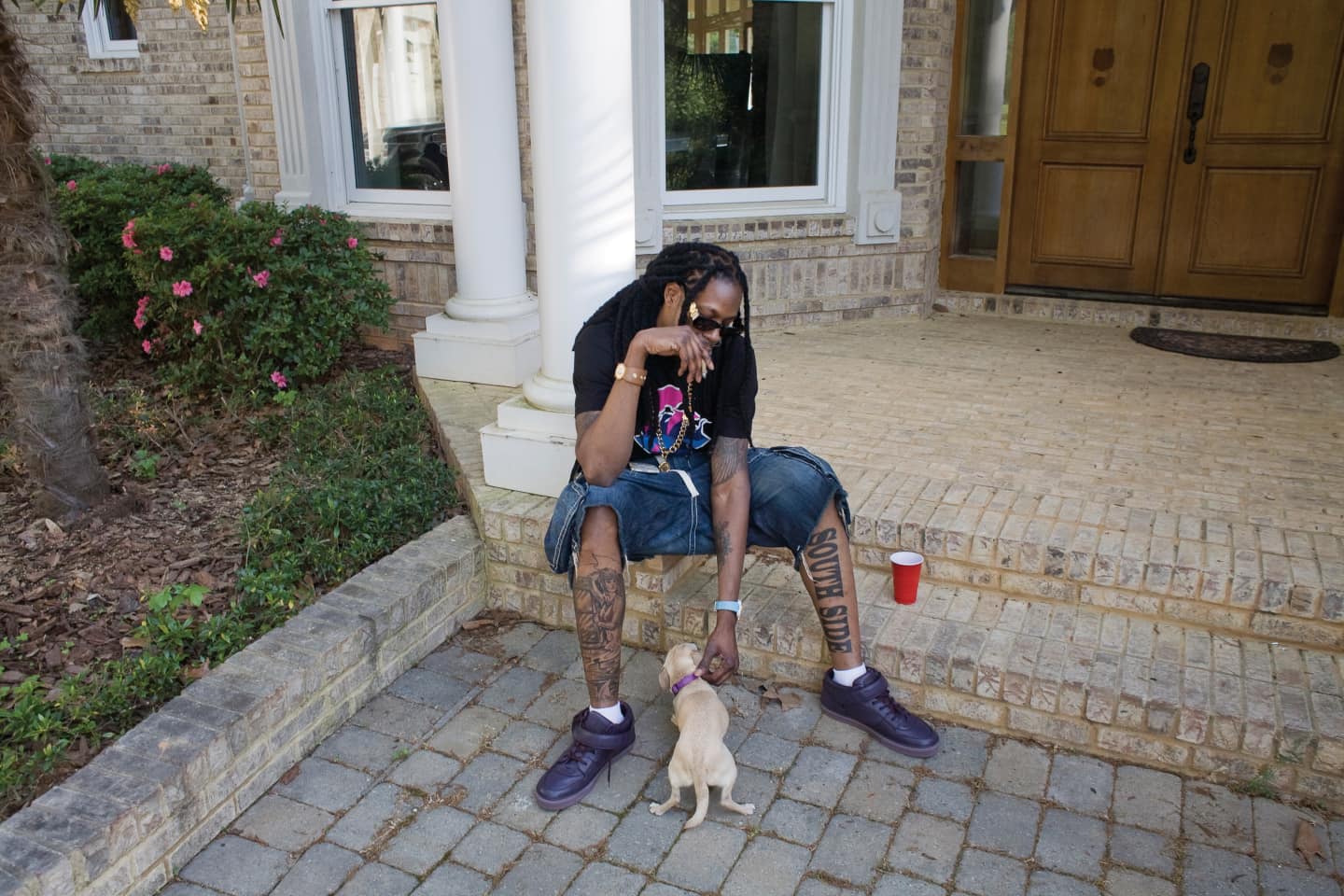 At first the 2 Chainz moniker was just another in his endless chain of boasts. Tity 2 Chainz got on two bracelets/ Fresh off the lot you would think I was racing, he rapped on Playaz Circle's should've-been-a-hit "Look What I Got," but when he started to take off, Tit retrofitted his new name as a loose homonym for "to change." Revisiting his work chronologically, this progression feels like less of an improvement than a refinement. Sometimes it seems like the work of a man who is actively trying to unlearn the values of his era. Small traces reveal his generational allegiances do remain. The title T.R.U. REALigion, for example, stitches the type of sloppy acronym that Goodie Mob or Wu-Tang Clan might've used—"The Real University"—onto an expensive pair of jeans.
So he's gotten more efficient, moving away from anything resembling a coherent message and towards the strings of disconnected punch lines that dominate rap in the wake of Lil Wayne. He's also adapted to the modern ad-lib, punctuating his verses with an infectious 2 Chu-ainz, a catchphrase that has caught on to the point where it's not uncommon for fans to bark it at him from passing cars. Beyond that, he raps like he talks: coldly, with brevity and a touch of humor that is so subtle it's occasionally 
undetectable. His raps are delivered calmly but with a restraint that implies aggression, always in italics, never caps. The rhymes are simplistic on their surface, but he possesses a knack for repetition and alliteration that would make Cam'ron proud, and a sense of internal logic that rewards a focused listen. In short, he's probably a lot smarter than he seems, but it also seems like he doesn't want you to know that. On Gucci Mane's "Get It Back," he boasts, You date her, then you fuck her/ I fuck her, then I date her. This 
is a classically 2 Chainzian line; another rapper would be proud to simply fuck your girl, but to him timelines are important.
Maybe this is because he's sitting at the end of such a long one. The second act that he's currently experiencing is largely unprecedented in hip-hop. Long-term bit players rarely become stars, particularly this late in their careers, yet he speaks of the ascension as if it were inevitable, divine even. "People said [Playaz Circle] didn't do good numbers-wise but I'm confident in the material even up to this day," he says. "A lot of rappers who maybe didn't [sell] well damn near committed suicide but I always thought there was something wrong with everybody else. They didn't get it."
Perhaps more directly, he brags on T.R.U. REALigion's opening track, "Got One," The crazy thing about it, I been known I had it/ I was being patient, y'all was being stagnant. It's a distinction of slight degrees, but slight degrees are 2 Chainz' forte. The difference between Tity Boi and 2 Chainz is so minuscule that it'd be easy to mistake it for stagnation from a distance. It's not. Tit spent more than a decade repeating himself, evolving at a snail's pace until the right lanes opened for him to advance to stardom. If this is, in fact, a work of strategy and not sheer dumb luck (or, as he suggests, pre-destiny) then it's an impressive one.
After the quick tour of his home, 2 Chainz heads back to the city's downtown, posting in the Benihana parking lot, rushing his way through the photo shoot for this magazine's cover while Keisha and Heaven eat without him. Seemingly exhausted by the pace and tedium of rap stardom, he sighs. "I'm trying to be Superman," he says, and dashes out of the proverbial phone booth with enough time to enjoy the last 20 minutes of the meal in private.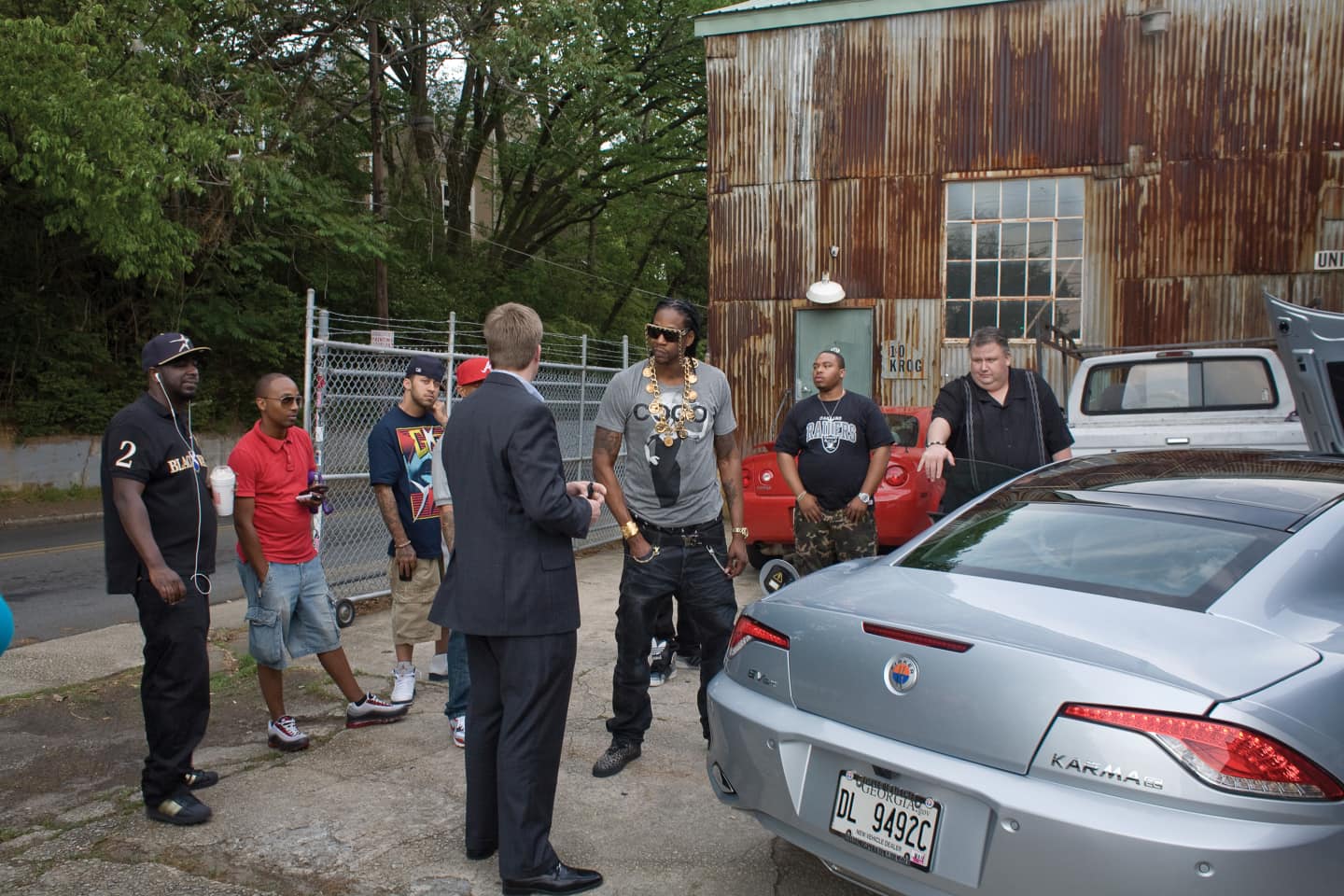 For dessert he takes the whole family to Hot 107.9, where they wait patiently through his extended on-air interview. When "Spend It" plays, Heaven jumps up and raps along in the sort of half-English/half-mumble of a kid still figuring out language, though she's absorbed a surprisingly large chunk of the lyrics. When 2 Chainz gets a free moment, he comes over and grants her some quality time with what appears to be her favorite toy, her daddy's dreads. "The best thing to be when you're hot is humble," he tells the hosts. "Because you're not gonna be hot forever." He then closes out the interview by predicting, with certainty, that his album is going to go platinum.
After the interview, 2 Chainz brings his family home, but his workday is just beginning. He heads right back up I-85, to the studio that he and Dolla own on the city's south side. Located in a partially abandoned strip mall behind a more functional strip mall, this is where Playaz Circle cut both of their albums and where they both record to this day. The promo van from Flight 360 still sits in its parking lot though the elements have left the full-frame wrap of the album's cover cracked and peeling at its edges.
2 Chainz arrives around midnight, as he usually does. "Ain't no artist sleeping right now," he says. "Everybody just getting up. It's the vampire shift." Tonight he's been commissioned with the task of recording three guest verses for three disparate artists, 
including a major pop star. He approaches all three with roughly the same assembly line method. Like so many rappers, 2 Chainz is of the Jay-Z school of writing rhymes with no paper trail. "I don't use a pen and a pad because my handwriting's terrible," he says. "And my phones are too raggedy for me to write something in them." But this doesn't mean he crafts them without deliberation or labor. In fact, watching his method in practice, it seems considerably less efficient than it would be if he had just written his words down.
Here's what it looks like: 2 Chainz plays the instrumental on his laptop a few times before going into the booth. There he dissolves into its darkness, leaving only a dismembered forearm or the ash end of his weed visible to outside observers. His engineer runs through the instrumental no less than a dozen more times as 2 Chainz begins writing rhymes in his head, revealing them in a barely audible mumble. When he's ready, he prods his engineer with a "Leggo." The engineer hits record and he lays down a few bars. Then the process repeats. Essentially Pro Tools is his sketchbook. And his engineer is very patient.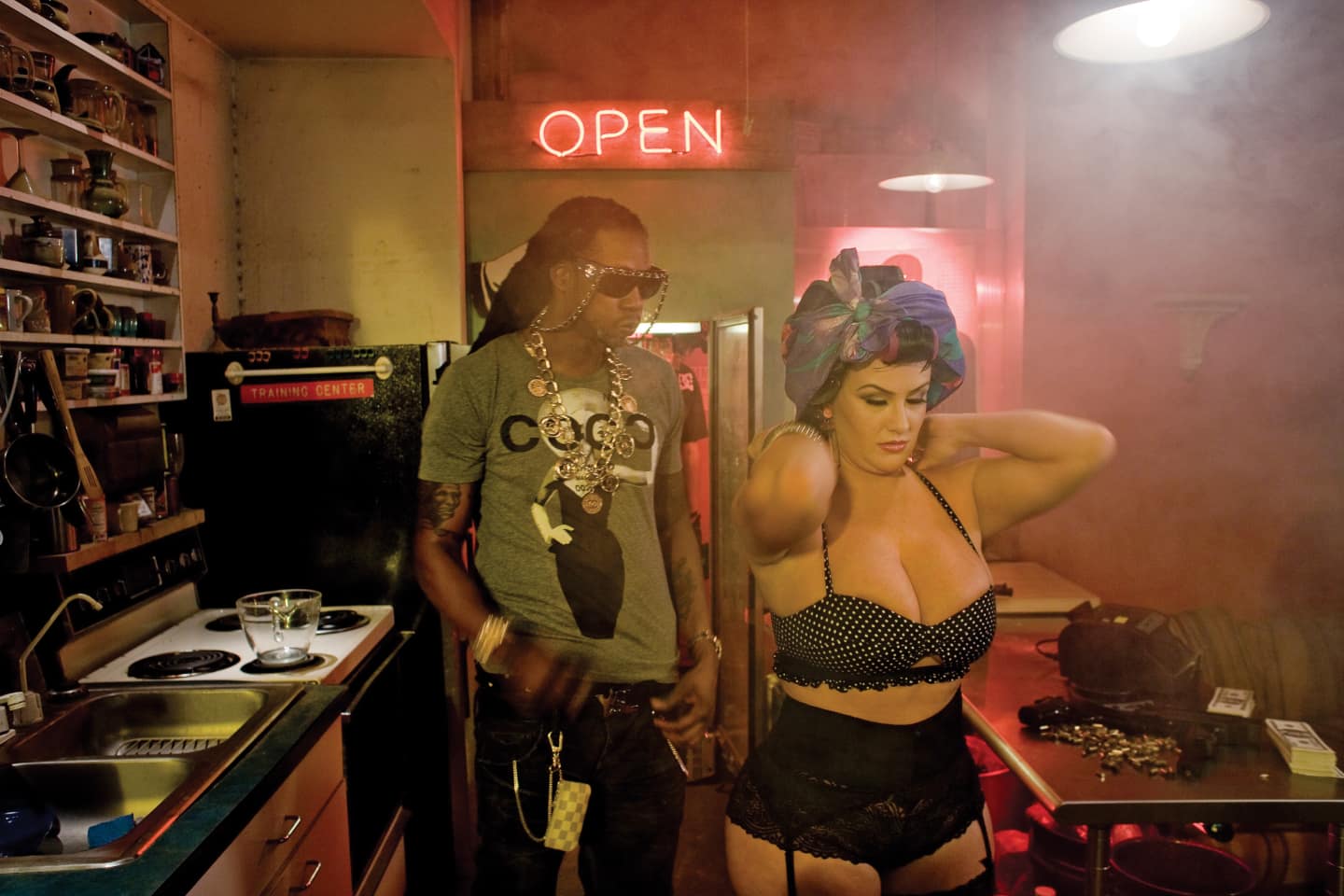 2 Chainz emerges from the booth periodically, still mumbling to himself as the beat plays. He dims the lights, refills his Styro-foam cup, waves his arms behind the engineer as if in a séance, then half stumbles back into the booth without saying a word. 
He records a few more bars, comes out mumbling, rolls another blunt, takes a few pulls,beats his palm against his forehead, returns to the booth. He records his next few bars, comes out, announces "More drugs!" to no one in particular, refills his cup and then it's back to the booth. ("I don't do any hard drugs," he explained earlier in the day. "Just vibing out stuff.") After about 90 minutes of this back and forth and back again he'll have a full 16 bars. His engineer sews them all together and plays them back so 2 Chainz can firmly commit his Frankenstein to memory. Then he records it from the top in one or two takes. From the booth he announces "Ad-libs!" and cuts a second track of his usual exclamations and echoes. He rolls another blunt and then it's on to the next one.
In the course of this process he shows only the slightest concern for the existing song's subject matter. The hook to Cleveland rapper Ray Jr.'s "Sloppy" brags about sipping on Rossi. About halfway through the construction of his verse, 2 Chainz comes out of his repetitious writing trance and asks, "What the fuck is Rossi?" After some light discussion and googling, it's revealed to be a reference to Carlo Rossi's supermarket-caliber jug wine. "They got a jamming-ass song about drinking cheap-ass wine!?" he says half mockingly and brings up an image of the bottle on his laptop. "It has a little hook on it, [like] the Clampetts!" he exclaims. Then he returns to the booth without acknowledging this newfound discovery. Instead he seems to rap about what he had for dinner, contorting Benihana's menu items into a vague, and yet definitively unappealing, sexual metaphor. He'll work through the night until 6AM, repeating the process until he knocks each verse out.
2 Chainz estimates that he records six to eight guest verses each week and it's these, along with his live shows, that pay for his castle. The abundance of these verses also offers him a foolproof defense against criticism and a logical feedback loop to support his relevance. Artists pay 2 Chainz to rap on their record because he's hot, and how can he not be hot if he's on all of these records? It's hard to find a corner of the rap industry that hasn't been infected with the need to adorn its tracks with his trademark seething—major superstars (Kanye West, Wiz Khalifa), aging veterans (E-40, Tha Dogg Pound), emerging hit makers (YG, Kirko Bangz) and underground darlings (Freddie Gibbs, Big K.R.I.T.). When I ask him if he worries about spreading himself too thin, he responds, "How am I gonna do that?" He's still wearing his shades but everything about his intonation suggests that he's rolling his eyes back into his head indignantly. A few weeks later he tweets: "Sorry guys afta this joint fo this hiphop legend i gota do! Im kutn features OFF!!! Gota album komn out."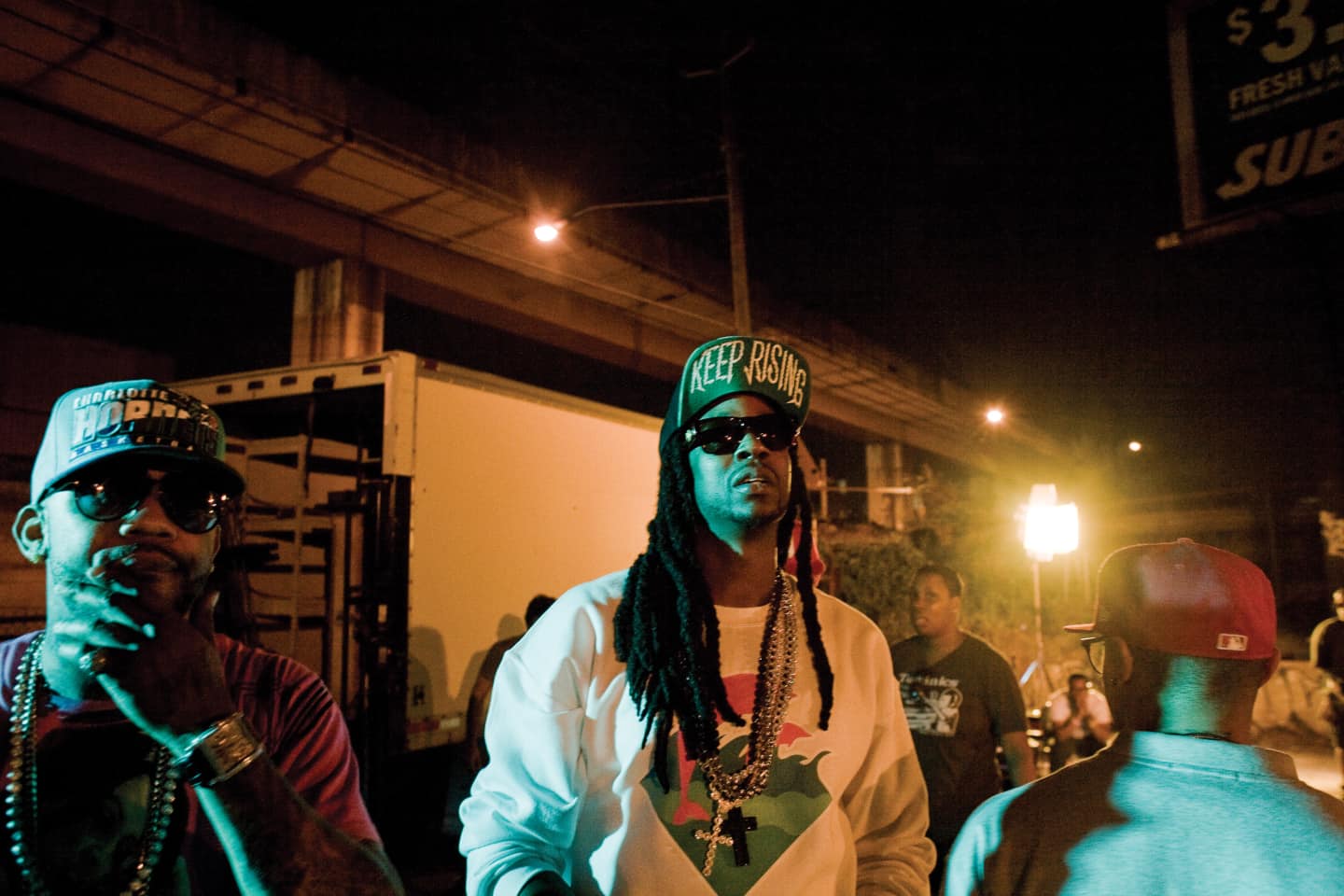 He's tight lipped about this summer's debut album, as he is about a lot of things. He even asks me to leave the studio when he previews some tracks from it. Here's what we do know: it's scheduled to be released in August. He's waiting to see what Def Jam, the same label that bungled Playaz Circle, can do for him now that he's a star. The decision to sign with them was at least partially driven by spite. "I had a lot of leverage with them, and it felt good to come back in there and say, Hmm…you listening this time?" he says. "They answer the phone calls now." The ability to say I told you so isn't just central to 2 Chainz' worldview, it seems to be the primary fuel for his grind. "If you dogged out the intern, you're gonna feel funny once he becomes the CEO," he says. "So I carry that with me. I say what's up to the parking attendant on the way to a meeting. In Atlanta, a parking attendant [will one day] own a club. And he'll charge your ass 400 dollars to walk in the mother-fucker." For him, humility is strategic. "A lot of people didn't 
see my vision, didn't rock with me. They walked past me and didn't speak, but I'd be like a female if I held grudges," he says. "My revenge is them asking me to do a song. I charge the dog 
shit out of them."