Environments: Boiler Room Goes International
"Our mission is to comprehensively cover new music around the world and allow for the shows we launch to have room to breathe and develop and find their own feet."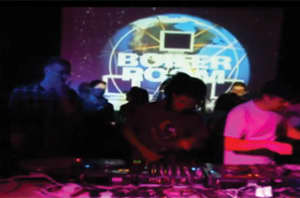 In the endless debate as to whether or not the internet helps or hinders our ability to connect as human beings, we have a counterintuitive point on the pro side from Boiler Room, a private DJ showcase whose reason for being is a weekly web-syndicated broadcast out of East London. Boiler Room, which takes its name from the dingy space where its first parties took place, has not only done a mighty job disseminating the sounds of the British underground to a global audience, but also capably forged bonds, cemented alliances and brought up artists like Lunice, James Blake and Actress.
Now, with the help of allied teams abroad, Boiler Room has started up three new outposts in Berlin, LA and New York. As founder Blaise Bellville explains, "we started to look at Boiler Room and think of it more as a way for people who aren't living in London or aren't living in LA to be able to discover music right at the very beginning stages." But as essential as Boiler Room's accessibility is to Bellville, it's equally important that each new venue taps into an endemic scene and accurately reflects its time and place. "Really, what Boiler Room is about is creating an environment in which artists can perform comfortably to similar, like-minded people, and it's a different experience to what they might go through at a club or a concert or any kind of commercial gig. I think that does reflect online to people watching. They're essentially seeing something which is normally behind closed doors." This exclusive inclusiveness is certainly well suited to New York, though Bellville admits that the city, a musical Ellis Island unto itself, has been a bit difficult to pin down. "In New York there's a lot of stuff going on," he says. "But precisely the point of Boiler Room is to export to the world a music scene that exists and also to help sustain one. And if not sustain it, cultivate it. Our mission is to comprehensively cover new music around the world and allow for the shows we launch to have room to breathe and develop and find their own feet."



Red Bull Music Academy takes over Boiler Room New York tonight, October 8th, with Flying Lotus, ?uestlove, Flatbush Zombies, Just Blaze, Joey Bada$ and The Underachievers. Watch the whole thing live, from 7PM to 11PM EST, here.