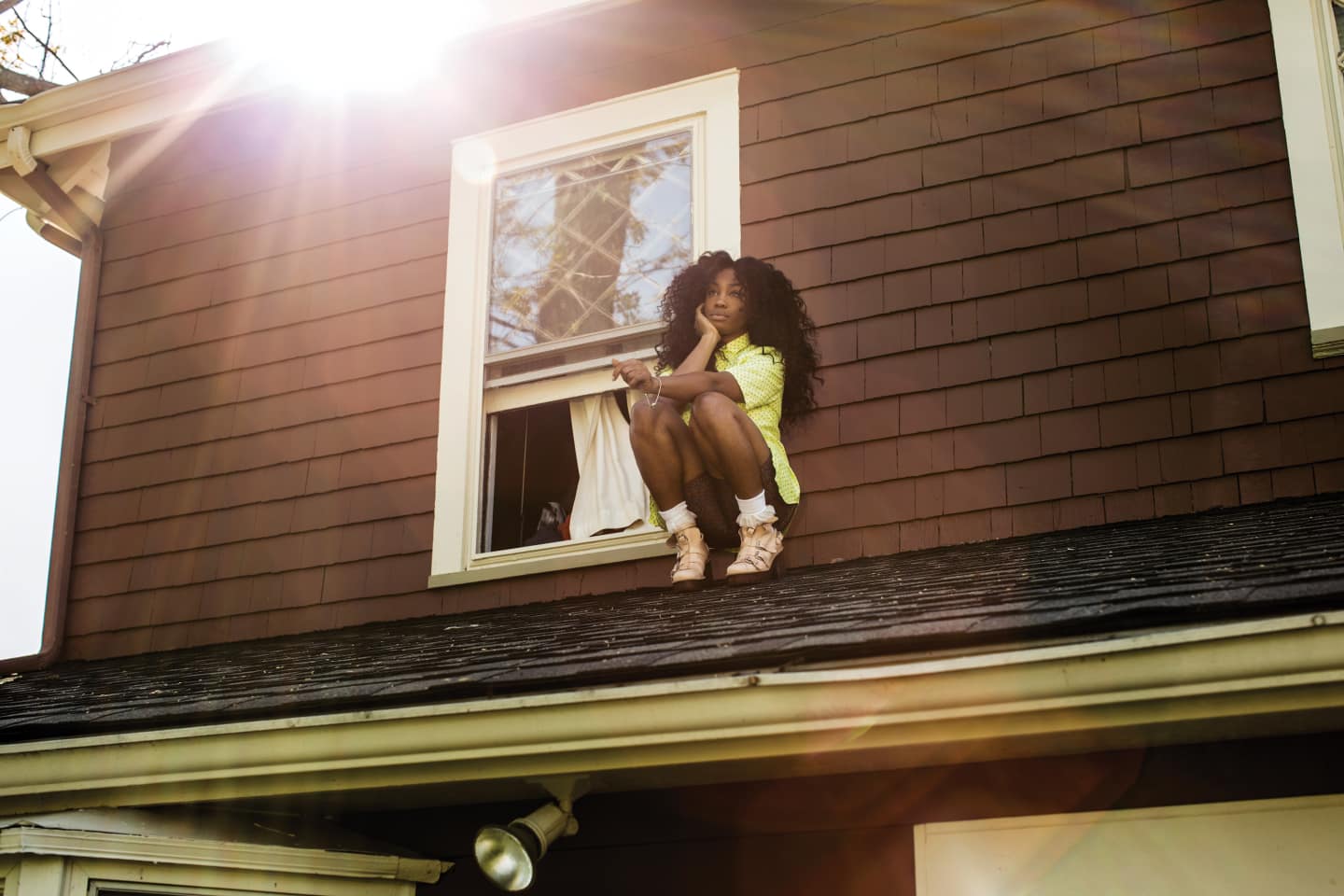 GEN F: SZA
"Can I get some glitter? Can I get some sunshine? Can I get some sparkles?"
From the magazine, ISSUE 86, June/July 2013
The hazy, sun-dappled music video for SZA's "Time Travel Undone," the first single from her April EP, See.SZA.Run, takes its theme from The Wizard of Oz, with shots of the 23-year-old singer on a bed of poppies interspersed with clips of Judy Garland and her pals running wild toward the yellow brick road. It's easy to see why she relates to that magical space of witches and munchkins and sparkling ruby red slippers, having herself dreamt up a Dorothy-sized world of songs and imagery from the bedroom of her parents' house in Maplewood, New Jersey. If, in the classic film, Technicolor Oz was just Kansas all along, SZA's black-and-white farmhouse is the comfy suburban home where she's spent almost all of her young adulthood. "I don't have a want or a need to do some of the things my peers might want to do," she says. "I love living with my parents. I'm kind of okay with being old and boring and in my own little world. I'm just turning into an old bald man."
Those are surprising modesties if you've heard SZA's first two EPs,See.SZA.Run and S, which have traveled around the world at tornado speed since she released them for free under the iTunes genre tag "glitter trap." The tapes combine a silvery R&B feel with icy vocals and suburbs-centric lyrics that make her sound like a fairy princess with a weed habit. SZA's parents are old-fashioned—her mom is a Christian, and her dad a Sunni Muslim—but she credits her conservative upbringing for endowing her with an overactive imagination. "My parents isolated me a bit growing up—I couldn't watch TV or listen to the radio," she says. "It used to annoy me, but it also meant I grew up on my dad's Brazilian jazz and Miles Davis and A Love Supreme. My dad used to dress me in baggy clothes and a hijab, but it let me do a lot of things that super feminine girls couldn't do, like climb trees and play in the dirt. And then I just started writing poetry."
SZA only started setting those poems to music about a year ago, when she snatched a few Bandcamp beats from Chicago producer Brandun DeShay, an Odd Future homie who had made a song for a friend of hers. The glitter part of the equation, she says, came about later, when she hopped in the studio with her now-mainstay collaborator Felix Snow. "I'd be like, Can I get some glitter? Can I get some sunshine? Can I get some sparkles? And he'd add wind chimes and whistles," she says. "I just want it to be my own thing." SZA has two more EPs planned, as well as some recording time booked with big-time producer Emile Haynie in LA, who has worked with Kanye West, Eminem and Lana Del Rey. Maybe, if everything goes according to plan, she'll even get a chance to leave the nest—somewhat reluctantly, of course. "It's very easy to just step off the train in Jersey—the air smells a little different—and just chill and forget that there are other people hustling and bustling and elbowing each other," she says. "But my parents are like, okay, if you can pay your rent, be out."
From The Collection:
GEN F