Cover Story: Ty Dolla $ign Is the Life of the Party
Read Julianne Escobedo Shepherd's Summer Music feature on Los Angeles R&B ladies' man Ty Dolla $ign.
From the magazine: ISSUE 92, June/July 2014. This is the second of four covers from our annual Summer Music issue that we'll be revealing over the next week.
Two by two, young women in heels and miniskirts file into Ty Dolla $ign's hotel room. Every five minutes, there's a new knock at the door, and another pair of 20-somethings, scouted from the club by a member of the musician's entourage, enters with a look of excitement and nerves. Here for a chance to hang out and smoke weed with a burgeoning superstar and his crew for an hour or two, they crowd onto the green-lit balcony of the Holiday Inn, vying for the attentions of the tall, tatted singer/producer. One woman sits on his lap, another sidles up to his hip and the rest of the ladies move in around him, fixated on his every word. He smiles welcomingly, puffing from his ever-present giant joint, handily cracking jokes.
Ty is in Fresno, California, the quiet town where he has just kicked off his Beach House Tour, named for his recent debut EP, which shares its title with the mixtape series that came before it. Given the song he is currently most famous for—the slinky, classic-house-referencing smash "Paranoid," a delectable ode to juggling multiple side-pieces—the scene is almost comical. Ty Dolla $ign came into his own singing about his acuity with ladies, and here they are, proving his point. During his performance at an 18-and-over venue earlier that night, a host of younger women shriek in a pitch you might normally associate with Beliebers. The entire crowd sings along euphorically with "Paranoid"'s anthemic chorus: I'm fuckin round with two bitches/ But I never make them hoes my missus. None of his female admirers seems deterred. Before the show, a white lady with a blonde dye job has him autograph her breasts.
At 29, Tyrone Griffin Jr. is an unlikely R&B heartthrob: not babyfaced or centerfold-adorable like Omarion, nor cut and oiled like his collaborator Trey Songz. Ty cannot dance as nimbly as Chris Brown, for whom he wrote the skulking pop song "Loyal," which, in April, became Ty's first-ever chart-topping hit. His smile is sweet and earnest, yet he does not often sing of love, preferring weeded-up, explicitly sexual lyrics about stealing girls from other men, fucking them and, often, kicking them out before morning. "I'm not tryna promote being the best fucking American man," says Ty. "I'm promoting partying and having fun and being that type of American. I don't wanna hurt nobody's feelings. I'm not gonna front and act like your boyfriend. I'm out here, you know what I'm saying? I'm about to go on tour! It's like running for the presidency... except without a wife."
And yet, Ty Dolla $ign is just about the only type of R&B heartthrob that could break out with such ferocity at this particular moment in music, when tone-setters like Future and Drake blur the rough edges of their street bangers with soft intent. His tenor bestows 2014's West Coast gangsta music—and particularly, the endless-summer vibes of his friends and collaborators YG and DJ Mustard—with an inexhaustible libido, not without a conscience but entirely lacking a filter. Together, the three musicians have resurrected the West Coast's paradox of mean-mugging, no-fucks nihilism paired with laidback, beach-city verve. Their songs channel pure nighttime Id, resonating with a hip-hop culture so saturated in strip-club songs they've become status quo. But Ty's commitment-phobic sexuality, couched in gossamer harmonies, also carries a new, soulful charge. He makes party songs, he says, into "adult songs"—basically what R&B's been on since "Blueberry Hill," except trimming all the fat.
After a few years crafting more straightforward R&B songs in a duo called Ty & Kory in the late 2000s, he broke out on his own, adding the "Dolla $ign" to differentiate himself from British rapper Ty. Last year, friend and fellow weed aficionado Wiz Khalifa signed him to his Atlantic imprint, Taylor Gang, perhaps realizing Ty was born to go solo. As gifted with beats as he is in the booth, Ty also heads up a production crew (D.R.U.G.$.), plays an assortment of instruments and has a penchant for complicated structures (Dilla is a longtime idol). In 2009, he scored his first hit as a producer and singer with YG's "Toot It and Boot It," rendering the song's I met her in a club refrain doubly anthemic with a lilting piano loop. Underscoring his raw talent, he says he had initially considered the beat a throwaway when he made it. "It was the easiest song I ever made in my life, and for it to blow up I was like, damn," he says, recalling that DJ Mustard had been trying to teach him the value of simplicity. "I didn't [streamline my sound] at first cause he was the little homie and I was like, nigga? But I was trying to do too much. That was the math I was missing for a long time."
Ty Dolla $ign
"Float ft. IAMSU & Terrace Martin"
Ty's most recent work displays a pared-down style without scrimping on his virtuosity as a musician, slapping punch-drunk synths on snap-music-inspired rhythms as his vibrato emphasizes his lascivious, funny lyrics. Sub-merged in his echoing harmonies, lines like "Float"'s notorious whale-themed come-on—She got that wet/Sea World/and I dive in that pussy like Shamu, girl—sound not so much puerile as breathlessly romantic. Rather than throwing down candy-coated lines to get into panties, he's straightforward about his intentions, and the sheer fact that he's honest sweetens the deal on its own. Ty is like Keith Sweat armed with dick jokes.
"I'm not tryna promote being the best fucking American man. I'm promoting partying and having fun and being that type of American."
The Los Angeles sun hangs low, ringed in a halo of smog that casts a surreal glow across the skyline. Ty, who once woozily sang, How many girls can I fit in my cabana?, keeps an actual cabana on the deck of his hilltop apartment in Hollywood, the wicker chairs beneath it positioned so that his coterie may enjoy a sweeping view of the iconic Hollywood sign, nestled promisingly nearby. It's three days before the start of the Beach House Tour, and the hours tick by in a gelatinous haze. Since noon, Ty has been smoking finger-length joints of the medical marijuana he stores in a mega-sized mason jar on his kitchen island. His catlike, olive eyes look clearer with the herb. Nate 3D, his friend and production partner, is sprawled out on a chaise lounge on the deck. Indoors, Ty's refrigerator is papered with art made by his beloved nine-year-old daughter, Jailynn, including a marker-scrawled image certifying him as "the best dad in the world and universe." Ty says he brings women back to his black leather couch; they aren't really allowed in his bedroom.
Mid-puff, Ty comes in from the cabana and starts tapping out a beat on an MPC, occasionally riffing on an acoustic guitar. It's a banger, and in under an hour, it's close to finished. Ty keeps a small studio in the corner of the living room, and he's made some of his biggest hits—"My Cabana," "Float," "Ratchet in My Benz"—exactly like this: weeded up and vibing off the dank and torrid California air. Ty's computer and a handful of synths are flanked by a record collection deep with '90s and '00s underground hip-hop, and he sits beneath a framed copy of Sa-Ra Creative Partners' 2007 debut, The Hollywood Recordings, on which he's featured twice. His workspace is tiny, but he prefers it to professional studios, rearranging his set-up every so often for a change of scene. "Paranoid," he says, was written with his back to the wall, synths facing the door. He's deeply inspired by his Los Angeles surroundings; humid sub-bass sounds great with a view like his, palm trees poking up across the landscape, and even better when you're speeding down the freeway in his BMW SUV, accelerating to the tempo and letting the breeze hit the kicks.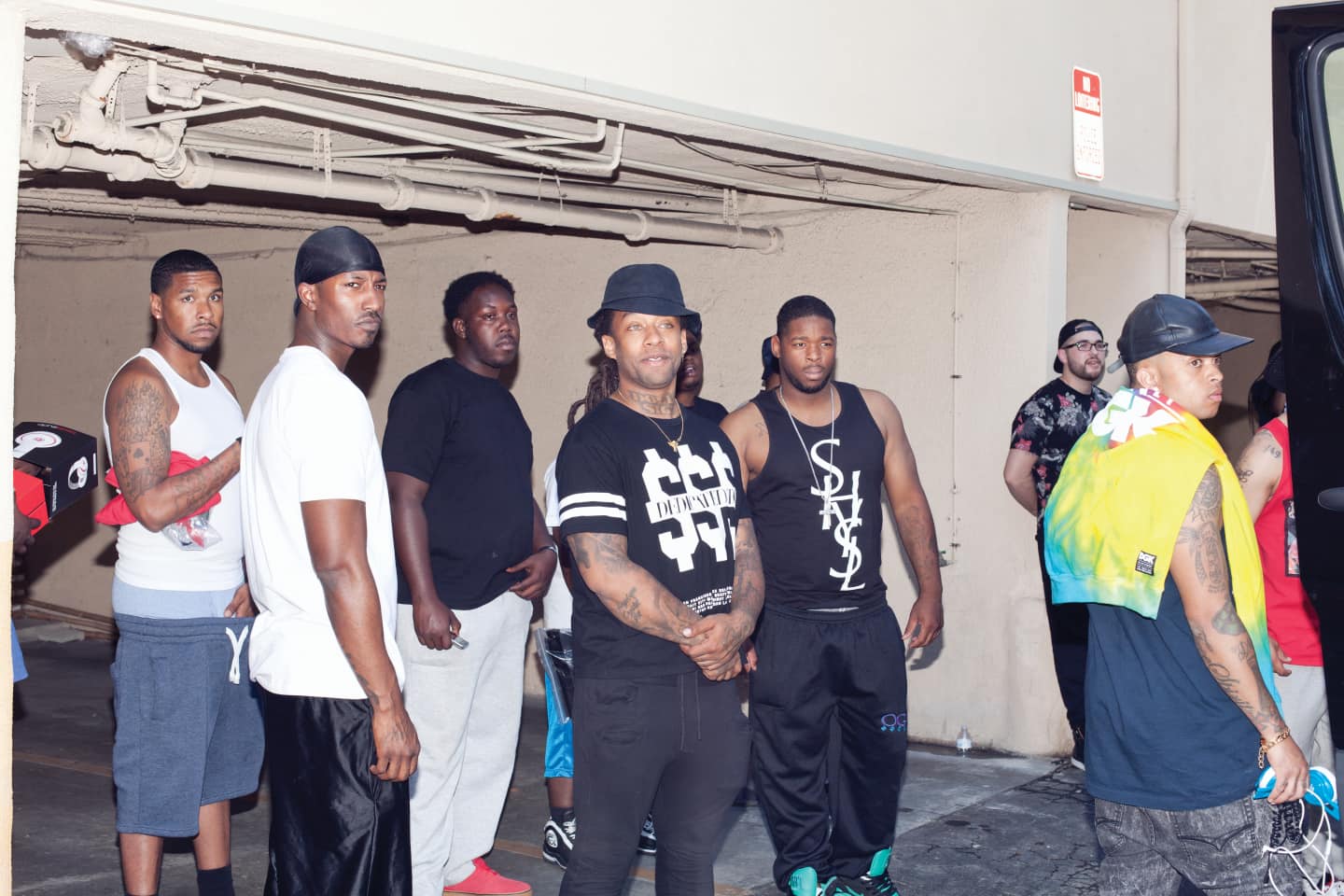 The son of a real estate agent mother and musician father, Ty began toying around on instruments before he could speak. He can play many of them by ear, including guitar, keyboards, violin and drums, which he'd practice at home before his mother decided they were too annoying to keep in the house. His father, Tyrone Griffin Sr.—"Pops"—bought him an MPC after he saw Ty making his own loops manually with two cassette players. His parents split when he was young, but soon after, Ty began tagging along with his dad to studios all over LA, where Pops played trumpet and keys on a host of sessions for hip-hop powerhouse Death Row Records and, later, with the funk band Lakeside. Ty met Tupac Shakur and Snoop Dogg as a kid, and his father scored him his first-ever gig playing keyboards for teen R&B group Immature in the 1990s. These days, Ty employs Pops' brass skills for his own live band, and is beginning to play bass and keyboards at shows himself, emulating his father's path. His dad used to jam with the Isley Brothers, and Ty's sensibilities reflect his upbringing in classic R&B, with an emphasis on musicianship and arrangements. "I have a lot of people around me, and it seems like they just like being around, you know what I mean?" Ty says. "Pops, he actually cares, and he can come in and he actually gives a shit about the show. He likes my music. He used to give me pointers, but I graduated from all that shit."
Having grown up surrounded by music, Ty Dolla $ign is acutely aware of his place within it. "I notice other people wanna get famous," he says. "I'm more so on music. First you had The Gap Band. Everybody tried to do Charlie Wilson. Then Aaron Hall. After Aaron Hall you got R. Kelly—he's the new Aaron Hall. And now they're saying I'm in that same lane. I study that shit, and it helps me with my songs." Ty's melodies are couched in this history of prodigious R&B singers, while evoking the essence of '90s new jack swing artists like Guy, Jodeci and Keith Sweat, who hardened gospel-literate R&B by hybridizing it with hip-hop. Ty's own four-part harmonies have a similar velvetine warmth to new jack swing mastermind Teddy Riley's, who actually guested on his Whoop! mixtape. Like the legendary producer, Ty is a consummate band-leader. "I hear everything in my arrangements, and I know exactly what I want," he says. "To me, everything's been done before. When I was doing 'Paranoid,' I felt like I was Bell Biv Devoe or some shit, like it was the 'Poison' of now."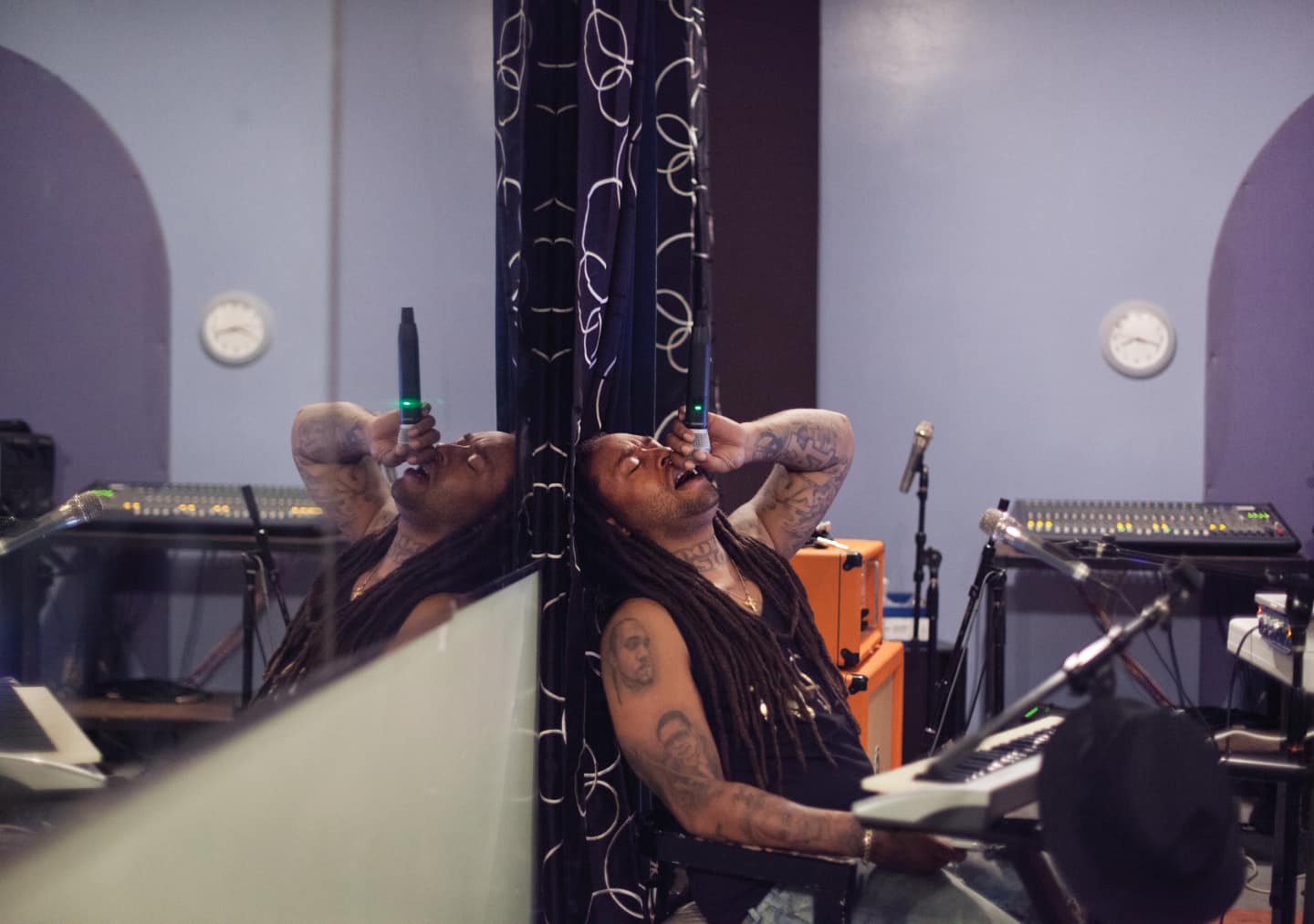 The next day, a camera crew is filming at Ty's apartment for a branded video spot, and he is at his waviest, blasting a cappella prayers from Abd Al Rahman Al Soudaiss's Live in Mecca Volume 2. His living room has been professionally cleaned for the occasion, and all drug paraphernalia has been stowed, but for a sole Evenflo baby bottle with a cartoon giraffe on it, filled a quarter-way up with purple Codeine syrup. "They wouldn't let me smoke on camera," he says, "so I beat the system." He takes another sip from the bottle and then places it in a cabinet, promising to save it for posterity. "I'm gonna put it in a frame and list it with my accomplishments," he says, cackling. "Yes: I was around for this era, when rappers did lean."
As a teen, Ty was kicked out of his mother's house for misbehavior. He stayed with his longtime friend Big B—who, years later, would introduce him to YG and Mustard—and eventually fell in with the West Side Rollin 20s Bloods. He says he was mostly into tagging, but it's a history he's reluctant to discuss. "We're not promoting gangbanging here," he says, explaining that he was always more focused on music than the life. "Luckily, I got the homies that I got and kept me from doing some stupid shit, and I ended up here, not dead or in jail. That's what they tell you about gangbangers, one of two things: dead or in jail. I just try to promote positivity. It's not really worth it."
"I hear everything in my arrangements, and I know exactly what I want."
When Ty's parents split up, he and his sister lived with his mother, while his brother, TC, stayed with his father and ended up joining the School Yard Crips. TC is currently serving a life sentence on a murder charge for which Ty says he is innocent. Following Ty's Sign Language mixtape this summer, his debut album will be titled Free TC. "When you gangbang, somebody has to go down for whatever happens, and he was just in the wrong situation," says Ty. "I can't really speak on it, but everybody knows he didn't do it." Some of the proceeds from Free TC will go toward a lawyer for his brother, as well as a foundation Ty is planning for other inmates who declare their innocence. "Don't forget about niggas [in jail], cause you could be in the same situation," he says. "So that's what it's dedicated to. It's still gonna be fun and party and sexual and a little bit of weed smoking, but—well, a lot of weed smoking," he says, laughing. Though Ty's music revels in its excess, and he is clearly enjoying the lifestyle his newfound fame allows, at times his most debauched subject matter reads as escape, the transcendent moments of a complex mind who's lived a lot.
Accordingly, he only vaguely resembles the blunt-sparking, lady-tapping persona one might glean from his songs. Despite his many lyrics about stealing the next guy's girl, he is polite, and never comes off as condescending. During one of his weed sessions, he is forced to engage in the infuriatingly banal activity of calling someone to fix his internet, telling an operator, "This website is not working, sir." It's a considerateness that, he insists, he extends to women, despite their position in his songs as conquests and rarely much else. "I'm a nice dude, and I'm fuckin cool, and I'm friends with all kinds of girlfriends and they know," he says. "My shit is for pure party. In the party you hear girls talking to each other like, 'Bitch! Girl! Bitch! Girl!' Muhfuckas is drunk, calling each other names and turning up, and it's still a fun thing—it's not a bad thing. I'm not saying, 'Let's be disrespectful.'"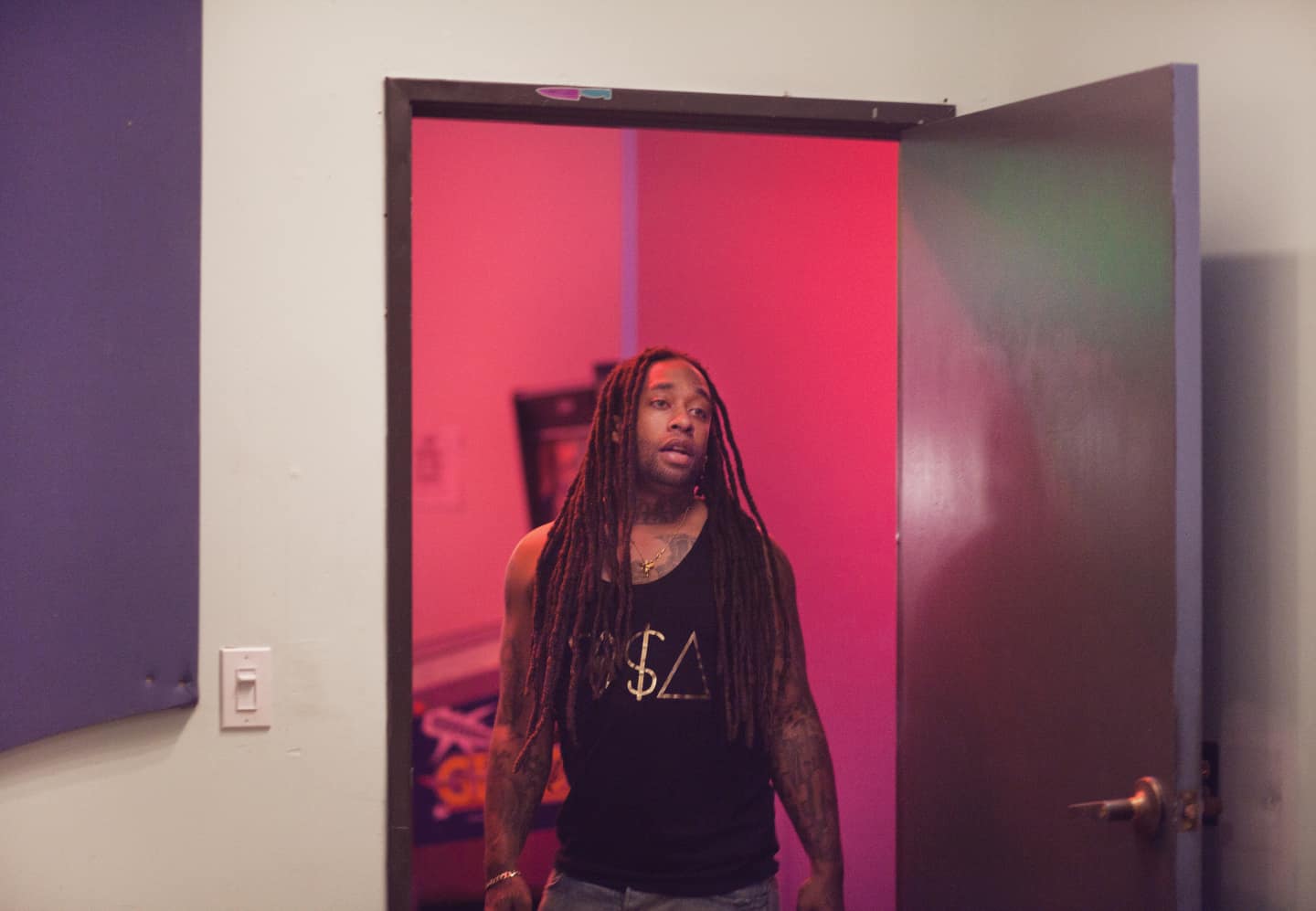 Even when the woman in Fresno had him sign her breasts, he did so very gingerly, without ogling too much. Indeed, the respectfulness he demonstrates toward me and other women around him make me wonder how people might experience "Loyal" if he were singing it instead of Chris Brown, even though it's full of misogynist entrapment in the way it boasts about stealing other dudes' girlfriends, then chastises said girlfriends for being disloyal. (Ty had initially written the song for their mutual friend Bobby Brackins, but he let Brown have it after Brown recorded a version himself). "This one woman came up to me and was like, 'Me and my girl was thinking you could lighten up on your lyrics,'" he says. "At first I started to get a little bothered, but then I was like, you know what? Fuck that. If you don't understand it, then it's not for you, know what I'm saying? It's party music." Clearly, the fabled party of Ty's lyrics has very few consequences—for him, at least. Ask the women who've inspired his songs, and you might get a different story, but after spending a little time with him, his music starts to feel like the very definition of hedonism—pure, selfish pleasure that is easy to understand, whatever your politics.
There is one girl, though, he says is more important to him than all the others: his daughter, Jailynn, soon to be a fourth grader. She was born when Ty was 20, and he's always been a fixture in her life, splitting custody with her mother even when he was too broke to pay child support. Jailynn is the spitting image of Ty—the same clear eyes, the same kind smile. He has her name and face tattooed on his right arm next to depictions of his mother, father and grandmother, and he proudly posts her photo all over his Instagram, including flicks that show what he is at heart: a soccer dad, playing practice-goalie and attending every game he can. The day of the branded video shoot, once the camera crew leaves, Jailynn's mother drops her off at his apartment so she can see her father one last time before he goes out on the road. She's extra-shy and emanates sweetness, undoubtedly daddy's girl. "I love Jailynn so much," he says, as she plays a racing game on her father's iPad. "She's the best daughter. I bet every dad says that. At first, I felt like I wasn't all the way ready. Some birthdays would come around and I wouldn't be able to get the most, but now I can get them anything they need. Every time I leave her, I'm like, Aww, fuck. I wanna be with her at all times."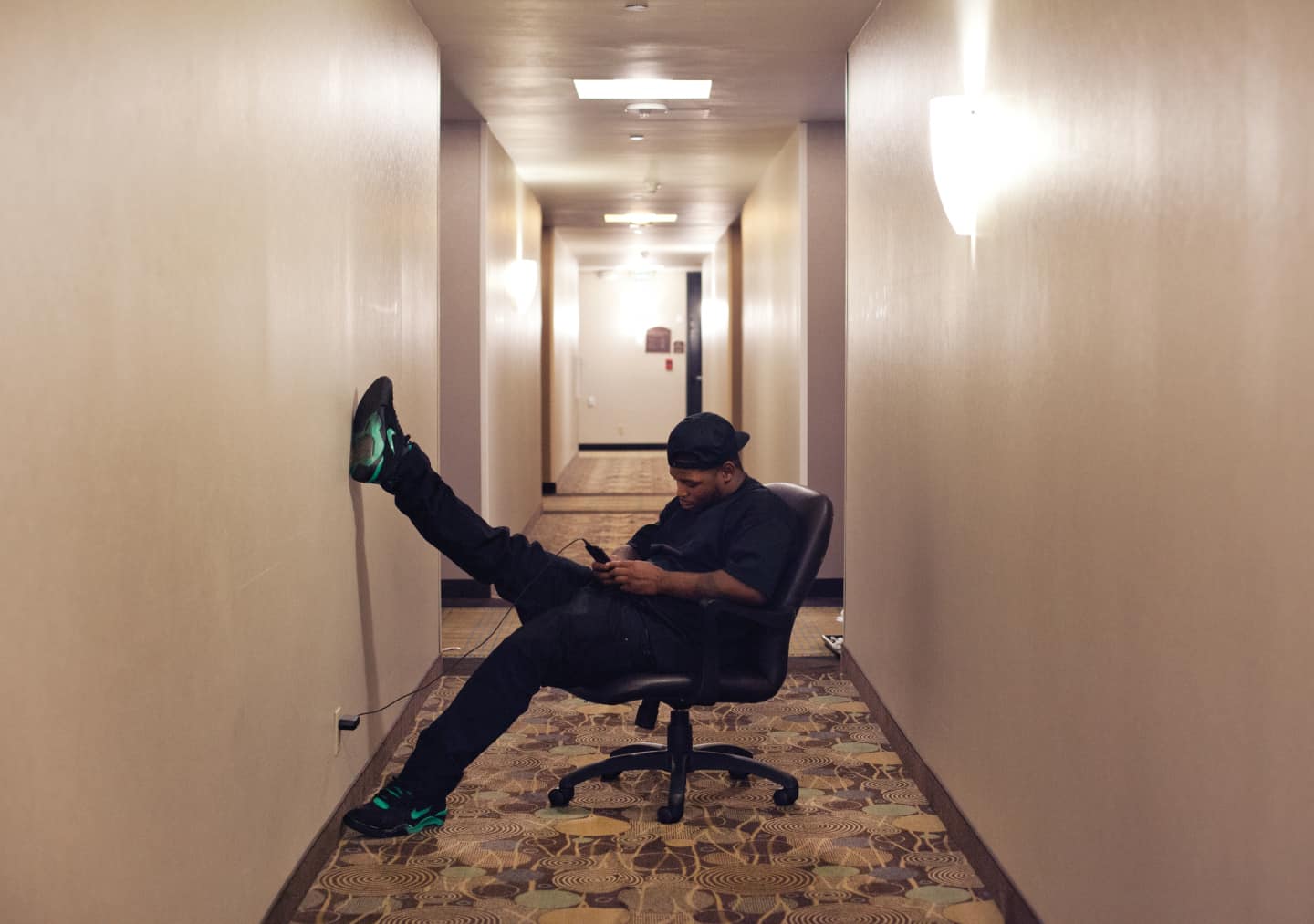 Ty's paternal instincts seem to fill the space he doesn't have for romantic love, while his music acts as an outlet for the debauched side he never lets Jailynn see—she is only allowed to listen to his music in its "clean" state, and only if it's on the radio. Just when you start to think something doesn't square, in comes Ty with a confession about his love life, straightforward as ever. "Sometimes I just feel like with what I'm doing—it's not meant for me," he says. "But I'm definitely not cynical, and I'm not against it. When I see people like Wiz and Amber, they just be FaceTiming and shit—I want that. I love seeing love. I had this one girl that I was really tryna go hard with, but it wasn't it. I really was on my faithful shit but once I broke out of it, I just went wild. And then I made Beach House 1, you know what I'm saying?"
His grin proves he isn't lying, but his words point to an artist who has a lot more going on inside than the songs he's released thus far might suggest. Ty knows his club tracks are commercially viable, as Brown's no-doubt lucrative acquisition of "Loyal" proves, but it's hard to picture him at 35, still pumping out party jams. "I'm constantly growing like everybody else," says Ty. Anybody who says they aren't gonna change is a goddamn liar." Ty is at the precipice of much wider fame and, if his future singles are anything to ride on, at the cusp of longevity as well. While he might not be ready to let romantic love into his life yet, Ty is clear-eyed about his music. Beyond Jailynn, it's one of the only things he'll commit to, and he's determined to make it work.
IAMSU & Terrance Martin
"Float"