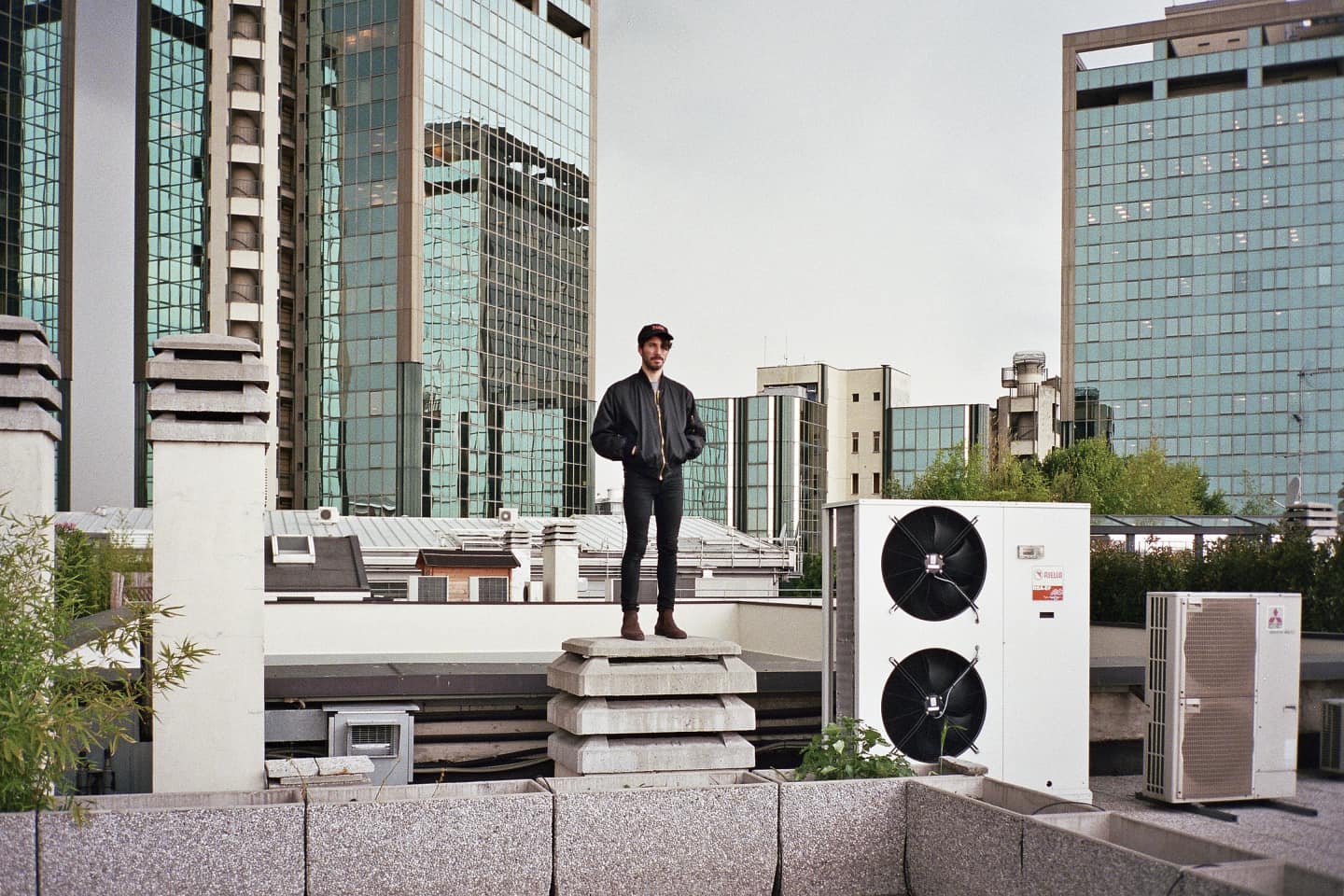 Milan Calling: Lorenzo Senni and Friends' Sonic Adventures Are Shaking up the Fashion Capital
The owners of independent record labels Presto!? and Hundebiss head up a new generation of Italian artistry.
While Milan has long been renowned as a center for finance, fashion and design, ripples from its underground music community have only recently extended outside of Italy. The first to ride that wave is 30 year-old Lorenzo Senni, whose pointillist, arpeggiated synth compositions refine the raw histrionics of trance through the clipped electronics usually associated with academic composition. He is regularly linked with and performs alongside the electronic intelligentsia, such as Mark Fell/SND, Evol and Florian Hecker, but also counts the likes of Evian Christ and TCF amongst his fans. (Fell and his SND duo with Mat Steel are particularly relevant touchstones for Senni, combining precise experimentalism with a dance music background.) His 2012 album Quantum Jelly, released via Peter Rehberg's respected Editions Mego label, took a sharp turn away from the super-processed, electroacoustic experiments of his earlier works and dove straight into his teenaged memories of clubbing in the Italian Riviera—where his small hometown of Cesena is only a 15-minute drive from Rimini, the famed capital of Italo-disco during its heyday in the late '70s and '80s, and the entire coastal area still contains a multitude of clubs.
"I was going [to the clubs] because of my friends," Senni remembers over Skype while visiting his parents in Cesena. "Here it was big, going to the disco at 14 years-old and having a motorbike or APE—a very typical Italian thing [like a cross between a motorbike and a car], but customized with a big soundsystem inside." With parent-approved Sunday afternoon clubbing as an ordinary teenaged pastime, at least in his neck of the woods, young Senni was also singled out as a go-go dancer, on his own pedestal, to a soundtrack of gabber, hardcore and trance, before going home to practice guitar and an altogether different kind of hardcore for the punk bands he would also play in.
Lorenzo Senni
"XMonsterX from Quantum Jelly"
According to Senni, hardcore punk was a seismic counterculture in the country, at least north of Rome—its DIY ethos inspired a string of squats all over the northern half of the country. And it preoccupied the young musician until his university days in Bologna—where he'd commute daily via a 45-minute train ride—when alongside his musicology studies, he developed an intense fascination with computer music and electronic composition. "I was complaining a lot about the university at the time because they were not teaching me what I wanted to know," he explains. "But I discovered a lot of things, actually. I can see it as a very big change because I discovered early pioneers of electronic music. Then you start discovering by yourself. Even if I was always complaining, I think it was very important." This led to Senni starting his own record label in 2008, Presto!?, representing these new sonic explorations. Accordingly, Presto!? would go on to release experimental electronicists such as Florian Hecker or Evol, noise maestros such as John Wiese and Lasse Marhaug, decadent ambience from the likes of Lawrence English and Greg Davis, "ultra modern pop" from Palmistry, and more—even a conceptual web release by Gatekeeper—often with stylized design by Senni himself.
Around the same time Presto!? began operations, Senni bought a couple of tapes, via a rarely used MySpace account, off another new label based in Italy, this one operating in a more noise context, called Hundebiss (who, since then, have released records by James Ferraro, Hair Police, Hype Williams, Aaron Dilloway and more). When he forgot to include his address, that label owner, Simone Trabucchi aka noise musician Dracula Lewis, got his details from mutual friends. The pair finally met in person at a concert a couple of months later and a fast friendship ensued.
Initially via an arts residency, Trabucchi has spent a total of seven months in Los Angeles over the course of several years from 2011 onwards, solidifying his connections with the US scene, especially with his friends Ferraro, Total Freedom and Sun Araw. Now 32 years old, he hails from the tiny municipality of Vernasca, equidistant between Bologna and Milan. Traveling daily to Milan to study multimedia at that city's academy of fine arts, relationships built there turned up a unique opportunity. "In 2010, an art collector was doing gentrification operations in an area in Milan," Trabucchi explains via Skype. "There was this big empty building and he was talking to me and my friends and he said, 'Maybe if you need a place to stay, like a studio, you can move your studio there.' And we suddenly started to live there. We had a huge place, and I had my personal basement where I started to set up gigs weekly, even twice a week. So 2010 until 2012 was like fire, for real. It was very good."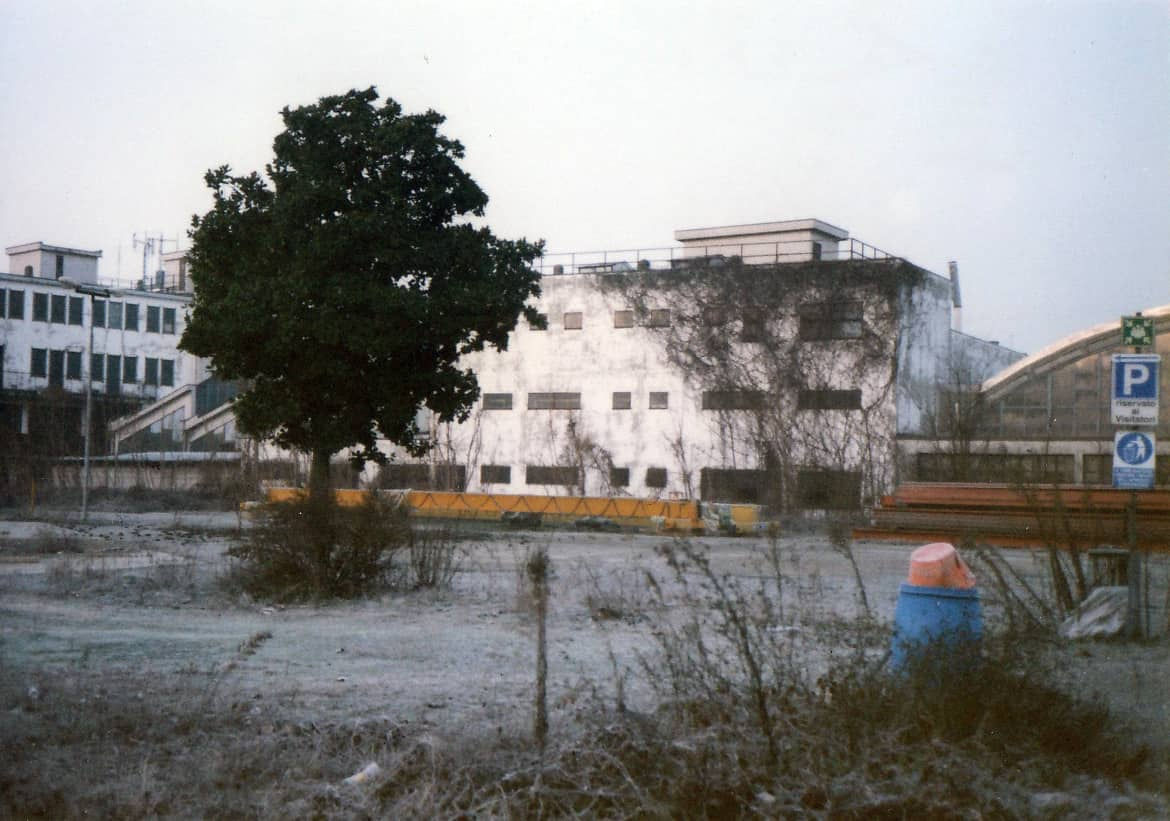 "It was the most free place in Milan; free but not chaos."
Trabucchi invited Senni to live and work in the former factory in central Milan. With Trabucchi's friend from art school Simone Bertuzzi—a DJ that goes by the name Palm Wine who's also from Vernasca, the pair bonded during their daily train journeys to university—and two Milanese architects, the five formed the core of the group based there. They called the space Arrighi after the name of the road it was located on. As Senni describes it, "In the back, we had these three huge hangars, empty. It was a very beautiful place to stay. We had to build up everything, so the first winter was very hard. No heating system, nothing. We were cleaning, we didn't want to be a squat. It was a very cool place after some months." In this setting, the Hundebiss nights became a local cultural hub. "Simone would play music with the other Simone, Palm Wine," Senni recalls. "No rules, like a gabber track, a punk track, an Aphex Twin track. No rules and everyone was really happy about that. Maybe 80% of the people were coming to see what was happening, to discover stuff. Like we had a guy—80 years old, an art collector—coming with his daughter, just to check what was going on because every time was a discovery for him. And for many people in Milan it was like that. People remember this. A lot of people passed by, like Wolf Eyes, Emeralds, Stellar Om Source. Kode9 played an after-party there. Actually it was the most free place in Milan; free but not chaos." After the sale of the building meant they had to move out of Arrighi, Trabucchi was invited to stage events not just at institutional spaces in Milan, but all over Italy.
Palm Wine
"Bolero #2 ~ Santarcangelo"
For the two and a half years they lived in Arrighi, the friends worked on their respective projects, tended their labels and hosted the Hundebiss nights. It was during this time that Senni, acting on memories of his past and a new fondness for melodies, realized that "every track in trance music has this build-up, and the build-up [is] the free part. Sometimes if you just cut the build-up, it could be like the output of a more experimental or avant-garde musician. So this is the part where the trance musician can express themselves more." The first step of his new direction was to meticulously cut the build-ups out of existing trance tracks and save them in an archive. Seamlessly mixed together, they create a conceptual durational experience that never resolves, never provides the cathartic drop, which can be a disorienting experience: "Four or five guys came in while I was playing [at an art fair opening in Istanbul at the invitation of Roc Jiménez de Cisneros from Evol]. They were a bit drunk, and they were thinking it was a build-up of a typical trance song. They were so [throws a hand in the air and pumps fist], like ready to explode. They wanted to have the kick, but the kick was not happening and they were getting angry. They kept screaming to me, "DJ, boom boom!" I was very proud of the result, actually. But they were so anxious, they started to fight and the bouncer had to kick them out!"
But Senni's real goal isn't frustration: "I was trying to keep the idea of epicness and of uplifting, building up something without being so in your face. That sometimes is more powerful. And working with the same synthesizer—all the trance guys were using the JP 8000, because it was the first that implemented the supersaw wave invented by Roland. It's like seven saw waves put together. You can detune and this makes the very rich harmonic sound. Harmonics means perfect intervals between notes, and that's [one of the conclusions of] a long talk over hundreds of years about what drives emotion in music. So, at the beginning I was just emulating and replicating. But then I tried to dry it out, add some musical things from the outside and Quantum Jelly came very fast." While not every track gets the balance between the two influences of trance and academic computer music just right, when achieved it's gorgeous—rigorous in tone and construction, but fraught with an arresting emotion. No drums, only synth lines that harmonically double, then twine in arpeggiated counterpoint punctured by internal staccato rhythms. New album Superimpositions, just released by Boomkat Editions (listen to "Happic" below), refines the process with more complex melodies, cannier rhythmic interplay and a greater range of synth processing.
While Senni's work under his own name is his primary focus, he continues to mine melody as inspiration for one of his side projects, Stargate. Stargate's lone EP—2012's Hexplore Superfluidity—of soaring electronic hypnagogic pop fits perfectly with the noisy space psych jams of Dracula Lewis or the droney dark disco dub of young Milanese duo Primitive Art on Hundebiss. As Hundebiss' leader, Trabucchi's Dracula Lewis project is evolving from its more abstract noise beginnings to a serrated, but instinctively tuneful and sexy id-rhythmic present. While it's easy to get a sense of his metal and punk roots, his upcoming mixtape Technical XTC uses the hip-hop model of enlisting a slew of other producers—such as Wolf Eyes' John Olson, PAN artist Helm, Hundebiss artists Sewn Leather and Jaws, and even one by Palm Wine—and feels remarkably cohesive, thanks to his strong presence and vocal processing. When he's not busy with Hundebiss or Dracula, Trabucchi collaborates with Bertuzzi as Invernomuto, a visual art duo now operating mostly in installation and expanded cinema. Their autumn activities include a site-specific work in Bozen, in the north of Italy, in September and a solo show at Marsèlleria Permanent Exhibition in Milan opening in late October.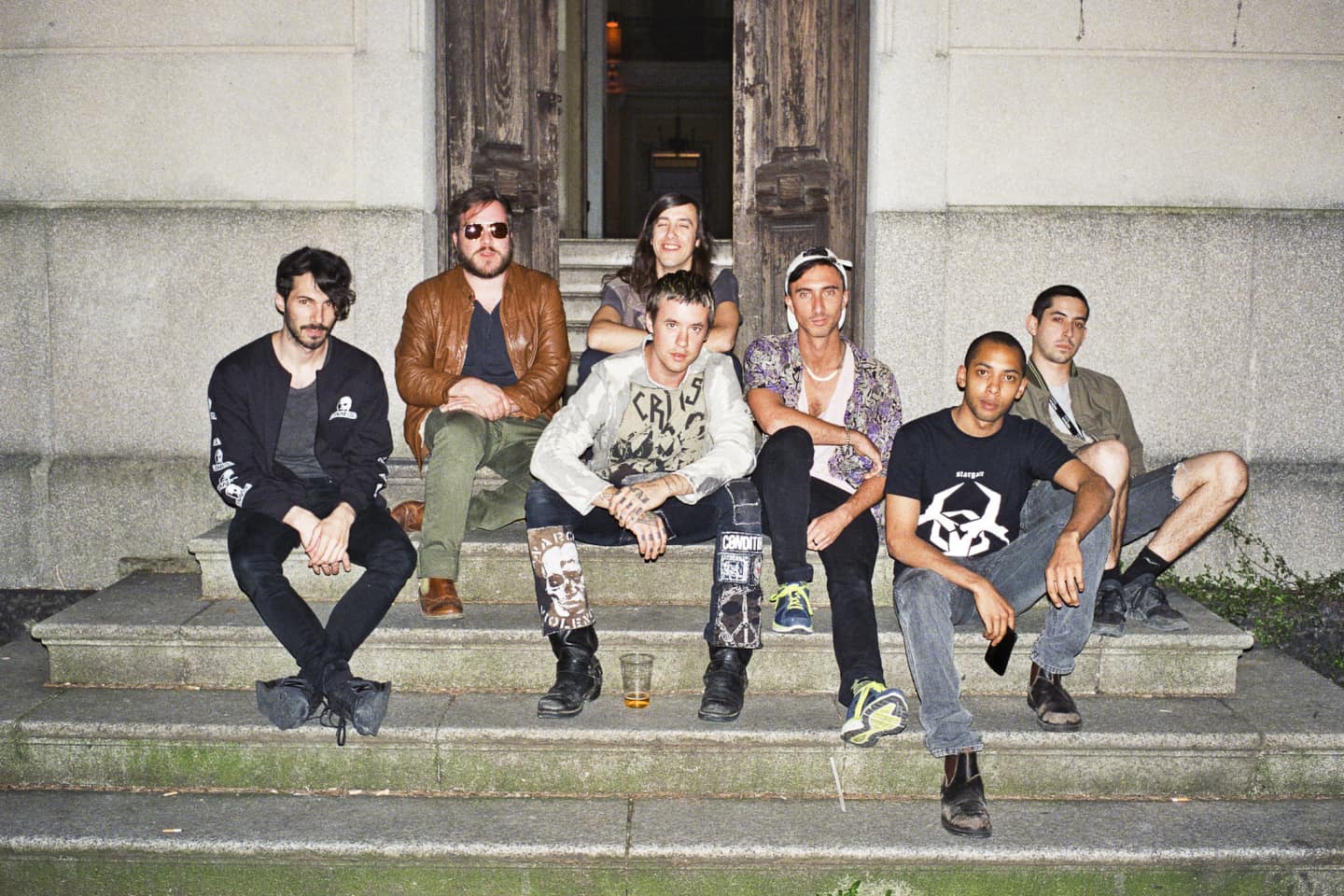 "When I talked to the people, they said, 'We exist because of Hundebiss.' Not the label, but the activity."
Before Arrighi, Milan's underground music culture was represented by cross-platform venue Spazio Lima, a program of events by musique concrète composer Giuseppe Ielasi—who was especially important for Senni—and a few squats. Trabucchi hesitates when I ask him if the city is a conservative place. "It's not conservative, but they didn't take any risk," he decides. "If you talk about institutions, there's a lot going on. If you talk about non-institutionalized, it's different." But running a strictly DIY series in an unusual space tangibly affected the community. "When I stopped setting up gigs, a scene came out, kind of as a result of what we did there. [There was] this place called the Buka. They did something like ten different parties, but all of them very good in this old factory. When I talked to the people that set up those gigs, they said, 'We exist because of Hundebiss.' Not the label, but the activity."
It's also safe to assume that Arrighi, Hundebiss, Dracula Lewis and Lorenzo Senni had an impact on the afore-mentioned Primitive Art, who released their Problems LP last year on Hundebiss. Not only does it sound like it belongs in the same warped family as Dracula Lewis, albeit the dancier end of it, the pair are part of a collective—with Senni, Trabucchi and a few others—called CB21, named after Senni's post-Arrighi address in Milan where they would all meet to play music (Senni had all of the gear). Primitive Art's Jim Nedd also started a series of parties called Progresso, which put on artists including Berlin's Janus residents Lotic and M.E.S.H. As with their friends Senni and Trabucchi, finding like minds outside of Italy also serves to draw attention to their own activities in Milan. Although, within the country, Senni also manages to find time for another side project, One Circle, a trio with musicians Vaghe Stelle, from Turin, and A:RA, who lives in Rome.
But perhaps none of this would have been possible without the largesse of the original Arrighi patron. The moral of this story? Any community wanting to increase its cultural capital should create opportunities for artists. Choose the right artists and the rest will follow.