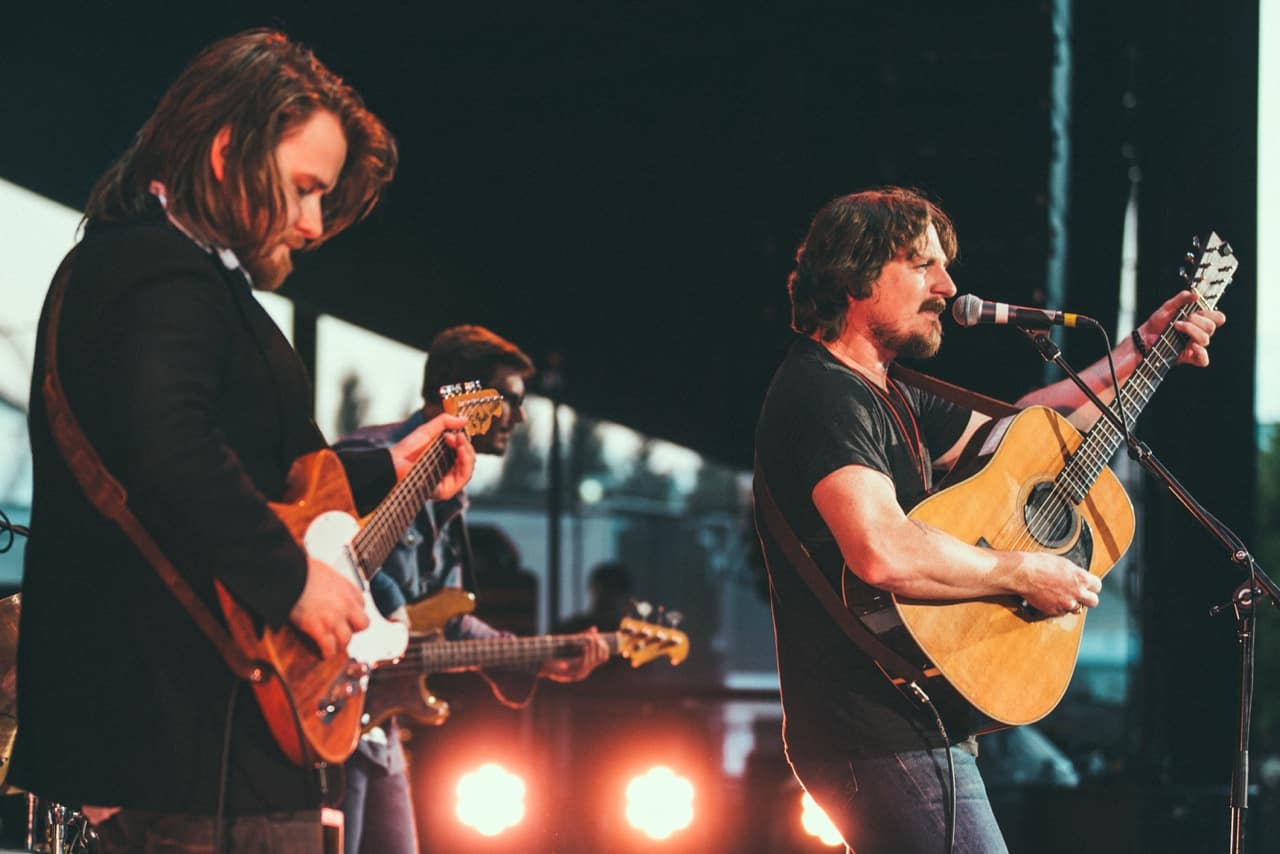 Another Country: An Estonian Guitarist Sets Country Music Ablaze
Meet Laur Joamets, Sturgill Simpson's razor-sharp axeman, in his first-ever English interview.
Every other Thursday, in his column Another Country, Duncan Cooper showcases country, folk and bluegrass music that's so often unsung around these parts, with an emphasis on new approaches to old American classics. Today, he presents the first English-language interview with the guitarist Laur Joamets.
After the revelation that is discovering Sturgill Simpson, there's the delight of learning that his guitarist, Laur Joamets—a sensational player who flashes winks of hard rock between fall-from-heaven slides and growling blues—cut his teeth not in some Austin back room but in the post-Soviet state of Estonia. Dubbed onstage as Lil Joe, Joamets has been collecting awed shout-outs from the New York Times and Hollywood Reporter and closeups on national TV (see below), but the man himself has remained something of a mystery until now, with this, his first English-language interview.
His bandleader, Simpson, endears partly because of the way, both in interviews and in song, that he's used his position outside the modern country industry to lob thoughtful and frank appraisals of the business (among other things—the allure of psychedelic drugs, love, life). In a genre that celebrates outsiders, Simpson's status seems authentic, and hiring a European guitarist who was totally unproven in country music is only more evidence of a willfulness that tends to turn out for the best. For the next month, they're heading to Europe—including playing a show just a ferry ride from Joamets' family back in Tallinn—then touring America through the end of the year. You owe it to yourself to buy a goddamn ticket.
So tell me a little bit about where you come from. Estonia is a small country, and really beautiful. We got our second freedom in 1991, so everything is not entirely in baby shoes, but kind of. My family's all musicians: my father's a guitar player, mother's a piano teacher, sister's a violin player, and so forth. I probably don't have anybody in my family that hasn't learned an instrument.
You played guitar on Estonian TV, right? I used to play in the studio band for TV shows like Estonian pop idol. I was quite young when I was offered the gig, like 19 or 20. I was on three seasons. It's a sturdy gig and you've gotta pay for your living. In Estonia, you usually have gigs on Fridays and Saturdays, and the show's rehearsals took place on Thursday and the show was on Sunday, so it made sense. You know what you're going to do for the next three months. A little bit certainty to a musician's life is not a bad thing.
Did you put out solo music, or play in other bands? Basically, I did everything. Anybody who needed a guitar player and had some money coming from the gig called me. Of course I had some rules, but usually we did it. I booked cruise boats, I played dance music, I recorded for a metal band at some point, which is funny because I don't know anything about that style. I used to have a band called Dramamama, which was a blues/rock band, but nothing ever happened that much.
What are some Estonian bands that people should check out? There are quite a few artists that I really like. For instance, there's a really cool heavy rock band called Nevesis. The same guy who sings has a weird blues band called Super Hot Cosmos Blues Band. There's another rock band called Elephants from Neptune and a really cool songwriter named Vaiko Eplik. Sorry for mentioning so much rock, but that's what I used to listen to.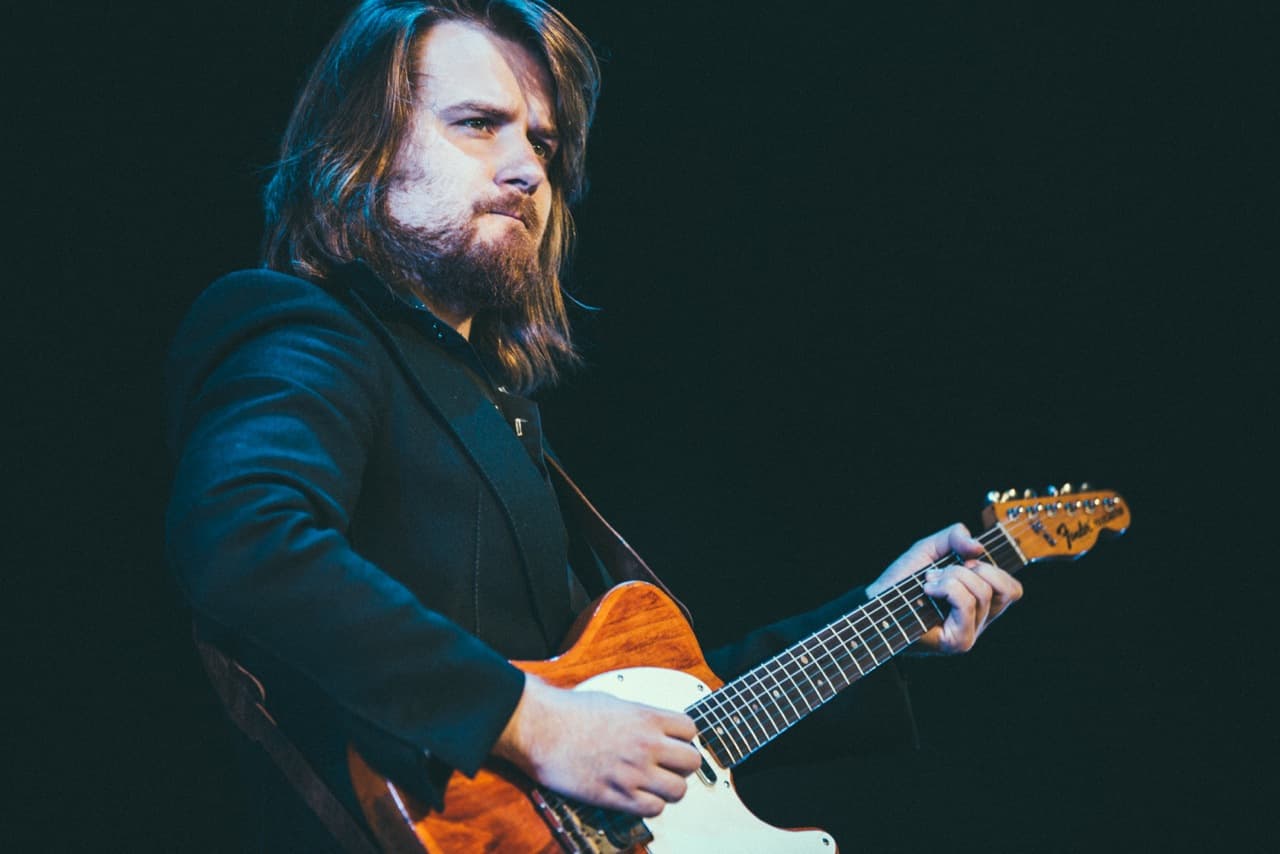 How did you link up with Sturgill? Have you ever heard this band called Rival Sons? Check them out, they're a really good rock & roll band from LA. They played Estonia for the first time two years ago, and Dramamama opened up for them. At the show, the drummer, Michael Miley, found his future wife. Before I knew it, they were married and now they have a beautiful baby boy. After, when he wasn't touring, he'd spend his time in Estonia, and of course he'd want to hang out with musicians. We started playing some shows, and we actually toured Russia for a week. After the gig, he told me I should check out Nashville, which I found was a really good idea. But you don't just buy a plane ticket, you need to have some contacts. I asked him, "Do you know anybody from Nashville?" And he gave me the contact of Dave Cobb, the producer. Rival Sons and Sturgill Simpson have the same producer. Last summer, I sent him some links of my playing, and he liked it, and next thing I know, Sturgill sent me an email asking to play around America.
What's Nashville been like for you? It's a completely different life, but I'm channeled into it right now. I got my three-year visa, so basically now I live here. My life is here for now. The first time Michael told me about Nashville, my response was, like, "Are you kidding me? Why Nashville?" I didn't know anything about it. I grew up on rock & roll and the blues—a little bit of country, but not really. So when I got over here, I started practicing. Blues and rock & roll and country are all connected in a pretty strong way, so I think it translates pretty well.
You're great playing slide guitar, but I'm sure that wasn't part of your heavy metal repertoire. Did you have to hone certain skills? The things I do right now, I didn't do before. I think we did three rehearsals before the first gig. Everything happened really fast, but I didn't have a choice. I had a job to do. A lot of it came from Sturgill because he helped me out and would listen and then I'd add some of mine.
What has been working with him been like? I know he lived in Japan for a while, so he's not this backwoods person who hasn't seen the world. Oh yeah, amen to that. He's a really broad-minded. He knows about a lot of things, and he listens to a lot of different things. He's just an open-minded and smart person, and he's experienced a lot in life, so he knows what he's talking about. Not to mention that he's an amazing songwriter and singer.
It was just announced that you guys will be opening for Willie Nelson. Does that affect you differently than other people in the band? I think it affects us in a pretty similar way. Maybe even they have a stronger reaction towards it. It's just wild. I don't want to think about it too much, because I'll lose my shit. Just the idea of me being here and doing this and playing all these TV shows… It's a little bit hard to comprehend. A few weeks ago, I got together with the drummer that got me over here, Michael Miley, and he took me to the Pacific Ocean. I just watched the waves and sunset. It was magical.