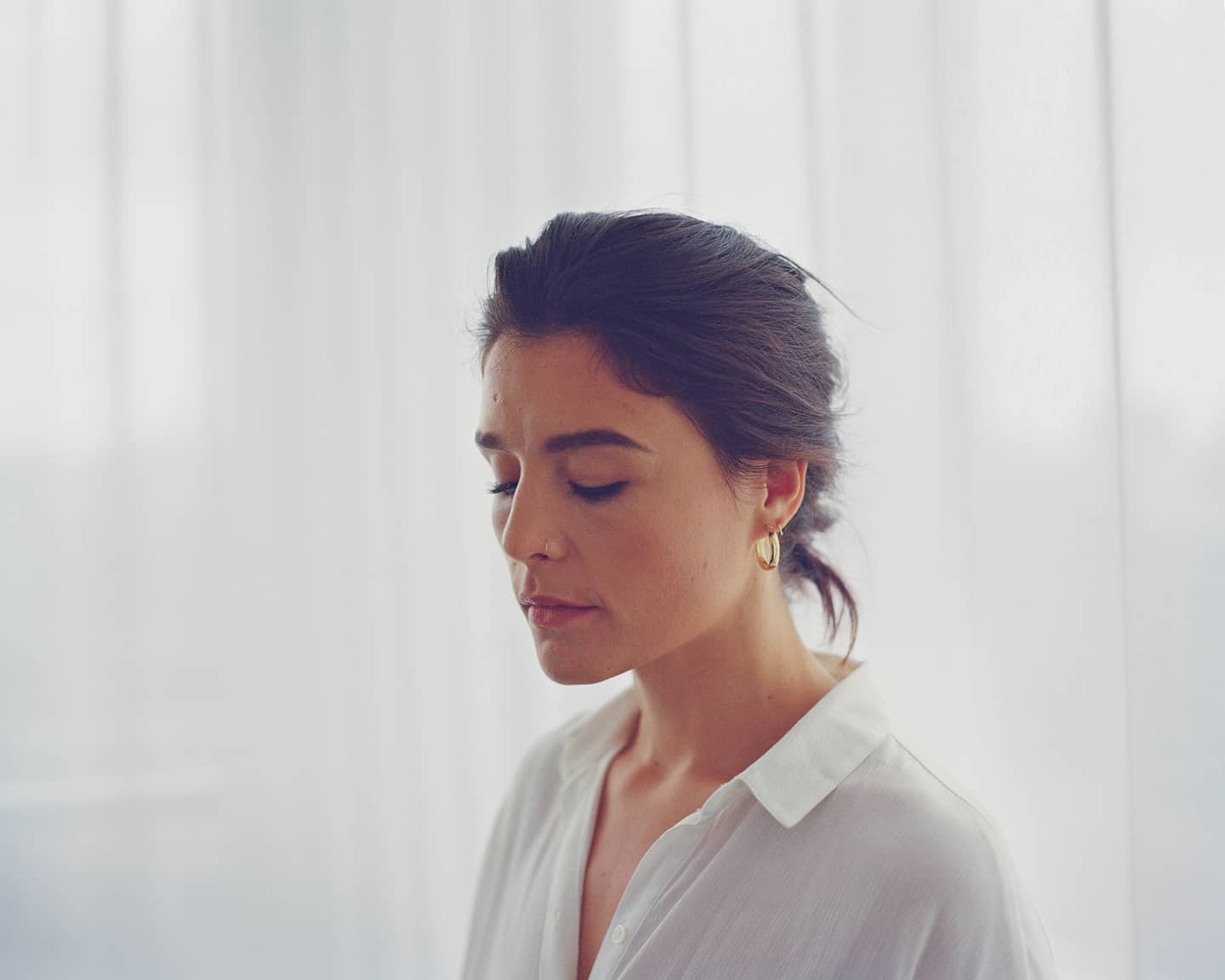 Jessie Ware Enters The Slouchy Trousers Phase Of Her Career: "I've Relaxed Into It"
The British pop singer on adjusting to life in the the spotlight, "not feeling awkward in the studio," and her soul-searching second LP, Tough Love.
When I arrive at her room at the Rivington Hotel in New York this summer, Jessie Ware is coming down from an adrenaline high. She is still a little shell-shocked from an arcade adventure in Chinatown, where, to her surprise, her photo shoot with The FADER for a spotlight in our most recent print issue ended up calling for multiple rounds of Dance Dance Revolution. Ware seems amenable to the whole ordeal of album promotion, though; as she sits down with me—forearms planted squarely on her knees, fingers laced together like players in a football huddle—she has the air of a woman who is game for whatever it takes. (She will be rewarded for all her hard work, of course: when we wrap up our conversation, her publicist arrives with a massive bag of candy straight from the old counter store across the street. There are candy buttons, chocolate bars, and, of course, Ware's favorite: banana Laffy Taffys.)
It's all for Tough Love, which is set for release this week, coincidentally just a couple months after the London singer's wedding, which went down on the brightly colored Greek island of Skopelos this August. The follow-up to her critically acclaimed debut, Devotion, it sees her collaborating with BenZel, the production duo comprised of Two-Inch Punch and pop wunderkind Benny Blanco, as well as a host of other R&B luminaries, from Dev Hynes to Miguel. We chatted about co-writing the album and settling into her life as a singer.
Tell me about your approach to this record. It's got a bit more of a pop feel than the last one. Benny makes hit music. I don't make hit music, but we met in the middle somewhere. I don't know whether we've made hit music together or not, but I don't care, because I'm really proud of it. And I think what was quite fun about working with them, especially Benny, was how much I learned. I don't think it necessarily sounds like "pop" music. There's nothing wrong with that, but Benny definitely helped me understand how to be a bit more direct.
I also think this album is a bit lighter, maybe because I've settled into being a singer. You know, feeling like, "This is real, this is happening, and now I should just enjoy it a bit, instead of freaking out." I love Devotion, and I'm really, really proud of it, and I think it was a really good way to start my career. I didn't just work with BenZel on this album, but the songs we wrote together aren't ones where we were painfully trying to write hit hooks, as you'd maybe imagine. It wasn't contrived at all. We wrote loads of songs, and "Say You Love Me," "Tough Love," "Champagne Kisses"—those were all songs that sort of came naturally. There are 11 songs on the album. I decided I didn't want to fuck about, and mess about too much; I just wanted to fucking write an album, and it did come together very easily and quickly, which is lovely.
Why did you want to write it quickly? Well, I'm very aware that my album came out two years ago in the UK, and then [got] a kind of delayed release in the States, but I wanted to have some new music. I didn't want to go away for very long, because I feel like I'm just finding my feet and creating relationships with an audience, so I didn't want to bugger off for like, three years, or something. Why should I take a musical sabbatical yet, when I'm just starting out? I'm a newbie, man.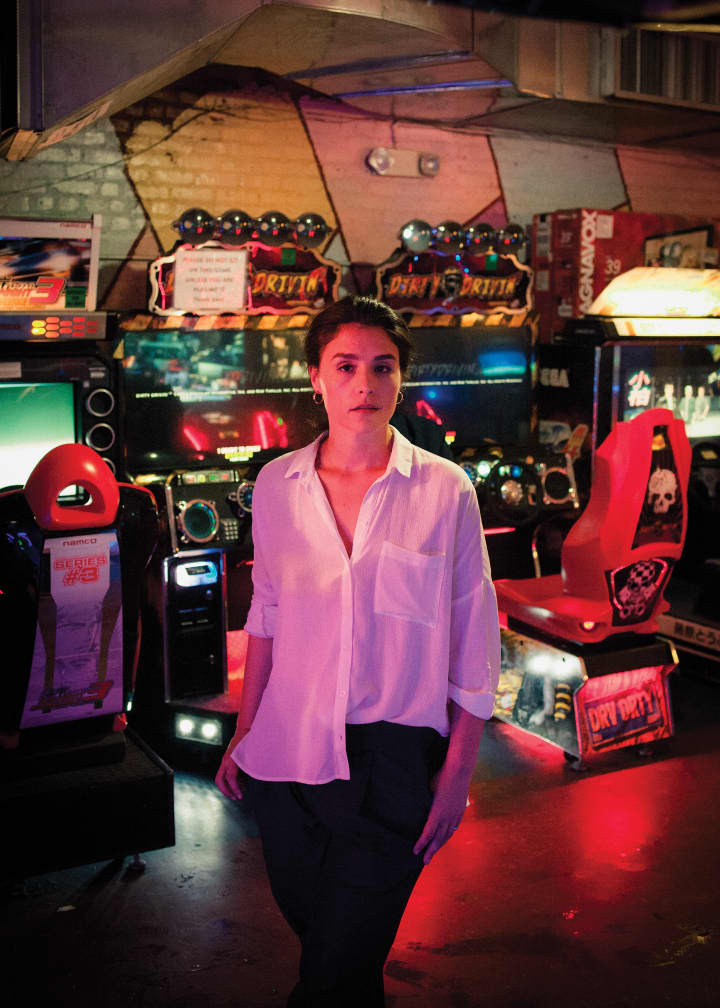 How did you end up collaborating with BenZel? Two-Inch Punch is on my label, so I've known him for years. We've written together before, but people haven't really heard anything [we've written]. And Two-Inch Punch and Benny [Blanco] have known each other for years—they're both called fucking Ben: Ben and Benny!—and about three years ago, before Devotion came out, Ben was like, "We're starting a side project, and it's called BenZel, and you should definitely come out and mess about with us." On a whim, I booked a flight and came to visit my sister, who was living in Brooklyn. I had some downtime, so I was like, "Sod it." So I met Benny for the first time, in his apartment, and he was ridiculously hospitable.
For somebody who is not that comfortable in the studio, I don't know what happened that day, but we wrote this song, and it sort of came to me like this [snaps her fingers]. There's always that nerve-wracking thing where you feel like you're on a show, and you've got to impress. They've done their good work [with the backing track], and then it's like, "Okay, what have you got?" It's never been that easy, and it'll probably never be again, but something just came out, and for [musicians] who could appear rather intimidating on paper, I felt ridiculously comfortable with Benny and Ben. And that's really important for me, especially in the studio, because there's got to be that chemistry.
Jessie Ware
"Say You Love Me"
It must be really awkward to be with someone in the studio and know it's not working out. Yeah, it's fucking awkward. But, you learn something every time, I think. Especially with this record, I realized you should try everything. You should never say "No" to anything, because you never know what's gonna happen. I've learned a lot about who I want to be, and I've learned how to tell people what I want.
People always say the second record is so much harder than the first. I know, right? I don't know, I think I made it hard for myself with the first record. I was overthinking everything, and I was so nervous, and I felt like I hadn't earned it. But now I feel like having that experience—touring and having a record out, and I guess having people say they liked it—was nice and reassuring. It makes you go, "Okay, well, maybe I can do the next one, then." It's just a bit of progress. I loved everyone I worked with on the first record, and that's why I worked with them again on this record. It's not just BenZel that I worked with. I had Dev Hynes [on "Want Your Feeling"], and James Ford, Dave Okumu,1985, Ed Sheeran, and Miguel, obviously. That was wicked, too. It felt like a network of really wicked, special people who are friends or have become friends since. And there's something gorgeous about that. I rely on collaborators, because I can't play anything. But it's so wicked when it works. And to be able to share memories and moments with each other that hopefully we'll remember in ten years, like [the one] where we're sitting around in Benny's studio in New York, and Ed Sheeran comes in from his Saturday Night Live rehearsal, and just decides to help me write a song, and we do it in, like, 45 minutes.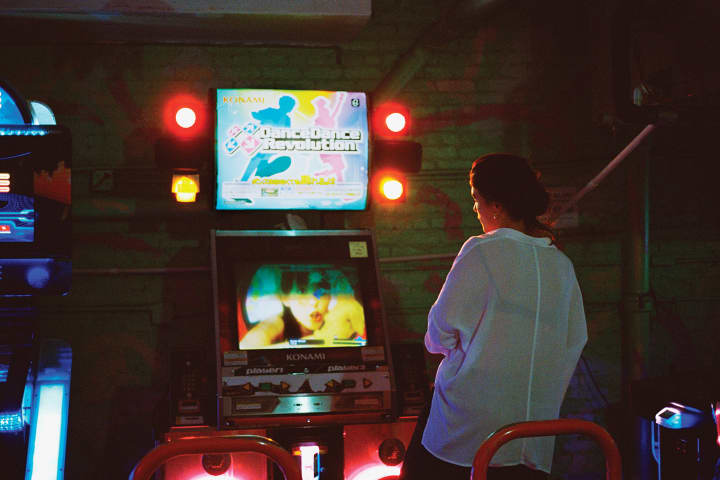 And now you have Tough Love. Yeah, and that song—"Tough Love"—became the thing that drove the rest of the album. That's how it started for me, so I wanted that to be how [the album] starts. It's been an interesting year of understanding—just understanding myself as an artist, but also dealing with this new life of what this is, what this job is, and I love it. The fact that I just did a photo shoot for The FADER, and I had to do Dance Dance Revolution ten times? It's a bit ridiculous that that's called work: having to schvitz it out in Chinatown, and this [DDR expert] girl [at the arcade] getting really pissed off. It's ridiculous, but it's highly intense as well, and you're away from the people you love a lot, and it was just a year of understanding that this is, hopefully, what my life is. Embracing it and enjoying it and making the most of it.
You were saying before that it was a process of figuring out what kind of artist you are, and where you're going with your art. I mean, I had a good idea of where I was going—the kind of artist I wanted people to see in me—the first time around. I knew I wanted to wear those shoulder pads on stage, because they made me feel good, and I wanted my hair off my face so people could see my face and my expressions. I knew all that, but it still needed a bit of ironing out, so that on the next record I'd be like, "OK, now I'm comfy, now I fucking wear slouchy trousers and slouchy shirts and Vans because maybe I don't need that kind of armor anymore." I've relaxed into it.