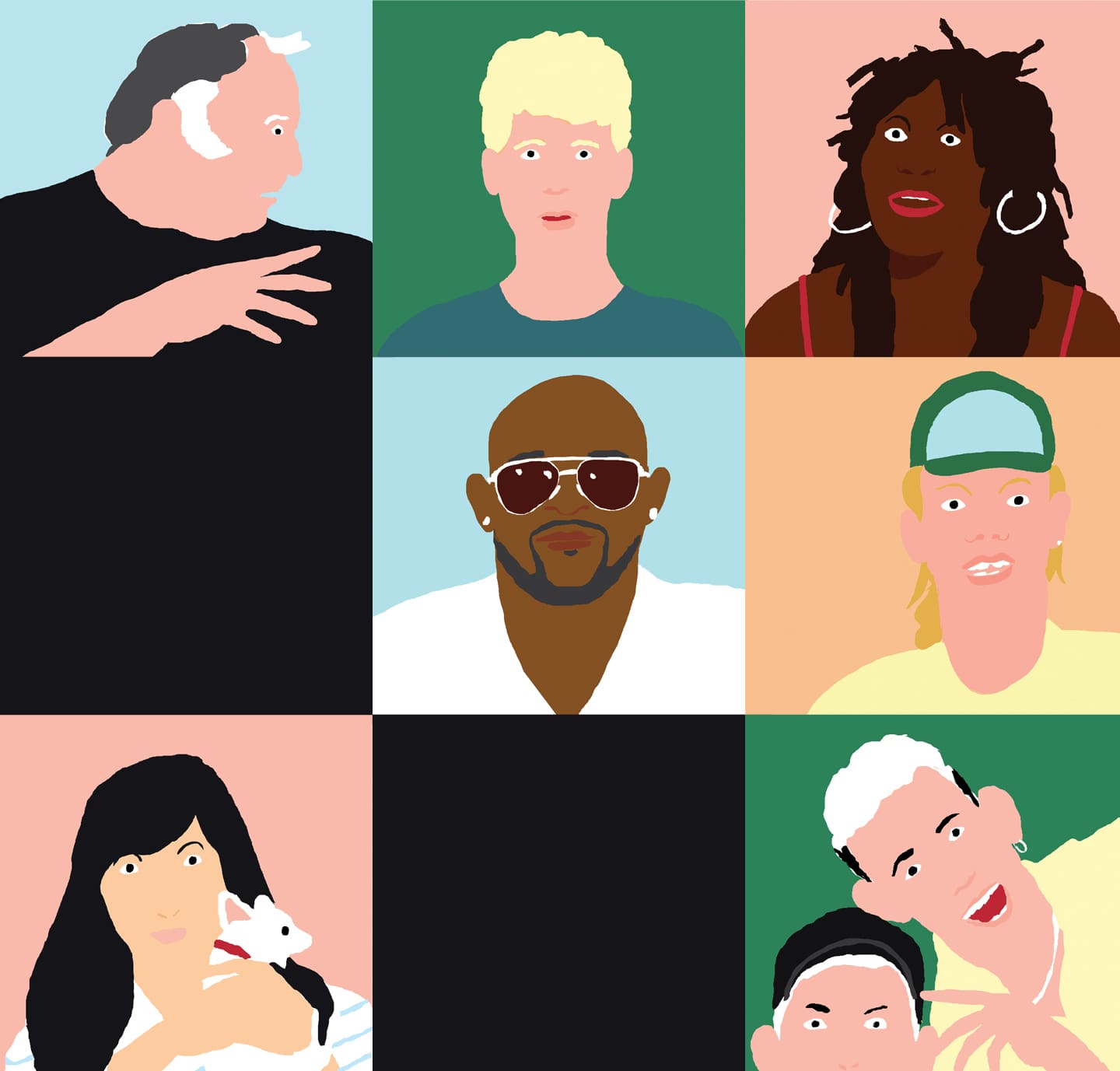 Tink, Yung Lean, Christopher Owens And More On Their Favorite Low-Key Collaborators
Seven musicians shout out the behind-the-scenes people who elevated their game.
From the magazine: ISSUE 94, on stands October 21st. Pre-order a copy here.
Recording a killer album can be a community endeavor, but sometimes even the most influential assisters never get a spotlight of their own. We asked seven of our favorite artists to tell us about an in-studio collaborator who left an indelible mark on their sound.
Perfume Genius on Adrian Utley
The more sinister elements of my new music were already present in my demos, but my home recordings were only capable of providing an irritating sonic itch. I wanted my songs to have a more pummeling and full-bodied discomfort. Judging from Adrian Utley's previous work as a member of Portishead, he was clearly capable of going there. At the same time, some of my new material was more spare, and as the producer for the album, Adrian treated those songs with restraint and patience. He was very open and thoughtful about whatever direction the song needed to go in. The feeling in the studio was somewhat bipolar, which is exactly what one would hope for: things were lighthearted until the instruments were set up, and then everything went scary.
Yung Lean on White Armor
First time I met White Armor was the summer of 2013. In a kitchen sat a young White Armor eating cereals with Thaiboy Goon and Bladee. We recorded a few songs—"Emails," "Racks on Racks," "BladeeCity"—and didn't talk much. I was a fan of his early stuff before he was called White Armor, so I've always looked up to his music. One of my favorite times was when we were in Amsterdam recording the "Kyoto" video and playing a show. The whole team was there except White Armor, and then an hour before the show, he decided to take a flight to Amsterdam. He came right in the middle of the show, from the airport to the venue, and just stood there. After that, he lived with us in various hotels and at this weird apartment. One of the most versatile artists there has ever been. His secret discography goes way back, and unfortunately, he's done so much great music that no one will ever hear.
Christopher Owens on Makeda Francisco
I first met Makeda through the producer Doug Boehm when I was recording Father, Son, Holy Ghost. All I knew at the time was that there were songs on that album that wouldn't be complete without backing vocals, and it was new territory. I wouldn't say I was scared, but I was definitely hoping my ideas weren't crazy. When Makeda came into the studio with two of her friends to sing, not only was I blown away with her energy and professionalism and personality, I was blown away with her voice. She ended up soloing over the backing tracks and taking the songs to even greater heights with her own ideas and talent. To me, this is the definition of a good collaboration: for the person you're working with to give you something only they can give, something more than you had even hoped for. Since touring and recording again with Makeda, I've learned that we have a lot in common. She's my age, she has a fantastic story and she believes fully in the power of music. She's made an incredible journey from New Jersey to Pennsylvania to California, having mentors and hardships along the way but staying focused on her passion. She's the biggest star I've ever had the pleasure to work with. She shines bright day and night.
Ryan Hemsworth on Qrion
I hate studios, and I feel useless making music on the spot with people breathing down my neck. Like I do with most artists that I'm curious about and maybe hope to work with, I lurked Qrion's Instagram. Then her Twitter, then her Facebook. I DM'd her and we set up a Dropbox. Instant pen-pals. Qrion's real name is Momiji Tsukada. She's a 19-year-old girl from Sapporo, Japan. We communicated nonstop through opposite time zones in flurries of selfies and text files. It was so fun. For "Every Square Inch," she'd send me a recording of her singing a five-second note, and I'd twist it into a melody with my sampler synth. Back and forth we'd share, until it became an "us" song, not just a Ryan song or a Qrion song. Collaborations require mutual respect and open-mindedness. Online collaborations require an extra amount of trust and creative juice to make up for the high-fives and smiling eyes that are usually shared between artists in a real studio.
Ryan Hemsworth
"「Every Square Inch」(with Qrion)"
Tink on Jim Beanz
This engineer that I've been working with, doing my album with Timbaland, his name is Jim Beanz, and he is a musical genius. Timbaland introduced Jim and me. We'll have the beat, I'll write the song or the hook or whatever, then he engineers me, and we sit back and listen and process everything. He throws ideas at me, and we go back and forth. Mixing and mastering makes the song come alive. It makes you want to listen again and again. At first, I would do a song in one day and be done with it. But now a song is never done. We listen to it a couple days later, and we find new things to do. Timbaland uses a lot of sounds from his mouth, like instruments. That can be stutters, or adding certain effects. I picked up on that. Doing crazy-ass shit and just making it work.
Ab-Soul on Tommy Black
The whole world needs to know about Tommy Black. He's produced on all of my records. He's from Sweden; I've only talked to him over the phone. That's fucked up, too, because I just went to Sweden—I should have called cuz! He's responsible for "The Book of Soul," which I wrote about my late girlfriend, Alori Joh. She helped me with my album, Control System. She found a lot of the samples and concepts that I used, and her passing was a very random situation. I had to touch on it; I couldn't run from it. Tommy didn't know I was gonna do that song; he just sent me the beat. I usually take the beat and don't send it back until it's done. The producers hear it like a fan.
Dan Bodan on Low Concept
Humor is one of the most important and difficult elements of music. It keeps a musician self-reflective and critical during the creative process and prevents gross narcissism when presenting it. In other words, it keeps us honest. My record, Soft, was executive produced by Low Concept, the team of Ville Haimala—a member of Renaissance Man—and Daniel Fisher, aka Physical Therapy. On their own, they've developed bodies of work that are sonically rich and expansive, taking risks no one's thought to take, creating a musical language that is distinctively their own and pushing the boundaries of taste with their videos and graphic design. As Low Concept, they've made the musical equivalent of your teenage brother's bedside drawer: sun-bleached comic books, sunflower seed shells, porn, dried rose petals and dead cockroaches, all set to a pounding techno kick. When we worked together on the album last winter, they were able draw out the funniest elements of the music—namely, the sweetness.