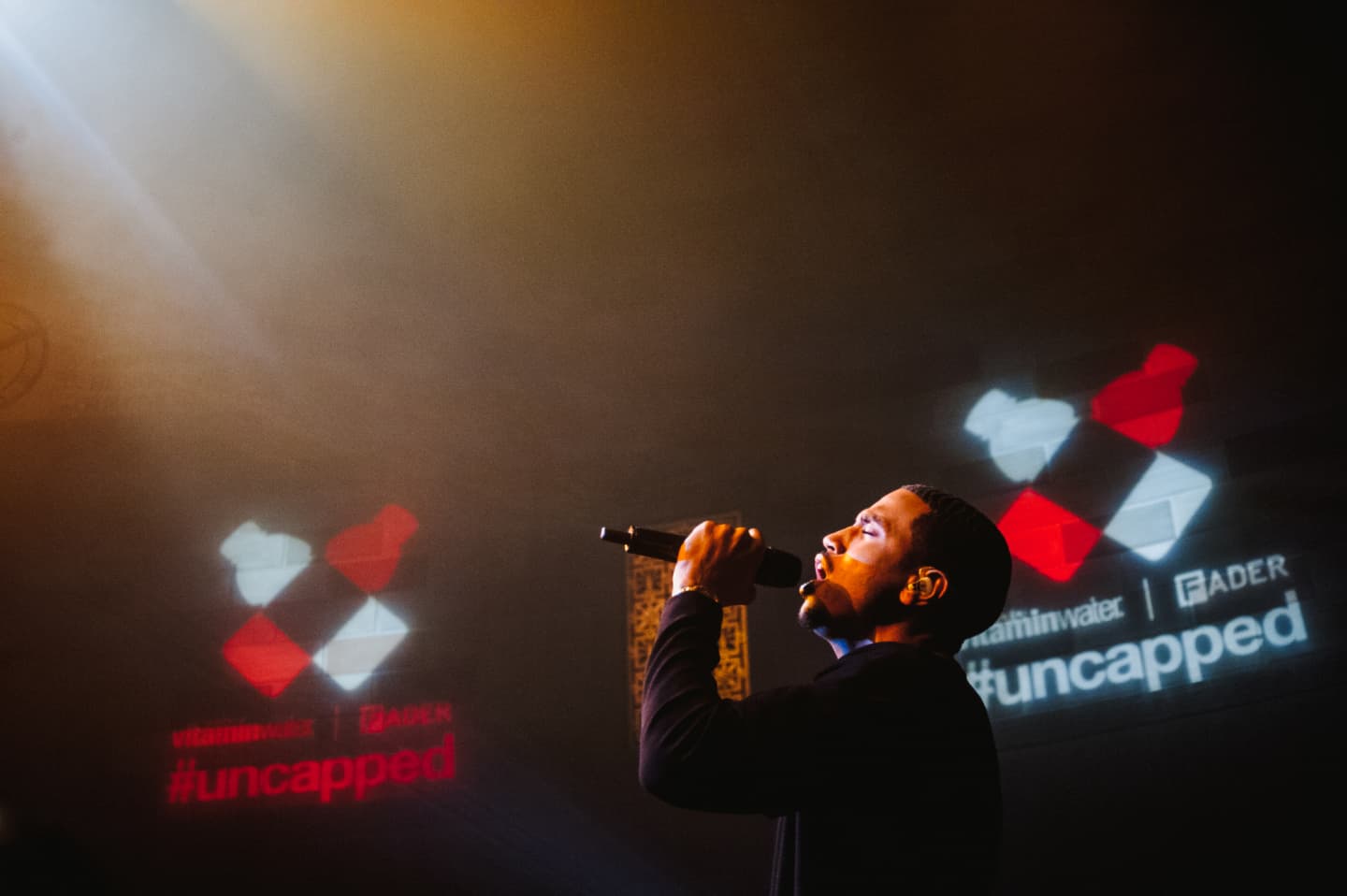 Live: Vic Mensa and Trey Songz Hydrate Your Hustle at vitaminwater® #uncapped Finale
Relive the finale to one of the best #uncapped years yet.
Of course word got out. Secrets exist to be told. But as a dense crowd braved sticky drizzle in line in midtown New York, it felt like no single surprise could outshine the finale of a vitaminwater® #uncapped year unlike any other. A huge domed hall was converted to a concert venue complete with multi-tiered stage, a photo booth with selects projected twenty feet high, and multiple stations serving up vitaminwater® to keep the crowd cool as DJ Envy dropped banger after banger. For a mainstay jockey on national radio, he relished in the rare opportunity to get loose, sneaking in Rich Gang and Makonnen well before 9pm. It was an #uncapped show, after all.
Vic Mensa's blend of Chicago-bred rap/soul and nuanced dance made for a set that was unpredictable at every turn. Between heaters like "Wimme Nah" and new unreleased cuts like "Hollywood, Los Angeles," Vic snuck in stray stories of hustle. "I literally almost got electrocuted the first time I played this song," Vic laughed before launching into The White Stripes "Seven Nation Army." Just as the crowd dove all in for the hook, the cover twisted into Vic's breakaway hit "Down On My Luck," wrapping an opening set that could've closed any show.
The murmurs got louder as Envy stoked the flames: "Y'all ready for that surprise guest?" Arms flailed and necks craned, some clued in, some clueless. But soon, all was revealed: Trey Songz burst out in all black with a live band, launching into a riveting live set that highlighted an extensive catalogue of jams. In a way, it was the best kind of surprise: furrowed brows slowly relaxed and limbs got looser with every new cut that hit like a time capsule to summer nights in VIP sections. "Say Ahh," "Bottoms Up," "Unusual," "Na Na," each song found new life, awakened by a rich horn section and Trigga's warm, on-stage goofiness, snapping selfies and winking at specific corners of the crowd. And lest we forget, "LOL :-)" deserves exalted status in the western songwriting canon. As folks streamed out, the surprise still hung high in the air: "His live show was crazy!" "The band was amazing." "I never thought I'd be seeing Trey Songz on a Wednesday!" It was pretty sweet. Look back with us on #uncapped stops in New York, Atlanta, and Philly, and we'll see you next year.