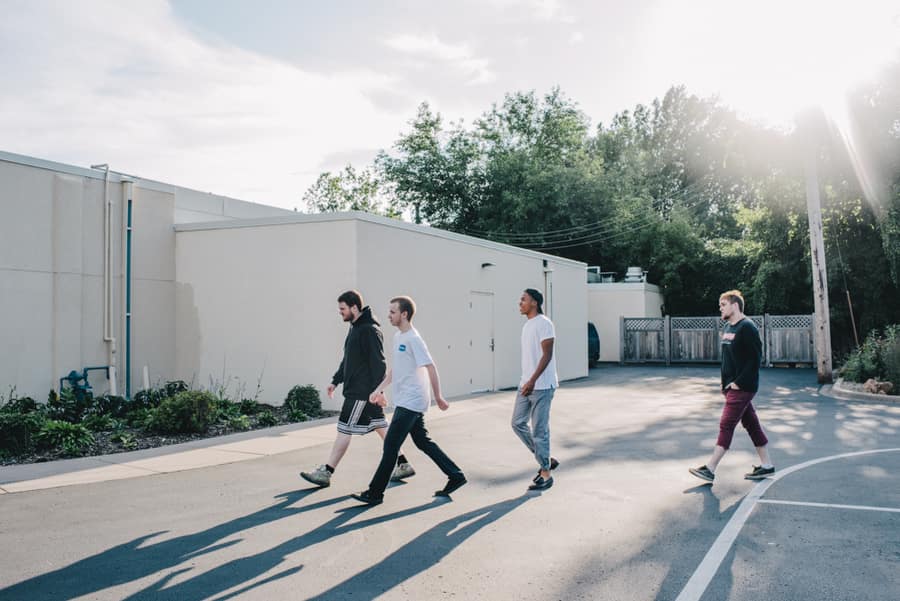 Meet The Minnesota Misfits Behind thestand4rd
Up north, somewhere between rap and R&B, four young artists forge a brave new sound.
The members of thestand4rd—pronounced "the standard"—don't like conventional labels. Working in the gray area between rap and R&B, the St. Paul, Minnesota collective would rather you just listen to their music than worry about what to call it or who to give credit. "That's so important to people, to know who did what," says Psymun, the oldest at 22 and the lone non-vocalist in the group, which also includes Bobby Raps, Allan Kingdom and Spooky Black, all solo artists in their own right. "But titles shorten things," adds Allan, 20, a producer and singing-inclined rapper. "It's not even like Spooky's just a singer, or Bobby's just a producer/rapper, or Psymun's just a producer. It doesn't say enough."
The four are seated in a Minneapolis studio, just across the river from the sleepy capital city where they all grew up. Bobby, Allan and Psymun had played shows together and admired each other's work but never collaborated until last spring, after another local upstart pushed the DIY rap and R&B scene in St. Paul to a tipping point. In Spooky Black's debut video, "Without U", the then-15-year-old donned a du-rag, turtleneck and gold chain, trotting through the Minnesota winter crooning about lost love. The clip quickly surpassed one million views, earning almost as much outrage for the perceived irony of a white teen from a mostly white city dressing like a member of Jodeci as it did praise for his musical maturity and undeniable chops. Bobby reached out first, and the pair cut two songs, "Ready" and "Motionless." But Spooky had also made fans out of Psymun and Allan, and before long, all four were in the studio together. "It was the most natural shit ever," says Bobby. "When we were together, all of a sudden it turned into something different." Allan adds: "We didn't even have to talk about what it was going to be. We just said that it was going to be."
"We didn't even have to talk about what it was going to be. We just said that it was going to be." —Allan Kingdom
"Without U" also caught the ear of Grammy-winning, Toronto-based producer Doc McKinney, a fellow St. Paul native who'd previously helped sculpt the sound of another enigmatic R&B sensation, The Weeknd. "He said he was waiting for something like this," Spooky says. Doc was already aware of Spooky's new bandmates, and he flew out to see the group for himself. "He said he wanted to get in a room with us, and then he basically just became one of the guys," says Bobby. The four recently returned from a month in Toronto recording their debut album, due November 4th, in Doc's studio, where they'd "wake up and start making music immediately," says Psymun. The first song they've shared, "Doors", is a genre-hopping exercise in subdued grandiosity, with fluttering strings, collaged vocals and sharp, uncomplicated percussion. We don't need a key if we're kicking in the game/ Spooky not black, Allan not hood/ No we don't move crack/ St. Paul, what's good? raps Kingdom in a sarcastic, pitch-changing flow.
Considering the four artists are also solo acts, it's no wonder that thestand4rd's music moves ably between styles. Contradictions in Spooky's image helped bring him attention, and it's the contradictions in sound that help keep thestand4rd interesting as they flit from ambient electronics to tough-but-heartbroken falsettos and blunted verses. "We all trust each other's tastes," Spooky says. "It's a comfortable feeling to have." The group's kinship has also clearly been strengthened by a mutual enthusiasm over St. Paul's position as "uncharted territory" in the music industry. "I don't know of the last time you saw four individual artists from different sides of the spectrum and from the same town come together," says Bobby. "That's why when people hear us and it's unexpected, it's like, 'Okay, that's the standard.'"
From The Collection:
GEN F