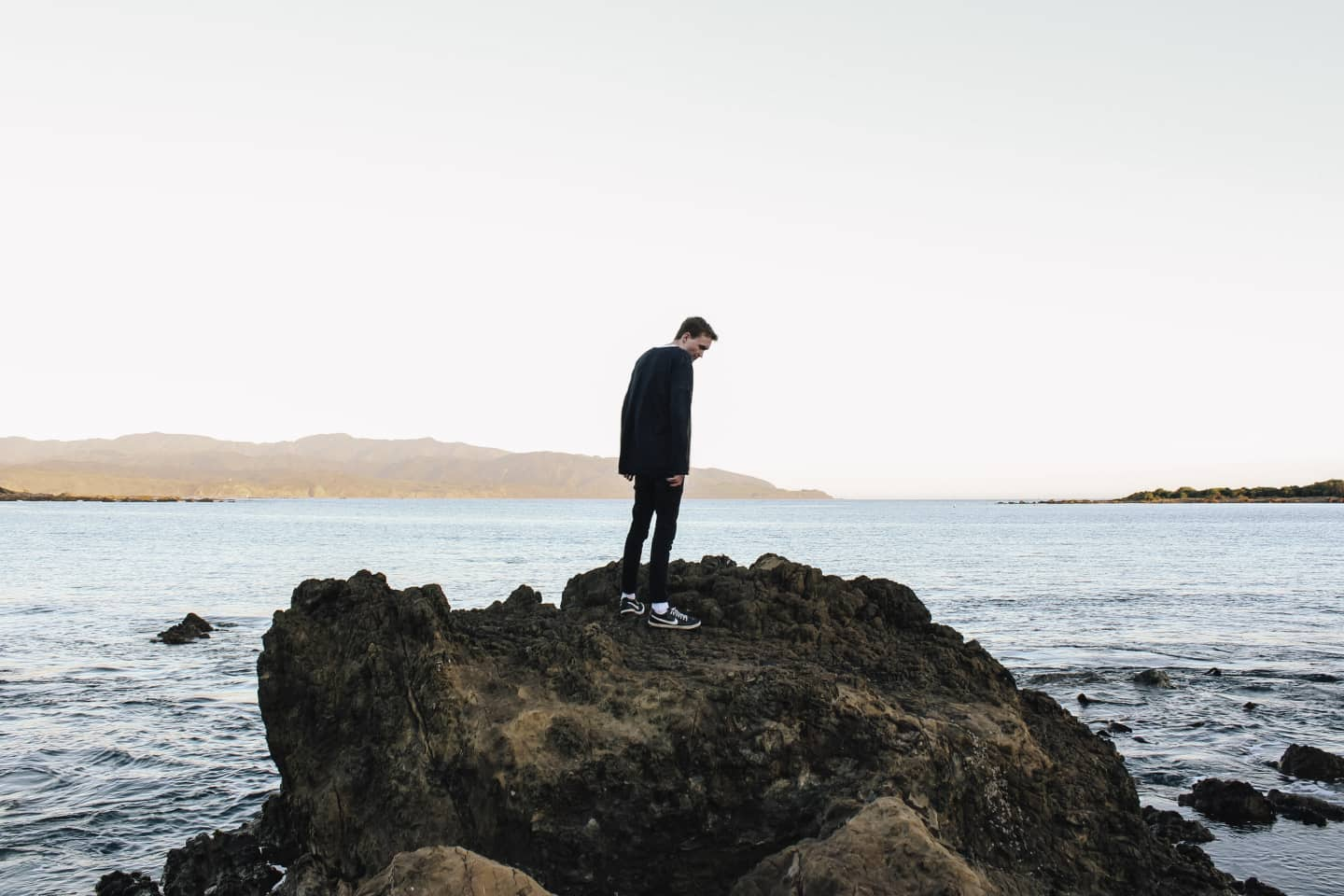 Meet The New Zealand Teenager Behind The Internet's Best Rap Covers
​In this week's GEN F, Lontalius channels that happy, sad, listening-to-Drake kind of feeling.
For New Zealand teenager Eddie Johnston, a self-described introvert who befriended Lorde via Twitter and dreams of a "big-city life" in the States, the internet is everything. The wiry, strawberry-blond high schooler is best known for the sleepy covers of mainstream hip-hop and R&B he uploads to SoundCloud. His recording alias, Lontalius, comes from a Wikipedia page about butterflies. "All of my favorite experiences of the last five years have been online, like when Take Care leaked," he says over Skype from his friend Ike's house in Wellington, a hometown he calls "hip" and likens to Portland, Oregon, even though he's never been.
Johnston started playing guitar when he was 8 and wrote his first song at 11—a "summer road trip" jam that was partly inspired by Australian '80s pop band Crowded House. "I was going to be a guitar guy," he says. "It took me a long time to work up the courage to sing." His first exposure to the music he lives for now was surprisingly analog: his middle school classmates would play Top 40 radio before school. But the web took him deeper, as it tends to do: a Four Tet remix of an MF Doom song that he heard at age 13 sparked a fascination with alternative rap and atmospheric production, a proclivity that still drives what he's doing now, as Lontalius, in a big way.
Lontalius
"Mine (Beyoncé/Drake Cover)"
With the exception of a "questionable" Taylor Swift cover that's just taking up space on his hard drive, Johnston has spent the last couple years uploading his every melodic whim, which often means recording covers of newly minted classics: Ciara, Young Thug, FKA Twigs, Drake from every era. It might be a full song or it might just be a fragment that fades out after a minute—a Frank Ocean verse here, a stray Nicki hook there—with everything laced with ennui. His interpretations swap out the originals' zeitgeisty productions for effortless, toy-like sounds made by a Casio keyboard. Generously Auto-Tuned and flooded with delay, his singing sounds vulnerable and authentic despite the manipulation. In Johnston's hands, for example, the sex-positive chorus of "Body Party" becomes borderline depressive. In every radio hit lies the potential for a bedroom ballad for self-effacing shut-ins.

Johnston is constantly writing and sharing original material, too—tracks that are usually situated more in the lo-fi singer-songwriter realm. In 2015, he'll put out his first proper Lontalius full-length, a record he says merges the melancholic production of his covers with more guitar-centric bedroom rock and lyrics about "growing up, anxieties—teenager shit." He also consumes and creates dance music; last summer, when he was 16, he produced an EP of sweetly agitated synth-pop under the moniker Race Banyon.
Johnston's ever-growing output and unique online presence has started opening doors: he's recorded genre-hopping features for Ryan Hemsworth and Tunji Ige and has collaborations on the way with Cyril Hahn and Spooky Black. Hemsworth actually debuted a song from Lontalius' solo album while guest DJing at an Australian radio station. Speaking on the air, he praised Johnston's tireless, Lil B-like work ethic and called his songs "the most fragile, emotional music." The track he played, "Light Shines Through Dust," is a burned-out song about feeling stuck in love. Despite the warm guitar loop it's built around, it retains the bored sort of sadness that seems to worm its way into everything Johnston does. "I love sad songs, and I don't know why," Johnston says, smiling sheepishly. "I'm not sad. I just love that 3AM, kind of sad, kind of happy, listening-to-Drake sort of feeling. That's my favorite feeling in the world."
From The Collection:
GEN F