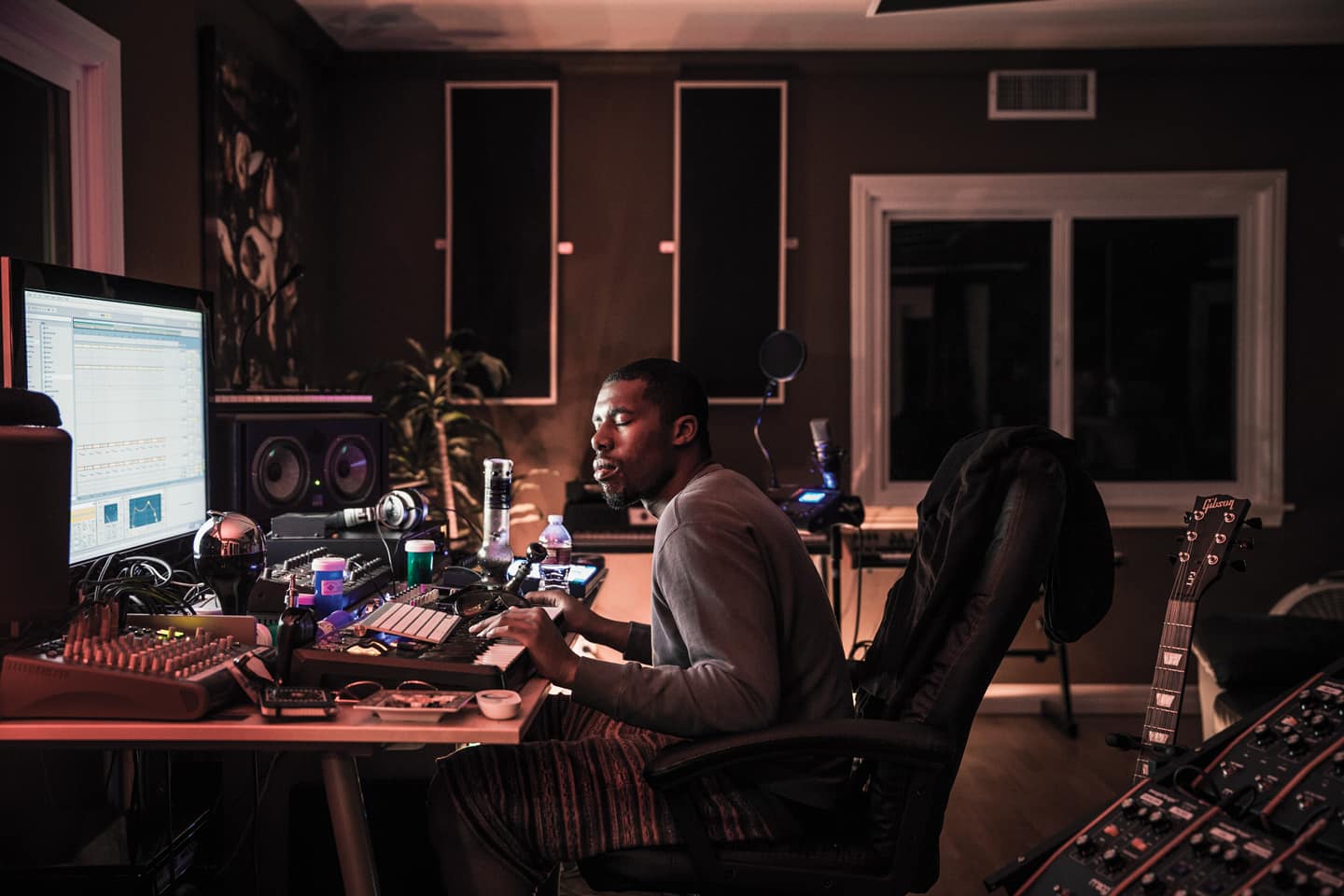 5 Brilliant Album Outros From 2014
Stream our favorite album endings for the end of the year.
Listening to new albums in 2014 can be a labor of love. With so much music raining from the sky each day, an uninterrupted 40-to-60-minute listen is a hearty investment of time and effort that otherwise might be better spent on shuffle. This may explain why 2014 didn't see one full-length album sell a million copies yet, aside from megastar Taylor Swift's 1989—the format isn't quite antiquated, but doesn't seamlessly fit with the lifestyle and listening habits of today's primary music audience. Despite this, artists still honed in on full-lengths this year, with explicit, cohesive aesthetics; narrative sequencing; and most importantly, a perfect closer. Tucked at the very end of some of the year's most notable records were bright points to come up for air, minute-long thesis statements, and slight nods to what the artists' next steps might sound like. I've personally found that album-closers were the most fun way to think about my 2014 favorites: they provided both finite endings and new beginnings, which we could all use by year's end.
1. Flying Lotus, "The Protest"
Flying Lotus was either brave or brilliant to give his fifth album the transparently grabby title You're Dead!, complete with an exclamation point. If Kendrick and Snoop features didn't get your attention, the macabre theme of plunging smile-first into the afterlife certainly did. After painting a deep purple collage of immersive fusion, electronic, experimental rap, and a million other sounds throughout, Fly Lo closed with "The Protest," the record's brightest moment. We will live on forever, a cherub choir sings through grand piano and ascendant percussion, before the track snaps into the kind of straight-forward kick-and-snare affair his LA beat sons are still trying to emulate.
Flying Lotus
"The Protest"
FKA Twigs' cauldron of siren songs, LP1, left a metallic taste in the mouths of electronic and R&B spheres alike. If breakouts like "Two Weeks" and "Video Girl" were fierce arguments against female subordination, "Kicks" navigated murkier waters, with a girl of steel nearly melting to the mercury at the conclusion of her debut. So I tell myself it's cool for me to wait for you, she sings, with a formless staccato that's impossible to divorce from the record's off-center sounds while still heading toward more palatable pop. "Kicks" suggests Twigs could head in that direction too, if she wants.
G I R L was weird. If you were a day-one Pharrell stan, it represented a new wave for the producer/singer/songwriter/all-around visionary that you may not have been ready to follow. If you were new to his party, G I R L was the album that had "Happy" on its tracklist. If you landed somewhere in the middle of those two poles, though, G I R L represented a collection of tongue-in-cheek pop/funk records from the ageless, falsetto-blessed artist who still ranks as one of the best to make them. Appropriately, Pharrell closes the album by watering the seed from which it grew, as "It Girl" is an ode to the muse, complete with all the hand-holding and lip-biting that inspired P's latest work. But it's the last two minutes of rolling guitar that truly encapsulate's the project aims; it sprawls, like the end of N.E.R.D.'s "Sooner or Later," but with a vitality that's all its own.
Toro Y Moi mastermind Chaz Bundick's Michael was a work under another name—specifically, his Les Sins project—presumably made in a different headspace. Instead of the fluffy funk-pop of Toro y Moi, Bundick used his Les Sins project to explore sepia-toned disco-pop and sharper dance cuts laced with foreboding samples. Bundick referred to "Why" as the album's "Bound 2," but the album's actual closer "Do Right" might be even more apt, providing a bright, soulful resolve built on wet piano samples and a light hint of Funkadelic. With Michael, Bundick took up the noble cause of making people dance; "Do Right" traces the shadows of moving bodies, long since gone from the dance floor, and creates something more tangible with them.
5. Kid Cudi, "Troubled Boy"
Kid Cudi's Satellite Flight: The Journey to Mother Moon might well have been his Yeezus—an unruly 10-track showcase of a single-minded vision bereft of big-name features and label-pleasing radio singles. I dove into it on a rainy flight in March, and Cudi's galactic synths and ambient vocals sounded very appropriate while flying at 30,000 feet. The spiteful anthem "Too Bad I Have To Destroy You Now" was very replayable, but the album's finale "Troubled Boy" came closest to embodying the style Cudder attempted to nail throughout the album: shoulder-slumped murmurs delivered with a looped, indie-ish guitar riff that speaks to Cudi's broad genre literacy. No one wants a troubled boy, show them you're a stronger boy, he sobs, before an abrupt end that feels jarring, but not premature.