We pride ourselves at The FADER on scouring the globe to introduce you to some of the most left-field music around. But in our monthly column Popping Off, Aimee Cliff takes the temperature of mainstream pop music.
Politics took a front row seat at this year's Grammys—and not just because of the nods to the #BlackLivesMatter movement from the likes of Prince, Pharrell, and Beyoncé. A bit before Katy Perry took the stage, there was a surprise PSA from President Obama on the topic of domestic and sexual abuse, followed by a spoken-word performance by abuse survivor and activist Brooke Axtell. "Tonight, we celebrate artists whose music and message helps shape our culture," said Obama. "And together, we can change our culture for the better by ending violence against women and girls." In the pre-recorded address—devised to raise awareness about a national sexual assault prevention campaign called #ItsOnUs—he went on to quote the statistic that one in five American women have been victims of rape or attempted rape, and over one in four of domestic violence.
Like the anti-domestic violence ad that aired at the Super Bowl this year, it was a powerful moment—except that it also wasn't. For one thing, it was impossible to ignore the fact that the same ceremony broadcasting the anti-abuse message was honoring several known and accused abusers of women on that very night. Let's imagine a roving camera panning around the audience Obama was addressing at the Staples Center. We'd see Chris Brown, who is currently on probation after infamously beating former girlfriend Rihanna several Grammys nights ago, even as he continues to release hit songs about hoes that ain't loyal. On Sunday, Brown was up for Best R&B Song, Best R&B Performance, and Best Urban Contemporary Album.
The camera would also have caught R. Kelly, who was up for Best R&B Performance, despite having been accused of sexually assaulting young women and girls throughout his career (see Jessica Hopper's 2013 Village Voice feature for a thorough round-up of the accusations leveled at Kelly, dating back to the 1990s.) Also in the audience was Eminem, this year's winner for Best Rap Album and Best Rap/Sung Collaboration; in promotional ciphers for The Marshall Mathers LP2 last year, he was the guy who spit lines like I'll punch Lana Del Rey in the face twice like Ray Rice, and Put that shit away Iggy, you don't wanna blow that rape whistle on me. And let's not forget Grammys Creators Alliance member Dr. Luke, whose name and photo are displayed proudly on the ceremony's official website. In 2014, the producer and mogul caught a case for emotionally and sexually abusing the popstar Kesha for an entire decade.
If the National Academy of Recording Arts and Sciences were to practice what it seems to be preaching, there would be no place at the Grammys for these men. This year's ceremony may have successfully tapped into our collective thirst for hashtaggable political campaigns, but it did little to challenge an assumption we've been making when we talk about pop music, pretty much for as long as pop music has existed: successful men, no matter how misogynist or dangerous, are untouchable as artists. The story of the industry giving male sex offenders "a pass" for their bad behavior is one we've heard time and time again, from Phil Spector's murder of Lana Clarkson to the repeated allegations of abuse against James Brown and Ike Turner. Yet even now, as scores of thinkpieces insist that feminism is so in, we persist in refusing to hold male artists accountable for their actions or for the attitudes conveyed in their music. We remain tied to the idea that, as Jon Caramanica once argued, "the avant-garde need not be moral"—at least, not when it comes to men.
The problem is, we don't seem to be giving our female pop stars the same benefit of a doubt—not when it comes to the way they leave their lives, and certainly not when it comes to the attitudes expressed in their music. Last year, Beyoncé received a barrage of criticism for labeling herself a feminist, with commenters scouring everything from her videos to her personal life for proof of her half-hearted dedication to the cause. In a similar vein, just before The Pinkprint dropped this past December, Kris Ex wrote for Pitchfork that we should "forget" about Nicki Minaj, because of the supposedly misogynist messages she was promoting on "Only" and "Anaconda": "Nicki Minaj is far from the only artist spreading anti-love, disharmonious messages in her music, but she is spreading anti-love, disharmonious messages in her music and that needs to be taken to task.

" But what about Lil Wayne, Drake, and Chris Brown, who also appear on "Only"? At what point will we take them to task for the "disharmonious" messages in their music? Apparently, attacking men for being misogynists is just not something we do; we simply expect them to be misogynistic, and give them their radio slots and their seats at the Grammys anyway.
I'm definitely an advocate for the bold expression of female sexuality in pop, and the reclaiming and popularizing of the word "feminist." Still, I think this year's Grammys pointed to some crucial blindspots in our current wave of celebrity-driven feminism, where every new week seems to yield some new viral news story, SEO-optimizing issues that require a lot more in-depth attention. As Roxane Gay wrote for the Guardian last year, we run into problems "when we celebrate celebrity feminism while avoiding the actual work of feminism." Gay is realistic about the dangers of a very real social issue becoming a trend: "We avoid having the difficult conversations about the pay gap and the all-too-often sexist music we listen to and the movies we watch that tell women's stories horribly (if at all) and the limited reproductive freedom women are allowed to exercise and the pervasive sexual harassment and violence too many women face. We avoid having the conversations about the hard work changing this culture will require." Symbolism means nothing without structural change. Nevermind what the Grammys' spectacle would have you believe: the epidemic of domestic violence in the US cannot be properly confronted by Katy Perry singing a song after a PSA.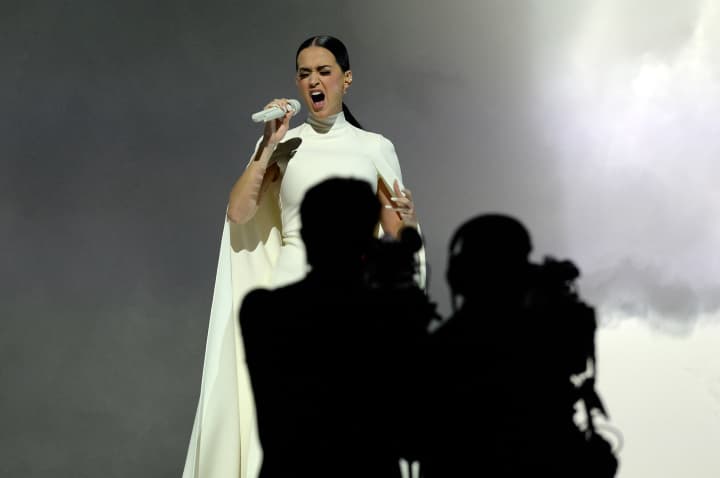 Apparently, attacking men for being misogynists is just not something we do.
Domestic abuse happens to be a particularly complex issue, one that really can't be properly discussed using shock statistics and rousing musical numbers. It demands nuance and empathy to unpick how and why it happens—a conversation that our virality-obsessed world scarcely ever has enough bandwith for. As R&B singer, reality star, and abuse survivor K. Michelle explained to The FADER last year, the media talks so rarely about domestic abuse that many victims choose to remain silent about their experiences. "Society's saying, oh, that doesn't matter because he didn't punch you," Michelle said of her own experience. "His family said that because I wasn't 'Rihanna-like,' it wasn't abuse… It lets me know a lot of women are getting abused, but they think it's okay." Her words resonate alarmingly with the fact that only 25% of at-home physical assaults in the United States are reported to the police annually. Then there's also the forms of abuse that are more likely to go unnoticed, such as financial abuse—which plays a part in 98% of abusive relationships—and emotional abuse, which 35% of American women who have been married have experienced.
As it happens, Michelle is just as outspoken in her music as she is in interviews, calling out Chris Brown on Keyshia Cole's female-led cover of "Loyal" (also featuring Da Brat, Lil' Mo, and Mila J) and railing against the kind of man who could look at his woman and want to throw hands on "Where They Do That At." As she told The FADER, "R&B singers back in the day used to stand down and pray and cry for their women and it was about love. Nowadays they treat us like trash." Despite it being seemingly unfashionable to take powerful men to task, Michelle is unafraid to be vocal about the insufficient police response to abuse or the negative messages in the songs of her male contemporaries. Unlike many of us in the music industry and music media, she's willing to loudly point out the correlation between the two.
As Obama said himself, the artists being honored at the Grammys "shape our culture" through their music and their message. That's why, when our culture is so misshapen, it's not enough to simply stick a PSA in the middle of one of America's biggest awards ceremonies and pray for things to change. As Brooke Axtell, who performed after Obama's speech, told the New York Daily News, progress depends on recruiting male allies to the cause by "confronting within our own communities in a powerful and honest way when violence occurs." Change won't come until we stand up to misogyny in all its forms—not only when it's fashionable to do so, but whenever it exists. The task is on us.
Header photo: Jason Merritt / Getty Images