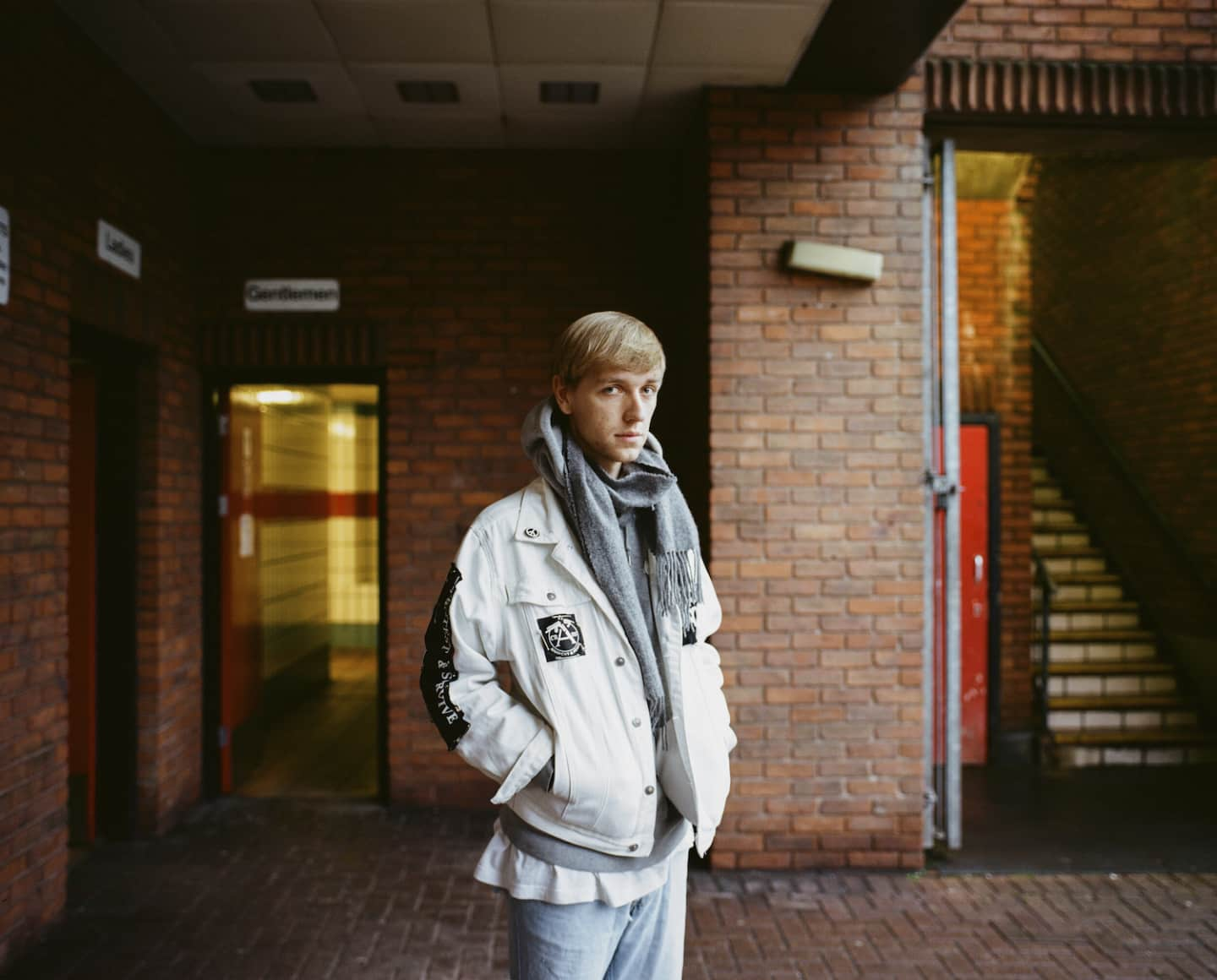 Jam City Is Fighting The System With Love
In this week's GEN F, an avant-garde dance music producer throws the mother of all U-turns.
"Protest and survive," declares a black patch safety-pinned to Jack Latham's white denim jacket. He laughs when I gesture to it: the jacket is a relic from his punk years, before he started producing transgressive dance music as Jam City, and just one of a number of layers he's wearing to ward off the biting New York cold.
Latham grew up in the suburbs of London, where he spent most weekends in "a shitty shopping center." As a teenager, he worked in a chain coffee shop, Costa Coffee. "It's funny because the mythology they sell you is Italy," he recalls with a laugh. "You're being sold a life-style everywhere you go." We're sharing breakfast in a tiny café in Manhattan, where he's visiting after a month in L.A. recording with Kelela. But things aren't looking much better in the States. "It's rare to grow up in the world where we live now and not feel inferior," he says. "There's a huge, gigantic system that benefits off of people feeling worthless."
Since his debut 12-inch in 2010, for London's Night Slugs label, Latham has been known for sparse, architectural club tracks, culminating in his 2012 album, Classical Curves. The collection subtly offers a dystopian vision of Western society: the accompanying artwork, featuring a wrecked motorbike in a marble foyer, presents a seductive but sinister display of wealth and power; anxious sounds of camera flashes and broken glass destabilize pristine moments of house and grime. But he's thrown the mother of stylistic U-turns with his new LP, Dream a Garden, trading club aesthetics for raw-edged, thoughtful post-punk. "[Musically,] things were becoming way too cold," he explains. The gleaming sound palette on Classical Curves, he says, "didn't reflect the reality of my life, and it didn't address the situation that was going on at large in the world. The point where those two things intersect—the personal and the political—is where the new record tries to come from."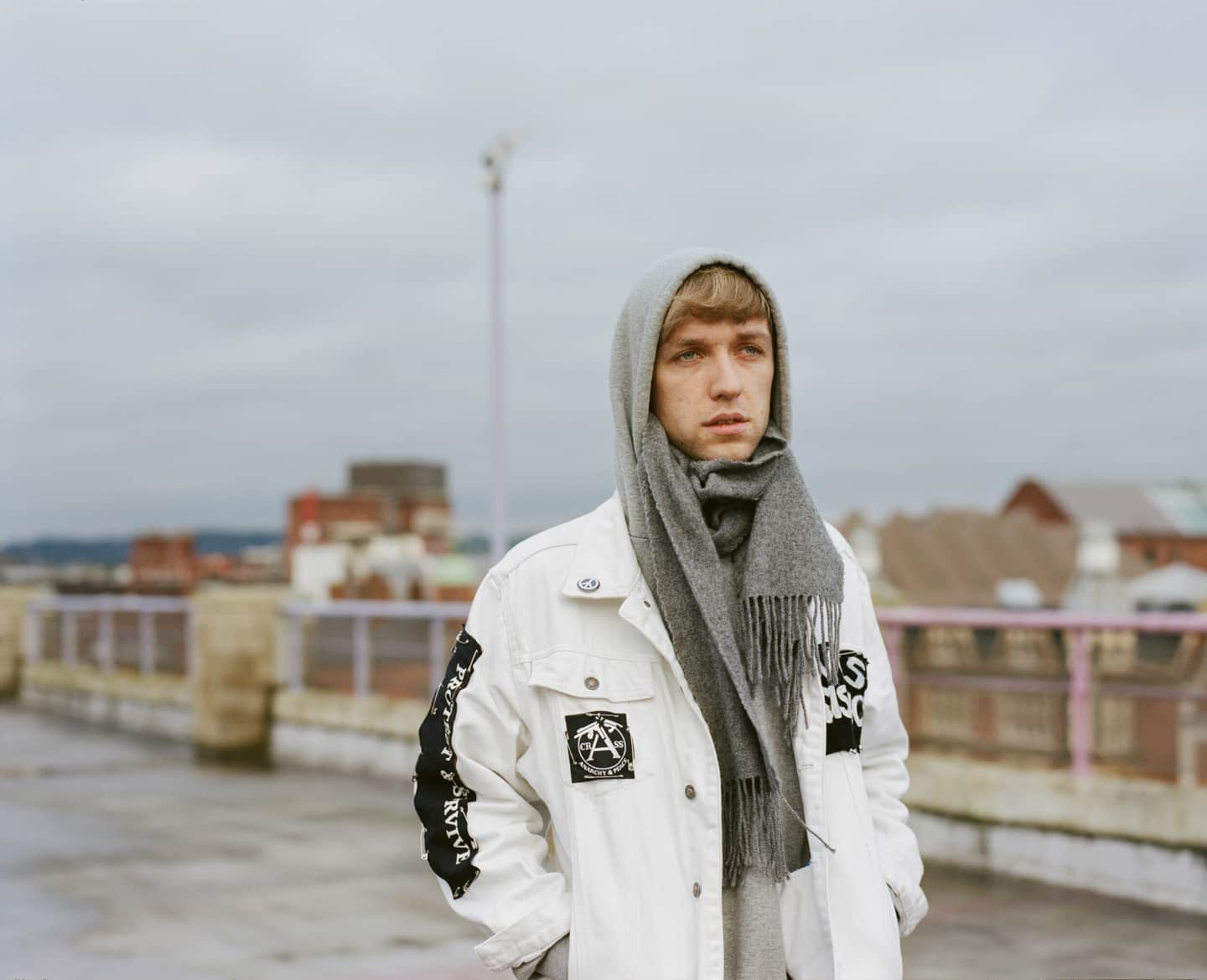 Dream a Garden is a protest album; fittingly, it's also the first time Latham has used his own voice so clearly in his music. Sometimes it's like we're stuck/ Like we're not allowed to grow up/ I was ashamed, but it's not enough, he sings on "Unhappy," evoking the indistinct feeling of alienation in his old music and clarifying his decision, now, to confront that feeling more directly. The new songs catalog the strain of living under capitalism with references to casual use of prescription drugs, the compulsive nature of shopping, and the prevalence of porn—all of which, incidentally, have a numbing effect on the mind. But Latham has a remedy, and like the gentle guitar riff that cuts through the synth distortion on "Crisis," it's refreshingly simple. "If we love ourselves, then we don't need to buy things to feel empowered," he explains. "And if we truly make loving others our priority in life, then that doesn't chime well with the neoliberal plan, because it's forming a community instead of being self-centered." He sums it up later on "Crisis": You said, "We don't have to live like this"/ Then you drew me close for a kiss.

It's clear that Latham feels a responsibility to make his music mean something. So it's perhaps no surprise that he names Curtis Mayfield, the politically conscious soul singer, as a lifelong influence: "He's able to channel a feeling of social change into the most beautiful sound ever," he says. While Latham doesn't have the ego to imagine that music is all it takes, he knows one thing for sure: "Change needs a soundtrack."