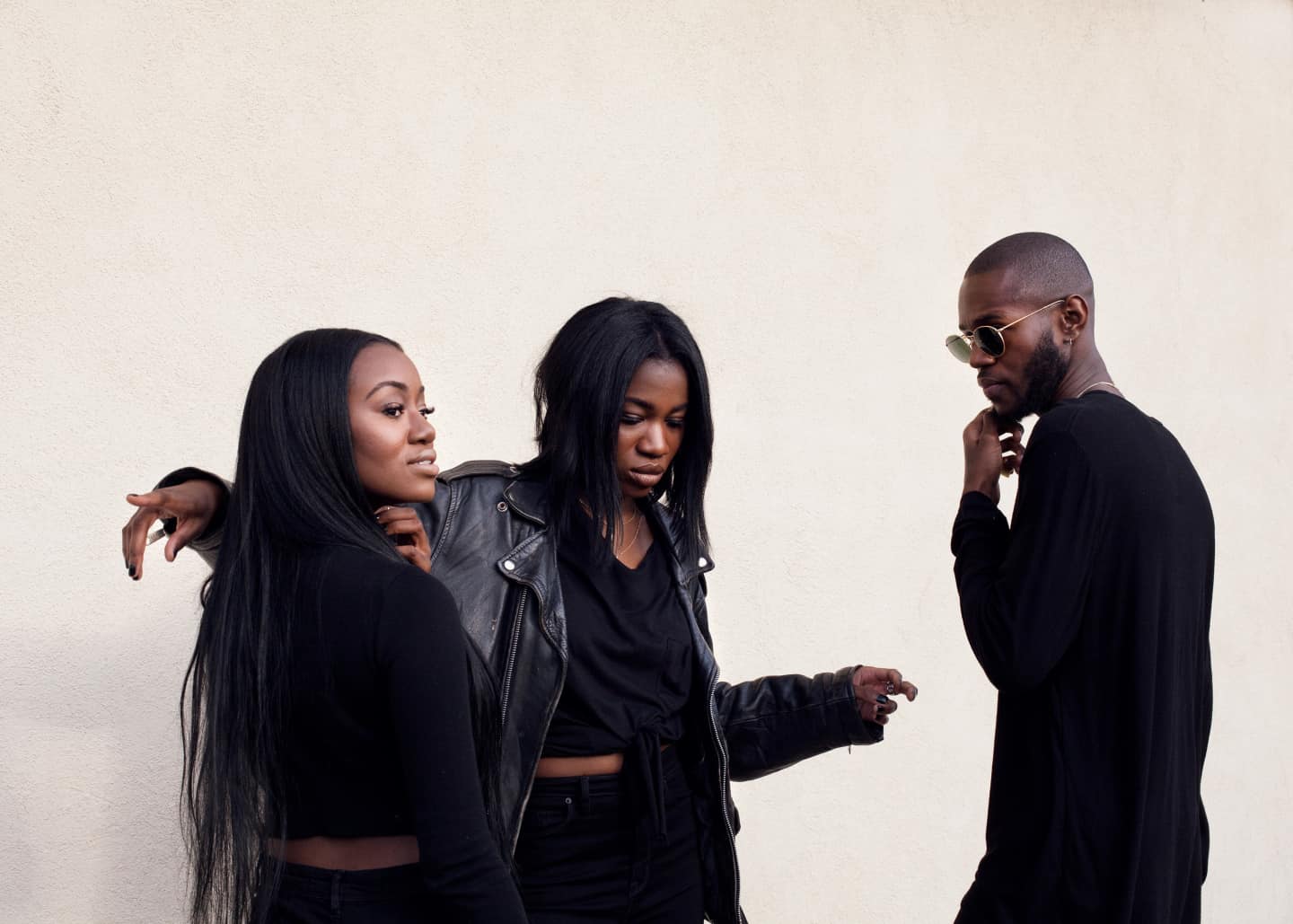 Meet James Davis, Three Siblings Making The R&B They Always Wanted
In this week's GEN F, a soul trio take the scenic route to the majors.
In their video for "Better Than You Are," the Reynolds siblings are barely visible, save for the silhouette of three heads peaking through the windows of a soft-top Ford Mustang crawling through a Los Angeles night. They steer past The Roxy, Randy's Donuts, Taft High School, down Melrose and across Sweetzer, up and around LAX. The downcast R&B ballad, with its booming tom drums and piano chords, unfurls as aimlessly as the ride, without a clear hook to hang on to. Yes, they can be cool, but am I not the exception? vocalist Jess croons.

It's a question that the 26-year-old singer and her bandmates—her twin sister, Erika, who goes by Rey, and her younger brother, Auston, 22—have been asking since they started recording together as teenagers. With a freshly inked deal with Motown and a mint debut album in tow, the three members of James Davis are fighting to be heard, but they aren't dying to be seen. "We are all, together, naturally loners," Jess explains to me over the phone from their family home in Marina Del Rey. "So now, having to meet so many people, be around all these different personalities, be in meetings, has been the most challenging transition."
Jess, Erika, and Auston are California natives through and through. They were born to a background singer for James Ingram and an outfielder for the Dodgers—"James Davis" combines both parents' middle names—and one of them caught the showbiz bug early. After watching mom on the road and in the studio as a child, Jess took to singing at 7 and, with her family's support, was signed to Virgin at 15. As with many teen pop prospects, though, interests clashed. "I got to see the industry politics and I quit… I just quit." The label pushed her toward an "around the way girl, but also kind of hood" image that didn't quite fit. "In a lot of ways, I was that girl, but then in so many ways I was not," she says. "At that time, I was obsessed with Billie Holiday and Sam Cooke and Aretha Franklin. That's the type of music I wanted to sing."
It would take prodding from her twin to pull her back to recording in their late teens. The two spent summers off from school sketching out song ideas. Auston followed his sisters to music when a promising sports career proved too rigid to hold his interest. "Basketball wasn't really enough," he says. "I wanted to have more power in my career. And my sisters, just them singing and creating all around me, and working with other people—I was just inspired." The group splits duties between guitar, keys, and percussion, with Auston sparingly beefing up acoustic chunks with plug-ins and drum kits. Amorphous and affecting, the rootless folk-soul ballads they created caught the attention of Motown president Ethiopia Habtermariam, who offered them a deal off their demo. Jess' siblings deferred to the industry vet. "They were worried about me because I was so nervous, like, 'Man, I did this already,' says Jess. "But [Motown], they want us to remain who we are."
The trio may be weary of the cameras and the image-preening that major label fame entails, but they itch for the stage. Giddily detailing their minimalist setup, they revel in creating music in the moment. "We're not writing anything down," Jess explains. "It just happens. My brother is on the pads, Rey's on the guitar, they put me on the tom." She recalls tiny showcases around L.A., and plans to gain fans the old fashioned way: one gig at a time. One may expect their industry fluency to breed impatience, but James Davis is refreshingly devoted to the long haul, to scaling their career while remaining true to their instincts. "In L.A., a lot of people do music," Jess says. "It's kind of the norm. It's kind of cliché. The goal was always to make sure that we remained three of us. Yeah, us."

From The Collection:
GEN F