Meet Kehlani, A Soft-Hearted R&B Star Who Looks Like A Badass
In this week's GEN F, meet a 19-year-old singer from the Bay with tattoos and an appetite for influence.
On New Year's Eve, 19-year-old R&B singer Kehlani Parrish sent out a tweet tasking her some 83,000 Twitter followers with drinking three cups of water. She followed up with another: "wait retweet this if you went and drank hella water cuz I just said to." As of this writing, that post has been retweeted 106 times. "If I have the power to go and make one hundred kids on Twitter go drink water, who knows what other crazy influential shit I can do," she tells me in New York in late January, mid-way through a tour with fellow Bay Area native G-Eazy. Kehlani is on the trajectory to Tinashe or Zendaya-level success, but she doesn't much resemble her Disney-manicured counterparts. On the day that we meet, she's dressed in a hoodie and a pair of worn-in sweatpants, her slender arms wrapped in colorful tattoo; she admits that she'll sometimes Instagram the same outfit more than once, and is less concerned with what the commenters have to say than with giving her fans the musical equivalent of a pep talk. "I probably look like I could beat you up," she says. "People always think I'm a rapper, but I'm soft."
Kehlani had a tumultuous upbringing. Her father passed when she was just an infant; her mother, a chronic drug addict, was often absent. Throughout her childhood and adolescence, she was shuffled between the East Oakland homes of various extended family members, undergoing intermittent stints of homelessness in between. Looking back, she says the experience molded her but didn't harden her. "I have every right to be the angriest, most upset female alive," she says. "But my whole life growing up, I was like, this is what is shaping me." While studying voice at a performing arts middle school, she was convinced by a classmate to audition for a locally famous group called PopLyfe, which covered new and old soul songs. In 2011, PopLyfe came up fourth in the final round of America's Got Talent, narrowly missing out on the $1 million dollar grand prize. It wasn't the happiest moment for the band, but Kehlani exited the stage on an up note, with judge Piers Morgan telling her: "You've got real talent, but I don't think you need the group."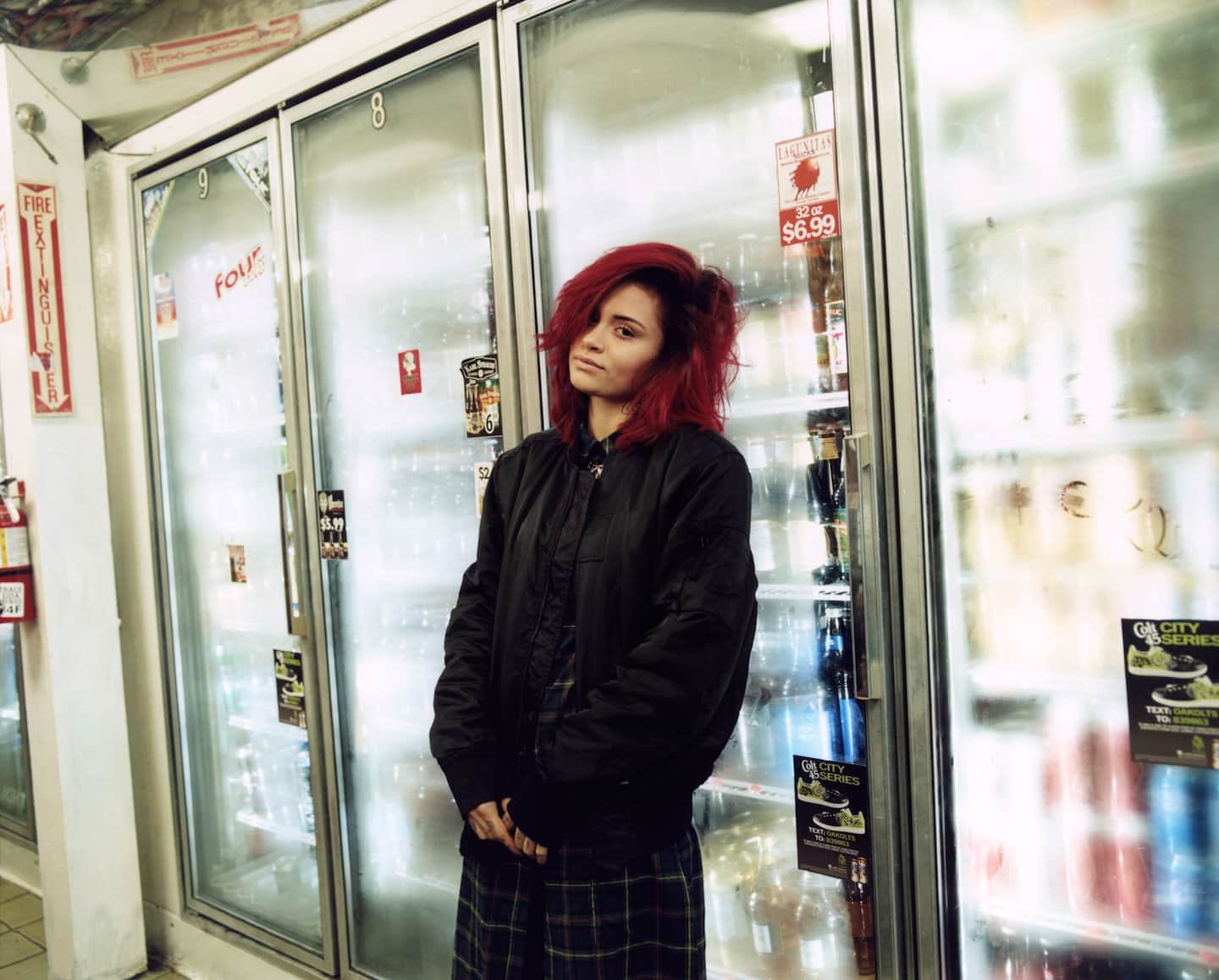 After the rest of PopLyfe headed out on tour as the backing band for budding Disney star Zendaya, Kehlani heeded Morgan's advice and began writing songs of her own. During the summer of 2013, she self-released "ANTISUMMERLOVE," a breezy, soulful dismissal of hot weather flings. As the song began to rack-up views in Oakland, P-Lo caught wind, and hopped on a well-received remix. Kehlani quickly fell in with his lovably tight-knit rap squad, HBK Gang and—after supplying background vocals to keystone projects like the Gang Forever mixtape and Sage the Gemini's Remember Me—made the affiliation official. "There was no question," she says, remembering being drawn to the HBK rapper Iamsu's positivity. "They needed something that was bigger than Bay music, and I needed Bay music," she says.
Ever since, she says she's been making music with the aim of empowering her fans and followers, who are predominantly young and female. "I'm really conscious of what I'm putting out there," she says, mentioning "Tell Your Mama," a high-spirited song off last year's Cloud 19 that encourages listeners to go and tell their loved ones that they are loved. That tape also features a voluptuous and unabashed same-sex romp called "First Position," on which she sings, Stop messing with those boys, get you a lady. She's cautious, but isn't afraid to push a few buttons. "You can be adventurous and outspoken about your sexuality," she told The FADER when she debuted the equally steamy video earlier this year.
Recently, Kehlani has had her head down preparing for her own upcoming mixtape, You Should Be Here, which will likely be her most watched to date. While Rap Genius users hypothesize whether or not she's dating PartyNextDoor, she's been clocking hours in the studio with big names like Chance the Rapper and the Social Experiment, Travi$ Scott, and Metro Boomin. On that tour with G-Eazy early this year, Kehlani made a stop in Toronto. While there, Kehlani popped her first bottle at the club, and met Drake. But when we catch up, she tells me she's just trying to act normal. "A lot of people come from nothing and then they get something, and they completely forget about the nothing," she says, voicing her intent to stay grounded even as life starts getting crazy. "Who's gonna relate to that?"
From The Collection:
GEN F