This Is What Happened To Jodeci After 20 Years
They soundtracked our childhoods then took a two-decade break. Now, the R&B legends open up about their new music and grown-up lives.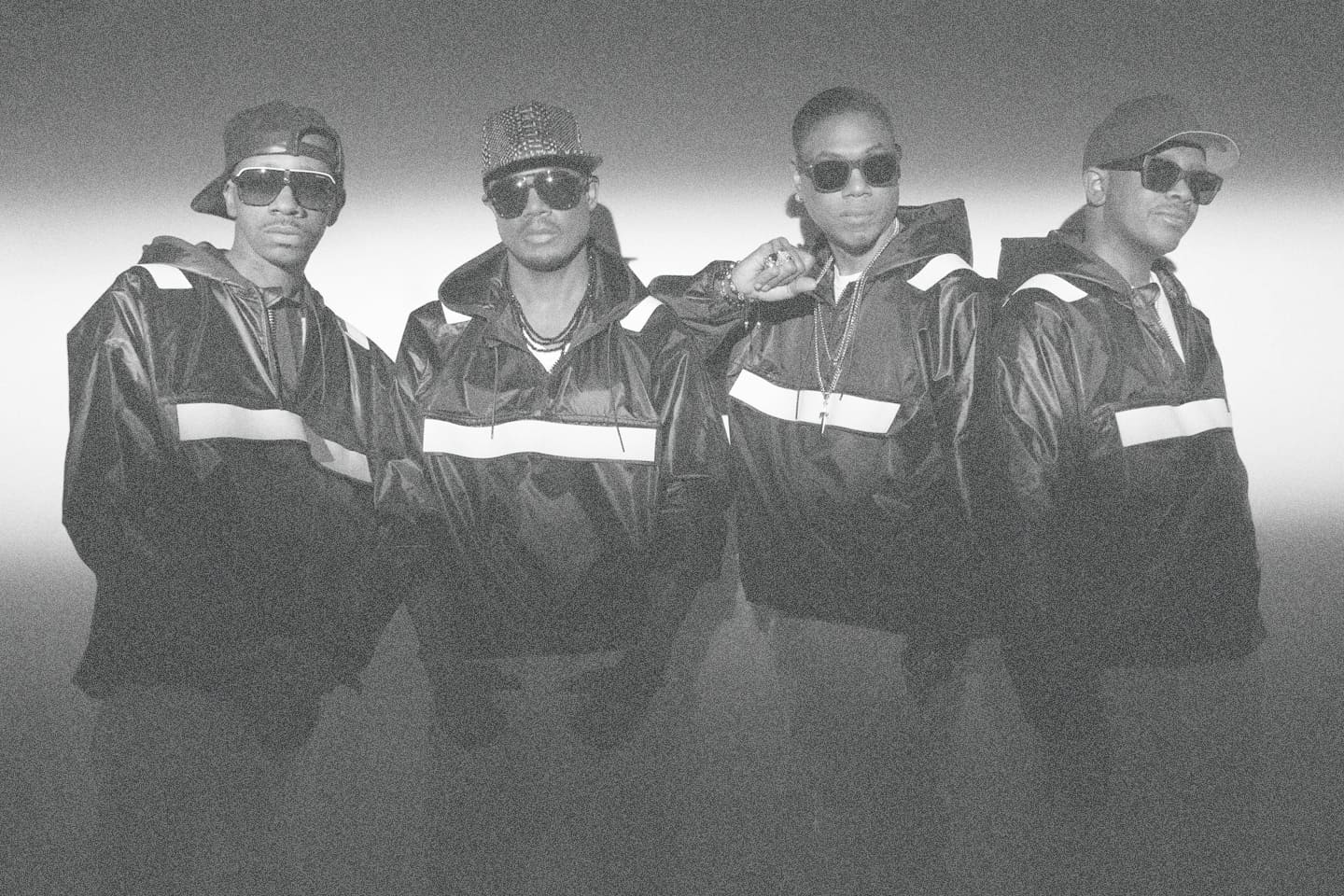 In 2015, there is one question at the crux of any Jodeci interview, and as soon as the group arrived at The FADER's New York office in March, I knew I wasn't going to get a definitive answer. Jodeci is comprised of two sets of brothers—Cedric and Joel Hailey (also known as K-Ci and JoJo) and Donald and Dalvin Degrate (also known as DeVante Swing and Mr. Dalvin)—but only half of either pairing, just K-Ci and Mr. Dalvin, had shown up. As they sat across from me, being tended to by a makeup artist, I wondered the very thing I had asked myself countless times over the years: what happened?
K-Ci was wearing head-to-toe black, including the leather bike jacket, backwards cap, and Timberland Super Boots signature to the Jodeci look; he looked like he'd wandered off set from a video shoot. Though he and Mr. Dalvin were both wearing sunglasses indoors, Dalvin looked far more pedestrian: hatless in a forest green peacoat, dark fitted denim, and a pair of Lebron James' signature model Nikes. In the YouTube video of the radio show they'd recorded earlier that morning, it appears that JoJo, who decided to sit this afternoon's proceedings out, looks every bit the grandfather he'd told the radio crew he relishes being, unashamed of his graying sideburns. Devante, who K-Ci and Dalvin tell me is home in L.A. and doesn't travel this far due to an anxiety for flying, can be seen in some more recent pictures on internet sporting a giant tattoo on the right side of his face.

Jodeci were once known as the "bad boys of R&B," notable particularly because they were actually boys at the time, breaking out as teenagers in 1991 with their debut album and its title ballad, "Forever My Lady." Natives of North Carolina, they were discovered by Heavy D, who overheard their demo when an A&R at Uptown was in the process of passing on them. Heavy D introduced Jodeci to Uptown founder Andre Harrell, who signed them after they sang in his office, and handed them off to his then-protégé Puff Daddy, who outfitted the group in dark shades and coordinating leather ensembles. The look, along with the streetwise soul found in songs like "Cry 4 U" and "Feenin" (as well as a few run-ins with the law) made them the antithesis to good-guy personas of then-peaking R&B superstars Boyz II Men. Devante, who along with Mr. Dalvin held down production duties for the group, founded the Swing Mob, a collective responsible for the discovery of musical geniuses like Timbaland, Missy Elliott, and Static Major.

As a group, Jodeci would go on to release three critically-acclaimed album in the '90s, before disappearing from the limelight. K-Ci and JoJo splintered off as a duo in 1997, producing hit single "All My Life" and, eventually, five albums, but adoring fans never let go of their Jodeci obsession. And some 20 years after their vanishing, artists from Raheem DeVaughn to Justin Bieber continue to express a deep admiration. Drake's tapped old Jodeci songs for samples on more than one occasion. In March, the group released The Past, The Present, The Future, the first Jodeci album in two decades. To celebrate its release, we talked about why Jodeci was put on pause all those years ago, and why it's finally time to start again.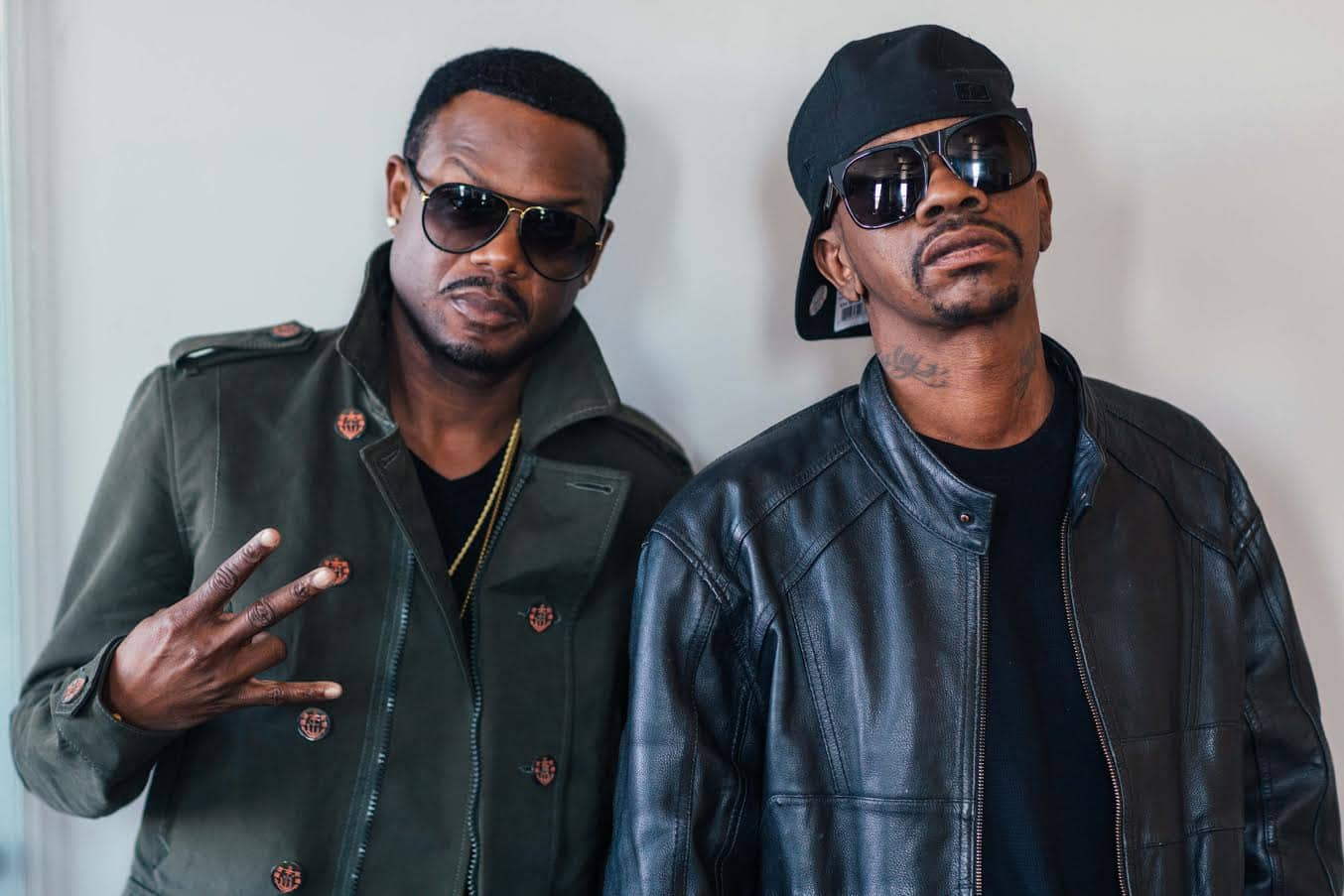 Do you ever feel like you get pigeonholed as being a certain type of artist, because when people think about Jodeci, they think about the leather, the black clothes, the 'thugs' of R&B? MR. DALVIN: Not to discredit anybody but that's the ignorance of not knowing. You see a guy with his pants hanging down, he's got a skully, and you scared cause he's black. People have a lifestyle with culture. Jodeci, as many records as we've sold, we've never been invited to the Grammys. Is it because we're too black or what? We stay true to ourselves. We ain't try to conform or reform ourselves to what was standard of R&B [was]. We stuck by our guns.
I remember an interview with an R&B singer in the early 2000s where he complained that labels thought his music was "too black" to market. Did y'all encounter resistance like that? K-CI: We never got that because we came into the game with the soulful, black or whatever you wanna call it [sound]. It's a shame man. I'm not racist but how can you say a white singer is being labeled as the most soulful singer out right now? You know who I'm talking about, right? The man who did something with Mary [J. Blige]. DALVIN: Sam Smith. K-CI: When I heard that, I was like, Yeah, it's time [for Jodeci to come back].

Do all the current Jodeci references reach you? Like when Kanye West was announcing that Kim Kardashian was pregnant and he sang "Forever My Lady?" DALVIN: Is that right?

He had a concert, and that was the announcement. Him singing "So you're having my baby," was him telling the world that Kim was pregnant. K-CI: A rapper singing to his lady on stage, supposed to be all hardcore and he's singing Jodeci! Everyone can relate to it. It's cool.

Jodeci's history and legacy is cemented. So what does it mean for you to be coming out with music right now? DALVIN: We're going to weather the storm as long as we want to. A lot of artists, I find, they just release music, release music until they get the right one, the right single. It gets oversaturated, people are tired of you. We don't just put songs out to put songs out, we don't just make albums just to make albums. Take your time, that's what we do. Methodically sit down. We got bodies of work that will mean something.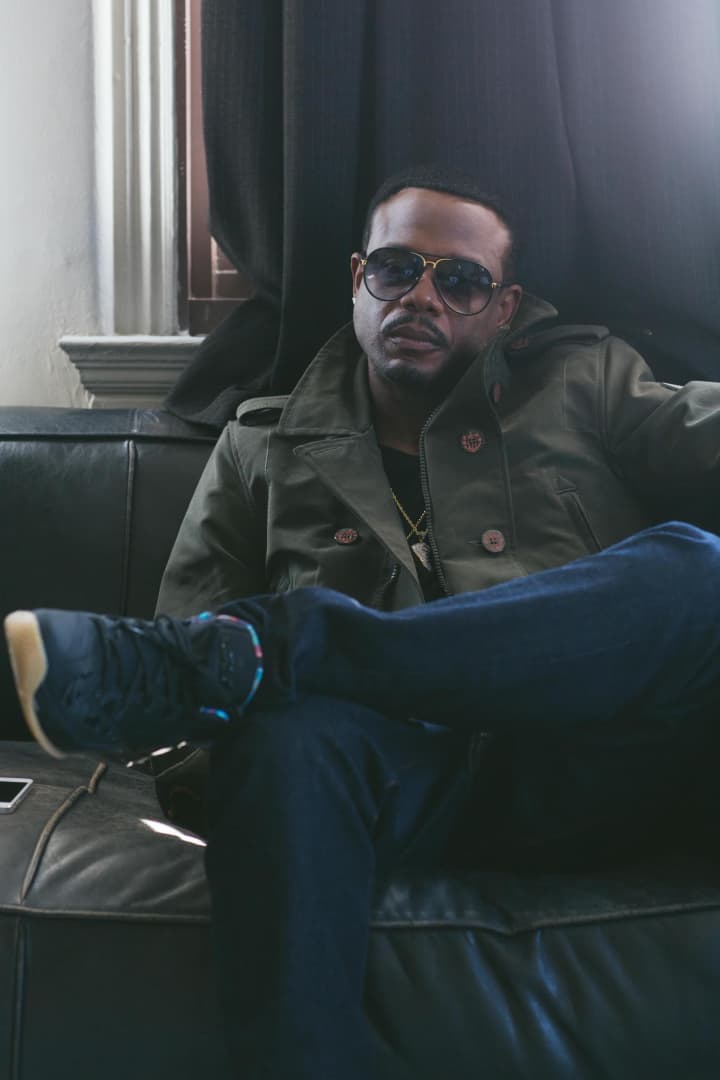 "Jodeci, as many records as we've sold, we've never been invited to the Grammys. Is it because we're too black or what?" —Mr. Dalvin
Do we call this a reunion? No, because we never broke up. That was the misconception people had. Jodeci never broke up. We just stopped putting out records. We went through a transitional period where the business changed, music changed, and we just stepped back.
I'm a little younger. So for me, I remember there was Jodeci, and then there wasn't. DALVIN: The last thing we released was "Get On Up." You know, hip-hop became a dominant force in radio. Everything was rap, rap, rap. R&B started fading to the back. We just left it at that. But we stayed relevant because every artist, anybody from Usher to Justin Bieber was saying 'Jodeci this' and 'Jodeci that.' And Drake. Artists that are really relevant kept the name alive.
How long have you guys been making music for this latest project? DALVIN: We've been making music forever. We never stopped.

You guys never stopped making music together? DALVIN: Never stopped making music together since day one. We got hundreds of songs we recorded. But for this project we took time and created new songs. It's not like we dug way back into 1982 and brought some of that older music out.

As far as when Jodeci stopped releasing music, was that a conscious decision, was there an actual conversation about it? DALVIN: Hip-hop was dominating the radio and we saw some of our favorite R&B artists getting pushed to the side. We did the merger with Wu-Tang and we stayed relevant for a long time. Then it was like, let's just let the hip-hop era come through.

Did the label have anything to say about it? DALVIN: Whenever there's money involved they're like, 'Don't stop, Let's bleed it dry!' At the end of the day, if you squeeze a lemon and all the juice is out, there's no more lemon left. Save the juice. Let it marinate. You don't need to try to force something.

Would there have been anyone who could have convinced ya'll to keep going? DALVIN: Not at the time.
"Whenever there's money involved they're like, 'Don't stop, Let's bleed it dry!' At the end of the day, if you squeeze a lemon and all the juice is out, there's no more lemon left. Save the juice. Let it marinate." — Mr. Dalvin
Did you expect K-Ci and JoJo to work as a duo for so long? K-CI: Before Jodeci came out, years ago, it was Devante's idea that K-Ci and JoJo do a duet album. That's long before we had a record deal. 'When Jodeci blow up man, I think ya'll should do a Hailey brothers album.' So we did that. The first one was successful, and we came back and said D, you ready? He said 'Nah, do another one.' We did that one, came back and said D, you ready? 'Nah, I ain't ready yet.' Him and Dalvin, they wasn't ready yet, so we just kept on going till guys said 'Alright, now it's time.' Even me and JoJo [would] talk about putting K-Ci and JoJo to the side and get this thing going with Jodeci because we was ready for Jodeci. We was fans. So that's how that was.
We saw K-Ci and JoJo releasing music and even in a reality show. I wish Devante was here, because one of my bigger questions is what were Devante and Dalvin up to for those 20 years? DALVIN: Doing a lot of production. I worked with Mariah Carey, Mary J. Blige—producing, writing, and understanding the business of the music. Preparing for Jodeci always.

So to keep up with you, we would've had to check the credits a little harder? DALVIN: You become successful in an outward appearance. Now, behind closed doors, let's be just as successful when you go to the bank. Let's be successful in things you want to achieve in life not only on the stage but off the stage. That's what becomes really important as you become wiser and older in the music business and about the flash and the fast cars, it's about getting your business straight and setting yourself up for the rest of your life. K-CI: We used to live that fast life, but we was young then. We didn't know, we didn't understand, we didn't care. The older you get you see the business part of it. In the beginning it was cars or trying to have a whole bunch of jewelry and girls and stuff, but we see now. Way back in the day though, that that was what it was about.
Would you say you weren't necessarily prepared to deal with the fame the first time around? DALVIN: Nobody is. You're 15, 16 years old and you're thrust into the stardom, there's no classes for that, there's no college for that. You go to college to learn how to be a scientist or a doctor, you go in the music business to get women and get girls. That's what your mentality is.
"I'm not racist but how can you say a white singer is being labeled as the most soulful singer out right now?" —K-Ci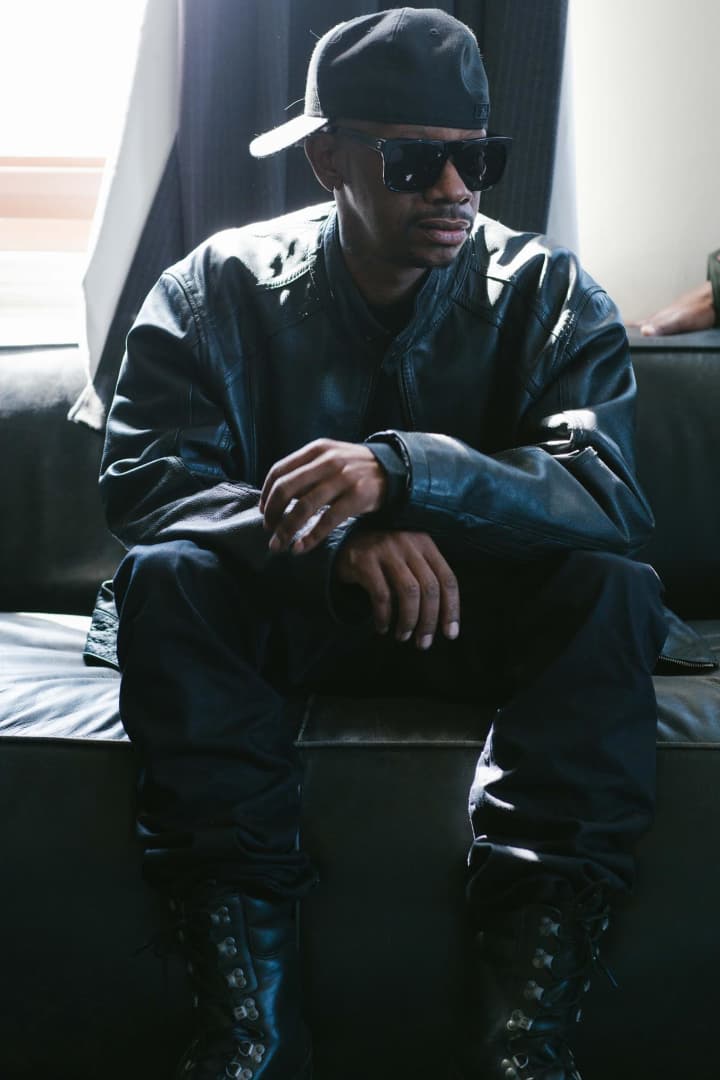 So what's the concept for the new album? DALVIN: Resurfacing, introducing our new audience. We got a lot of new fans that's coming to us vicariously through other artists. Letting them know what Jodeci is. 'My mom talked about Jodeci, or Usher talked about Jodeci. Let me go back and see, let me Google Jodeci.' It makes it kind of exciting for them to go back and do the history and bring them up to speed. "Every Moment" bridges the gap.
How did you determine that your comeback single would be a song about domestic violence? K-CI: We always like to do a song that means something, not just a song that you can just—we write songs that people can relate to. DALVIN: So you're having my baby," we were 16, 17 year olds singing songs like that. We were singing songs that weren't really standard for R&B. "Freek'n You," it wasn't really standard; "Come & Talk To Me." Though they may be simple at times, they were things that people were scared to say. We didn't follow a format that was R&B, we didn't follow the way R&B was looked at and we changed all that. Back in the day, Jodeci spearheaded the whole AIDS awareness amongst young people out here. Back in '95, we did a whole urban AIDS thing, because people didn't know about safe sex and all of that. We did the Lifebeat Tour Outreach Program and raised money for AIDS awareness.
When you listen the radio today, do you hear music you vibe with? K-CI: I don't listen to the radio that much. I like Chris Brown. He's really about the only one who's doing something right now, to me. I don't knock nobody, but it was just time for us. Radio does play R&B, but its really not R&B when you using that Auto-Tune. That's not real singing and that's what we do. We do real singing.

What's the best possible reception for Jodeci's music now? DALVIN: People that don't even know music, they understand that it's something different, something special. It feels like something more refreshing than turning on the radio and hearing one long song with all the voices sounding the same. The radio sounds like one long song all day. I don't even know who's who anymore. It's like eating fried chicken everyday, and one day somebody bring you rotisserie. It's still chicken. but it's a different chicken.

But real talent is coming back in. We went through a whole cycle, a whole decade where talent didn't even count anymore. If you have a nice ass—if you was a girl you just had to look decent or you're a dude and you take your shirt off, you have a 6 pack, that was enough. 'Ok, you can take good pictures? Come on. Can you sing?' Uh, well nah. 'Well, you alright, you look good.' We went through a decade of that. Talented people couldn't get a record deal to save their life. Let's go with real talent, something that's going to go for long money, not just a quick hit. Jodeci is long money.
Lead image: Courtesy Epic Records