Leave Young Thug Alone
Depending on who you ask, Thug is alternately, and extremely: a troll, a genius, a pawn, the reincarnation of Wayne, a scourge on rap. Give the guy a break.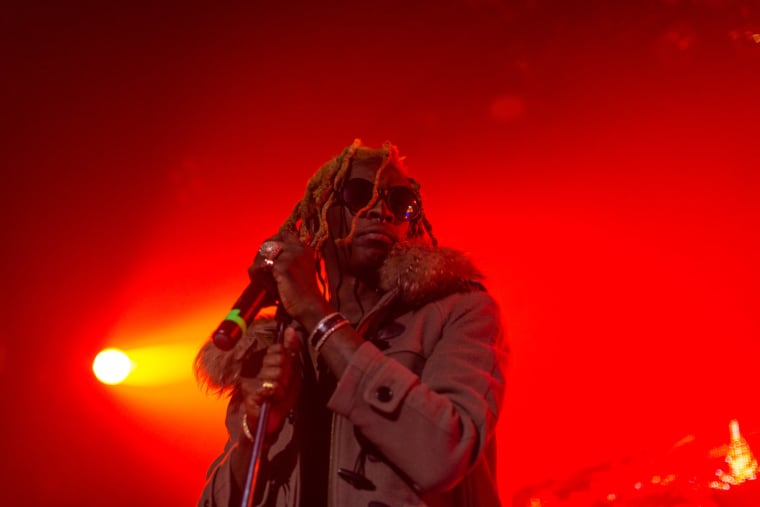 There's a moment in an Instagram video Young Thug recently posted that explains a lot about the 23-year-old rapper. After executing the greatest troll in recent rap history—by claiming that The Barter 6 emerged purely out of fandom and was not intended to antagonize Lil Wayne—he offers a quick "haha" and jams his tongue out, like a tattooed, 6'3" version of my favorite emoji: 😋. Depending on who you ask, Thug is alternately, and extremely: a troll, a genius, a pawn, the reincarnation of Wayne, a scourge on rap, the man destined to carry the torch for hip-hop as it powers into its fourth decade. But in that brief social media moment, one thing became clear about Young Thug: he delivers everything with a wink.
Whether you like him or not—and it often feels like those are the only two options—he has come to be a significant talking point in the genre, parlaying a couple of buzzy mixtapes into a role as one of the most sought-after voices to emerge out of Atlanta's rap scene. But thanks to a widening rift between rap progressives and conservatives, he has also become a representative of a schism that is larger than him. Thug is bearing the brunt of an ideological battleground in which his existence stokes anxieties about where hip-hop and so-called hip-hop culture is going, and whether evolution is necessarily desirable. Between him, Wayne, and Birdman—the alleged instigator of the Lil Wayne beef—three distinct generations are represented.
Here's how Reggie Ossé, a former music industry lawyer turned podcast host known to many as Combat Jack, described Thug to The FADER: "He's definitely interesting, and he's polarizing because what he's doing goes against what the very core of people from my generation who are rap conservatives grew up on. He's not rhyming couplets, so it's hard to get into it," he said. "I'm not a fan but I'm curious about the phenomenon."
Ossé has been a reasonable voice in hip-hop over the past few years, known for giving younger, less conventional artists a chance, despite his own perspective being rooted in golden era rap. His household is an example of the universal generational split, he pointed out: while he's on the fence about Thug, his teenaged sons are fans. On one side, he said, there are those checking for so-called real hip-hop, #bars, and other aesthetic markers that once ruled the genre. On the other, there are the youngers, to whom Illmatic is a boring relic of their parents' youth, and who grew up in the melody-driven glory days of the aughts. In the middle, there's everyone else, curious to watch Young Thug's career unfold and eager to give him a chance, even when we're not able to decipher the content of his melodious hooks or the yawps of his singsongy flows.
Music aside, though, Ossé's larger issue with Thug is one that I've seen widely echoed across the web and in IRL and the one that brings me the most pause: "I'm all for self-expression. I lived through the '80s, the whole androgynous thing, but this is where the lines are blurred," he said, referencing Thug's style and penchant for referring to his male friends using terms of endearment like "bae" and "hubbie." During a since-squashed dispute with Game, the L.A. rapper took issue with the same thing: "You paint your nails like a fucking girl and you call your niggas bae," he said in an Instagram video.
"As a father of three black sons, messages are very powerful. There's a dearth of black male role models, and there's more acceptance of the weaker black male image. It's just a little off-putting. Are we going to continue to see an effeminization of black men? Take Jaden Smith, for example," he said, referencing an existing (and questionable) theory about society's desire to see black men in dresses.
While Ossé insists Thug's perceived sexuality is not the issue, rap forums, and YouTube comments suggest otherwise; though he often raps about having sex with women and is newly engaged to Jerrika Karlae, those relationships are frequently dismissed as beards. A lot of the discourse is less about whether he's a good or interesting rapper, but more that his painted nails and Hooters tank top preclude him from even being so. I swear every time I dress myself it go motherfuckin' viral, he raps on "Halftime" in a self-aware moment. The combination of Thug's gender-neutral personal style and his radical, new-school music have turned him into a target, giving people ammo for criticism derived from homophobia and patriarchy-steeped notions about masculinity.
Other rappers with whom he's associated, and who make music with similar qualities, are not talked about in the same way. Though Future and Travi$ Scott also use distorted vocals and a curious amalgam of rapping and singing that eschews traditional rhyming patterns, they fit into a more traditional sense of masculinity, which insulates them to some extent from the criticism Thug receives.
Throughout it all, Thug hardly seems to care. The layer of friendly fun and jokiness that comes through in that Instagram video permeates his music: how can you really be mad at a rapper who bookends lyrics about guns, drugs, and women with zany, endearing thoughts like Beyoncé, bitch, I'm a bumblebee and In Miami I swear they don't got good weed/ Wiz Khalifa, can you send some weed please? On Barter 6's opening track "Constantly Hating," he asks rhetorically What is there to do/ When the whole world's constantly hating on you? But he already has the answer: 😋😋😋.