Meet Alessia Cara, Alt-Pop's New Sweetheart
In this week's GEN F, a loner makes it big thanks to a sharp wit, YouTube following, and endless good vibes.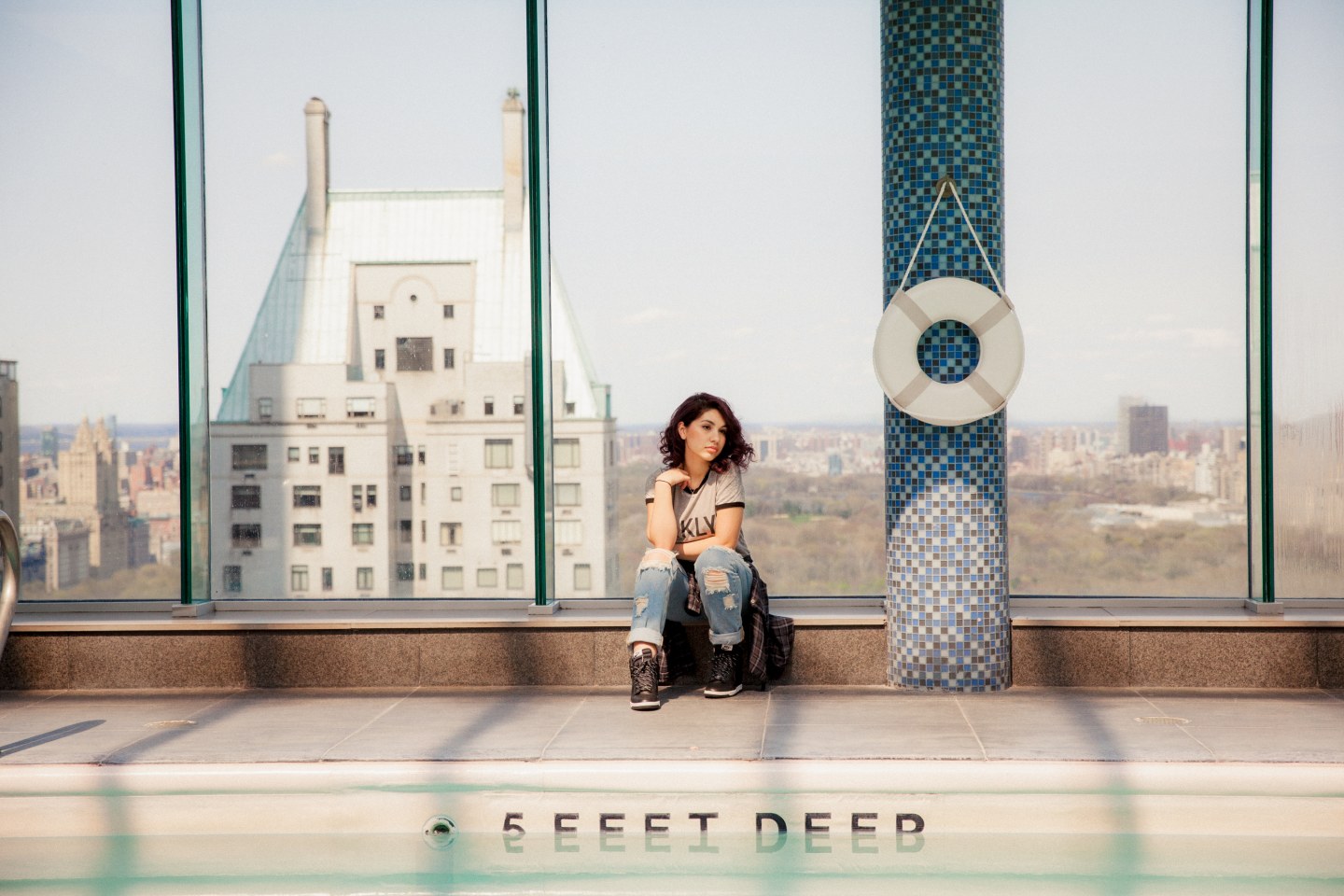 Alessia Caracciolo is 18 and in the rare spot of being months away from her major-label debut without ever having done an interview. When she walks into the Def Jam office on a cold afternoon, her garnet curls bounce over her plaid shirt. She's got big dark eyes and Easter blue nail polish, and she talks at a sprint, breathless yet graceful, practically glittering with suburban restlessness.
Alessia comes from Brampton, Ontario, a neat, green suburb, where she grew impatient: too many parties in basements and guys who try to dance with you when you don't really want to, thank you, and you're fine in the corner writing a song in your head. "There are a lot of people who don't feel like part of the scene," she says, when I bring up her sharp, bluesy first single, "Here." "There aren't enough anti-party anthems."
As a kid, she rode bikes, did theater, wrote poetry, bought CDs, sighed through science class. She was 10 the year that her life changed twice: she got a guitar and heard Amy Winehouse. "It was the first time I fell in love with an artist," she says, twiddling her rings, still hooked. Alessia taught herself to play by ear and built up some material for middle-school talent shows, and she was surprised at how much people at school liked what she was doing. When she was 13, she started a YouTube channel with her parents' skeptical blessing, recording covers in her closet
so she wouldn't bother her younger brother.
Every video she's ever made is still online, a musical and personal adolescence rolled out for 20,000 subscribers that Alessia says have been sweet to her. (She's nice back: when a stranger comments that her curls are too messy, she responds, "Shoulda used a hair tie, I know.") Her highest-viewed video starts with Alessia shouting out two of her friends, dedicating the song to another, then breaking into the Neighborhood's "Sweater Weather," her smokey, silvery voice rippling through the melody. That video found a fan in the daughter of a music executive—Tony Perez, whose label EP Entertainment has ties with Universal Music Group—who tweeted at her, and suddenly Alessia was flying out to New York to sing. Eight months later, with the help of a Def Jam talent-spotter named Tab Nkhereanye, she was signed.
In the studio with Sebastian Kole and Pop and Oak—producers who've worked with J. Lo, Nicki Minaj, and Elle Varner—she chose topics that everyone can relate to: alienation, longing, love, and abandon. The sound they developed is anthemic alt-pop, flipping from skateboard indie-rock to hip-hop swagger, with shades of Amerie, flickers of Rihanna, and a Lorde-ly dark glow. Alessia likes this eclecticism: "Music's going in a way where sounds are attached to a person instead of a genre," she says, adding, "I want people to remember my albums like they do with rappers. Drake, you wait for his next album. Every Tupac mixtape was received as a body of work."
Her ambition seems tied to her youthfulness—the sincerity and force of it, her desire to go about her work consciously. "You can aspire to all of this," she says, gesturing around the conference room, "without being ignorant, dumbing down your lyrics, dressing differently. You can be serious." At home in Brampton, Alessia has been practicing a stripped-down set, taking her guitar into the bathtub—fully clothed, no water—and writing. It's nice to still have a private space, especially now on the brink of everything changing, before her album even has a title, in the days when everyone's been sweet.
From The Collection:
GEN F