An Honest Conversation With Rich Homie Quan
In his own words, the Atlanta upstart opens up about major labels, Rich Gang, and Hillary Clinton.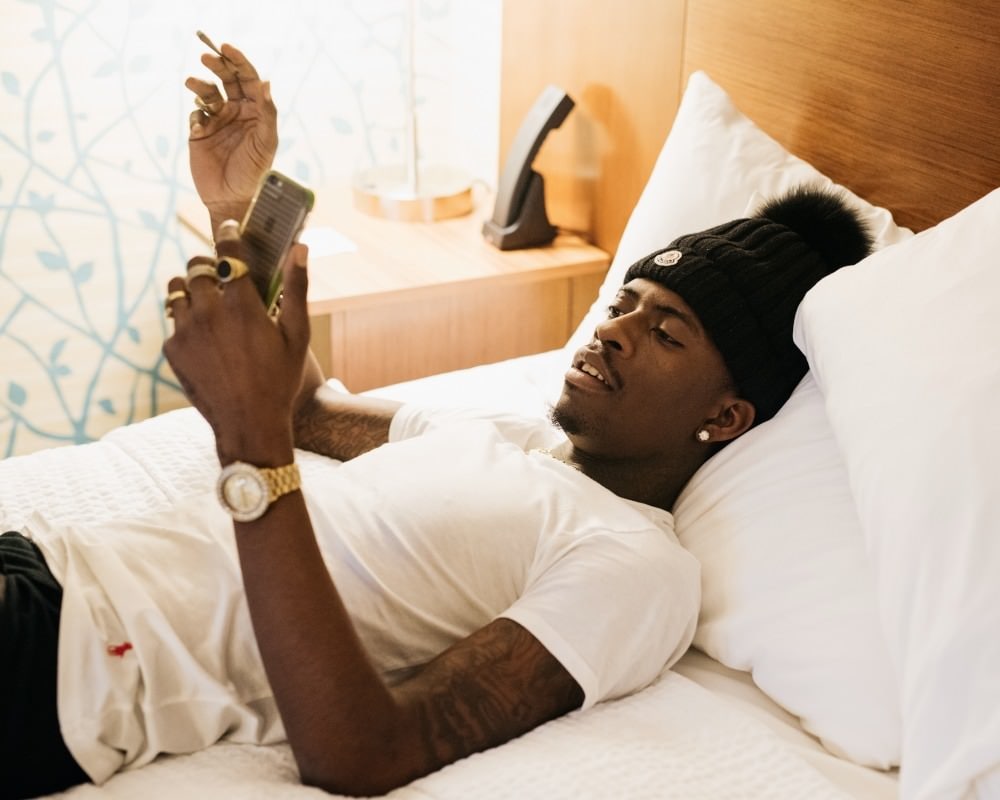 Six months before his breakout hit "Some Type of Way" dropped, Rich Homie Quan watched in awe as T.I. commandeered an entire sneaker store in Atlanta, his security detail having shut down the shop so that he could peruse in peace. Quan immediately identified that level of celebrity as a goal. "I just remember that moment like, 'This is how it's gonna be when I walk into stuff. I'm gonna be able to clear out a store by myself,'" he told The FADER last week. "And I've done it. If I go out in Atlanta, they close all the stores for me." Two summers later, he can't buy a T-shirt without a security guard escort, he says, in a mix of pride and disbelief that he's made a lane for himself as a rapper.
Since that revelation in 2013, he's established two new goals for himself. First, he's aiming to go platinum on his own, not simply as a featured rapper, like he did on songs like YG's "My Nigga" and Rich Gang's "Lifestyle." "I've been featured on multiple platinum tracks but for me to have one of my own, it's gonna be a great accomplishment," Quan says of "Flex (Ooh Ooh Ooh)," his current single and a top contender to be the song of the summer. Second, he wants to go beyond rap as a platform, hoping to author a book or land a movie role—he recently auditioned for a part in Barbershop 3. "Hopefully I get it. Even if I don't, it was something like, 'You want Rich Homie Quan in a movie? Oh, that's so lit.'"
Over a lunch of pizza and Patron, I sat down with Quan to talk about his ambitions, his fraught relationship with Young Thug and Birdman, and why he deserved to be called out for that rape lyric. Read a lightly edited transcript of our conversation below.
RICH HOMIE QUAN: I really, to be honest, thought baseball was my ticket out of the hood. To this day, I wish I would've picked baseball because, of course, they make more money. I played from 14 to 18— like, I was very good at it. I was Mr. Baseball my freshman year. We were good and we had great talent. I don't wanna say it's a white sport now, but it is. I feel like a lot of us [black players] get overlooked but it's the way it goes, though. It might be a thing where we need to go harder. Sometimes, you know, we think we made it but we haven't, so we have to go a different route. Or go harder.
At that time, my mind was in different places. I wanted to stay at home as opposed to going to college because college was so far away. I was so tired, and I was like, "I wanna be this street dude. I don't wanna leave home, my mom is trying her best to survive and support three kids. So I wanna stay home and help my mama." I stayed home, and I ended up getting locked up for burglary and going to jail for a year-and-a-half. When I went to jail, I knew I couldn't be that baseball player I wanted to be. While I'm in jail, I'm trying to rehabilitate my mind. By a process of elimination, I started trying to think of things I was good at growing up. I always liked literature. So then I picked up on reading more in jail. After reading, I started writing poetry. And after poetry, I wanted to put it to a beat. So I would start beating on the desk in jail, you know, just trying to create something.
"I'm praying to God 'Flex' becomes platinum. I just want my own platinum plaque more than anything. I take nothing away from a song I'm on, but for me to have my own… Oh man." —Rich Homie Quan
I came home a whole new person. I didn't want to burglarize houses anymore. I knew then I wanted to be a rapper. So I started taking it more seriously. I got into my first real studio. At that time I didn't feel comfortable with my voice but I knew if I kept working at it and practicing, it'd get better. I just started focusing on that 110% and I ended up getting 110% out of it.
But [until then] I was a good kid, made good grades. In high school I so-called started "smelling myself." Like, I got my own job at Six Flags, started having my own money. So I felt as if, "Mom, you can't tell me anything, I got my own money." I was still playing baseball but Six Flags wasn't making me enough money for where I foresee myself being.
I'm definitely getting closer to there. I'm definitely proud of myself. I know a lot of people counted me out, like, "Oh, he's a one-hit wonder, 'Some Type of Way' is gonna be his only song." I just say: Look at me now, man. I still haven't made it, but we got platinum tracks, then we got "Flex"—and I'm praying to God "Flex" becomes platinum. I just want my own platinum plaque more than anything. I take nothing away from a song I'm on, but for me to have my own… Oh man.
With Rich Gang, I never—like, we never departed. We were kicking it, and I felt as if it was gonna help me and Thugga's solo career. So it was something we wanted to join to see where it puts us at. I feel as if it's put both of us in great situations to become great solo artists. I can't really say there was a moment where [it was over]. It was just me who woke up one day like, "Quan, it's time to get back to you, man. Focus on yourself. Your brand. That's how you came in." And that's how I wanna leave out. I don't care who I work with but at the same time I can never get away from my brand. So I just wanna get back to me.
[Thug]'s still my brother. No hard feelings toward him, man. I love him. Still, to this day. Even Birdman. I'm glad I did affiliate with them, because I learned so much from them. It made me a better artist. It made me a better person. I learned so much from Bird. Like, Bird's one of the best people I've ever met, with advice and knowing how to maneuver things. He taught me, "If you want the best, man, you gotta get the best. You wanna be the best, do what the best do." I hear a lot of bad comments about him, but I can't say not one bad thing about Birdman. Not one. He's never done nothing to hurt me, he's never shorted me in no way. Nothing. I promise you, Bird's not a bad person.
You hear so much, like, "Oh, this relationship he had with Thug and Quan, it's this and that." I don't know their situation. I can only speak about the situation I had with Bird. And I know he's very genius. That's my homie. I still talk to both of them. I was texting Bird last night. We went out to eat at Phillippe, so I text him, like "Ay Bird, what's that that you be ordering when you go?" And he told me like, "Yeah nephew." I talk to him every day, though.

"I can't say not one bad thing about Birdman. Not one. He's never done nothing to hurt me, he's never shorted me in no way." —Rich Homie Quan
It's time to focus on me. I come from dropping mixtapes so I felt as if I owed my fans at least one more mixtape before I do drop my debut album. I will be dropping my debut album in the fall, around late September. I'm 40% done. I'm 40% into it. I've yet to come up with an album title. But this one here, it will not have Still Going In. That's only for a mixtape. My album will be something different. But I want it to coincide with the story I'm telling. I got a lot of people saying, "Quan, your mixtapes sound like albums," so I wanna stick to the mixtape form a little and just get a little more detailed and go deep with it.
Basically, the album is my story growing up from like [age] five to 17. I can't tell you my whole story yet because you gotta be waiting on the next album. So my first album basically tells you how I grew up, how growing up in Atlanta really is. Atlanta's nothing to play with. People come to Atlanta thinking everything's sweet, but, just like New York's nothing to play with, you gotta know where you're at in Atlanta. Dudes are slimy, dudes are doing anything to get some money. You know what I mean, my mother struggled. My mother wasn't even supposed to have kids and I was her first child, the oldest of three. So she considered me her miracle baby. On my album, you'll hear me spit a lot of pain, you're gonna hear it. You're gonna hear a lot of music from the soul. Going for, not like a different sound, but you're gonna hear it. You're definitely gonna hear the pain.
My [relationship with 300], it's in the works. All the Ts haven't been crossed, all the Is haven't been dotted. Independent's going good for me right now. And there's nothing wrong with that, there's nothing wrong with signing with a label either. But if it's not broke, don't fix it. And that's how I look at it.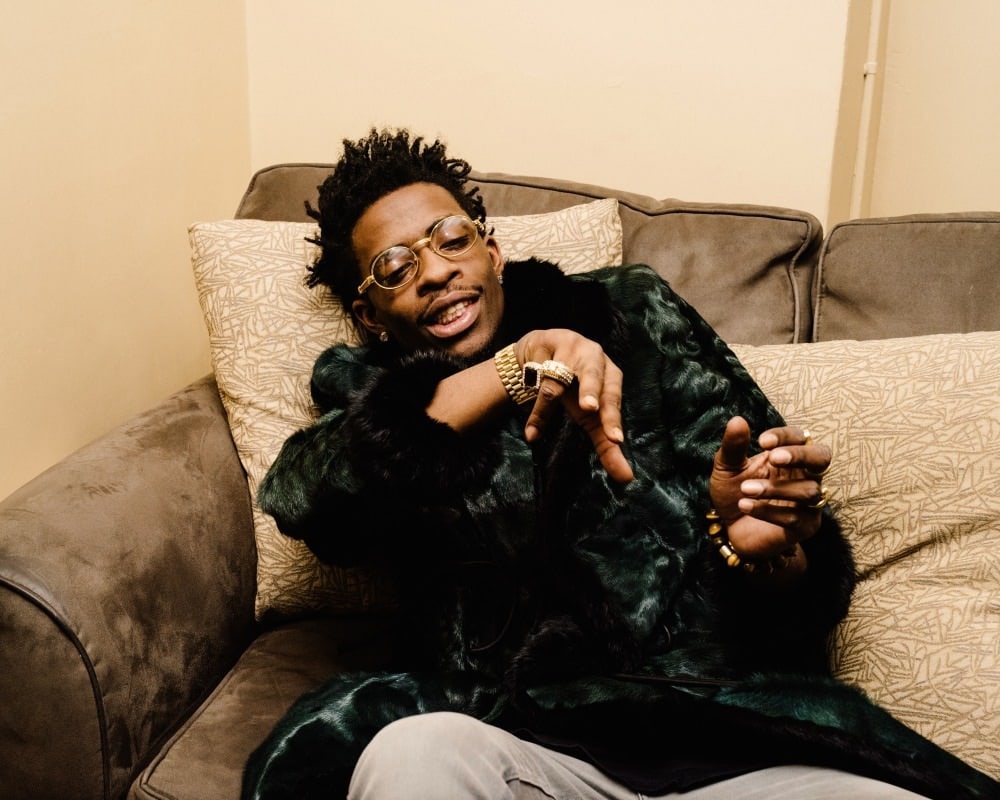 I really feel as if we [black people] can never consider "we made it." Like in my mind, I've never made it. I'm still trying to make it. And I'm thankful. Me having that mentality is gonna only make me successful. Despite what you throw at me, despite how much you stand on my name, despite all the bad stuff you know about me, despite me breaking into houses, I'm far from that. I'm not that person anymore. And I've grown from that. And that's what I want everybody to know. I'm a good person. I make my music for the kids. I started realizing that they really listen to what I say. So I try to be mindful of what I say because I know they're listening. They look at what I wear. If I set a trend, they're gonna do it. I just wanna be a great role model to them.
The song [with the rape lyric] has to be at least a year and a half old. The song was unfinished. When I rap, I make references. I might say this, but I might come back around with something else. I said the lyric, but I was young when I made the song. It was never supposed to leave the studio. I don't know why they leaked me, just to be fronting, so like, "Oh, this is what Quan's talking about." I apologize. That's not the type of person I am, that's not the type of person I want people to see me as. I apologize to anyone who took it out of context. I was young at the time. People make mistakes. It wasn't just [the wrong context], I said the wrong thing, but the song was never supposed to leave the studio and I apologize. It was wrong.
"I'm down with Hillary. I love Hillary. I love Bill, and you know Bill gave her the game already." —Rich Homie Quan
When it comes to the police brutality, there's nothing I can do, you can do. That's when it comes down to voting. We vote more, we can make a lot of this stuff not transpire. Let's get these sheriffs out of here. Let's get new people. That's why it's so important for us black people to vote. Not even just black people, everybody. It's so important, man. I hate talking about police brutality because it's us. We're not taking advantage of the opportunities we're given. Remember when blacks couldn't vote? We can vote now. Take advantage of that. You'll start seeing changes. Get new people in new positions. Like at a local level. It's us to blame because we're not taking advantage of the vote to get these people out of office. Who's letting this stuff pass by? It's not fair at all. Voting's not the whole thing. I can't just blame us, you can blame the police too. You can blame the police too, but it's us. Be honest, out of all the rappers you see, how many you think vote? We do all this putting on. What does it take to go up and go vote?
It has nothing to do with Obama. Police brutality, that's not nothing he has to do with so you can't blame him. Hillary Clinton, though? I'm down with Hillary. I love Hillary. I love Bill, and you know Bill gave her the game already.