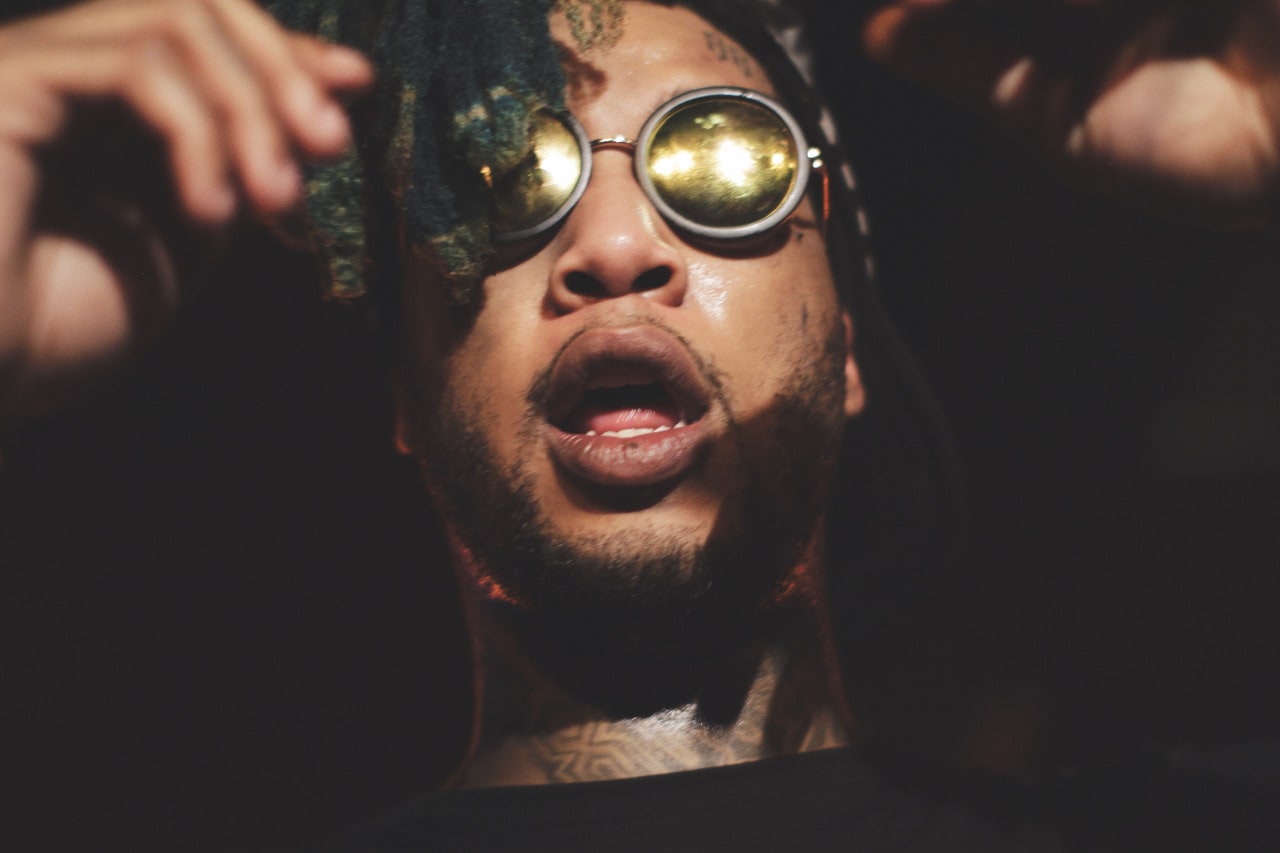 The producer is one of the most crucial yet anonymous figures in all of music. Every now and again, we aim to illuminate these under-heralded artists with Beat Construction. Today, we talk to Atlanta's TM88, fresh out of sessions with Drake, Future, and Travi$ Scott. He gives us the backstory on the infamous Kill Bill siren sample that's been firing out of clubs and car stereos across the country, and discusses how the tireless hunt for new sounds keeps Atlanta's young producers on their game.
There's no sound in rap hotter right now than the 808 Mafia Kill Bill siren. I heard you're trying to kill it.
[Laughter] I don't want to kill it, but I want people to know who's the real master. Me and Southside, we found the sound, but we didn't think it was going to take over the world the way it did. Even artists now call me, like, "Man, can we get the Kill Bill in there? Or that little 808 Mafia sound?" So I'm doing an all-visual, MP4 mixtape directed by Unkle Luc. It's gonna be eight volumes. Each volume is one video, so eight minutes of horror [laughs]. It's coming out on my Sacii Lyfe imprint. We're just trying to change the game.
When did you guys first use that sound?
"Danny Glover." That was the first beat we put it in, and we just kept using it ever since then. Every time something happens in Kill Bill, that little noise just comes out of nowhere. We were like, "What the fuck, that shit is crazy." It just psyches your mind out or some shit—it gets you real amped, and ready for the fight, like some real ill shit finna happen! On the mainstream level, it took off with "Commas."
"It's weird, it's like banging trashcans together and getting angels to come out that motherfucker."
Atlanta producers really made those tags an important part of beatmaking. Producers in New York and L.A. may have a recognizable style, but there hadn't been trademark sound effects like that in a while.
Cause you know, we make so many different styles, so we want everybody to know who is making this new style up. We bring that energy, that real energy. It's just a recognition thing. You can just predict which producers you want to fuck with when you come down here. "Oh, I want the Kill Bill sound, I want the Metro Boomin 'Want Some More' sound." If I'm on a album, and I don't send that sound in, they don't want to put it on the album. They'll call me back like "Shit, where's the sound bro? We need the sound before we put the album out."
Have you heard it on other people's stuff?
Yeah, a lot of people using it. But you know your sound, you know who's making this shit. I think people shouldn't even get the shit confused, because you know when you hear those real 808s. A lot of people shit be sounding real soft; it don't be that real thump. We just get high, man. If you really listen to the beats, we just put a whole bunch of sounds together that wouldn't match, and make them match. It's weird: it's like banging trashcans together and getting angels to come out that motherfucker.
On this new track, you take the reference to the next level, and sample dialogue and other elements from Kill Bill.
It's just to do something different. You want to put out beats, but you don't want the whole world rapping on it. You want people to hear what you're doing, but it takes so long for the artists to put the music out. The fans really wanted some new instrumentals from me, and I don't want to give it to them with nothing on it. So I want to put this whole multimedia art project together, without rappers and the labels and all that shit.
There's this static-y bassline you do, too that's really recognizable.
That's a distorted bassline. I came up with the distorted bassline and called Metro and Southside, like, "I came up with some new shit, we gotta get up." So we went to Metro apartment that he had at that time and tried it out. We started putting it in every beat we did. You can hear it in the club; it's a certain sound that the 808 gives off with the distortion. It's crazy. The whole world doing that now, too.
It's heavy on MDMA Swang's "Thunder." I was listening to that record for three days straight, like, "What the fuck is this beat?"
It's like that new offset snare, hitting not where it's supposed to hit, but that's exactly where it's supposed to hit. I don't know. With the new dance that's going around Atlanta called The Dab, the kids can Dab to it. It's a whole bunch of flavors.
Maybe in the older days, producers had to fight to find new samples, new records, new breaks. Now it's all about new sounds.
Yup, and as a producer, a real producer, you should want to come up with more and more sounds. Because in this day and age, with social media, people catch up so quick. So when we make beats, we making beats five to ten years ahead of these people. We'll do a hundred pack and then send it out, and by the time those records come out, people is on that swag, but we done made up a whole new swag. So I don't think they could ever catch up.
By the time it makes it to the club or the radio, y'all are already back in the studio.
We never leave the studio. That's where people get it misunderstood. If we're bored, we going to the studio. If it's nothing to do, we going to the studio. Everybody gonna meet up. We can smoke weed, we can talk about bitches, money, cars, whatever, in the studio. Rappers pulling up, songwriters; we need new records, we need everything. It's like a video game.
It's cool to see that it's still the same crew of you guys after all this success, making new stuff the same way.
You want to have that whole Polow Da Don, Timbaland shit going on. You know, the money gets passed around in that one circle. We done met each other's families and shit. You want to make sure people's family's is eating. It's a family thing. Even if we don't make beats together, we'll still hang out. Metro, he my little brother. Sonny Digital, DJ Spinz, Southside—that's my little brother. Fuckin' Mike Will, Honorable C Note.
You've done a couple DJ gigs as well. Is that something you would want to do more of?
I've been doing a lot of DJ sets, a bunch of festivals with A-Trak. I went to Paris and did a set there. We been in the mix with doing the whole DJ thing, but I really been focused on the production. And since Drake's album went platinum, I been trying to get it in. Working on Travi$ Scott's album—I'm super excited about his album, too. I want to bring that multimedia art to the DJ side—people not showing visuals on the big screens, people just looking at you the whole time jumping up and playing music. [With A-Trak], I really got to see the other side of the music industry, doing festivals and shows and stuff. What A-Trak and them do is amazing. I salute them.