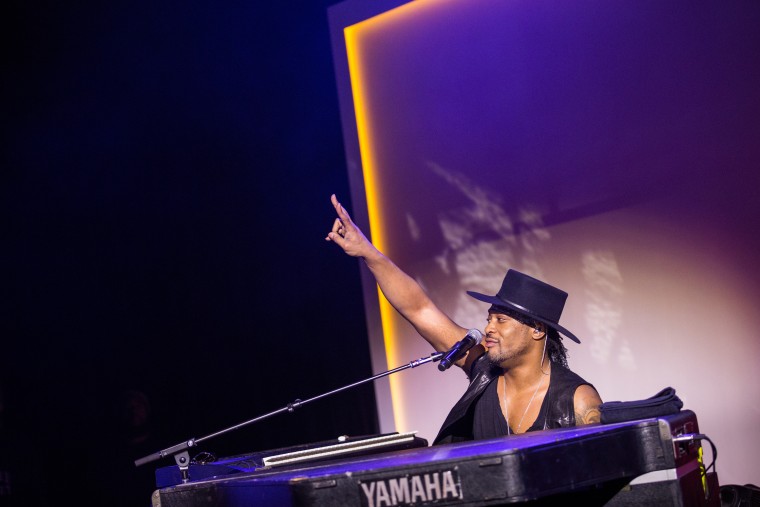 D'Angelo is one of the most mercurial and elusive artists in pop, so it's almost jarring to hear him speak frankly and authoritatively in a new interview. The singer recently met with Bobby Seale, who co-founded the Black Panthers, and the two men sat down for a political discussion with The New York Times. "It's very rare you get to meet one of your heroes," D said in reference to Seale.
The singer now seems to be embracing a public role that he's carefully avoided in the past. "I do realize and understand that my role as a musician, and in the medium that I am, that people are listening to me," he said, echoing comments made in several recent appearances by Kendrick Lamar. "Kids are listening to me. We have power to influence minds and influence lives. So I respect that power. I really do."
D'Angelo said he was heartened by recent protests, noting, "What people call a riot I call a rebellion. In my humble opinion the word 'riot' is used by the media to dismiss or degenerate what's really happening. Everybody knows the looting and burning is the voice of the unheard." He also suggested that he will release "songs that didn't make [Black Messiah]" as soon as this fall. One of those songs, "Go And Tell Bro," is a pun on COINTELPRO, the acronym for the FBI's post-war program to weaken and destroy domestic political groups like the Black Panthers.
For his part, Seale wants to see more black officials in office. "It has to go beyond just sitting and arguing and debating," he declared. "Political seats—you make the laws, you change the laws." Read the full interview here, and check out video of a conversation between D'Angelo and Seale below.