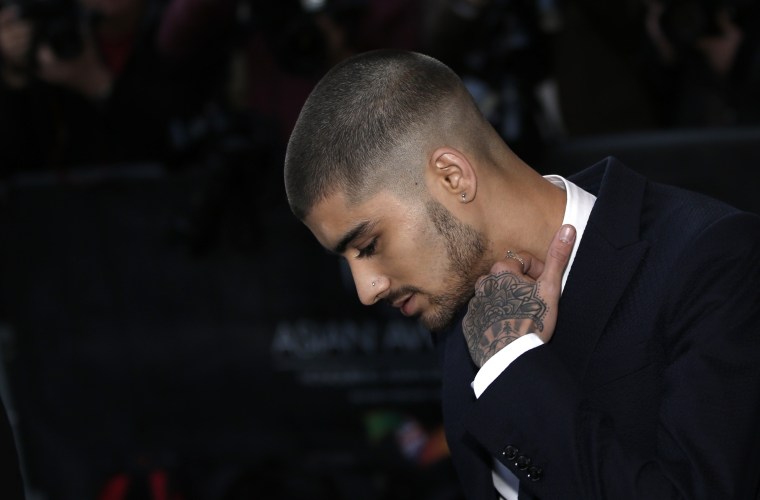 When he announced his departure from the world-dominating boyband One Direction back in March, Zayn Malik told British newspaper The Sun: "I am leaving because I want to be a normal 22-year-old who is able to relax and have some private time out of the spotlight."
But Zayn Malik is not a normal 22-year-old. Until very recently he was one fifth of one of the most profitable bands on the planet, and the world can't stop talking about his potential solo career. Malik's arguably more in the spotlight now than he's ever been before and things have been getting a lot more bitchy and a lot more intriguing. Among all the gossip column inches, here's what we know about Malik's weirdly compelling solo career so far.
He was working with Naughty Boy, at one point
Right before Malik left One Direction, Naughty Boy—the UK producer who's worked with Sam Smith, Wiley, Rihanna, Emeli Sandé and more—told The Sun: "I can't deny the fact that we have made music together... Zayn is going to feature on my next album." The day after it was announced that he'd left the band, Malik was spotted in a recording studio with Naughty Boy, notably wearing a t-shirt that said "Why The Fuck Not?"
Naughty Boy—real name Shahid Khan—was keen to shout about the collaboration, uploading a two minute demo of an acoustic song called "I Won't Mind" to Soundcloud (which swiftly disappeared) and christening the hashtag #Zaughty. He even got into a very public Twitter argument with 1D member Louis Tomlinson, as Tomlinson accused him of attempting to "wind the [One Direction] fans up" and "riding on the back of someone else's career." At the time, it seemed like Naughty Boy and Malik were on the same side, as Malik also had a pop at Tomlinson for being "bitchy."
But it seems Zaughty is no more
If the below tweets are anything to go by, at some point things turned sour between Khan and Malik. After an unseen snippet of a video featuring Malik performing Rae Sremmurd's "No Type" with British rappers Krept & Konan surfaced online yesterday (July 12th), Khan sent some cryptic tweets that hinted at trouble. Today, Malik sent some not-so-cryptic tweets of his own, calling Naughty Boy a "faker" and seemingly accusing him of leaking the "No Type" video. Naughty Boy's reps did not immediately respond to a request for comment.
It could be a two year wait for a legit Zayn Malik release
Rumor has it that Malik is locked into a deal with Syco (the label One Direction are signed to, owned by Simon Cowell and Sony) that prohibits him from releasing any solo music for at least two years after leaving 1D. At least, that's according to a Facebook post by UK rapper Mic Righteous, who seemingly collaborated with Zayn on the first cover of "No Type" that leaked online last month. Mic Righteous quotes Naughty Boy as having relayed this information. (Malik himself has never acknowledged Mic or this version of the "No Type" cover publicly, though Billboard confirmed it was his voice on the track.)
Meanwhile, other sources have reported that Malik has simply signed on with Syco as a solo artist, in which case Cowell's label will have the rights to his debut release, whenever it materializes. Whether either of these scenarios is true, or something totally different, it doesn't seem like a Zayn Malik record will appear overnight.
One thing we do know for sure: he's got taste
Whatever your thoughts on One Direction, all signs are pointing towards Zayn Malik's solo career being totally different from his bubblegum past. Three years ago, a video leaked of Malik dancing to Usher's "Thats What It's Made For". In the band's 2014 annual, Malik said that he'd mostly been listening to Jhené Aiko. In the leaked video snippet causing all the trouble between Malik and Naughty Boy, the singer is seen covering Rae Sremmurd's "No Type" alongside on-the-rise UK rappers Krept & Konan. He recently Instagrammed a photo of himself with Kanye West and tagged it "#SQUAD" (Joe Jonas was there too). The facts on collaborations and timelines are scarce, but one thing seems pretty clear: Malik's set to do something much more interesting than another "What Makes You Beautiful," and we'll be watching when he does.