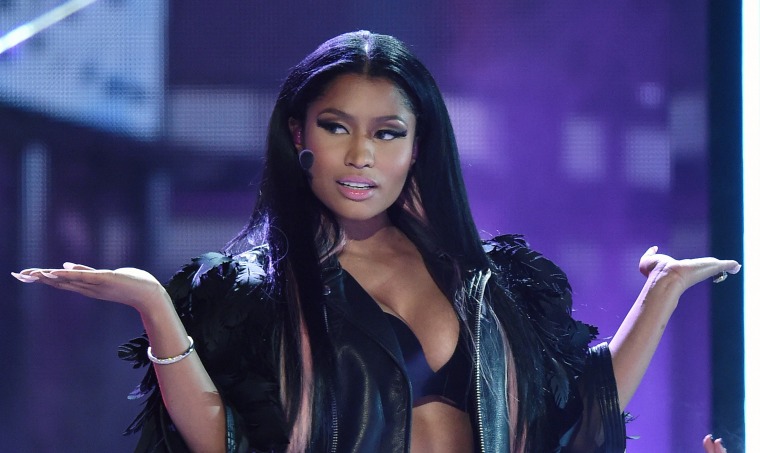 Last month, Nicki Minaj took to Twitter to speak publicly about her feelings on her two nominations for this year's MTV Video Music Awards, for Best Female Video and Best Hip-Hop Video. "If I was a different 'kind' of artist, 'Anaconda' would be nominated for best choreo and vid of the year as well," she wrote. Unfortunately, Taylor Swift took this moment to swoop into Minaj's mentions to accuse her of trying to "pit women against each other," despite the fact that Minaj was talking broadly about racial injustice in the music industry and said nothing about Taylor Swift at all.
As Minaj noted, the ensuing media coverage of what was then labeled largely as a "feud" between her and Swift felt like an attempt to "overshadow the point" she was originally trying to make: which is, that black artists have been historically marginalised by mainstream music awards ceremonies like the VMAs. (The FADER's repeated calls for comment to MTV were not returned)
It's a point that's been acknowledged on the fringes of mainstream media for a long time. In a New Yorker profile of Missy Elliott from 1997, the rapper's make-up artist recounts hearing her telling her mom on the phone before her VMAs performance: "Now, Ma, please don't come to the awards. I'll be too nervous to perform—it's the white people's awards, Ma. Very important." To honor Minaj's original argument, The FADER took some time to delve into what historically makes the VMAs the "white people's awards."
The first 11 Video Of The Year awards were won by white people
The Video Of The Year nomination that Minaj is seeking is the same one every artist wants—it's been the most prestigious award of the night since the VMAs launched in 1984—but it has a very white history. INXS, Pearl Jam, Dire Straits, Neil Young and R.E.M. were the kinds of artists that dominated this category in the rock-focused early years of the VMAs. Only one of the first 11 winners was a woman, and that was Sinead O'Connor in 1990 with "Nothing Compares 2 U." It wasn't until TLC's big win with "Waterfalls" in 1995 that the all-white run was broken.
Of the 31 overall wins for VOTY, 8 have been wins by black performers
Those winners are TLC in 1995; Lauryn Hill in 1999; Lil Kim and Mya (with Christina Aguilera and Pink) in 2001; Missy Elliott in 2003; OutKast in 2004; Rihanna in 2007 and 2012, and Beyoncé in 2009.
R&B artists don't get their dues
The award for Best Rap Video was created in 1989, when genre categories were introduced to the VMAs; but an R&B category wasn't established until 1993, creating opportunities for more wins for the likes of Salt-N-Pepa, En Vogue and The Fugees. The Best R&B Video award was discontinued in 2007, however, when all the genre categories were dropped.
In 2008, some of those genre categories—Pop, Rock, and Hip-Hop—were reintroduced, but music that could be considered R&B is now determined by the VMAs to be either Pop or Hip-Hop.
The award for Best Pop Video has never been given to a black artist
The Best Pop Video award has never been won by a black artist in the category's 15 years of existence. (It is worth noting that dancehall artist Bounty Killer, was a featured artist on a winning No Doubt song in 2002.) The award was, however, won by Ariana Grande and Iggy Azalea last year, making Iggy the only hip-hop act to do so.
Black artists have been less likely to win against white artists in major categories
The loss of a separate R&B Video category is meaningful because black artists have statistically not been as likely to win in categories where they are pitted against their white counterparts—as proven by the woeful Pop category. Elsewhere, Eminem has been nominated for, and won, more Best Male Video awards than any other performer; he's also been nominated for Video Of The Year more than any other solo male. Madonna is the most nominated solo female in the VOTY category, and U2 is the most nominated group.
Of 148 nominations in the Best Male category over the years, 63 have been non-white; 10 have been won by black artists. The Best Female category paints a similar picture, with 55 nominations for black artists out of 152 overall, and 11 wins for black artists.
Beyoncé is an exception to the rule, being the only black performer in the top 10 biggest winners in the award show's history, with 18 wins. But she's only won Video of The Year once; last year, she was nominated in the big category for "Drunk In Love," but lost to Miley Cyrus's "Wrecking Ball."
Black music is underrepresented in the lifetime achievement category
Beyoncé is also one of the few black artists to win the (ironically titled) Michael Jackson Video Vanguard award for lifetime achievement. Of the 29 given out, only four black performers—Bey, LL Cool J, Michael and Janet Jackson—have received this award, as well as Hype Williams in 2006.
Racial injustice has never been addressed by the "Social Message" category
Since its introduction in 2011, the Video With A Social Message category has been controversial. So far, it's been awarded to Macklemore, Lady Gaga, Demi Lovato and Beyoncé. Although there have been nominees who have explored race-related issues, these videos have never won.
And things are not getting much better
The 2013 awards were particularly shameful: not a single black artist won a televised award. Janelle Monáe took home a statue in the "Best Art Direction" category, but that was presented off-camera. (The Best Hip-Hop Video award was won by Macklemore.) Meanwhile, Miley Cyrus twerked through her performance, and Katy Perry turned on the red carpet up wearing a grill.
In the 2015 nominations, Kendrick Lamar has performed notably well, scooping 13 nominations (four as a solo artist and nine as featured artist), and tying Lady Gaga's 2010 record for the most nominations. Beyoncé and Bruno Mars have also picked up major nods, including in the Pop Video category. But Nicki Minaj believes she's been short-changed; after all, her "Anaconda" visual broke VEVO's all-time 24 hour streaming record, with 19.6 million plays in its first day online. That record was next broken by Taylor Swift's "Bad Blood," with 20.7 million plays; and yet, "Anaconda" only gets two nominations to "Bad Blood"'s seven. Says Minaj: "When the 'other' girls drop a video that breaks records and impacts culture they get that nomination."
PS: Where are Azealia and Tinashe?